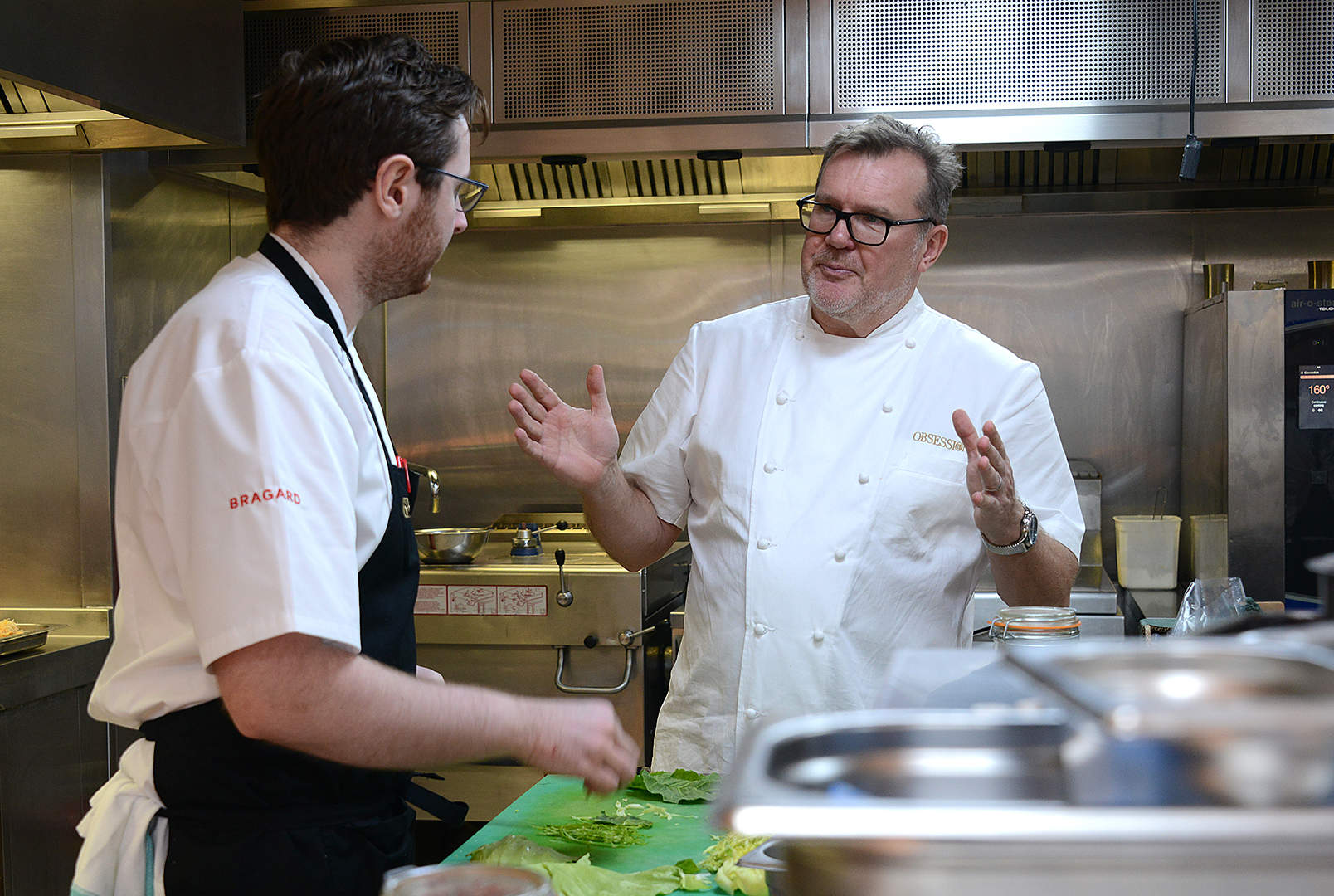 For 15 consecutive days, Nigel Haworth arrived at Northcote at 10am sharp and did not step out until well after midnight. In the intervening hours, the renowned British chef and his team would be briefed on a brand new five-course menu of Michelin-star quality and produce it for 130 guests.
If that does not sound grueling enough, add in to the mix the fact that each evening saw the kitchen taken over by a new guest chef, bringing with them their own menu, at times a different language, and techniques that many of the young chefs would hitherto never practiced. To top it off, the minimum standard expected by all of them was absolute perfection.
Only with the full commitment of everyone can such a feat be repeated night after night, but that is what Obsession, an annual fine dining festival situated in this unassuming corner of northern England, is all about.
Haworth sat down with Elite Traveler with one service yet to complete, his own. As the man behind Northcote's rise to one of England's most consistently outstanding restaurants, his menu was a fitting finale to another successful year.
"The event has been absolutely fantastic," he says. "We've had an eclectic bunch of chefs who have all got on and have all produced great dishes. It's been such a solid, smooth-running and efficient festival. We have not had a single problem and everybody has enjoyed it.
"Cooking is demanding and always requires your full attention. This event demands everybody in the business to be on the ball all of the time. It's like we are coming to the end of a season and not really knowing where the time has gone, but it's a very satisfying feeling."
The event saw culinary displays from 18 chefs with 15 Michelin stars between them. Each chef, flying in from as far afield as San Francisco, brought with them perhaps one or two colleagues, but other than that their menu had to be prepped, cooked and plated by the same Northcote team.
Haworth says: "Both front and back of house learn many different styles of food. The front of house have to deal with different personalities and different demands every day and the kitchen team are also seeing so much they have never seen before.
"If I, at that age, could have experienced something like this I would have jumped at it. It's a really big learning curve for them. Who knows what goes through a young chef's head, but sometimes they see things that just sticks and that will affect how they develop as a cook."
Originally an event among Haworth and three friends, Obsession has evolved into a truly global event while never stepping foot outside of Lancashire. The 60-year-old has been the driving force behind the event since day one, but he readily admits that he had no idea the event would grow to what it is today.
Haworth says: "It has evolved with the team and with Northcote as a hotel. The team has doubled in size and the line-up of chefs has evolved from a parochial bunch of three friends into 16, 17 or 18 chefs from all over the world.
"As all good things do, they create their own momentum with the power of sponsorship and the power of people who attend it every year. You have to remember it is in January, so it creates an amazing feeling for people in this part of the world at this time of year."
Obsession 19 was a step back into Haworth's old routine. In late 2017 he made way for his long-term protégé Lisa Goodwin-Allen, stepping out of a role he held for 33 years and into that of chef ambassador.
Explaining his decision to move on, Haworth says: "I needed to spend a bit more time with my family and I wanted to do something different before I got too long in the tooth. I have got lots of creativity left and now is the right time to make another change in my life.
"I am a great believer that you have to create your own energy and your own sense of direction. I want to do something different in the last 10 years of my working life and have got two or three ideas in my head. I want to create a new interesting concept or two.
"I am sure I will miss Northcote and they will miss me but sometimes a change is as good as a rest, to recharge your batteries and look at life in a different direction."
The change to his life was no doubt profound, but Northcote's standards have remained consistent while the Michelin star they have held since 1996 has been retained thanks to the hard work of his successor Goodwin-Allen.
"She has been running the kitchen for the last three or four years," Haworth happily admits. "She worked with me for 16 years so taking over as executive chef was like a duck to water. It was a natural evolution and turned out to be a great succession plan. You have to have a progression and succession and Lisa, having worked with me for so long, is a true Northcote person.
"That was one of the reasons why I felt the time was right because had there been nobody and it would have been jumping off a cliff, it would have been so different. Everything was right and in place for me to do something different."
So what does that mean for the future of Obsession?
"I am planning on 2020 and then we need to take a look at it. Once 2020 is done, that will be a milestone. I am looking at doing 20 days with a one or two-day break in the middle to give the team a chance to recharge their batteries. The great thing about it is the obsession with doing things bigger and better, but ultimately people need a bit of rest.
"The event is in a really good place. We should keep the wheels moving and keep turning in different directions. I have been the main driving force behind Obsession for 20 years and whether the baton is handed over or I carry it on, who knows? But either way it should go on because it is something magical."
Elite Traveler attended Obsession 19 at the invitation of long-term sponsor Gaggenau, a manufacturer of high-quality home appliances. Gaggenau was the official Chef Table Sponsor on Nigel Haworth's evening. For more information on Gaggenau, visit www.gaggenau.com.