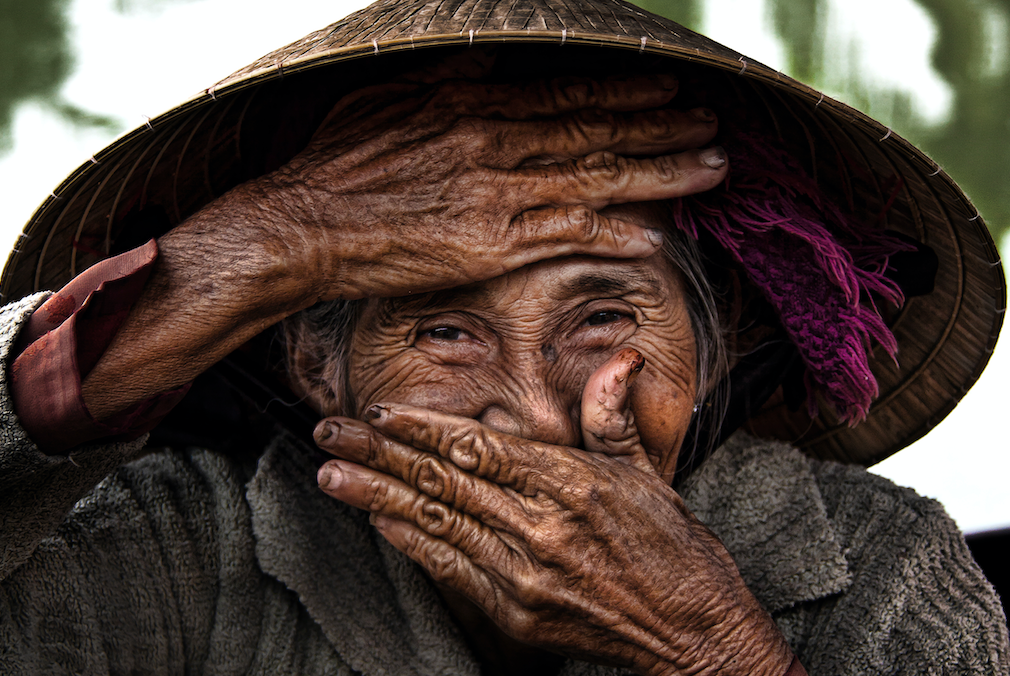 by Graeme Green
"Every detail counts," says French photographer Réhahn. "A great portrait isn't only about technique but more about the stories they can tell. That comes from the colors of a person's costume, their wrinkles, their eyes."
Capturing those details and the 'stories' they tell has helped make Réhahn one of the most popular photographers currently working in Asia, with nearly half a million Facebook followers and three successful books to his name. One of his photos was even given recently to France's president Emmanuel Macron.
Known as 'the photographer who captures the soul' of his subjects and going only by his first name, Réhahn has traveled to more than 35 countries, including regular photographic trips to India and Cuba. Malaysia is another favorite. But it's Vietnam that has taken hold of him most strongly.
Having grown up in Bayeux in the French region of Normandy, Réhahn has lived in Hoi An on Vietnam's coast since 2011, having fallen for the country on previous visits with the French NGO Enfants du Vietnam, through which he sponsored several children. He has set up several museums, including the Precious Heritage Art Gallery Museum in Hoi An, a free cultural arts space dedicated to Vietnam's ethnic groups and containing Réhahn's photography, tribal clothing and other artifacts.
The museum goes hand-in-hand with his Precious Heritage project, an epic eight-year mission to photograph all 54 of Vietnam's tribal peoples, which he expects to complete this year.
"When I'm not on the road, I have a cool daily routine: a latte at 6am at my favorite coffee shop, meeting with my assistants, answering emails, going to swim around 10am, an early lunch, a quick nap and then going out to take photos," he says. "I finish my day with a cigar along the river with a friend. It almost sounds like I'm retired, right?"
"Vietnam has a stable economy, so it's easy to open a gallery here," he continues. "The country receives more than 10 million tourists per year. Having a few galleries in prime locations here gives me huge exposure. In terms of photography, I'm amazed by the diversity of cultures and landscapes in Vietnam. The whole country is an open-air studio."
Réhahn started work on his Precious Heritage project in 2011. So far, he's photographed members of 51 of Vietnam's tribes, usually wearing their traditional costumes.
"I chose to be a photographer because of my love for people and culture," he explains. "Living in Vietnam gave me this great opportunity to start a long-term project. I have the possibility to go almost everywhere to research these people. I can stay a week with them and interview the chief of the village, chatting for hours, learning about their story, their culture, their traditions and textiles. The more you spend time with people, the more you're able to capture their real personality in a photo."
The eight-year photographic project has taken him across the country, finding (sometimes with great difficulty) and photographing different ethnic groups, from the Ơ Đu, the smallest ethnic group in Vietnam, to the La Hủ, a group with written language. It's been a diverse, anthropological adventure.
"Many of these tribes are animist and have unusual beliefs. For example, the M'nong, who live in the Central Highlands, marry elephants and view the elephant as a part of their family. Unfortunately, elephants are slowly disappearing in Vietnam.
"There are less than 50 remaining in the wild now, compared to 500 back in 1980. Only the people who own elephants still remember the tradition and still interact with them. I'm actually writing a book about this subject with a Vietnamese ethnologist."
Meeting the Ro Mam was another standout experiences Réhahn singles out. "I waited three years for authorization to photograph them. They only have 12 traditional costumes left. I was honored to receive one, along with a pipe and a basket, to showcase their culture in my museum. The remaining 11 white costumes are kept by the Ro Mam as 'treasures', knowing that no one makes them anymore."
Securing permits has been one of the biggest hurdles in completing the project. "To get permits to access some sensitive areas and to find people who still have the traditional costumes has sometimes been difficult. Finally taking the photo is the easiest part of the project.
For some very small tribes, it took me three years to get the permit to visit them. Now, it's a bit easier, as I've been published in almost all the newspapers and magazines in the country for this project. Some of the tribes that I still have left to photograph live in very remote areas and I have no idea what I will find and if they still wear their traditional costumes. It's exciting."
Réhahn cites photographers Steve McCurry and Sebastião Salgado as key influences. The world of travel photography is now far more crowded than when McCurry or Salgado started out, with countless images appearing each day in newspapers, magazines, websites and across social media. So, what makes a great portrait stand out?
"The power of a photo is the story behind it, so I always try to find people who are keen to share," Réhahn says. "In Vietnam, I sometimes stay a week in the same area and visit at different times of the day. I travel by motorbike and I like to find hidden villages where nobody goes. I'll always look for cultures and stories more than a photographic subject in the first place.
"I sometimes stay a day in a place without shooting at all, just listening and recording stories. Then, I'll always look for a great backdrop or an interesting subject for a cool composition. I wander and let my inspiration decide. I always use natural light. I think large pieces of equipment, including lighting, would block people from being natural and I wouldn't be able to get so much emotion, so I avoid that."
More than lighting or a top-of-the-range camera, Réhahn believes time is the essential ingredient in his work. "The secret of a great portrait is a great interaction," he says. "I spend time with people and always try to know them before taking any pictures. In Cuba, I'll smoke a cigar with the person before shooting. In a remote ethnic village of Vietnam, I'll drink tea or eat fruit with the chief of the village. I can happily spend hours or even days chatting with people."
Réhahn's approach means that he often spends days or weeks with the tribes he's photographing, or strikes up relationships and makes repeat visits. One young girl in Vietnam has made for particularly memorable photographic encounters. "I spent three days with An Phuoc, a little Cham girl with amazing blue eyes," Réhahn says. "At first, her family wasn't keen for me to take photos but we spoke about their culture and I was invited to stay for lunch. They were happy to talk about their traditions and to share stories with me.
"On the second day, I came back and proposed to help this family and the girls. Sapa, An Phuoc's older sister, wanted to be a photographer, so I bought her a camera. They're now in my Giving Back project because the picture of An Phuoc is one of my bestselling photos. I bought a cow for the family and bikes for the girls. I visit them three times a year and I also invited them to stay in my house in Hoi An twice last year."
This Giving Back approach is central to how Réhahn works. As well as helping An Phuoc's family, he previously gave a rowing boat to Madam Xong, who featured on the cover of his first book, to help her work. He has helped to provide education for several children he's photographed, as well as paying for medical bills or house repairs for other subjects. Sales from his galleries have also funded the construction of a new museum for the Co Tu ethnic group in rural Tay Giang district, close to the Laos border, with whom he has a close relationship.
"As an artist who sells his photographs, I have a responsibility and a role to play," he explains. "I think it shows tribal people the interest that people can have in their culture and it gives them a sense of pride. These people are often poor and I want to use my galleries to help them. I have a special relationship with many of my subjects. They became like family and we meet every year. I wouldn't be where I am without these people, so it feels fair for me to give something back."
Having recently photographed several more of Vietnam's ethnic groups, including the Xin Mun, the Hoa, the Jarai, the Khang and the Lao, the end of the project is now in sight: just three more tribes to find and photograph.
"I've spent the last eight years of my life, every day, thinking and working to complete this project. I'm excited to complete it but, to be honest, I'm also a little bit afraid to feel empty," he admits. "On the positive side, I've created so many connections with the people I've met and I will continue to go deeper into my work so that I can meet some of them again."
Réhahn already has plans for his next adventures, though. "When I finish the 54, I'll have more time to go to other countries. High on the list are Mongolia and Bhutan. I'm also starting to work on a project about the culture of coffee in Vietnam. Some ethnic groups specialize in growing coffee, like the K Ho, the Ede and the Jarai, all 'Central Highlands' tribes. This coffee project will enable me to immerse myself in learning about a different aspect of these tribes, while also continuing to explore the beauty of Vietnam."
For more on Réhahn's photography, the Precious Heritage project and Giving Back, his museums or for prints of his work, visit https://www.rehahnphotographer.com/.
Réhahn's books include Vietnam: Mosaic of Contrasts (Vol 1 and 2) and The Collection: 10 years of photography. You can follow Réhahn on Facebook and Instagram.
Graeme Green is a UK journalist and photographer. See http://www.graeme-green.com/. Follow him on Facebook  and Instagram.