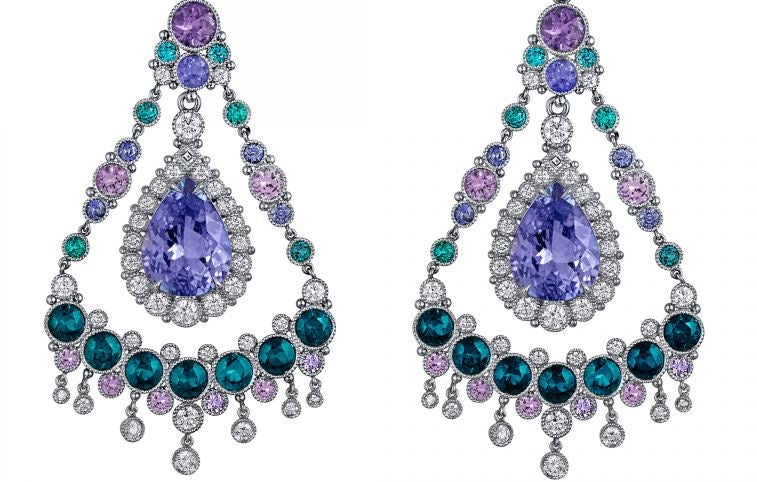 This story originally appeared in the January/February 2018 issue of Elite Traveler.
While we are far from the days when Queen Elizabeth I forbade anyone outside the royal family from wearing purple, the color remains associated with power, prestige, wealth and yes, royalty. Channel your inner queen with these purple jewels, which feature amethyst, tanzanite and sapphires.
From Cartier's latest high-jewelry collection, Résonances de Cartier, this bracelet employs the camaïeu technique, which softly alternates colors within a piece of jewelry. Oscar Heyman—renowned for its work with rare stones—features a stunning star ruby in this ring. When the light catches these unusual gems just right, a distinctive six-pointed star appears on the surface.
Featuring over 130 carats of amethyst, including a 65.44-carat pear-shaped central stone, Chopard's Temptations necklace speaks to the regal beauty of the sometimes-overlooked amethyst. Two stunning purple sapphires sit amid diamonds and pink sapphires in Tiffany & Co.'s Art Deco-inspired earrings.
Bayco's Monochrome collection showcases the power of a single color. Here, over 90 carats of pink sapphire make their mark. Featherstone's jewelry is convertible—these earrings can be taken apart at home and worn with other pieces from the collection—but we aren't sure why anyone would want to change these Taj earrings. Called Coleman's Smokey Blues, they feature a range of purple and blue stones, with two pear-shaped tanzanites at the center of each.
Chopard Temptations necklace in white gold with 65.44-carat pear-shaped amethyst, 69.51 carats amethyst and 2.65 carats tsavorite, price on request, available at Chopard in New York, +1 212 223 04, chopard.com
Featherstone Coleman's Smokey Blues Taj earrings in platinum with 3.08 carats sapphire, 12.87 carats tanzanite, .09 carats paraíba tourmaline, 1.13 carats lavender spinel, 3.86 carats blue spinel, 6.07 carats color-change garnet, 4.75 carats diamond, $157,000, available at Bergdorf Goodman in New York, +1 212 753 7300, featherstonedesign.com
Cartier Résonances de Cartier High Jewelry bracelet in 18K white gold with 23.76 carats amethyst, 22.78 carats aquamarine, 6.57 carats sapphire and 6.20 carats brilliant-cut diamond, price on request, available by appointment, +1 800 227 8427, cartier.com
Tiffany & Co. earrings in platinum with 9.37 carats purple sapphire, 2.25 carats pink sapphire, 6.69 carats diamond, $185,000, available by appointment, +1 800 843 3269, tiffany.com
Bayco Monochrome bracelet in 18K black gold with 90.66 carats round-cut pink sapphire, $200,000, available by appointment, contact Marco Hadjibay, +1 800 376 7200, bayco.com
Oscar Heyman ring in platinum and 18K yellow gold with 38-carat Sri Lankan star ruby and 3.86 carats diamond, $380,000, available at Oscar Heyman in New York, contact Tom Heyman, info@oscarheyman.com, +1 800 642 1912, oscarheyman.com