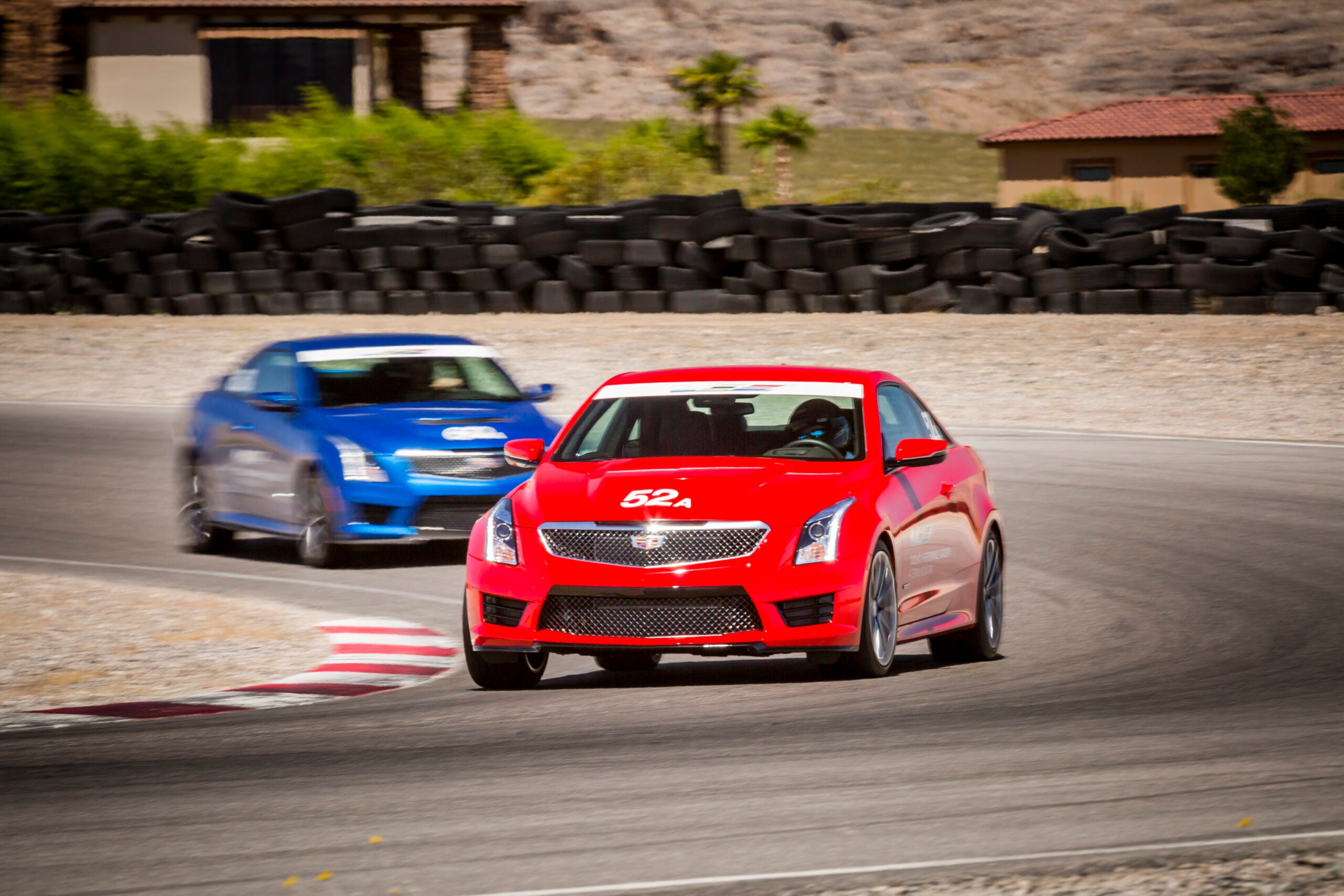 By Casey Zenick
Downshifting into the hairpin at turn nine, my instructor blaring through the radio, and my mind acutely focused on the task at hand, it hit me – pure, unadulterated, unapologetic, unabashed, bliss. For the adventurous jetsetter, achieving this feeling takes only a trip to the desert.
Nestled at the base of its namesake mountain range just 55 miles West of the Las Vegas Strip, Spring Mountain Motor Resort and Country Club sits on over 500 acres of desert. A veritable luxury Disneyland for adults with a passion for fast cars, Spring Mountain boasts an array of resort-style amenities and over six miles of challenging racetrack. Future plans will see Spring Mountain become the world's longest track at over 15 miles, eclipsing Germany's famous Nürburgring. It's certainly no surprise why Cadillac chose this locale for their V-Performance Academy, a program designed to teach drivers of all levels how to get the most out of their V-Series vehicles. Elite Traveler was fortunate enough to receive an invite to experience the adrenaline rush first-hand.
Our group was greeted with the distinct smell of burnt rubber; already a good sign. Entering the facility, we were met by our lead instructor, Rick, whose enthusiasm was outshined only by his knowledge and passion for all things automotive. Knowing we were revved up about track time, he efficiently led us through our track safety tutorial and introduced us to our incredibly knowledgeable (and patient) instructors. Our vehicles for the day were the 6.2-liter Supercharged 640hp 2017 CTS-V and the 3.6-liter Turbocharged 464hp ATS-V; performance numbers not typically associated with daily-drivers and a big reason Cadillac encourages their V-Series owners to participate in the Academy.
Before they unleashed our group onto the track, we were taken through a series of warm-ups, beginning first in the CTS-V. Throaty is a term that often gets thrown around when describing engine sound, but it's hard to come up with a more accurate description of what this beast sounds like. As I made my way around the training oval, my instructor encouraged me to push just a little bit harder with each successive lap. It was at this point when my car thought I was getting a bit too comfortable and swung its tail out with such force that I begun to spin – tires squealing and smoking – making it almost a full 360-degrees before the engine shut itself off. Welcome to the V-Academy. In case I failed to mention it earlier, this is not only a place for fun, but somewhere to learn the limits of yourself and your car. If you think this would make me nervous to get back onto the track, you would be wrong. Now equipped with an understanding of how far I could push the car before the car pushed back, my confidence was boosted.
Determined to make up for my performance in the oval, our cavalcade of Cadillacs set out for the track. After an initial pass on the slalom course to get our cars dialed-in for the track, it was game time. Easing our way out of pit lane, we had our marching orders "follow my line and don't drive past your limits." With that, we were off. The first few turns in the nimble ATS-V were a bit of a blur as I found my bearings, trying to turn off my brain from anything other than driving. I continued to make my way around the track, albeit as uptight as possible, until my thoughts intervened. I'd once read that drivers make the mistake of gripping the wheel too tightly during races, hindering one's ability to remain nimble and relaxed. Unclenching my tightly wound fingers from the steering wheel, I noticed an immediate change as I began to loosen up and truly enjoy the opportunity I had been looking forward to since I was a kid watching my first Formula One race. This brings us back to turn nine, and the feeling of being comfortable and in control while racing around a track at high speeds. With just the straightaway into turn ten and the start/finish line remaining in my first lap, I smiled broadly as I prepared to do it all over again.
The V-Academy is complimentary for qualified owners of a 2017 V-Series, while non-qualified individuals are able to purchase the package starting at $2,470. V-Academy amenities include ground transportation to and from Las Vegas International Airport, two nights lodging in the Spring Mountain luxury condominiums, breakfast and lunch on training days, second night dinner at the Spring Mountain Clubhouse, general admission access for one designated guest and on-site courtesy vehicles. If two days of track driving isn't enough (it certainly wasn't for me), guests can choose to become a member of Spring Mountain for an initiation fee of $45,000 with annual fees beginning at $7,500.