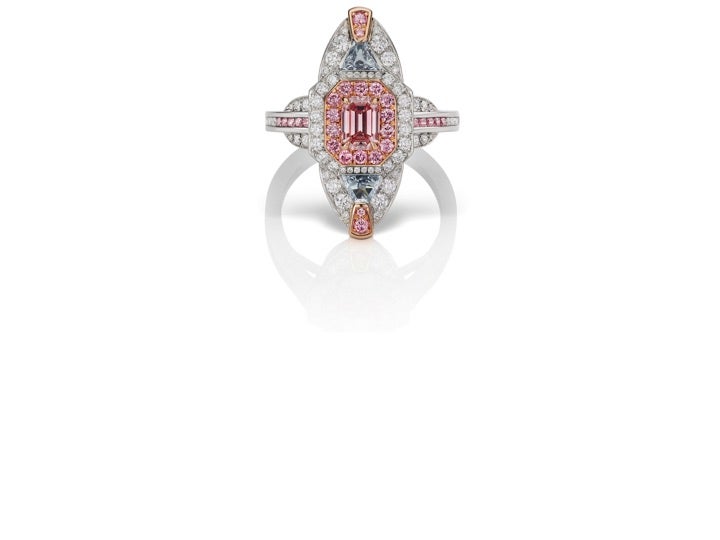 Scott West platinum Argyle Violet ring with 2.83 carats Argyle violet diamond, 0.67 carats Argyle heart-shaped vivid pink diamonds and 0.83 carats Argyle round vivid pink diamonds, price on request, scottwestdiamonds.com
Sometimes when tragedy strikes new paths are forged. Such was the case for Larry West back in 1972. He was a jazz-piano-playing physics student at the University of New Mexico – just completing his junior year, in fact – when he was informed of his father's passing. The son of a melee diamonds dealer, West never really aspired to follow his father's footsteps in the wholesale diamond business. That changed, however, when he returned home to his mother and sister after receiving the devastating news. Little did he know then that in joining the family business while in duress he would one day become a rare success story in the world of rare diamonds.  
West's foray into the diamond business started with sorting melee diamonds, or small white diamonds, and eventually he learned to grade diamonds through his friendship with a gemologist who taught him the Gemological Institute of America's diamond grading system. He went into business for himself in 1978, and made the transition from melee diamonds to larger white diamonds. Knowing he could increase the value of a diamond by enhancing its clarity through better proportions when he re-cut the stone, West eventually became an expert at cutting diamonds.
In the late 1980s, West purchased his first batch of natural-colored pink diamonds that came from Australia's Argyle mine, internationally known for producing 90% of the world's natural pink diamonds. These stones are so rare they can range in price from $10,000 to many millions of dollars per carat, and you can hold the mine's entire yearly production in the palm of your hand. In the case of colored diamonds, raising the stone's grade by just one level would mean doubling its overall value. West tells me, "the way to raise the grade of an exotic diamond is to re-cut the stone to maximize its color saturation as much as possible so you can focus the color face up." The risk in doing this, of course, is losing the carat weight, but West understood he had to sacrifice the weight to gain the grade. In truth, all was not lost on West's early years in college. His mind for math and eye for geometric shapes has served him well in his ability to assess the risks and rewards of re-cutting exotic stones. West was the first to consistently upgrade stones to the red diamond grade, the rarest and most expensive of the GIA ratings, sealing his position as one of the world's experts in exotic diamonds. West was also the first direct purchaser of Argyle pink diamonds in North America, and today holds one of the world's largest collections of Argyle pink diamonds as well as exotic fancy blue, green, orange, purple and violet diamonds.
Scott West, Larry West's only child, joined his father's business ten years ago upon graduating from college. While working with his father, Scott West continued his education at GIA school and the American Institute of Diamond Cutting, gaining his own appreciation for the extremely rare diamonds they buy, sell and collect. He said, "It took me a whole month to cut my first 1/2 carat diamond, which was the size of George Washington's head on a quarter." The Wests have expanded their business to included finished jewelry using rare diamonds from their collection. Scott West says, "We get inspiration from the stones. What looks best around the stone? What is the best motif or design for these stones?" Sometimes they have to wait years before they discover a stone that perfectly matches one of their own in order to complete a pair of earrings or finish a necklace.
If you're interested in purchasing an exotic diamond, the Wests strongly encourage doing so through a retailer. In fact, they don't sell directly to the public. As the younger West says, "it's important for rare diamond collectors to have a jewelry retailer who can act as an advocate for them when dealing with these important stones."
Click here for more breathtaking exotic fancy diamonds in the Scott West jewelry collection.
Scott West platinum East/West ring with 1.01 carats emerald-cut fancy vivid blue-green VS 2, 1.00 carats fancy deep pink diamond, 0.12 carats brilliant pink diamonds and .14 carats brilliant white diamonds, $2,123,000, scottwestdiamonds.com
Scott West platinum Cathedral ring with 0.58 carats fancy intense pink S12 EC diamond, 0.24 carats blue diamonds and 1.03 carats white and blue diamonds, $256,000, scottwestdiamonds.com
Scott West platinum and 18K gold Deco Shield ring with 1.11 carats natural fancy dark violet-gray S11 diamond, 0.25 carats Argyle natural intense purple-pink diamonds, 0.28 carats white diamonds and 1.29 carats natural blue and white melee diamonds, $211,400, scottwestdiamonds.com
Scott West platinum Deco ring with 0.33 carats fancy blue diamond, 0.31 carats fancy intense purple-pink diamond and 0.33 carats white melee diamonds, $62,630, scottwestdiamonds.com
Scott West platinum and 18K rose gold Aria Hoop earrings with 2.08 carats natural pink melee diamonds and 1.42 carats white melee diamonds, $48,000, scottwestdiamonds.com
Scott West platinum and 18K rose gold Butterfly pendant/brooch with 1.55 carats Argyle pink melee diamonds, 0.45 carats white melee diamonds and platinum chain, $12,700, scottwestdiamonds.com