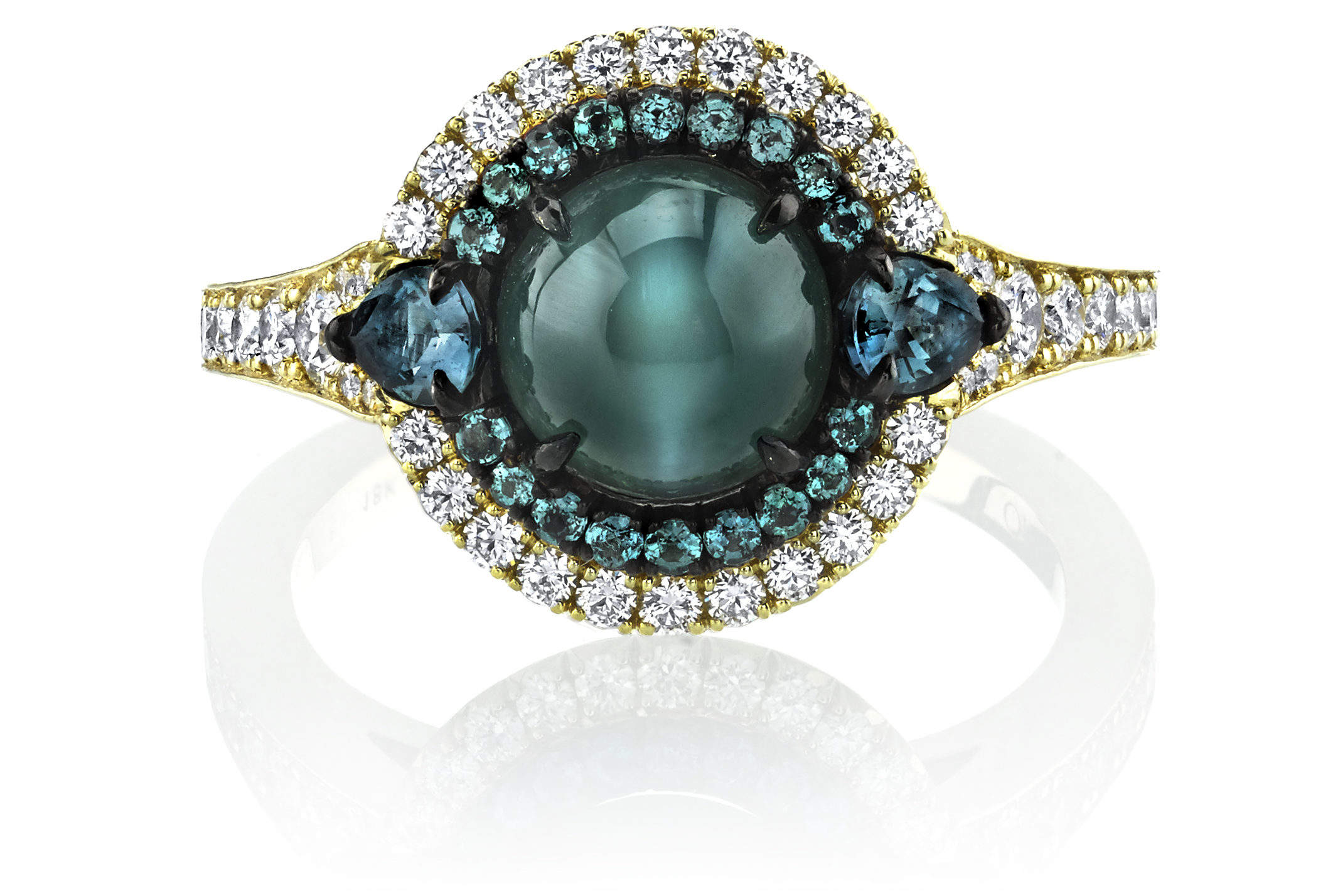 Oscar Heyman platinum Alexandrite ring with 4-carat Alexandrite and 1.69 carats diamond, $170,000, oscarheyman.com
William Noble platinum ring with 3.81-carat cushion-cut Alexandrite and 0.92 carats diamonds, $96,000, williamnoble.com
What could be more intriguing than a rare and beautiful gemstone with an interesting past? Image a Finnish mineralogist climbing down into the mines of the Russian Ural Mountains in the early 1800s searching for a rough of exquisite gemstones. He comes upon a stone that he believes is an emerald – it certainly looks like one when he comes out of the mine in the light of day. But when he surveys the stone again in the evening, holding it up to candlelight, he discovers the stone resembles a ruby rather than an emerald. This color-changing stone, Alexandrite, named in honor of the future Tsar of Russia, Alexander II, has since become one of the world's most sought-after gemstones. In speaking with gemologist Stacey Trolly, I discovered several aspects of the Alexandrite that make it one of the world's most fascinating stones.
Coast Diamonds platinum Heart ring with 3.13-carat heart-shaped Alexandrite and 0.48 carats diamonds, $59,600, coastdiamond.com
Mark Henry 18K white gold ring with 3.00-carat Alexandrite and 1.75 carats  diamond, $150,000, markhenryjewelry.com
Alexandrite, part of the Chrysoberyl family, is a phenomenal gemstone, meaning it changes color. Gemstones emit color from the light they absorb from the different wavelengths of visible light. With Alexandrite, Trolly says, "The color change is the result of chromium traces found in the gemstone which cause strong light absorption." She explains, "an Alexandrite transmits wavelengths in both the green and red sections of the spectrum. This is because candlelight and incandescent light bulbs generally have a yellowish color because they contain fewer blue wavelengths than sunlight or daylight. So, an Alexandrite viewed in incandescent light looks reddish. In fluorescent light or sunlight, the green wavelengths take over and the stone looks green."
Tenzo 18K white gold ring with 23.71 carats cat's eye Alexandrite and 1.03 carats diamonds, $95,000, tenzo-jewellery.com
Omi Prive 18K yellow gold ring with 2.19-carat cat's eye Alexandrite, 0.37 carats pear-shaped Alexandrite, 0.16 carats round Alexandrite and 0.58 carats diamonds, $30,000 omiprive.com
Alexandrite is also a pleochroic gemstone, which shows varying colors when the stone is viewed from different directions. Trolly says, "Typically its three pleochroic colors are green, orange, and purple-red; however, the beautiful 'color change' doesn't arise from the gem's pleochroism, but rather the mineral's unusual light-absorbing properties." The Tenzo and Omi Prive rings shown above exhibit another phenomenon, that only happens in the rarest of cases, which Trolly refers to as chatoyancy or cat's eye effect. She explains that "this happens when certain types of thin inclusions are oriented parallel to each other."
While Alexandrite was originally mined in Russia, today it is mined in Sri Lanka, East Africa, India, and Brazil, and unlike most color gemstones, Alexandrite is never heat-treated. Trolly says, over 3 carats is highly uncommon for Alexandrite adding that pricing is based on the strength of the color change and the purity of hue.
Stacey Trolly is a Gemological Institute of America graduate gemologist and senior member of the National Association of Jewelry Appraisers. She is the owner and appraiser for Art of Stone Co in Forest Hills, New York.