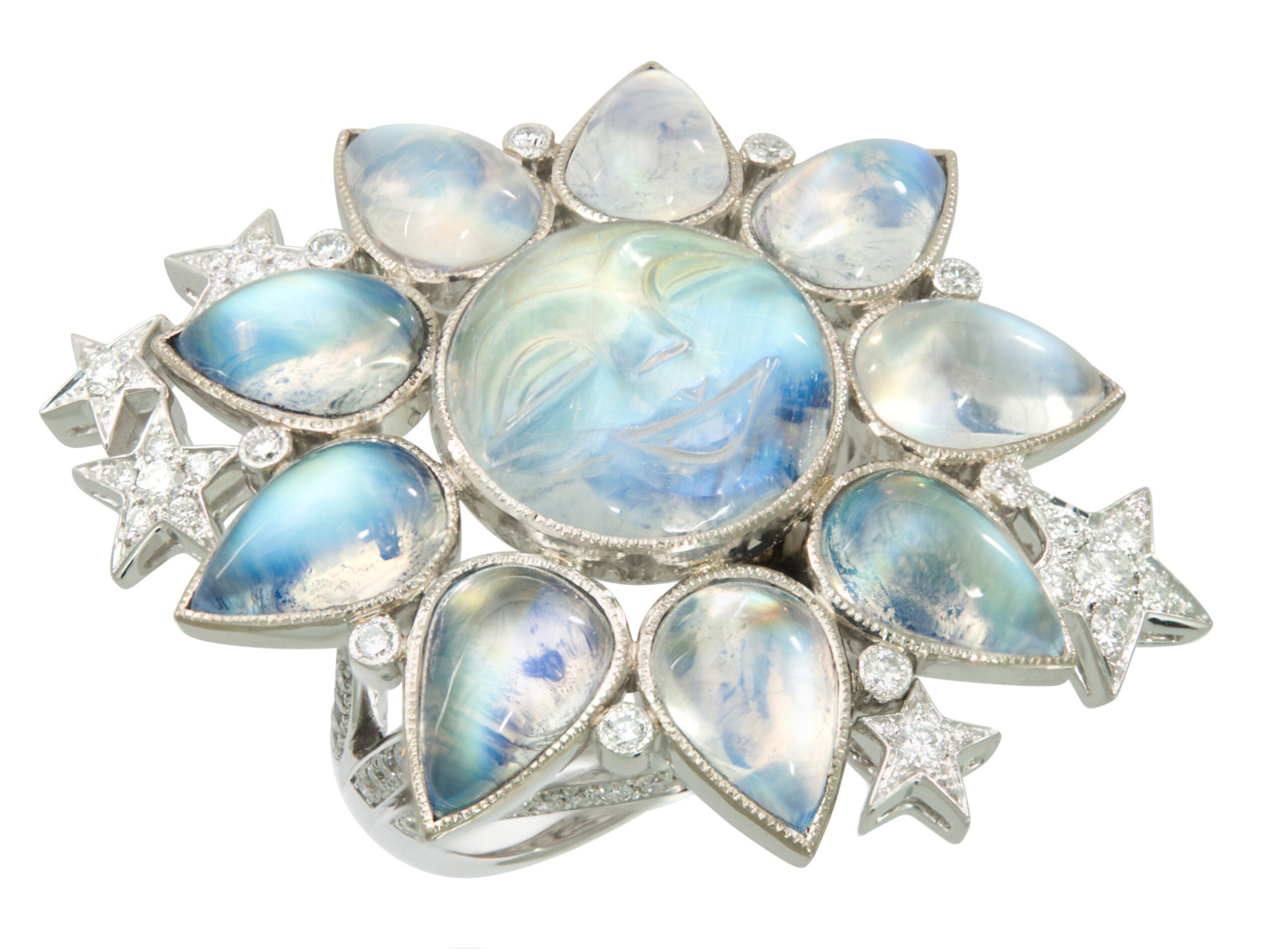 With the resurgence of carved gemstones in jewelry design, I was curious to learn more about the art of stone carving, otherwise known as glyptography. While the craft's required precision and skill is impressive in its own right, the history of glyptography is rather notable as well. In my opinion, the most interesting part of the history of carved stones is that it's been an artistic expression since the beginning of mankind – or at least for thousands and thousands of years. Throughout the ages, carved stones have included motifs of people, flora, fauna and symbols, and were used ornamentally as well as for identification. Intriguingly, too, is that not a lot has changed in the way gemstones are carved compared to ancient techniques, except that the tools today are more refined and use modern technology.
A mixture of oil and an abrasive powder forms a compound called slurry, which is used in conjunction with a hand tool to chisel and carve the stone in one of two ways: intaglio, meaning in a concave application where the design is carved into the stone, or as a cameo, which is a convex application where the stone is chipped away in layers around a design causing a relief of the design on the stone. In the case of the cameo, sometimes the stone is one color on its surface, and changes to another color under several of its layers. One of my all-time favorite cameo jewelry designers, Amedeo Scognamiglio, turns the traditional idea of the cameo on its proverbial head with cheeky cameo motifs of monkeys, as seen below, snakes, skulls and robots. Scognamiglio even does custom carved pieces of clients' children and pets. Here, the conch shell is hand-carved into the three monkeys design and has 18K yellow gold overlay accents.  
Amedeo black rhodium plated sterling silver and 18K yellow gold MonkeyGold necklace with 75mm hand-carved sardonyx shell cameo and 1.2 carats black diamonds, $15,400, amedeo.shop
Saboo platinum earrings with 12.31 carats rose-cut marquise diamonds, 5.05 carats pear-shaped emerald cabochon, 6.89 carats pear-shaped rose-cut emeralds and 23.83 carats carved Australian opals, $185,000, saboofj.com
Gumuchian platinum Horace Brooch with hand-carved multi-colored tourmaline and 1.35 carats diamonds, $20,000, gumuchian.com
The exquisite rose-cut marquise diamond Saboo earrings shown above feature carved Australian opals that create perfect frames for the cabochon and faceted emerald stones they cradle. Also above is Gumuchian's hand-carved multi-colored tourmaline, which has been fashion into a gorgeous and regal hound named Horace, which is set with platinum and diamonds.
Be sure to click here for more high-drama jewelry pieces illustrating the ancient art of glyptography.
Fernando Jorge 18K yellow gold Stream Melting ring with 1.10 carats diamonds, 7.31 carats milky quartz and mother-of-pearl, $13,800, auverture.com
Pamela Huizenga 18K yellow gold French wire earrings with 56.75 carats hand-carved tanzanite and 1.42 carats diamonds, $18,000, pamelahuizenga.com
Wendy Yue 18K rose gold Monkey ring with 30.33 carats coral, 3.48 carats tourmaline, 3.13 carats tanzanite, 2.83 carats rubellite, 6.23 carats colored sapphires, 2.99 carats tsavorites, 2.29 carats yellow sapphires, 2.43 carats rubies, and 0.23 carats champagne diamonds, $17,200, wendyyue.com
William Noble 18K white gold ring with 6.35 carats hand-carved emerald with 7.19 carats cabochon emeralds and 0.72 carats diamonds, $34,000, williamnoble.com
Sanjay Kasliwal 18K white gold Tutti Frutti tennis bracelet with 49.80 carats carved sapphire, 49.80 carats carved emerald, 49.80 carved ruby and 6.24 carats diamonds, $45,000, sanjaykasliwal.com
Lydia Courteille 18K white gold Moon ring with 24 carats carved moonstone, pear-shaped moonstone, diamonds and white gold, $18,600, lydiacourteille.com
David Webb 18K yellow gold ring with carved fluted emerald bead, azurmalachite, and brilliant-cut diamond, $28,000, davidwebb.com
Narcisa Pheres 18K white gold earrings with 3.33 carats diamonds and 49.61 carats carved turquoise, $13,500, pheres.com