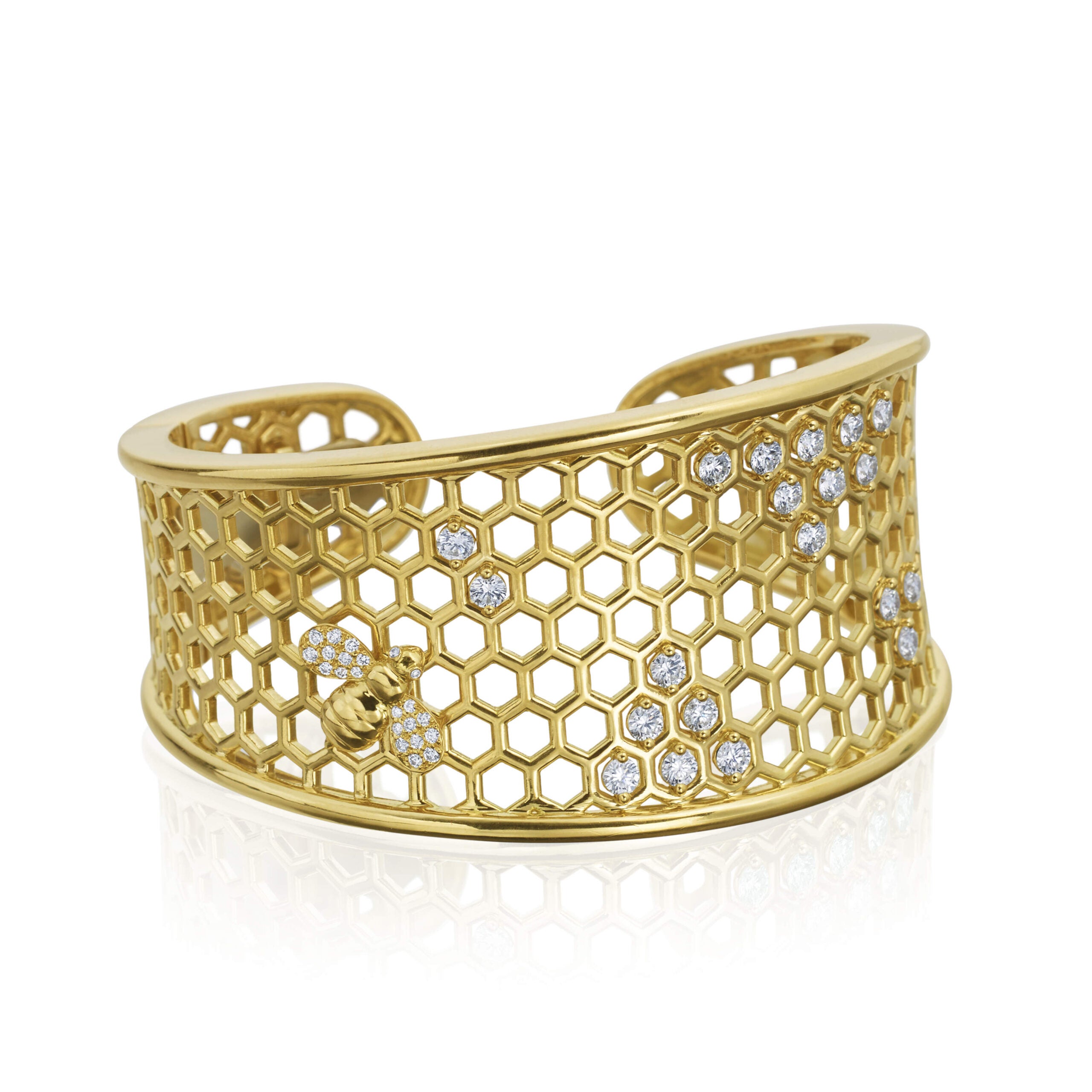 By Manon Crespi
Hand-crafted in its New York City atelier for over 35 years, Gumuchian jewelry is best known for its classic, sophisticated designs bread from a rich European history. Gumuchian jewelry is designed by women with women in mind, and is made with platinum, 18K gold and brilliant diamonds selected from their offices in Antwerp, Belgium.
Having traveled to Bruges in Belgium this summer, where I experienced my first mouth-watering bite of a famous Belgian waffle, I understand completely how this is one of the Gumuchian women's most prominent childhood memories from growing up in Belgium. Gumuchian pays homage to the sweet family memories with these fanciful Ice Cream rings in 18K yellow gold with chrysoprase, tsavorites, cacholong opal, diamonds, brown obsidian and brown diamonds shown above. The gorgeous 18K rose gold Carousel earrings and matching convertible Carousel necklace (which can be worn in over three different ways with a detachable bracelet) are another nod to their childhoods spent in beautiful Belgium.
I'm always fascinated by the elements of inspiration that inform the ultimate outcome of a beautiful piece of fine jewelry. For Gumuchian, a family- and women-owned company based in New York, the fundamental inspiration actually comes from the lives they lead and the values they embrace. Anita Gumuchian, founder and matriarch of the company, and her two daughters, Patricia and Myriam, all have a deep love of family, a strong sense of heritage and a firm commitment to positively impacting their respective spheres of influence. I spoke with Myriam recently, and learned firsthand how these strong, accomplished women built a company and jewelry brand to not only reflect what's important to them, but also what's important to the women who wear their jewelry.
Myriam describes her mother, Anita, as "a discreet, old-world European lady with impeccable taste and a pulse on fashion," In my interview with Myriam, I discovered that while Anita may have been discreet, it didn't stop her from trailblazing for the women in her life that would one day follow her lead. Anita lived in Istanbul with her Armenian parents during the 1930s and 40s, a time when women had a limited education and few options other than marriage. But Anita's sharp mind and determination in her early 20s earned her the equivalent of today's master's degree in mathematics. She later married and raised her four children in Belgium, where she managed the company finances for her husband's diamond business. The couple eventually opened an office in New York City, moving the family there in the early 1970s. Upon arriving, Anita noticed that with the exception of a few jewelry companies, there really weren't any well-established high-jewelry brands in America. She decided to start her own luxury jewelry company with the caveat that her daughters, Patricia and Myriam, would join her after they graduated from college. The young women jumped at the opportunity.
After Myriam graduated from Tufts University, she went right to work for Gumuchian. She says in the beginning, "we all did everything – from designing to sourcing stones to running to the post office." Over time, the women found their grooves in more clearly defined roles that naturally suited their personalities. Of the two daughters, Myriam is the more outgoing one. As the director of sales for the business, she eventually became the face of the Gumuchian brand. Myriam says, "I like to work hard and play hard, but it's important to make time for others." She loves cooking and spending time with family and friends around the dinner table. She also has a passion to see people succeed and regularly mentors women in business. Like her mother, Myriam has a panache for going where few women have gone before: in her case, Myriam was the first woman-appointed chair of the Jewelers of America Gem Awards and was the second female president of the 24 Karat Club in its 100 year history, a once all-male jewelry industry club.
Patricia went to work for Gumuchian after graduating from Boston University, ultimately becoming the company's head designer and overseeing its manufacturing. More like her mother in temperament, Patricia prefers life behind the scenes. Patricia also has a strong sense of family and community with friends, and she, too, enjoys cooking and baking for them. Her other talents include knitting, needlepoint, gardening and entertaining. Myriam says, "Patricia was born with knitting needles in her hands. We're very passionate about our work, but we've always been homemakers." Patricia is also quite devoted to serving others and the causes dear to her heart.
The Tiny Hearts collection, for example, was launched in 2017 to celebrate the 30th anniversary of the Babies Heart Fund for Columbia Medical Center in New York City. Patricia's longstanding relationship with this hospital first began as a parent, and today she serves on the board of Babies Heart Fund and is its gala chairwoman. She has volunteered at the hospital serving high English tea to parents and siblings of sick children every month for over 25 years. The 18K white and yellow gold Tiny Hearts Station necklace with diamonds and the 18K white and yellow gold Tiny Hearts Tassel necklace with diamonds and blue sapphires are some of my favorites. A portion of sales from the Tiny Hearts collection goes to the Babies Heart Fund at Columbia Medical Center.
After Patricia learned about the decline of the honeybee population and the enormous impact its extinction would have on the world's food supply, the Gumuchian women wanted to help. The Honeybee "B" Collection was inspired by the women's love for cooking and the role food plays in bringing their families together. There are several notable pieces from this collection, each designed with meticulous detail and impeccably made. One of my favorites is the 18K yellow gold Honeycomb pendant necklace with citrine and diamonds shown above. The 18K yellow gold Honeycomb Motif cuff with diamonds, shown below, has a little honey bee that actually spins. Another standout piece is the 18K yellow gold Honeybee "B" charm bracelet with citrine, onyx, ruby and diamonds. A portion of all the sales from this collection goes to the non-profit, Bee Research Lab and Bee Squad, at the University of Minnesota.
The 18K rose gold Ring Cycle jewelry piece with diamonds, shown below, was designed by Anita and inspired by her early childhood memories. You can wear the piece as a ring or simply press the diamond center of the daisy motif to transform the piece into a bracelet. She first saw this type of design while a young girl visiting a Turkish Bazaar. Anita says it's a reminder that no matter how far away family members may travel, they're always connected at the family's core.
For more information, visit gumuchian.com