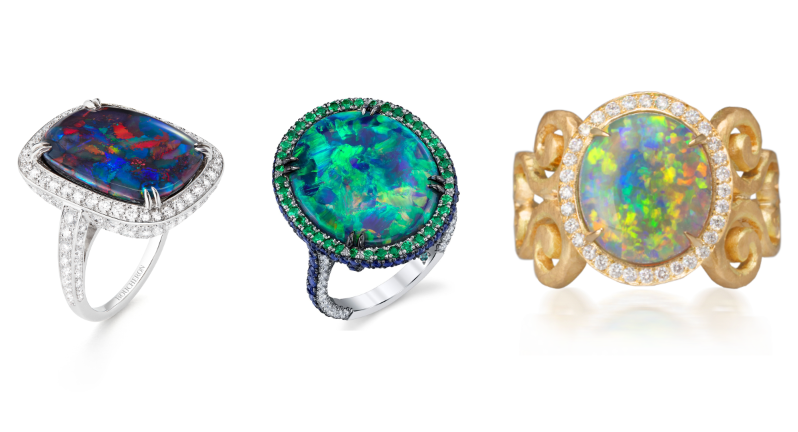 The opal gemstone holds an indefinable allure for me. There's something about its iridescence and dancing flashes of color that has always reminded me of water. After speaking with my gemologist friend, Anissa Carroll, I discovered I wasn't far off. According to Carroll, a Gemological Institute of America graduate and long-time international diamond and colored gemstone grader, the opal is a hydrated form of silica. Carroll says "its water content ranges from 2% to 21% of its weight."
Carroll continues, "Australia produces over 95% of the world's entire supply of opal gemstones," while other sources of opal are found in Mexico, Ethiopia and Nevada. "Opals," explains Carroll, "display a kaleidoscope of colors unlike any other gem." She describes the stone as both colorless and colorful, presenting an array of white, yellow, red, orange, green, brown, black, blue and pink.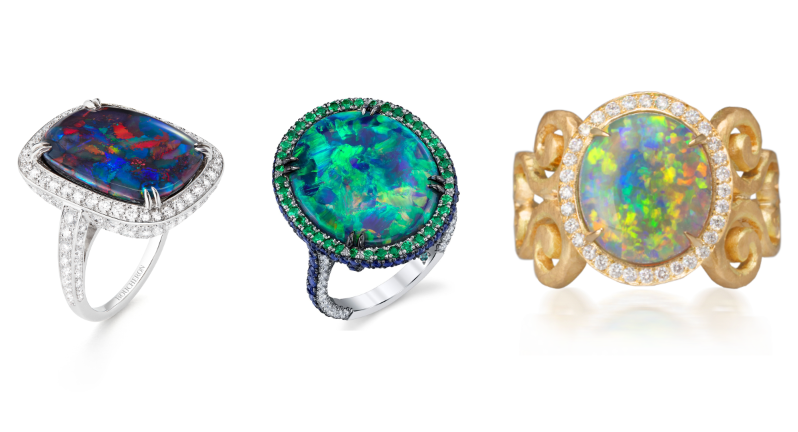 Left: Boucheron 18K white gold Joy ring with 7.79 carats Australian Black Opal and 2 carats diamonds, price on request, boucheron.com. Middle: Omi Prive platinum ring with 13.46 carats black opal, 0.61 carats tsavorites, 2.35 carats sapphires and 0.49 carats diamonds, $160,000, omiprive.com. Right: Pamela Froman 18K yellow gold ring with 2.81 carats Australian black opal and 0.24 carats diamond, $11,220, pamelafroman.com
The Boucheron, Omi Privé and Pamela Froman stunners above showcase the black opal, a gem that Carroll calls the most desired of all opals. Found only in the Australian Lightning Ridge mine, and equating to around 8% of the entire Australian yield of opals, Carroll describes the black opal as a ruddy black and dark gray gem and says, "yellow, blue and green are the most common colors seen through the play of color, with violet, fiery red and orange colors being the most valuable."
Left: Kimberly McDonald 18K green gold and 18K white gold with rhodium one-of-a-kind earrings with 42.77 carats Boulder opal and 4.43 carats diamond, $68,650.00, kimberymcdonald.com. Right: Featherstone opal peacocks earrings with 31.50 carats of opal, 1.79 carats of paraiba tourmaline, 10.37 carats of diamond and 2.83 carats of tanzanite, $220,000, featherstonedesign.com
The Kimberly McDonald and Featherstone earrings above are exquisite examples of the Boulder opal. "The Boulder opal," says Carroll, "is typically brown with or without a play of color and accounts for 2% of all of Australia's opals." As she explains, Boulder opal is found embedded in large boulders of ironstone, which is how the gemstone got its name. Carroll says of the Boulder opal, "some of the best matrix remains during the mining process, which enhances the stone's durability and play of color."
Left: Erica Courtney 18K yellow gold Starburst pendant with 15.25 carats opal, 8.11 carats Mahenge spinel, 1.06 carats Demantoid garnet and 0.12 carats diamonds on 18K yellow gold Featherette necklace with 8.64 carats Mahenge spinel and 3.00 carats diamonds, $54,800, ericacourtney.com. Middle: Daria de Koning 18K yellow gold earrings with 17.56 carats Mexican blue opals, 2.87 carats Paraiba tourmaline, 20.19 carats cabochon aquamarine and 3.23 carats brilliant cut Mozambique mint tourmaline, $85,000, dariadekoning.com. Right: Mousson 18K yellow gold Sprite brooch with 17.37 carats opal, carats tsavorite, carats green tourmaline and carats multicolored sapphire, $28,495.00, mousson.com
The white opal, shown above in the Erica Courtney necklace, is described by Carroll as a "milky white stone displaying a rainbow of colors with its play of colors." The Mexican blue opal, shown above in the Daria de Koning earrings, ranges from bluish white to deep blues. The Mousson brooch, also shown above, features a dazzling green opal with play of color.
Left: Yoko London 18K white and black gold necklace with 11-14mm South Sea pearls, 88.82 carats opals and 38.71 carats diamonds, price on request, yokolondon.com. Middle: Monica Rich Kosann 18K rose gold one-of-a-kind locket necklace with 54.98 carats crystal opal and 1.95 carats diamonds, $105,000, monicarichkosann.com. Right: Victor Velyan 18K and 24K gold bracelet with 22.65 carats Australian crystal opal and 2.97 carats diamond, $52,800, victorvelyan.com
The crystal opal, shown in the Yoko London and Monica Rich Kosann necklaces and Victor Velyan bracelet above, is also referred to as the water opal. This opal is characterized by what Carroll calls "Its clear displaying play of color." Carroll concludes with an admonishment to take special care with the opal gemstone. She says that on the Mohs scale, a measurement used by gemologists to determine the hardness of a gemstone, the opal registers at 5.0 to 6.5 and is considered very soft. Comparatively, the hardest of all gemstones, the diamond, registers at 10. Carroll says, "opals don't like extreme temperatures as they may crack," and adds, "don't wear your opals to the beach!"