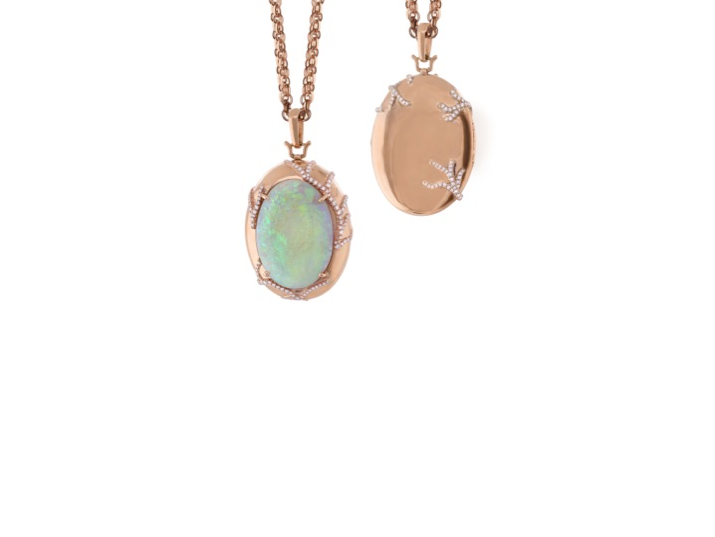 For a self-proclaimed introvert, fine-art photographer and jewelry designer Monica Rich Kosann certainly has a knack for drawing out the emotional side of her subjects. "I'm like everyone's hairdresser or bartender," says Kosann of her clients, "I'm there to reveal it." While speaking with Kosann and researching her background, I discovered a prominent thread running through each of her endeavors as photographer, jewelry designer, writer and boutique owner. She maintains an unrelenting focus on the very powerful human need for emotional significance. In other words, she zeros in on the innate desires people have to recall emotions of love, appreciation, pride, acceptance, wonder, surprise and joy, among others, I'm sure.
Kosann said her parents exposed her to art and that it was her father, an amateur photographer, who gave Kosann her first camera when she was a young girl. She says, "he talked to me about framing photographs and was my greatest champion." With inspiration coming from pictorialists like Clarence White, Kosann went on to discover her own artistic nuances of self-expression through the camera, ultimately becoming a renowned fine-art photographer in her own right. Most of her photography includes black-and-white portraits of families and children.
Monica Rich Kosann 18K yellow gold one-of-a-kind locket with 5.93 carats cushion-cut sapphire and 0.31 carats diamond, $48,500, monicarichkosann.com
Monica Rich Kosann 18K yellow gold one-of-a-kind locket with 7.05 carats blue-green tourmaline and 0.48 carats diamond, $29,500, monicarichkosann.com
The foray into jewelry, particularly her famed lockets, was a logical step. If people cherished their photographs, why not create beautiful vessels for them to take wherever they go? Kosann refers to any cherished photograph as an heirloom, and each locket she makes is intended to be what she refers to as "an heirloom in an heirloom." Her hope is that these special objects of emotional significance will be passed down through family generations so that they, too, can recall the love and joy they felt from the one who passed it down. The Monica Rich Kosann lockets are crafted in sterling silver with semi-precious stones, 18K gold with precious gemstones and her more contemporary pieces are made with 18K gold, ceramic and diamonds. They can hold as many as six images. Kosann includes a hand-painted rendering of each of her one-of-a-kind lockets with its purchase. The first of the two lockets shown above has a vintage feel with 18K gold scalloped finish, a cushion-cut blue sapphire and diamonds. The sleek look of the 18K yellow gold second locket above has a modern feel with blue-green tourmaline and diamond accents.  Another of my favorites, shown below, is made with 18K yellow gold, gray moonstone and green tsavorite. In addition to lockets, Kosann creates beautiful charms for necklaces and bracelets as well as artifacts for the home.
Monica Rich Kosann 18K yellow gold locket with gray cabochon moonstone center stone and 6.22 carats tsavorites, $24,000, monicarichkosann.com

Kosann began documenting her own journey as a portraitist with her books Thank Heaven for Little Girls, Treasures from Heaven and The Fine Art of Family, which include images of families she's photographed throughout her career. Another of her books, Living with What You Love: Decorating with Family Photos, Cherished Heirlooms and Collectables, is a guide on how to incorporate family pictures into the interior design of a home. Kosann's latest publication, A Possession Obsession: What We Cherish and Why, explores the types of objects that are meaningful to people and why.
True to her hallmark mission of helping others experience emotional significance, Kosann now enjoys spending one-on-one time with the customers who frequent her boutiques, helping them to piece together the charms and lockets that tell their story. The New York Monica Rich Kosann boutiques are located in the Columbus Circle Shops and on the seventh floor of Bergdorf Goodman. Her new Los Angeles boutique is scheduled to open in Century City in Fall 2017. Monica Rich Kosann jewelry can also be found in Neiman Marcus stores and specialty fine jewelry stores across the US.
Click through for more jewelry from Monica Rich Kosann.
Monica Rich Kosann 18K rose gold one-of-a-kind locket with 54.98 carats crystal opal and 1.95 carats diamond on diamond accent double 18" round Belcher chain, $105,000, monicarichkosann.com
Monica Rich Kosann 18K yellow and white gold one-of-a-kind Starfish charm (shown above with both sides) with 32.2 boulder opal and 0.88 carats pave diamonds on 32" diamond accent small Belcher chain,$36,500, monicarichkosann.com
Monica Rich Kosann 18K yellow gold one-of-a-kind charm with 26.6 carats fire opal and 3.35 carats yellow sapphire on 30" delicate Belcher chain, $24,225, monicarichkosann.com
Monica Rich Kosann 18K white gold one-of-a-kind Jelly Fish charm with 28.4 carats Boulder opal and 0.9 carats diamonds on double black steel chain with diamond accents, $47,500, monicarichkosann.com