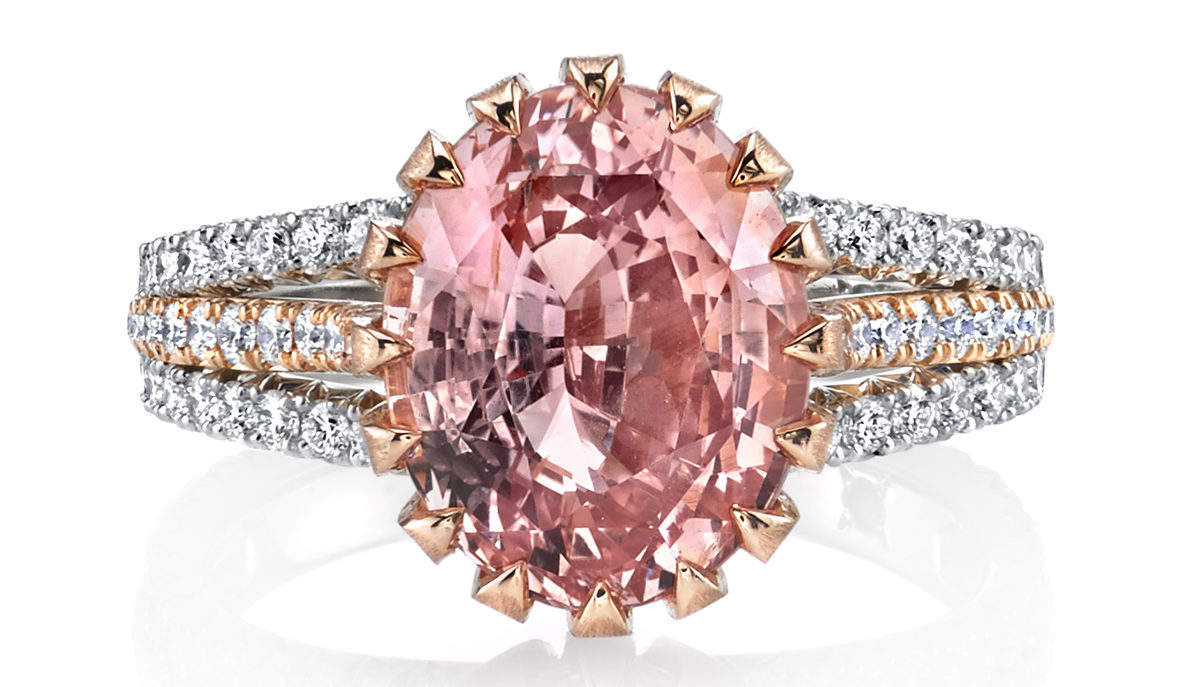 JB Star platinum ring with 3.14 carats unheated oval Padparadscha sapphire, 0.60 carats half moon diamonds and 0.84 carats round diamonds, $59,990, borsheims.com
Padparadscha has always been a fan favorite among avid gemstone collectors, but my friend,  Douglas K Hucker, CEO of American Gem Trade Association, says it's gaining fame and recognition outside the gem community as well. Known for its pink-and-orange color combination, it's not at all surprising that one gorgeous Padparadscha found a home on the ring finger of Princess Eugenie of York this past year. But while the dreamy hues that conjure tropical warmth and sun-kissed horizons are the great allure of Padparadscha, there is more than meets the eye with this exquisite gemstone.
David Morris 18K white gold earrings with 6 carats Padparadscha, 28.26 carats diamonds and 21.27 carats pearls, price on request, davidmorris.com
David Morris 18K white gold necklace with 36.33 carats Padparadscha, 30.76 carats diamonds and 170.03 carats pearl, price on request, davidmorris.com
Blue might be the first color that comes to mind when thinking of sapphires, but sapphires are actually found in an array of colors. Blue sapphires are commonly referred to simply as a sapphire, while all other sapphires are referred to as fancy sapphires. Of the Padparadscha sapphire, gemologist Teresa Pureber tells me, "The word Padparadscha is a Sinhalese word meaning lotus blossom. Just as a lotus blossom is not a neatly categorized color, neither is Padparadscha sapphire. The oldest writings describe it as a cross between a red ruby and a yellow sapphire. Today, it is most commonly accepted that it must contain a combination of pink and orange."
Omi Prive platinum and 18K rose gold ring with 8.18 carats unheated oval Padparadscha sapphire and 0.74 carats brilliant round diamonds, price on request, omiprive.com
Michael John 18K white gold necklace with 9.03 carat round brilliant cut diamonds and 157.44 carat natural ceylon and Padparadscha sapphires, $160,600, michaeljohnjewelry.com  
While we're on the topic of color, it's helpful to understand what gemologists mean by their descriptions of color. In speaking with Pureber, I learned that a gemstone's color is described in three ways: hue (basic color), tone (degree of lightness or darkness) and saturation (intensity of color). When she is grading a Padparadscha, Pureber considers the origin of the stone as it relates to the saturation of color. For example, the traditional discoveries of Padparadscha in Sri Lanka are a lighter pastel while the more recent finds in Tanzania tend to be much darker. Pureber says, "Today, a light-to-medium tone and saturation is an explicit requirement."
Bayco platinum ring with 5.24 oval natural unheated Padparadscha and 1.86 carats colorless diamonds, $130,000, bayco.com
Padparadscha is mined in Sri Lanka, Vietnam, Tanzania and Madagascar. Sri Lanka is considered the stone's origin, because this is where it was first discovered. Pureber says that the stone's origin plays a factor in its value, explaining, "If you were to somehow hypothetically find two Padparadscha that were the same in every way except country of origin, the Padparadscha with a lab-verified country of origin from Sri Lanka would have a higher value than an otherwise identical stone from Tanzania. It is similar to how Colombian emeralds command a higher price than Zambian emeralds. The country of origin does not guarantee quality, but it does speak to the emotional factor of history and provenance." According to Pureber, it's an industry standard practice to heat-treat sapphires. As she explains, "This is done to improve the quality — typically color, but clarity can be affected as well — of the gem and is considered a stable treatment." In the most impressive stones, however, heat-treatment isn't needed. Pureber notes,  "Sapphires that have been proven not to be treated in any way are much more rare and command a much higher value. The most highly valued would be an unheated Padparadscha from Sri Lanka; it is no coincidence that this would be very rare as well." Pureber stresses the importance of purchasing high-value gemstones from dealers who are affiliated with respected organizations that require full stone-treatment disclosure, such as AGTA, and that have certified lab reports. Ultimately, it's important to simply love the stone. And if the jewelry pieces shown throughout this article are any indication, loving Padparadscha isn't hard to do.
Oscar Heyman platinum ring with 2.8 carats Padparadscha, 0.41 carats yellow diamond and 0.92 white diamonds, $42,000, oscarheyman.com
Arunashi for William Noble titanium and 18 karat rose gold ring with 7.67 carats oval-shaped Paraiba, 28.0 carats of Padparadscha sapphires and 1.00 carat of diamonds, price on request, williamnoble.com
Teresa Pureber is a Graduate Gemologist (GG) and Applied Jewelry Professional (AJP) through the GIA.  She oversees the buying of loose and set diamonds, bridal and high-end jewelry departments at Hyde Park Jewelers, a premier independent jeweler for fine watches, designer and bridal jewelry in the USA.