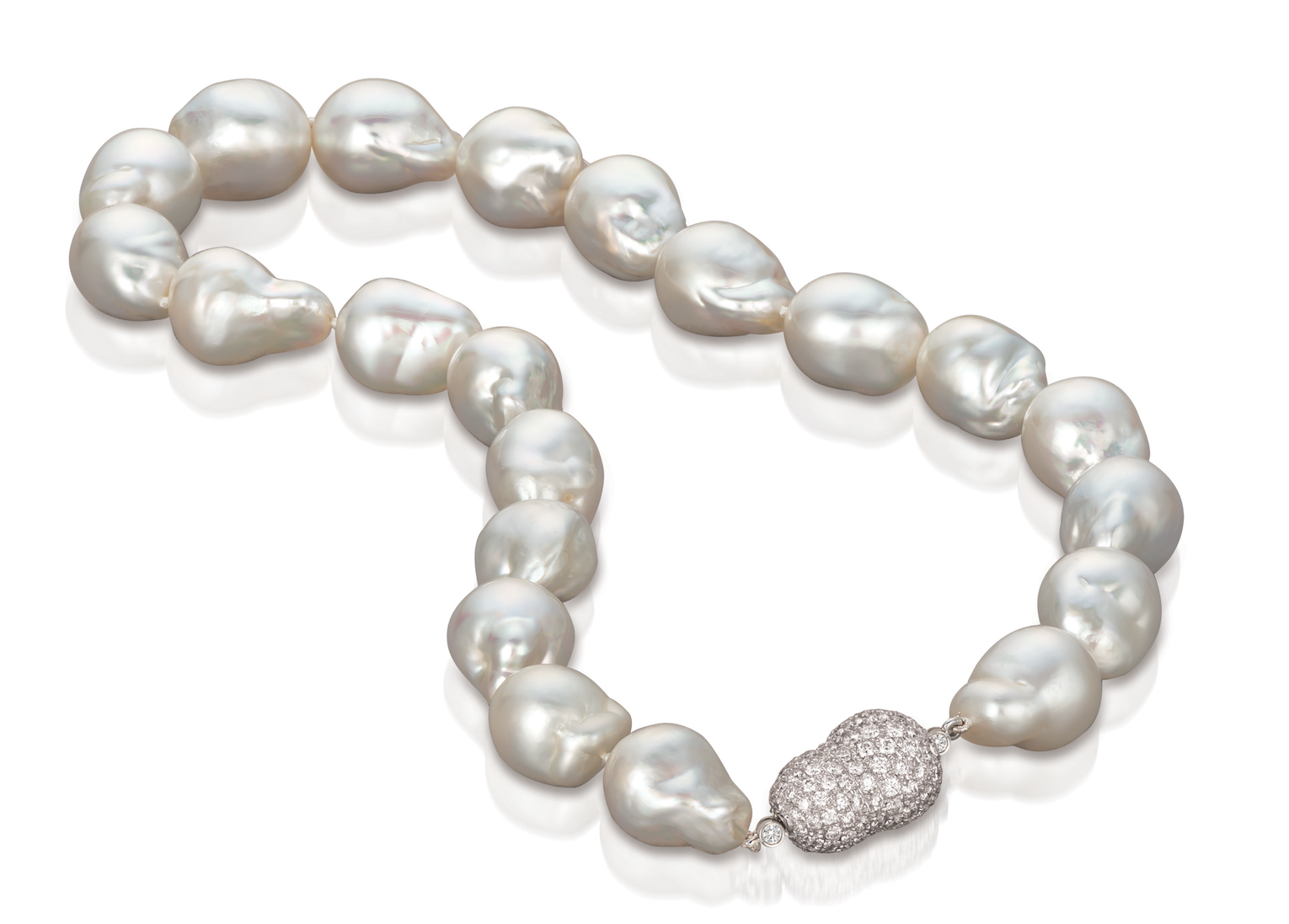 I've always been captivated by the exotic South Sea pearl, and for good reason. South Sea pearls, which range in size from 8-18mm, aren't just larger than other types of pearls. These rare and beautiful pearls also possess high-luster colorations with extraordinary metallic nuances. I recently caught up with Scott Friedman, a Master Gemologist Appraiser and founder of the luxury appraisals firm, Rare Concept, who tells me that South Sea pearls are "some of the most valuable and treasured pearls in the world." These exquisite gems come in three main colors: golden, white and black.
Jewelmer 18K yellow gold Tropical necklace with 8-15mm golden South Sea pearls and 27.44 carat diamonds, $250,000, Oliver and Espig Gallery of Fine Arts, oliverandespig.com
The jaw-dropping Jewelmer necklace shown above exemplifies the sheer elegance of the golden South Sea pearl, which Friedman says comes from the Pinctada Maxima oyster. Among the largest pearl oysters in the world, Pinctada Maxima oysters grow to the size of a dinner plate and are either golden- or white-lipped. Friedman says, "High quality golden South Sea pearls are usually found in the Philippines and include a wide variation of shades of light to dark golden colors." Friedman says that white South Sea pearls, shown below in the gorgeous diamond-studded white South Sea pearl J Stella earrings, are commonly found off the shores of Australia and are typically creamy white in color with a silver overtone.
J. Stella 18K white gold Stiletto earrings with 13.5-4mm Australian South Sea pearls and 1.80 carats diamonds, $8,800, jstella.com
The Baggins Tahitian pearl earrings shown below perfectly accentuate the unique, almost gunmetal hues of Tahitian or black South Sea pearls, which Friedman says are valued for their remarkable colors and metallic-like luster. These South Sea pearls are found exclusively off the shores of Tahiti and the French Polynesian islands. Friedman adds, "Whereas other pearl types are typically limited in color, Tahitian pearls consist of hundreds of overtone combinations with incredibly exotic colors such as peacock green, silver green, blue and purple."
Baggins 18K white gold Aurora Eclipse earrings with 14-15mm Tahitian pearls and 8.16 carats diamonds, $30,000, bagginspearls.com
All South Sea pearls are characterized by a high luster quality, which is due to the large aragonite platelets that make up the pearl. South Sea pearls also have the thickest nacre of all cultured pearls. Be enamored with more of my favorite captivating South Sea pearl jewelry pieces by clicking here.
Mikimoto 18K yellow gold Four Seasons Autumn ring with 17mm golden cultured South Sea pearl, 0.76 carats diamonds, 0.77 carats yellow sapphires, 3.62 carats orange sapphires, 1.75 carats tsavorites, 1.26 carats  intense pink sapphires and 2.40 carats orange spessartite garnets, $170,000, mikimoto.com
Mastoloni 18K white gold necklace with 15-17mm white baroque South Sea pearls and 5.50 carats white pave diamonds, price on request, mastoloni.com
Belpearl 18K yellow gold Kobe Collier necklace with 13mm untreated natural golden Burmese South Sea pearls and 6 carats diamonds, $59,000, belpearl.com
Tiffany platinum ring with 14.5-15mm golden cultured South Sea pearl and 3.26 carats brilliant diamonds, price on request, tiffany.com
Tara Pearl 14K yellow gold earrings with 10-11mm golden South Sea pearls and 0.83 carats diamonds, $5,587, tarapearls.com
Yoko London 18K white gold Mayfair bracelet with 9-10mm South Sea pearls and 5.99 carats diamonds, $38,000, yokolondon.com
Featherstone Fine Jewelry three-part platinum earrings with 16.7mm x 13.4mm baroque South Sea pearls, 16.5mm x 14.8mm silver-white South sea pearls and 6.15 carats diamonds, $86,000, featherstonedesign.com
Assael Pearls platinum earrings with 17.2 mm x 14.8 mm South Sea pearls, natural conch pearls and 8 carats diamonds, $250,000, select Neiman Marcus stores neimanmarcus.com
little h. 14K white gold earrings with white baroque South Sea pearl and 2.5 carats diamonds, $10,125, littlehjewelry.com
William Noble 18K white gold Camel brooch with 38mm South Sea Baroque Pearl and 7.09 carats pave diamonds, $48,000, williamnoble.com