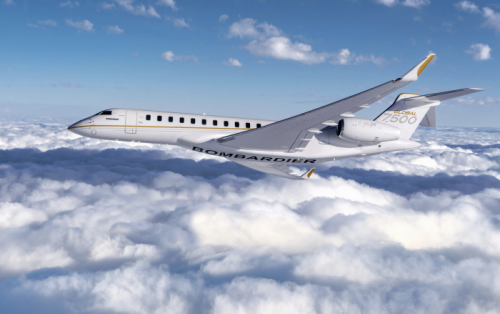 To date, the Bombardier Global 7500 aircraft has the most superlatives of any business-class jet: At just over 54ft, it is the longest; it is the industry's only purpose-built jet with four fully customizable living spaces, making it the largest; and, perhaps most important, it's the fastest, reaching speeds up to 710mph with a range up to 7,700nm.
The jet broke speed records in March when traveling between Los Angeles and New York, and again from White Plains, New York to Luton, UK, as well as completing the longest-range business-jet flight in history when it traveled 8,152nm nonstop from Singapore to Tucson, Arizona.
The Global 7500 seats up to 19 passengers, and you can design each cabin however you wish. There's even the option of a surround-sound movie theater and your choice of furniture, such as a TV stand, that would make just as much sense in your home's living room as it does on your aircraft; a stateroom with en-suite bathroom (stand-up shower included) and ample storage space; and a functional dining area that connects across the width of the cabin so you can enjoy six-person dinners in the sky.
No matter how long you travel, you will certainly be well-rested thanks to the new Soleil lighting system, aviation's first-ever, circadian-rhythm-based lighting system featuring Dynamic Daylight Simulation technology: Program the time at your arrival destination and the lighting will subtly mimic the sun's position in the sky, helping to reduce jet lag and boost energy.
By night, the lighting changes to increase the production of melatonin and encourage restful sleep. The crew benefits, too, as there's a dedicated crew suite near the galley so they remain rested during long-haul flights. The list goes on: There are ultra-large windows, expedited turbo heating and cooling change the cabin temperature within minutes, and optimized cabin pressurization relieves jet lag.
Lastly, Bombardier Global 7500 is the launch for the company's patented new Nuage seats, designed in collaboration with industrial designers. Shockingly, this is the first complete seat redesign in the private aviation space in more than 30 years. The seat isn't connected to a track; instead, it sits on a floating base with a centered swivel axis, creating fluid movement.
It has a tilted headrest, a deeper, more comfortable recline via a tilt-link system and an armrest with a 45-degree ergonomic slope. The Global 7500 doesn't neglect the details; after all it is an aircraft of 'firsts:' The plane comes with the first-ever steam oven and boiling kettle in aviation history.
After the 7500 received its FAA certification in November 2018, the first delivery of the plane was made in December 2018, and 15 to 20 planes are set for delivery this year.
Price: $72.8m
businessaircraft.bombardier.com