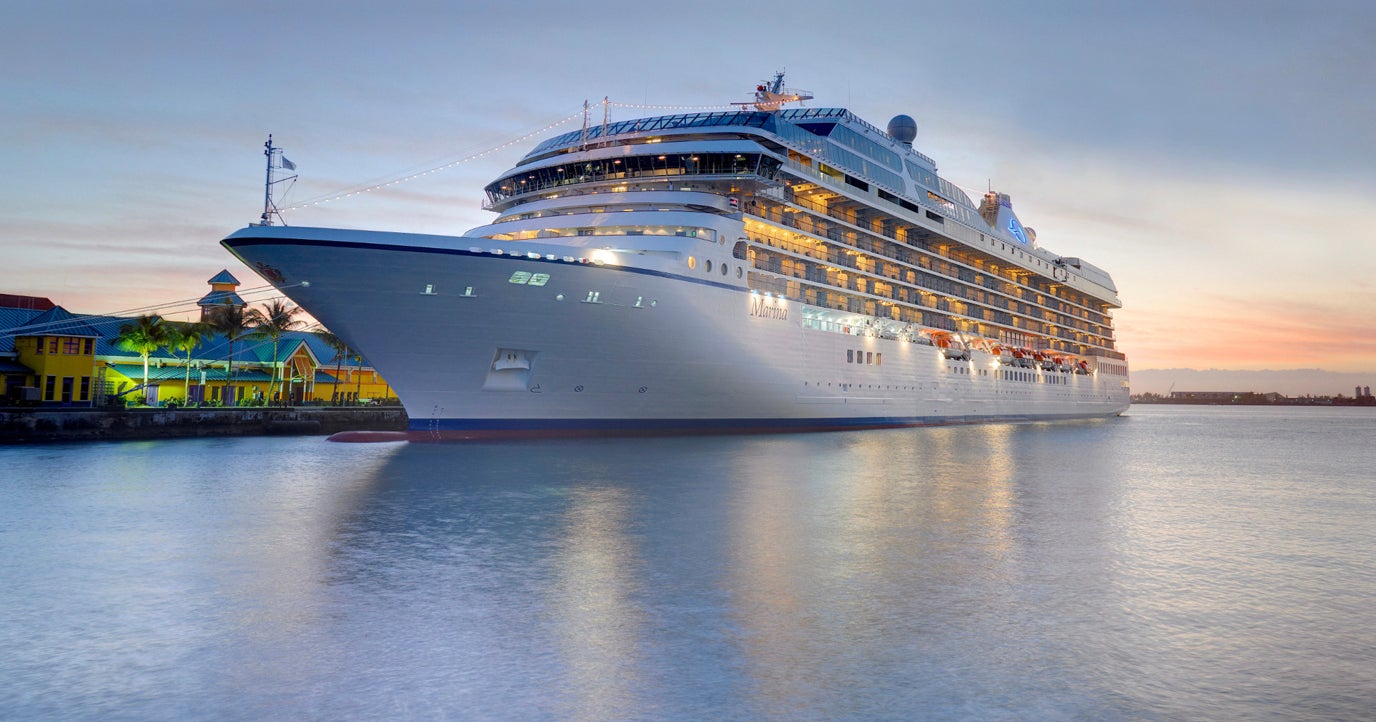 This story originally appeared in the July/August 2018 issue of Elite Traveler.
If you have never been on a cruise, now is the time to go. Companies have listened to what passengers want and have thrown conventional cruising out the window. Gone are the days of reserved tables with uninspired cuisine, the famous baked Alaska for dessert and staid entertainment. Michelin-starred chefs, award-winning mixologists, Grammy-winning producers and the world's best designers are coming aboard to create ships that are so incredible, you might not want to head to shore. And the suites, featuring crystal chandeliers, king-size cashmere mattresses, expansive terraces and butler service, certainly rival those on land. To explore the world at a gentle pace, there's simply no easier way than aboard a cruise. We've even selected the best itineraries for each ship, allowing you to explore places as far-flung as Tokyo, Santiago, St Petersburg, Rome and Tahiti. All aboard!
Crystal Penthouse with Verandah
Crystal Serenity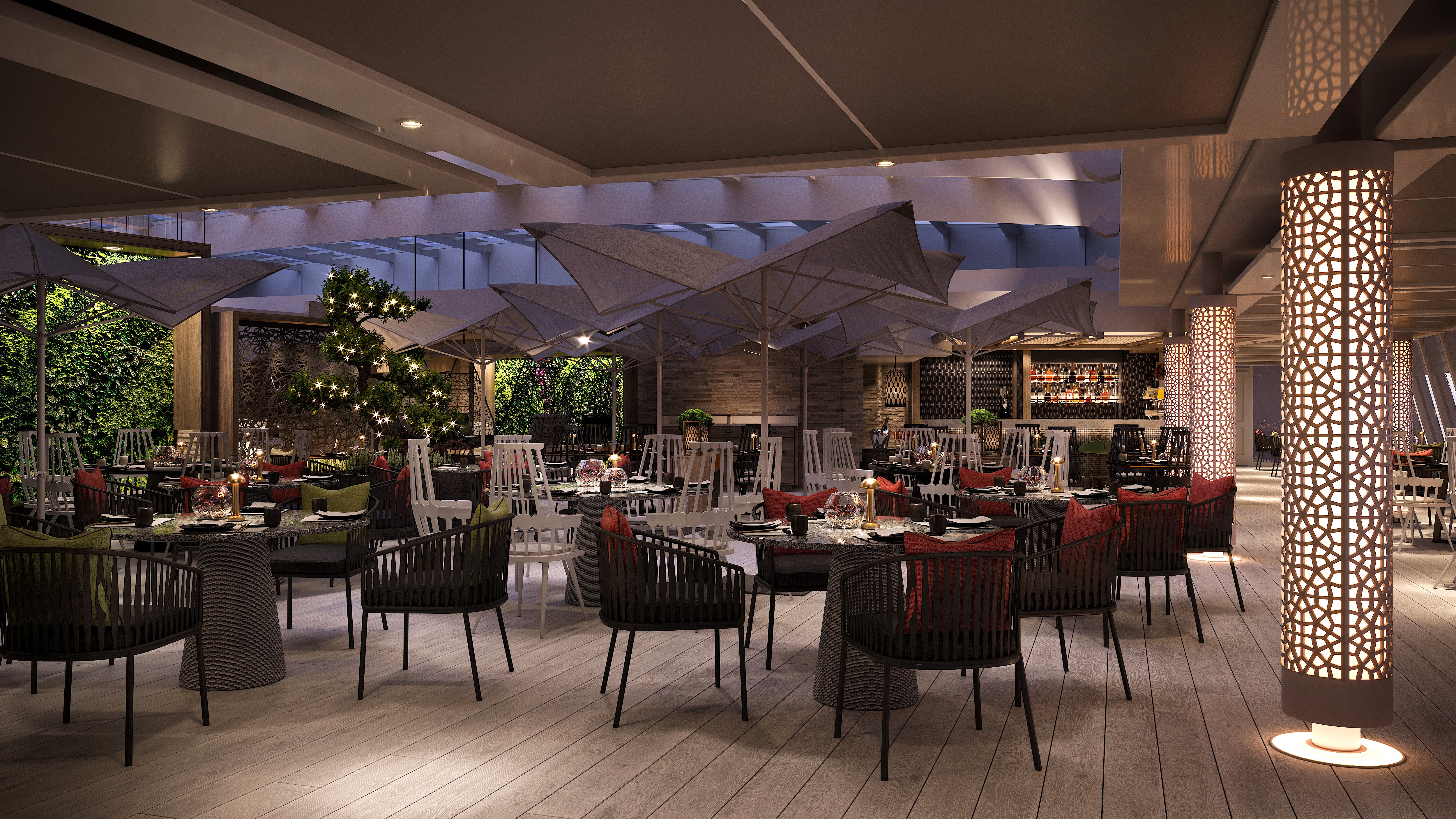 Crystal Serenity already enjoys the spotlight as one of the world's most awarded cruise ships, but now she is poised to win even greater acclaim after a planned multimillion-dollar transformation this November. The expanded suites will welcome fewer guests, just 980, and offer in-suite technology such as interactive HDTV with Bose surround sound, and its exciting new dining venues will include Umi Uma by legendary chef Nobu Matsuhisa. Gastronomy is one of the cruise line's hallmarks, and a highlight of Crystal Serenity is The Vintage Room, where rare wines are paired with the menus of world-renowned chefs in the Ultimate Vintage Room Dinner (around $1,000 per person). For cultural enrichment, spend the voyage taking in a lecture, practicing tai chi and making the most of the expert-led art instruction. And for relaxation, head to the Crystal Spa, designed according to feng shui principles.
We recommend staying in the plush Crystal Penthouse with Verandah. This beautifully decorated suite is reminiscent of a Manhattan penthouse, reflecting its New York inspiration through classic yet contemporary furnishings, a color scheme of warm neutral tones with pops of red and lime-green, Italian marble, Swarovski crystal, cutwork screens and nature-inspired artwork. The elegant dining area boasts ocean views, and the master bath features a Duravit spa flotation tub. While staying in this enviable space, you'll receive exclusive invitations to sip cocktails in the captain's quarters and dine at an officer's table.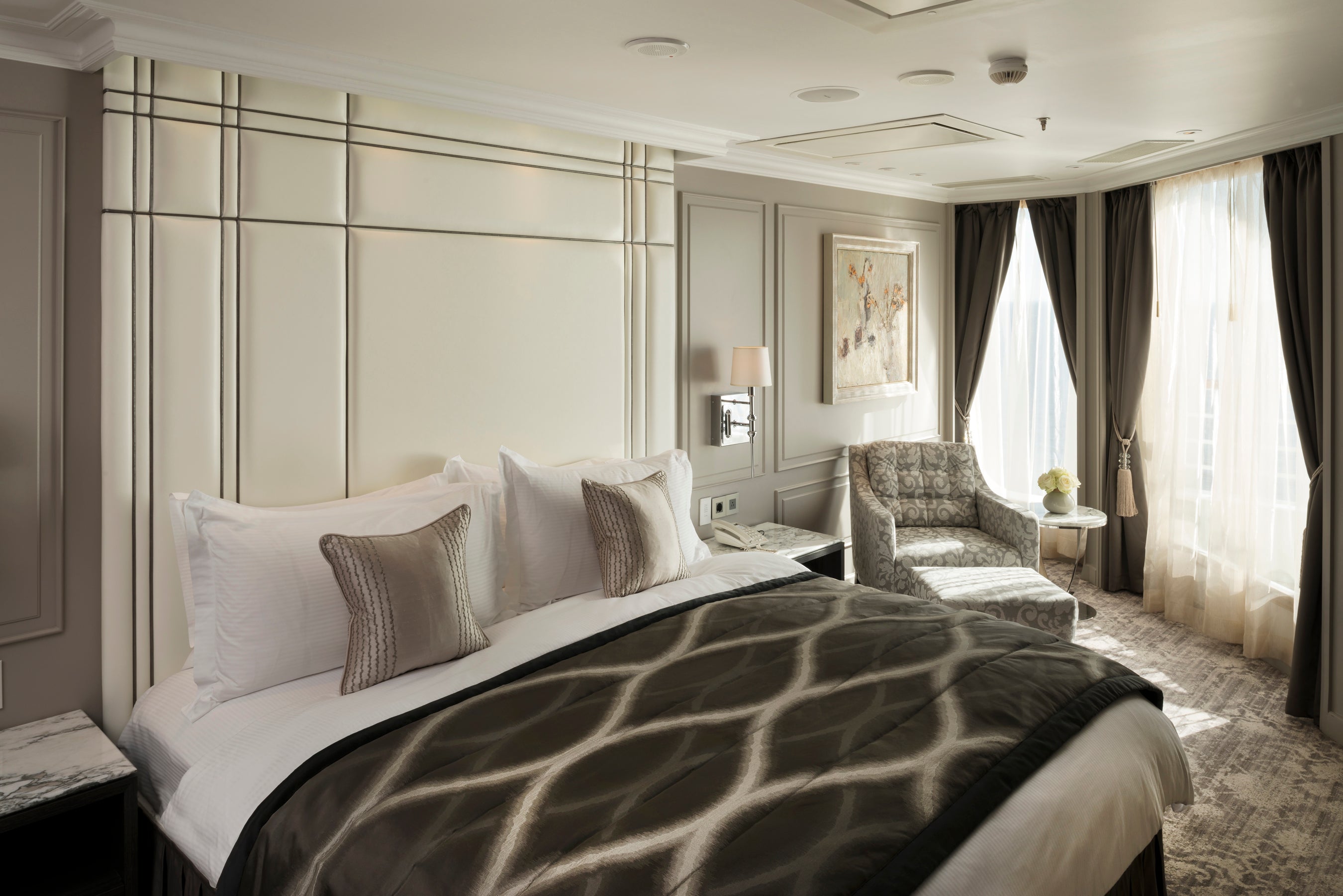 The Itinerary
Be a part of a once-in-a-lifetime around-the-world expedition by joining the 2019 Full World Cruise: Grand Continental Odysseys. Embarking from Los Angeles in January, this extraordinary 85-day journey will take in the most captivating islands and coastal destinations in the Pacific, Australia, Africa and Europe — among them the capital of Samoa, New Zealand's Bay of Islands, Madagascar and the remote South Atlantic island St Helena — before you bid farewell in glamorous Monte Carlo. Or, if that's too long for you, you can join the epic journey for one of four segments.
Special amenities
Butler service, in-suite afternoon tea, pre-dinner cocktails and canapés, bottle of Cristal champagne upon arrival, dining at an officer's table, invitation to captain's quarters cocktail party, private bridge tour with the captain, two private car transfers.
Size: 1,345 sq ft
Rate: $174,700 per person based on double occupancy for 84 nights
crystalcruises.com
Owner's Suite
Oceania Cruises' Marina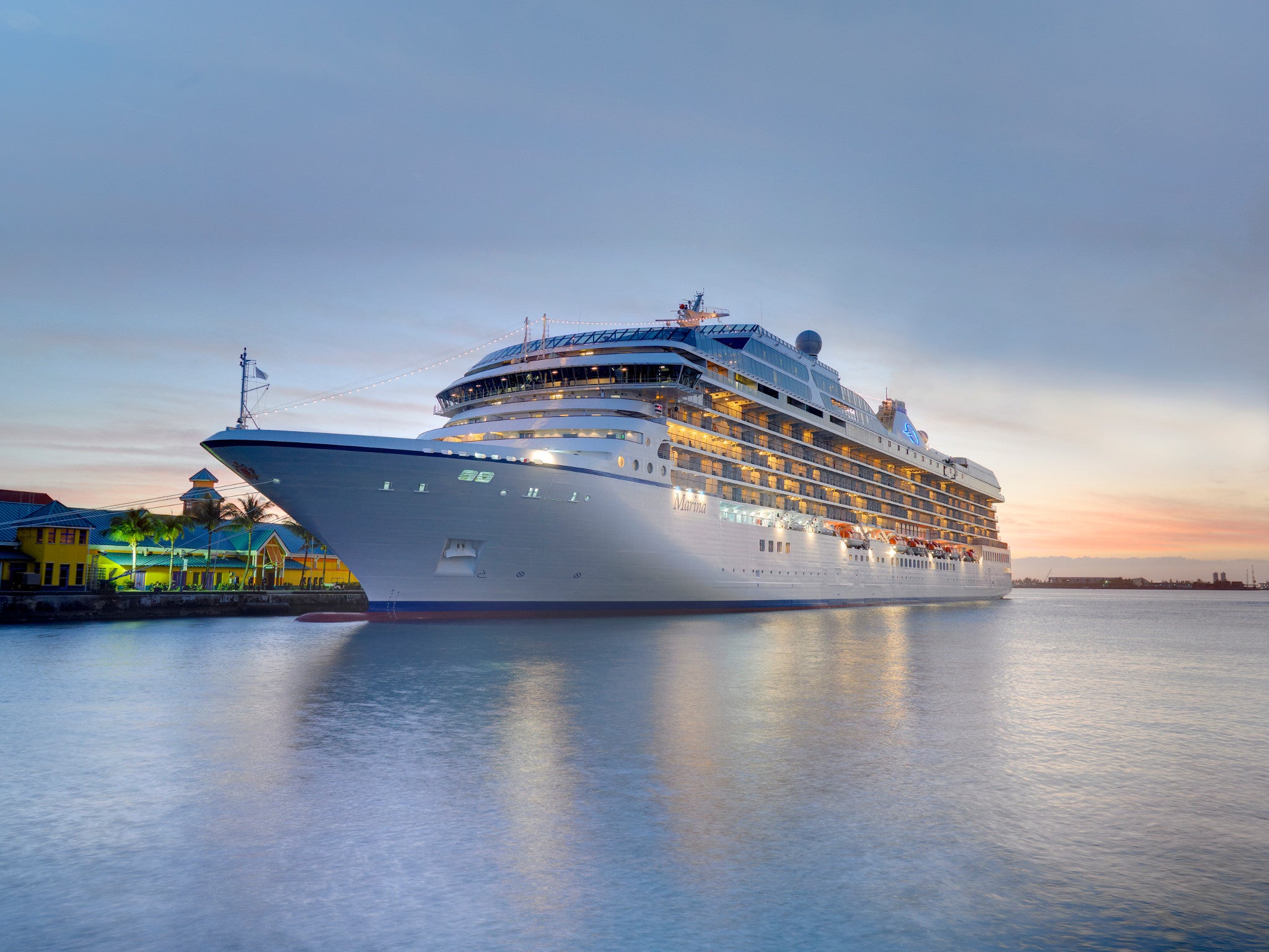 Marina was designed with bon vivants in mind, so much of the focus is placed on the appreciation of food, wine and culture. Dine in gourmet restaurants such as the Italian spot, Toscana; Parisian bistro, Jacques; and classic steakhouse, Polo Grill; and revel in the opulence of the Grand Dining Room. Inspired by Europe's five-star grand hotels, this palatial space stands out for its extraordinary central chandelier, rich fabrics, decadently set tables and oversize chairs. Embrace your time at sea by joining wine-tasting sessions at the restaurant La Reserve by Wine Spectator and learning how to prepare Greek, Nordic and Sicilian cuisine in The Culinary Center. Should you be more artistically inclined, pay a visit to the artist in residence to try watercolor painting or take a photography class and edit the photos of the Instagrammable spots you've captured on your journey. Guest lectures by experts in the history of the destinations and naturalists further enrich your travels. Marina was magnificently refurbished in 2016, and her sparkling design includes a grand Lalique staircase and an ambiantly lit open-air pool, with an abundance of world-class facilities to discover too. Unwind at Canyon Ranch spa, work out at the sports deck and pool, and while away each evening at the Monte Carlo–style casino or with live music in one of the sophisticated cocktail bars.
The Owner's Suite is elegantly adorned with understated furnishings from the Ralph Lauren Home Collection. Upon entering, you're met with a dramatic black-and-white foyer featuring a bar stocked to your preferences, grand piano and lounge area facing floor-to-ceiling windows. The suite has both indoor and outdoor whirlpool spas and generous closet space for stowing your gowns and tuxedos. While staying in any one of the three Owner's Suites, you'll have exclusive access to the Executive Lounge and private library, 24-hour butler service and the private Spa Terrace featuring a thalassotherapy pool.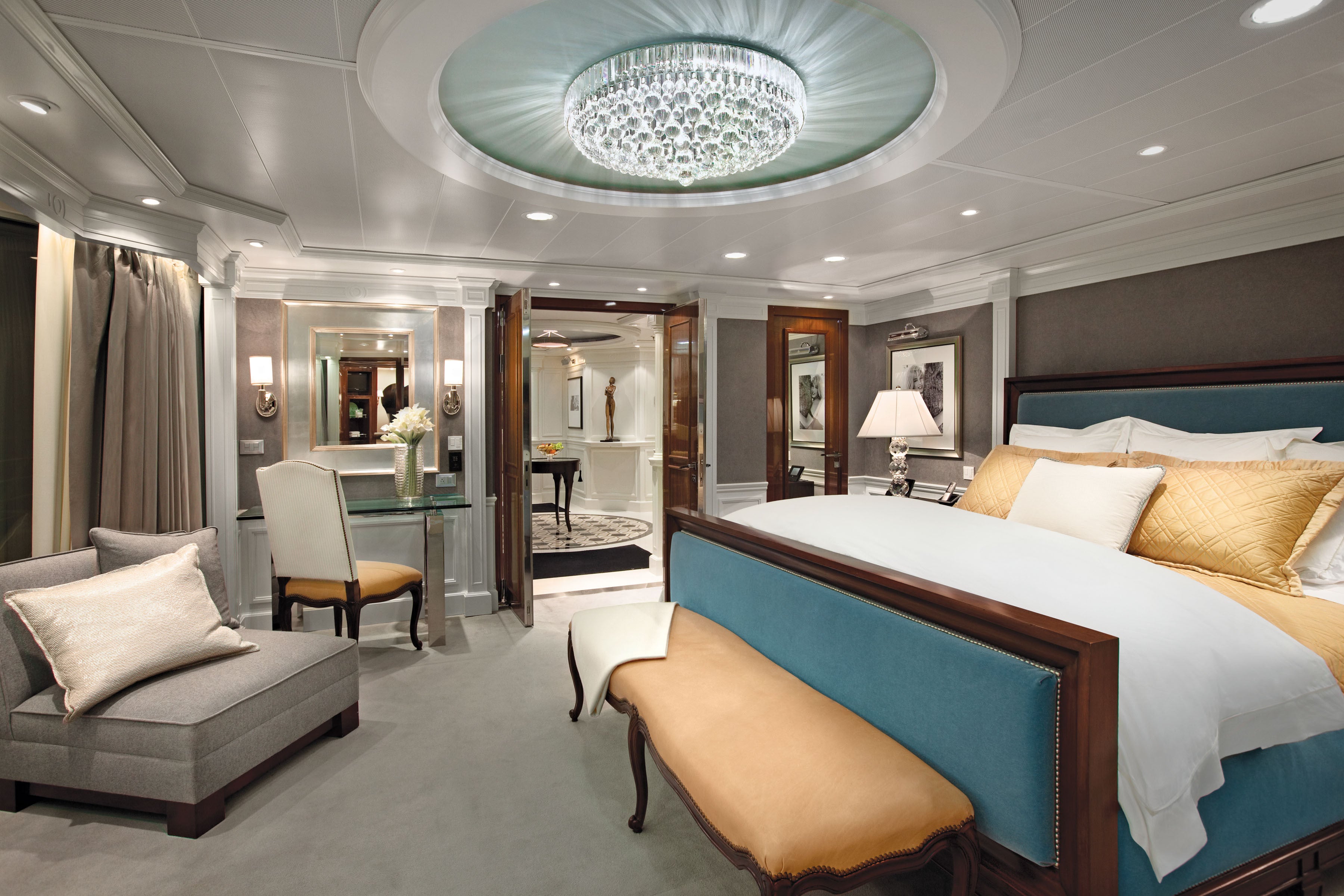 The Itinerary
When she sets sail from Tahiti in March 2019 for Oceania's 34-day Seashores to Skylines cruise, Marina will begin an unforgettable tour of the paradisiacal Pacific islands and geographically diverse Americas. After a whirlwind expedition around French Polynesia and a stop at Easter Island to see the ancient moai, Marina will venture up the South and Central American coast on her way to the final destination, New York City. A 16-night leg of the journey is also available as a cruise called Pearls & Moai.
Special amenities
Butler service, unlimited access to the Canyon Ranch spa's private Spa Terrace, access to Executive Lounge, complimentary in-suite bar, in-suite laptop and iPad, Bulgari gift set, packing and unpacking service, evening canapés
Size: 2,000 sq ft
Rate: $15,999 per person based on double occupancy for 16 nights. $37,285 per person based on double occupancy for 34 nights
oceaniacruises.com
Regent Suite
Seven Seas Explorer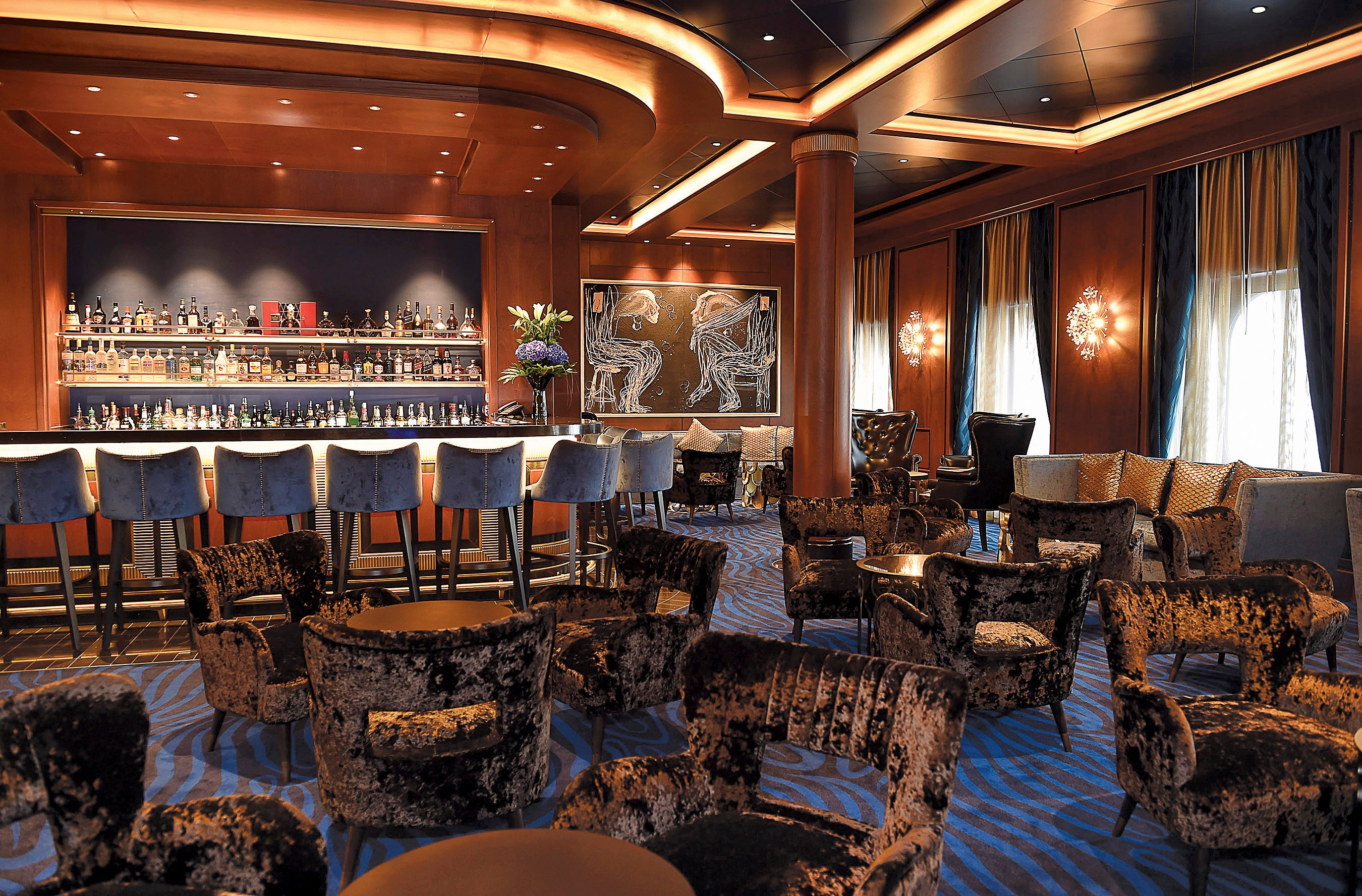 After her naming ceremony in Monaco in July 2016, Seven Seas Explorer was billed as the world's most luxurious cruise ship. Exhibiting irrefutable opulence, the ship incorporates swaths of marble, hundreds of crystal chandeliers, Murano glass lamps and a valuable collection of artwork, including four pieces by Picasso — two of which are in the ship's lavish Regent Suite. The same grandeur is seen throughout the ship's restaurants and bars, from Pacific Rim — a Pan-Asian fine-dining venue featuring an authentic Tibetan prayer wheel — to the modern
French restaurant Chartreuse and members-club-inspired steakhouse Prime 7. Complementing the main pool and fitness facilities is the infinity-edge plunge pool, which follows the contours of the stern of the ship, and the Canyon Ranch Spa Club, where you can indulge in therapeutic bodywork and Ayurvedic treatments. But your time is also enriched by activities such as Gourmet Explorer Tours, combining trips to each destination's markets and culinary hot spots with cooking classes when you're back onboard. In the evening, catch such shows as the bohemian cabaret Paradis in the glittering Constellation Theater, or find a seat in one of the ship's decadent cocktail bars.
Stay in the sprawling Regent Suite to enjoy extravagances like a $150,000 Savoir No 1 bed, Dakota Jackson–designed Steinway Grand Maroque piano and handblown Lalique vases, not forgetting the two Picasso lithographs, of course. The pristinely furnished space brings together two sumptuous bedrooms, two and a half marble-and-stone bathrooms and an impressive living room with full bar, along with a private solarium, two balconies overlooking the bow of the ship and a spa with sauna, steam room and Jacuzzi. Staying here means you'll be treated like royalty, whether you're hosting a cocktail party or taking up the offer of unlimited spa treatments.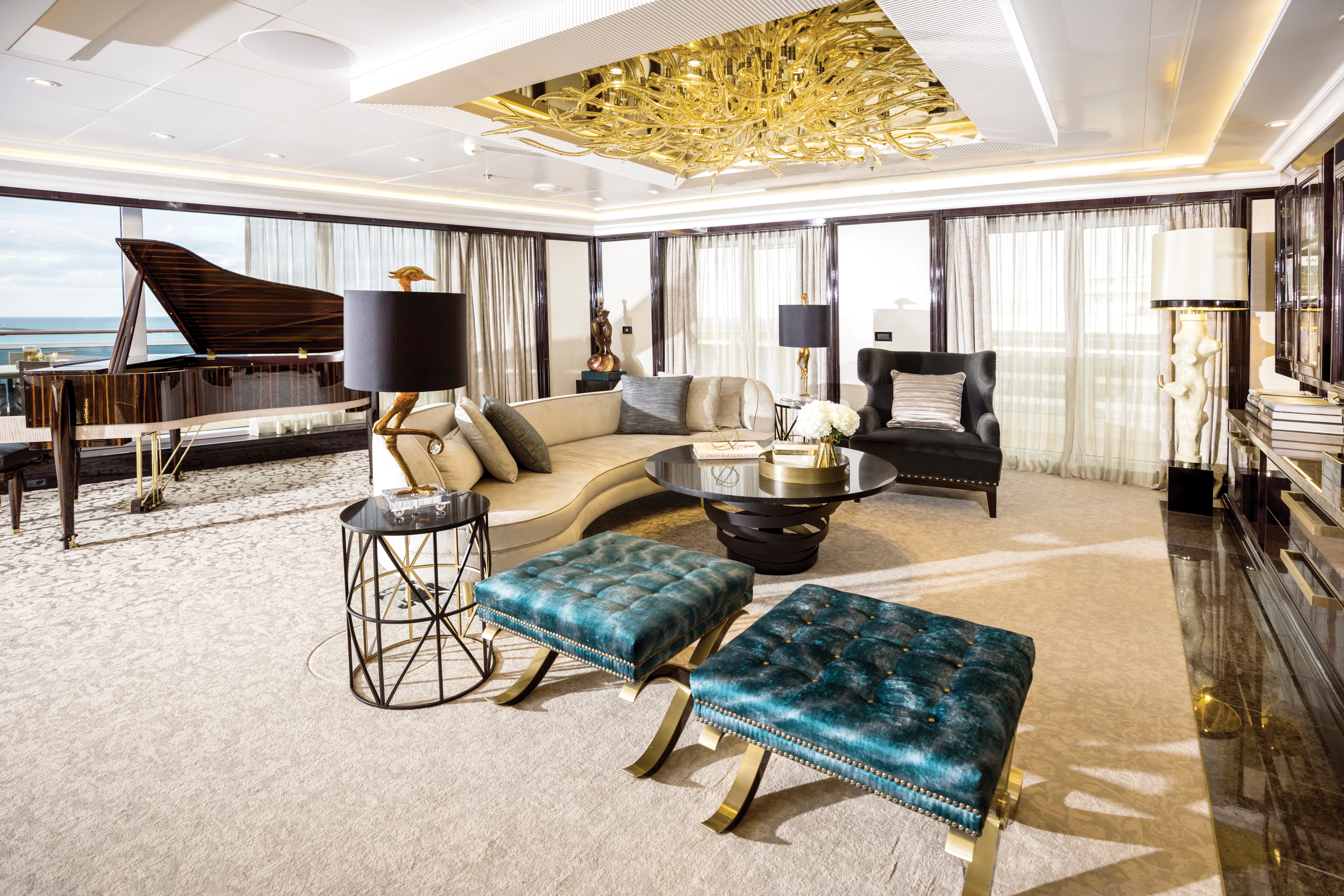 The Itinerary
The 28-night South American Sojourn will see Seven Seas Explorer navigate the southern portion of South America as she makes her way from Rio de Janeiro to Santiago. Departing from Rio in January 2019, you'll explore a number of destinations along the ship's adventurous route, including Punta del Este in Uruguay and Stanley in the Falkland Islands, and pass through the spectacular scenery of the Chilean fjords. A 12-night cruise from Rio to Buenos Aires, evocatively called Sweet Caipirinhas & Fine Malbec, is also available in January.
Special amenities
Butler service, personal car and guide on shore, unlimited in-suite Canyon Ranch Spa service, exclusive access to private dining room The Study, Guerlain fragrance, pre-cruise hotel stay, priority boarding, dinner with a senior officer, cocktail party for eight, personalized in-suite bar, personal training session at Canyon Ranch Spa, daily canapés.
Size: 4,443 sq ft
Rate: $149,996
Rssc.com
Owner's Suite
Viking Jupiter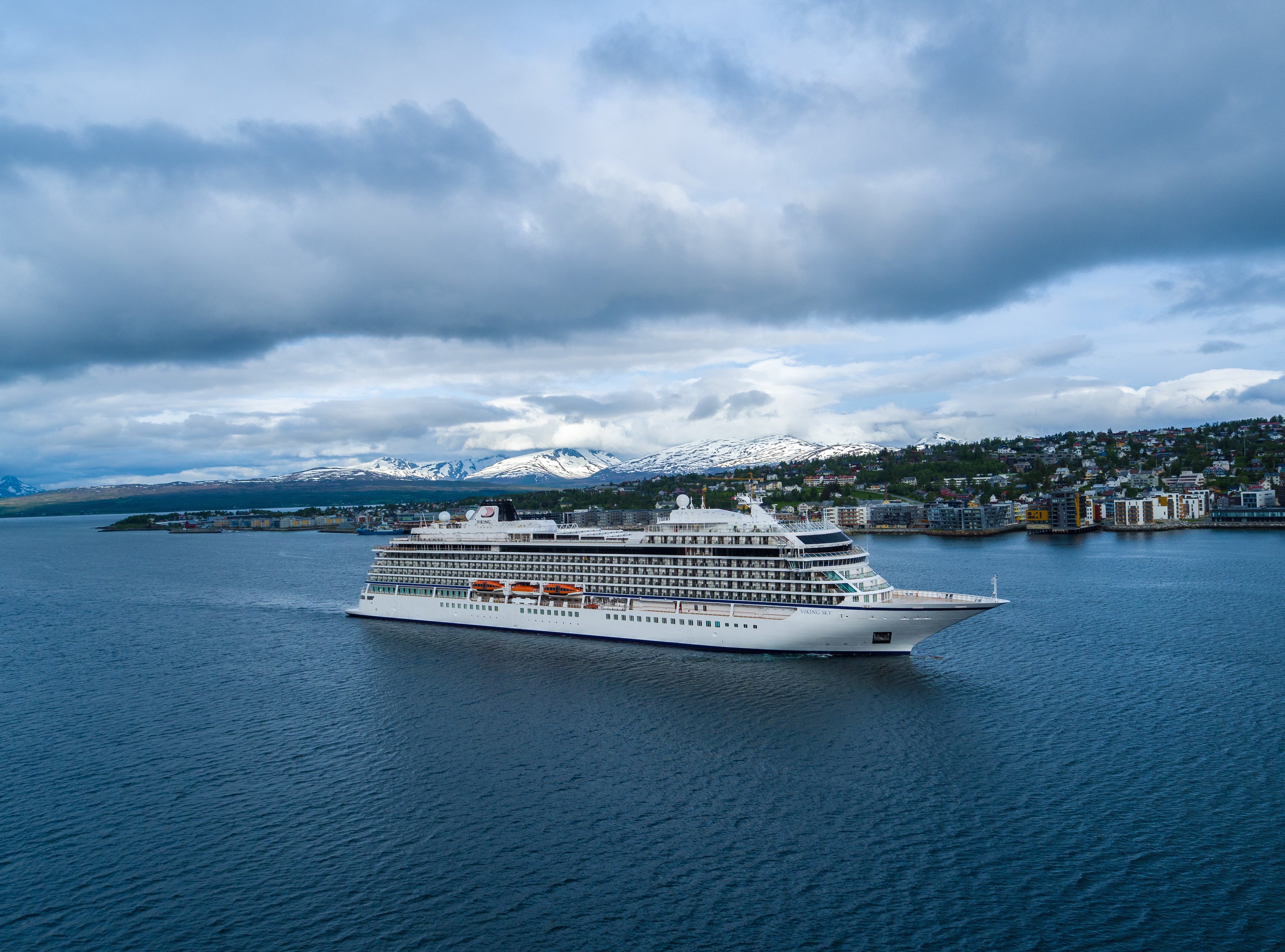 Viking Jupiter will embark on her inaugural voyage in 2019, bringing the Viking Ocean Cruises fleet up to six ships. Each of its 930-guest, all-veranda-suite ships is identical in style — from the grand atrium and main Viking Living Room to the serene spa — with modern Scandinavian interiors by Richard Rivière, the designer of The Langham Hong Kong and the Beverly Hills Hotel. The diverse dining venues range from the Chef's Table, serving a series of themed menus, to Manfredi's Italian and Mamsen's Norwegian restaurant, but immersion into the cuisine and culture of the destinations you're visiting is a key part of the Viking experience. Films, lectures, live music and theatrical performances enhance your time at sea and prepare you for each stop.
The largest accommodation onboard is the Owner's Suite. Featuring the same modern, clean design as the rest of the ship, it comes with a spacious living room, separate dining area, large master bathroom, ocean-view sauna and a private library of fine wine curated by the cruise line's chairman, Torstein Hagen. Floor-to-ceiling windows keep the ocean views front and center, and the suite's boardroom, which is fitted with an ambiant vaporlight fireplace, is ideal for hosting business meetings and catered dinner parties for up to 12. The colors, patterns and textures featured in Scandinavian design, use of leather, wood and slate, and selection of artworks by Scandinavian artists such as Jakob Weidemann and Odd Nerdrum show the designer's intention to capture Viking's Nordic heritage.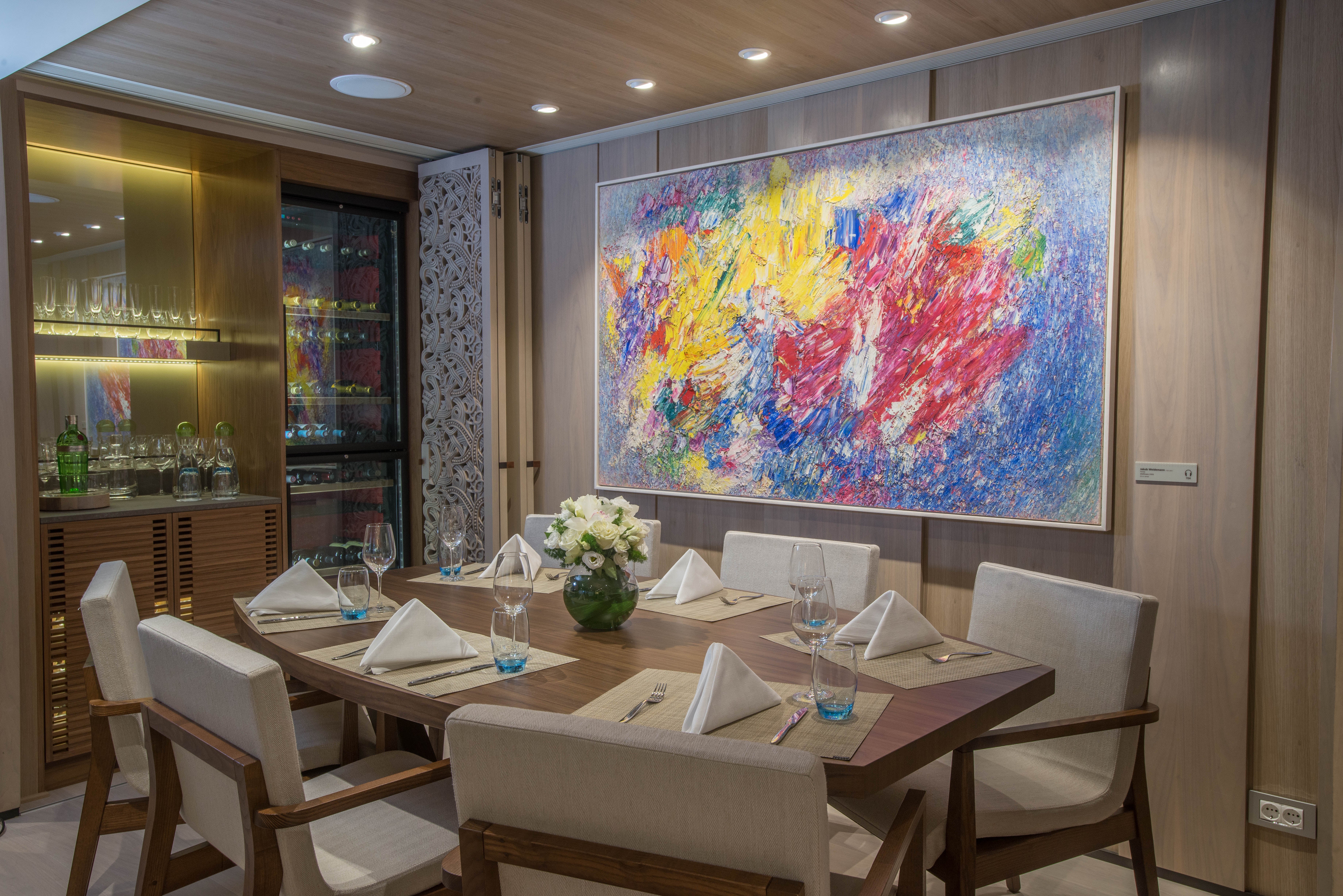 The Itinerary
The new South America & the Chilean Fjords itinerary combines four countries in 18 days, enabling you to witness some of this spectacular region's most breathtaking sights, and experience its famously vibrant culture before disembarking in the Chilean capital.
Special amenities
Priority restaurant and spa reservations, welcome bottle of Veuve Clicquot champagne, complimentary shore excursion with private car and guide, pre-dinner cocktails and canapés, dinner and guided tour with ship officers.
Size: 1,448 sq ft
Rate: $31,678 per person based on double occupancy for 17 nights
vikingcruises.com
Owner's Suite
Silver Muse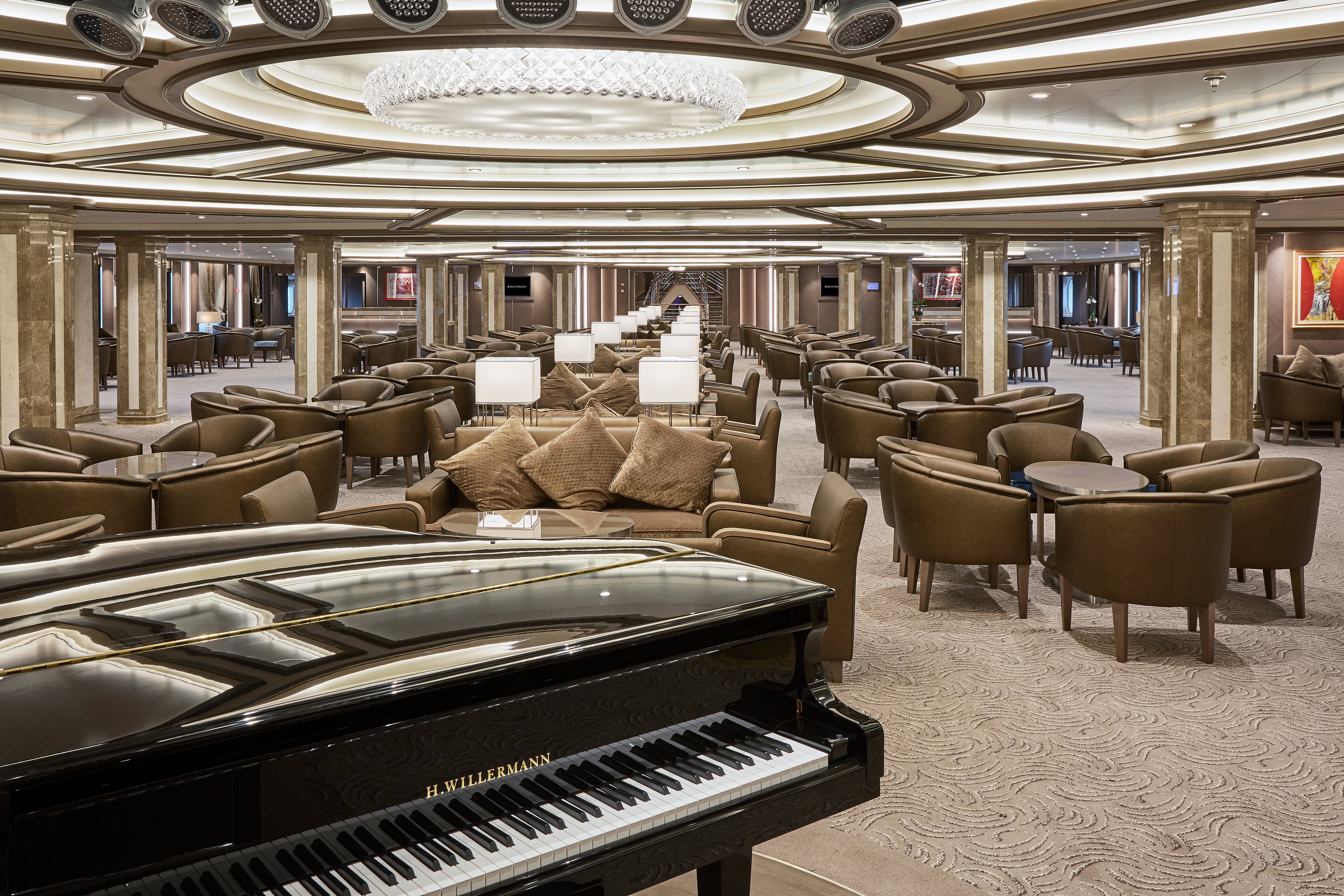 Delivered in spring 2017, Silver Muse is the new flagship vessel of Silversea's boutique fleet. Smaller than most cruise ships, accommodating just 596 guests, Silver Muse can easily sail upriver and dock where other ships can't, while also offering a more intimate onboard experience. By day, check out the exhibitions of paintings and sculptures hosted by the Arts Cafe, laze by the open-air pool and indulge in a treatment at the spa before finding a quiet corner to read in Tor's Observation Library. When evening comes around, dine on tapas-style plates at Silver Note and Japanese specialties at Kaiseki; see the sun go down from open-air restaurant The Grill; or enjoy the bespoke menus of world-class Relais & Châteaux chefs at La Dame by Relais & Châteaux. After dinner, mingle in the Dolce Vita cocktail lounge and Connoisseurs Corner, try your luck in the casino or catch musical and theatrical productions, as well as feature films in the Venetian Lounge.
Silver Muse has the fleet's most luxurious suites yet, including the stylish one-bedroom Owner's Suite, with the option to add a second bedroom. In this serenely styled suite, the two bedrooms are met with a walk-in closet, marble bathroom, light-filled living room with sea-facing seating area, separate dining area and writing desk with personalized stationery. Floor-to-ceiling windows lead out to the spacious teak veranda, where you can have breakfast over the ocean and watch the sunset with a glass of champagne. Silversea's chairman, Manfredi Lefebvre d'Ovidio, added his own personal touch by curating the suite's books, artwork and vintage port collection.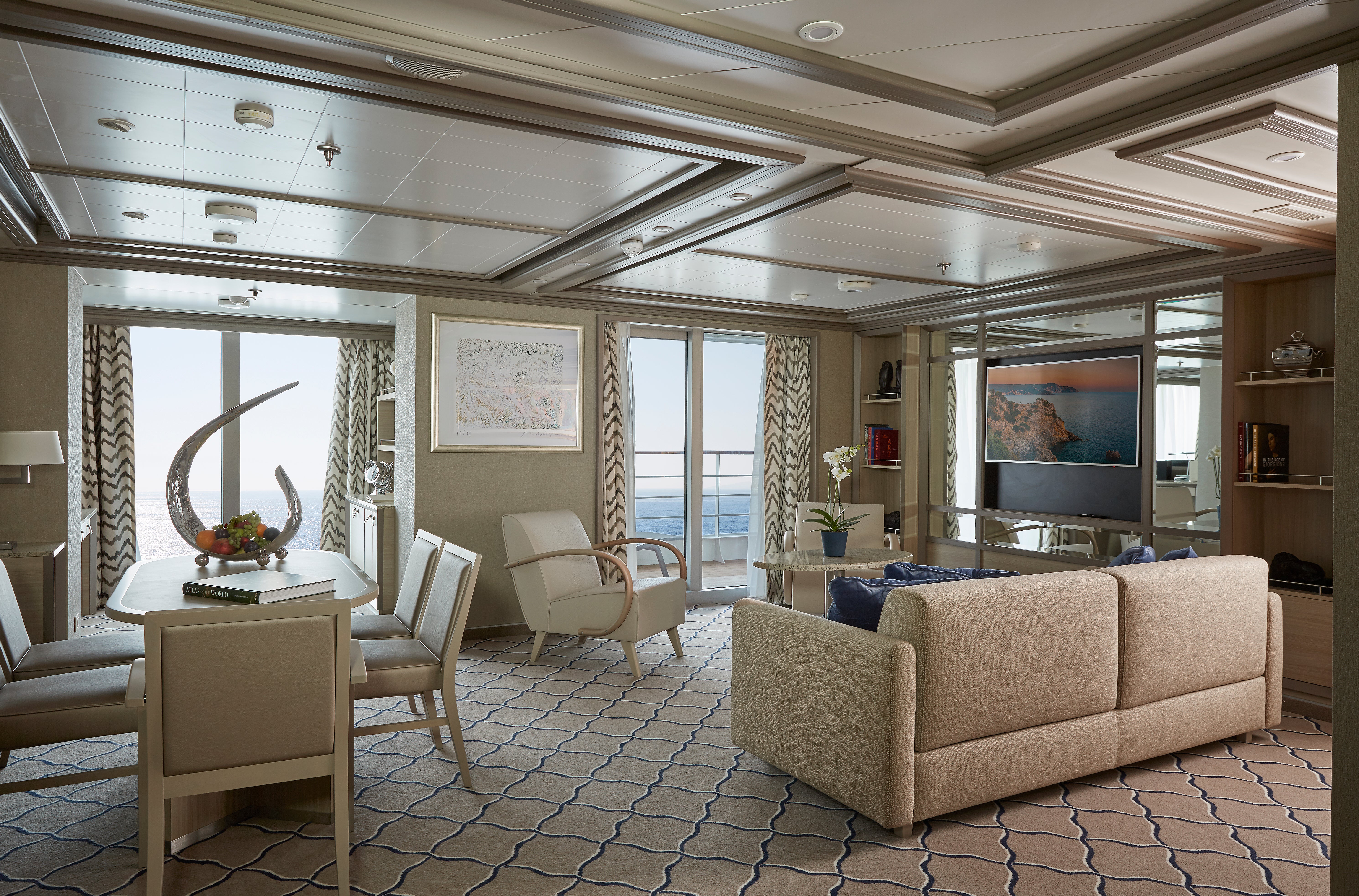 Incredible Itinerary
Among Silver Muse's immersive Asia itineraries is the 13-day Tokyo-to-Tokyo voyage. Join the cruise in April 2019 to see Japan in the midst of cherry blossom season. As the ship circumnavigates this culturally rich country, she'll stop by coastal cities, such as Kagoshima on Kyushu and Hakodate in Hokkaido, as well as hopping over to Busan in South Korea.
Special amenities
Butler service, afternoon canapés on request, complimentary dinner for two at La Dame, dinner at officer's table, personalized refrigerator and bar setup.
Size 1,389 sq ft
Rate $27,800 per person based on double occupancy for 13 nights,
silversea.com
Grand Wintergarden Suite
Seabourn Ovation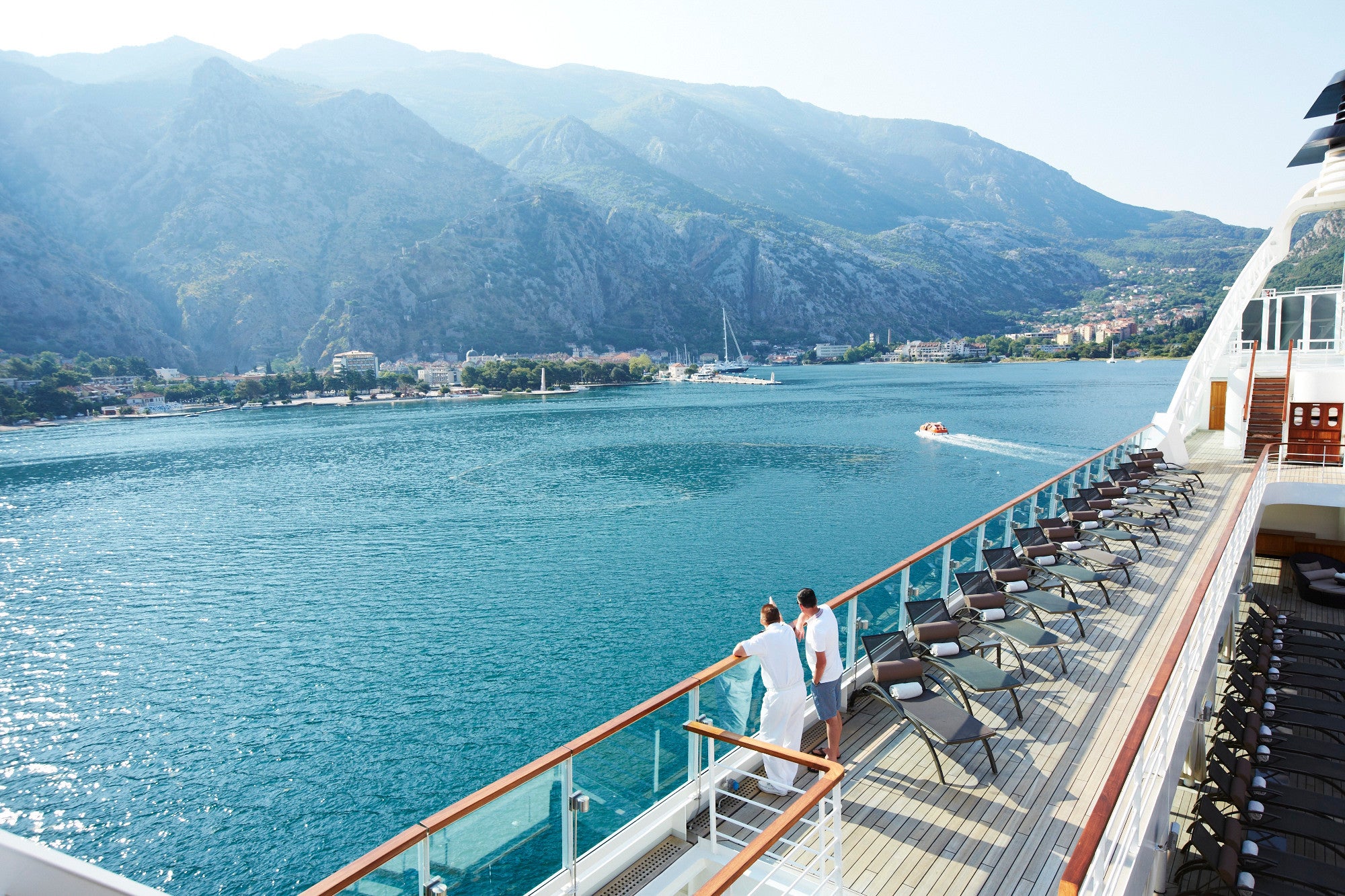 After her debut this May, Ovation became the latest ship to join Seabourn's fleet. With interiors by eminent designer Adam D Tihany and a collection of 1,600 works of art, the ship has arrived amid great excitement. For the ship's design, Tihany took inspiration from the interiors of private yachts, integrating curved lines and intricate details into each space to encourage you to connect with the environment at every turn. Seabourn then drew on the expertise of leading figures in fine dining, entertainment and well-being to curate the onboard experience. The recipient of seven Michelin stars, chef Thomas Keller, is overseeing the fare at his eponymous onboard restaurant; the Oscar-, Grammy- and Golden Globe–winning lyricist Sir Tim Rice is curating an exclusive production; and wellness expert Dr Andrew Weil is introducing a pioneering mindful-living program to the ship's spa. Of the ship's myriad recreational areas, The Retreat takes the cake — this enclave of canopies circling a central whirlpool is ideal for an afternoon of relaxation.
Stay in Seabourn's largest and most luxurious accommodation to date, the Grand Wintergarden Suite. Designed to provide a cozy hideaway while still having plenty of room to entertain, the lavish suite has an elegantly furnished living room, six-seat dining space, pantry with wet bar, two bedrooms and two and a half bathrooms in polished stone. Of particular note is the glass-enclosed solarium, where you can gaze out to sea from the soaking tub and daybed. Staying here also means you'll be treated to a wealth of additional amenities, from the tropical fruit basket and fresh flowers you find on arrival to the in-suite bar that's stocked daily. Dine alfresco on the suite's two furnished verandas, and marvel at the views through floor-to-ceiling windows.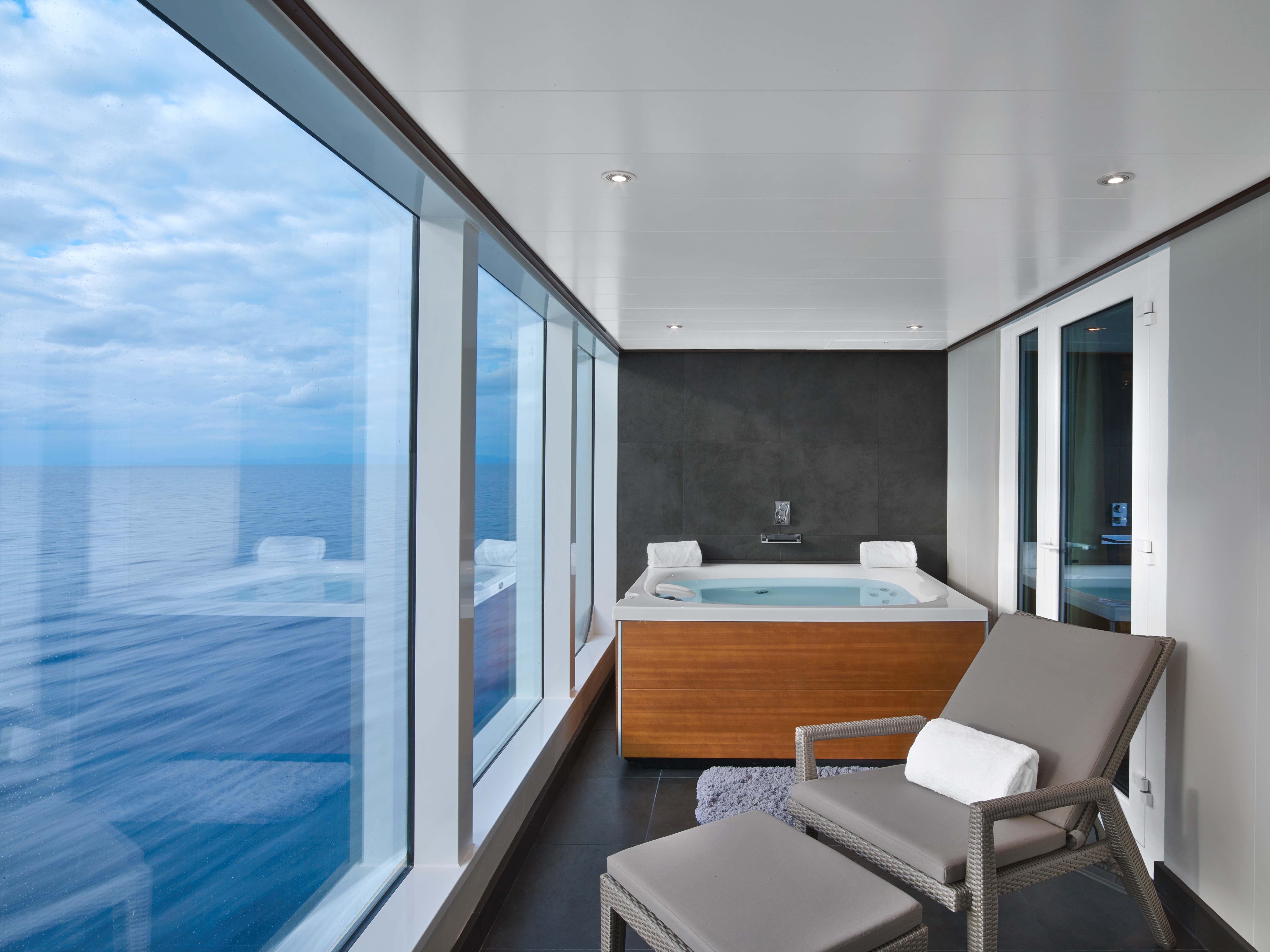 The Itinerary
Get a taste for the Middle East by joining Seabourn Ovation's 28-day Empires of Antiquity cruise from Dubai to Barcelona. Sailing the Red Sea and up the Suez Canal, you'll breathe in the desert air of Oman, Jordan and Israel before landing in the Mediterranean for a jaunt around Greece, Italy, France and Spain. The cruise departs in April 2019, with a 20-day version of the tour also offered.
Special amenities
Welcome champagne and canapés, personal suite stewardess, tailored in-suite bar, invitation for a bridge visit, personal visit from the cruise director, Swarovski Optik binoculars, private car transfers between airport and ship, personalized stationery, a world atlas to take home
Size 1,550 sq ft
Rate from $27,562 per person based on double occupancy for 20 nights, from $41,630 per person based on double occupancy for 28 nights
seabourn.com
Iconic Suite
Celebrity Edge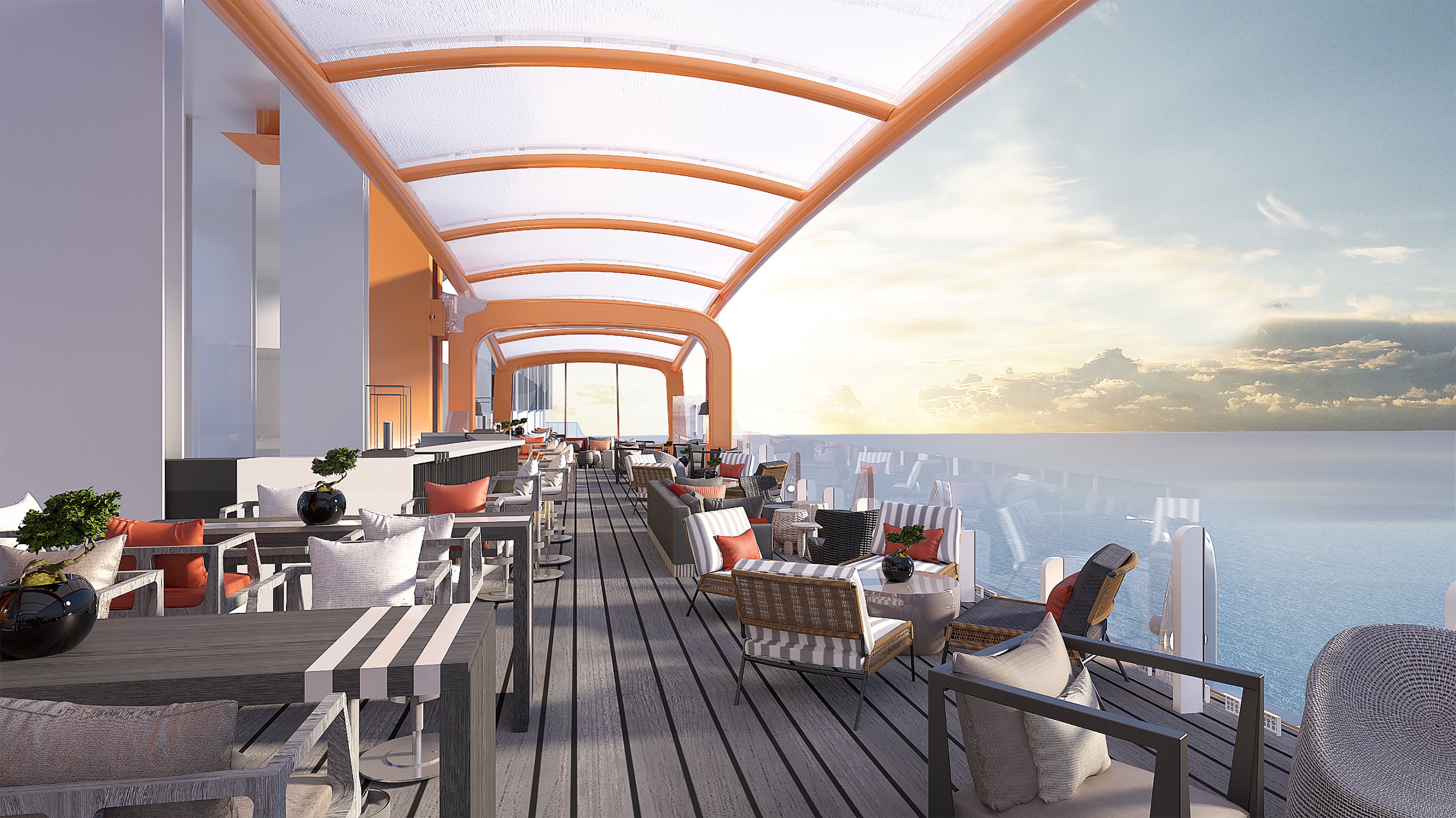 Expect to be wowed by the theatricality aboard Celebrity Edge, the first in a new class of ships. From the cantilevered Magic Carpet, a tennis-court-sized space that, like a magic carpet or enormous elevator, climbs the ship to transform into two different restaurants, an extension of the pool deck or an embarkation station, to Eden, a three-story-high space filled with greenery, interactive performances and innovative cuisine, there's mystery on the high seas. The culinary presentation, especially in Eden, would not be out of place in one of fine dining's most imaginative restaurants. At the bar, mixologists might climb ladders to snip the perfect garnish from the plants behind them, and in its restaurant, a signature dish is sea urchin topped with smoking, shaved dry ice, served in a glass cone set over a bowl of live fish. In total, there are 29 dining venues, notably four main restaurants, the beloved Cosmopolitan and new French, Italian and Greek options, and Luminae, which is exclusive to Suite Class guests. There are also plenty of relaxation options, including the reenvisioned adults-only Solarium and outward-facing main pool.
The two-bedroom, two-bathroom Iconic Suite is the fleet's most luxurious and Photo Eric Laignel largest accommodation. A soothing palette of grays from designer Kelly Hoppen dresses the modern space, which is dotted with carefully considered art and design elements. Sitting just above the bridge at the top of the ship, you'll have the best view on board — even better than the captain's — thanks to 82ft of windows that line the dining room, living room and master bedroom. Outside those panoramic windows, the 700-sq-ft veranda is practically your own sundeck, with a hot tub, sun loungers and a shaded cabana with double daybed. With your butler on hand to bring you another piña colada, sea days might become your favorite.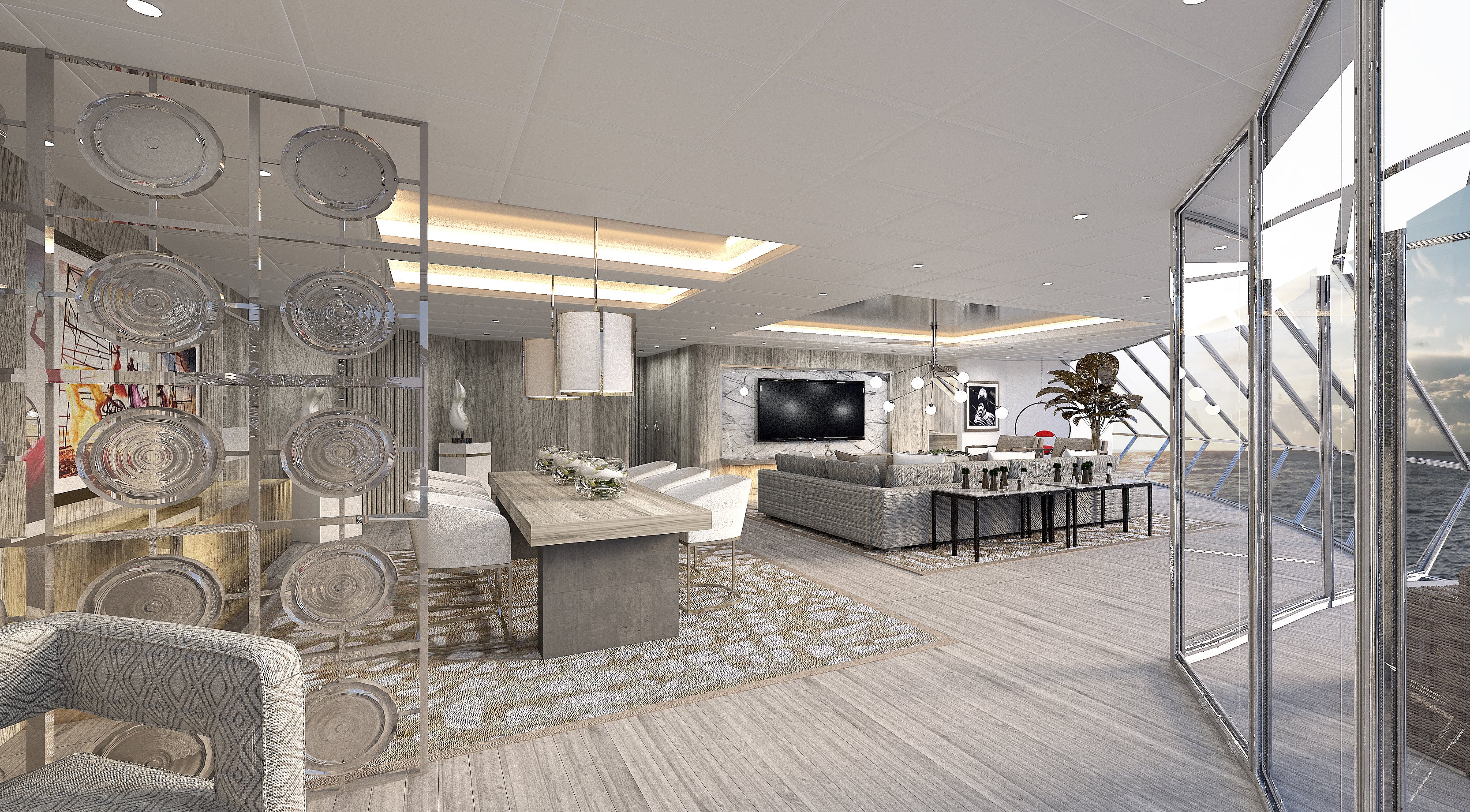 The Itinerary
Immerse yourself in Spanish and Portuguese culture and cuisine with a 10-night Iberian Peninsula Cruise. Departing from Southampton, England's famed docks, you'll have four days at sea to enjoy the new Celebrity Edge. The stops include charming coastal cities and bustling Lisbon before finishing off in Rome
Special Amenities
Butler service, butler's pantry, prepaid tips, premium beverage package, unlimited high-speed internet, king-size cashmere mattresses in both bedrooms
Size 2,581 sq ft
Rate $35,849 per person based on double occupancy for 10 nights,
celebritycruises.com
Queens Grill Grand Suite
Queen Victoria, Cunard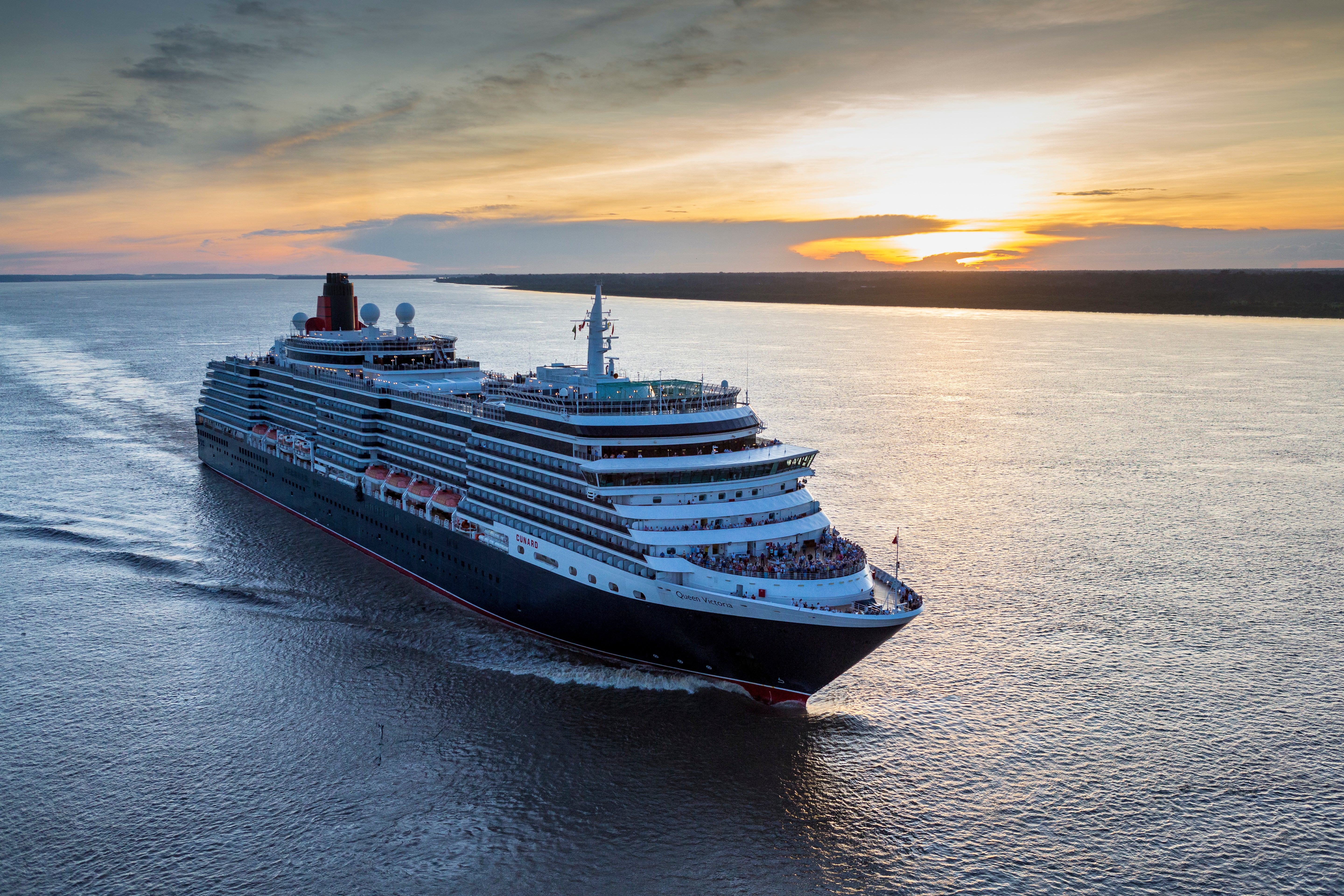 Step back in time aboard Cunard's Queen Victoria, where the formality and elegance of a bygone era is embraced. From the white-gloved crew that greets you upon arrival to your tuxedo-clad personal butler, you'll be immersed in the charm of old-fashioned travel. And with two to five formal nights per sailing, you'll certainly have the opportunity to delight in the genteel atmosphere, and wear your most glittering gowns. Ensuring she remained fit to host a queen, Queen Victoria underwent a $40m partial refurbishment in 2017 to enhance the ship's most beloved areas, including the stunning three-story Grand Lobby, enlarging the aft lido sundeck for both alfresco dining and sunning, and updating the suites. A new addition is the Chart Room, a maritime-inspired lounge during the day and bar at night. The cocktails bear the names of zodiac signs and stars that sailors historically used to navigate at night.
The Grand Suites are richly appointed, with touches of purple, the color of royalty, sprinkled throughout, and a timeless design that references Cunard's transatlantic heritage. Walls are paneled with high-gloss wood, mirrors and Art Deco–inspired fabric panels. Rock-crystal chandeliers, touches of gold and a full marble bathroom add additional glamour. Curl up in a cozy chair near the window or outside on a sun lounger with a book from the specially curated library, which features destination-led books, novels and beautiful photography tomes. For effortless entertaining, there's a stately dining room and butler's pantry, as well as a wraparound balcony for pre-dinner cocktails.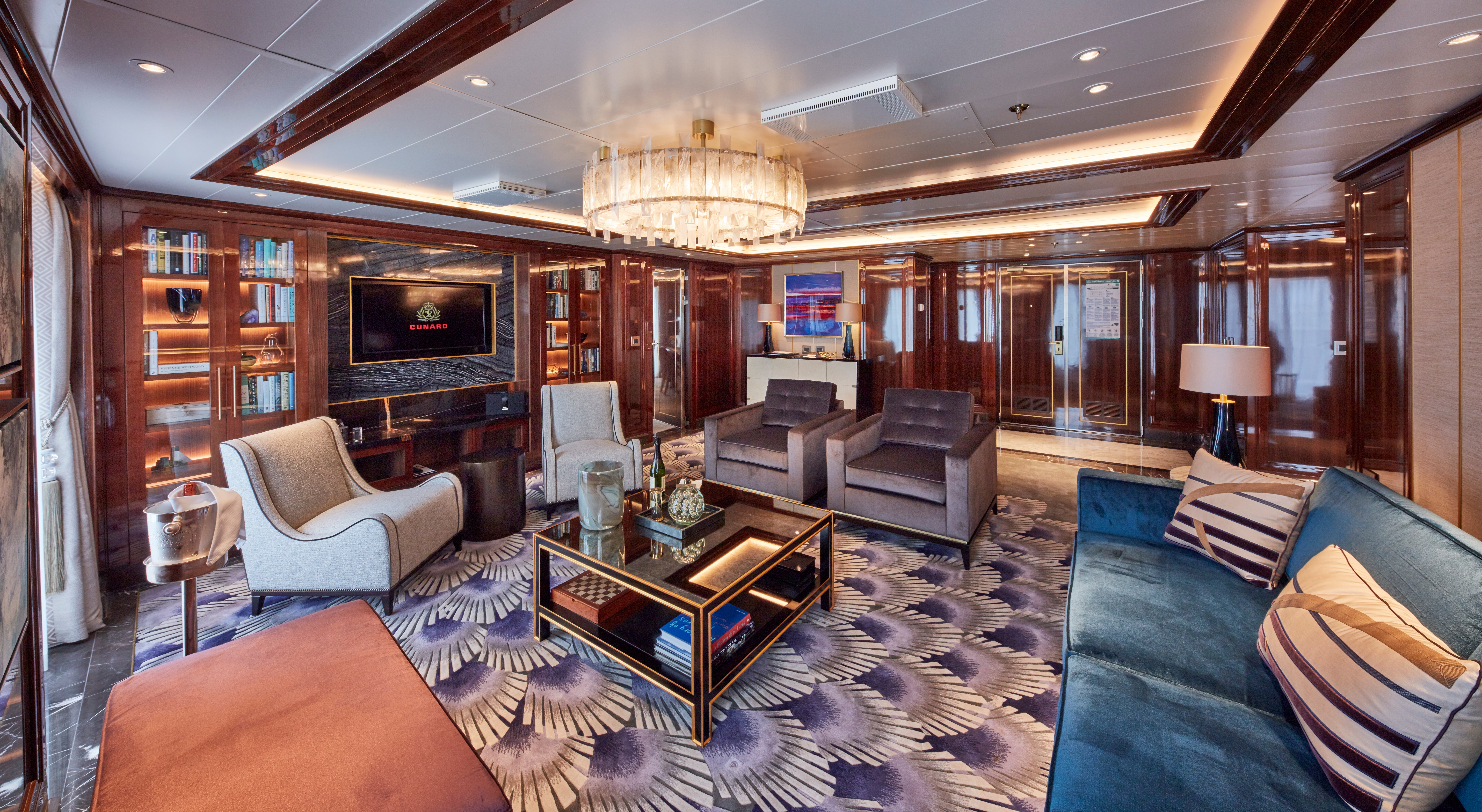 The Itinerary
Explore the Baltic Sea during its most beautiful time of year, before the tourists arrive en masse but when the sun still sets after dinner. Departing in May from Southampton, England aboard the Baltic Explorer cruise, you'll crisscross Scandinavia and spend two nights in one of the world's most beautiful cities: St Petersburg.
Special amenities
Butler service, champagne on arrival, complimentary bar stocked to your preferences, exclusive Queens Grill lounge and terrace, reserved table at Queens Grill restaurant, pre-dinner canapés, priority boarding, embarkation, disembarkation and tender services, personalized stationery and atlas
Size 1,436 sq ft
Rate $26,359 per person based on double occupancy for 16 nights,
cunard.com
Ultimate Family Suite
Symphony of the Seas, Royal Caribbean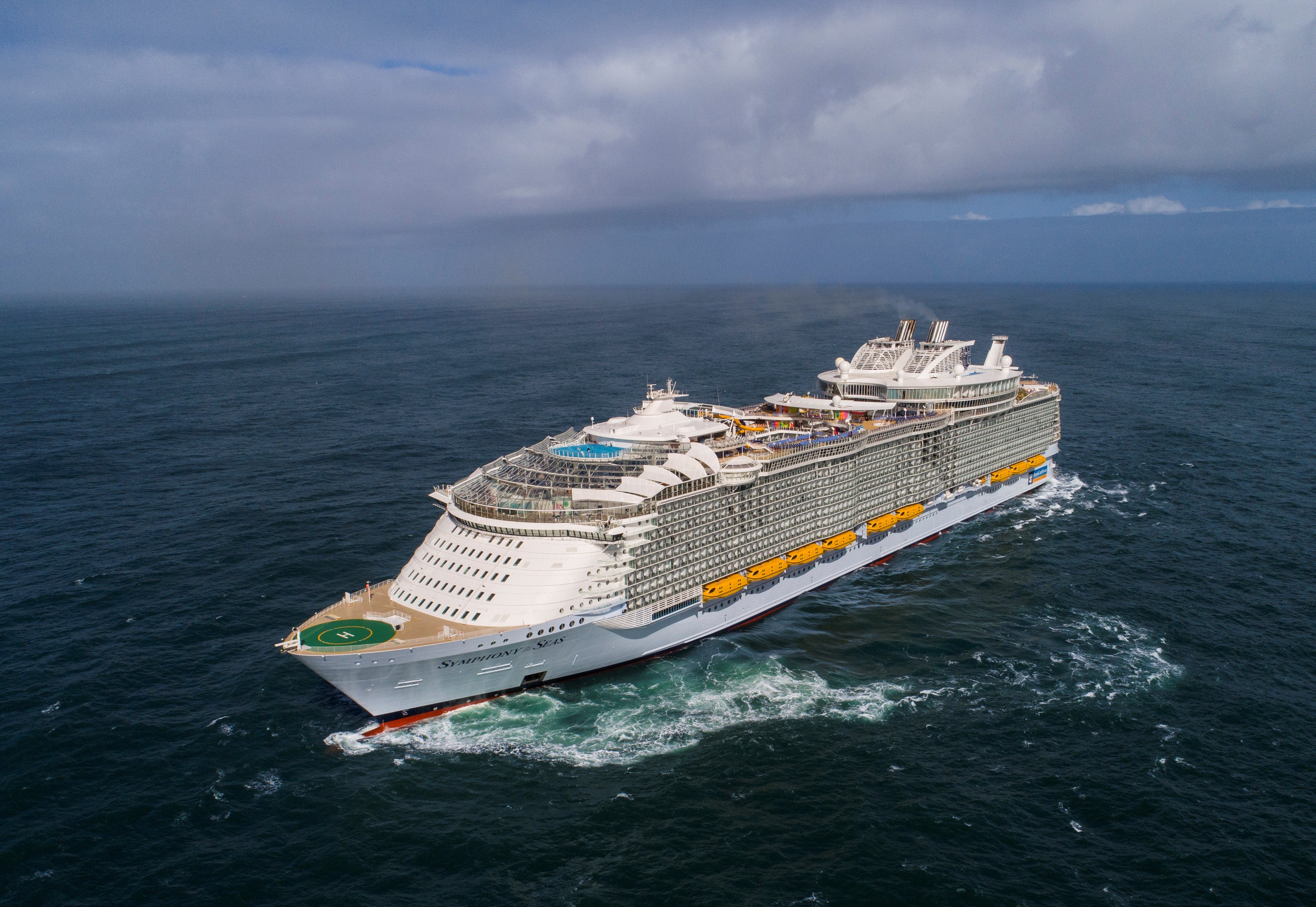 If you are looking for everything — and we mean everything — there's only one place to find it: aboard the world's largest cruise ship, Royal Caribbean's Symphony of the Seas. Where else can you play glow-in-the-dark laser tag, brave The Abyss (the tallest slide at sea), enjoy a cocktail mixed by a robotic arm, try to remain standing on the surf simulator FlowRider (or sip a drink at the neighboring Wipe Out bar and watch the action), and soak up the sun at one of 19 pools, all in one day? Allow your 'royal genie' private butler, who trained at the British Butler School, to make your wishes come true by planning every detail of your trip, letting you skip the lines and experience the entire ship without being overwhelmed by decisions. And if you're looking for decadence, you'll find that too. Savor refined cuisine from James Beard Award–winning chef Michael Schwartz at 150 Central Park, shop at Bulgari, Cartier and Hublot, indulge in thermal treatments at the Vitality Spa, or call up your genie and relax with a spectacular meal on your balcony as you watch the stars slip past.
Continue the adventure in the Ultimate Family Suite, which is filled with enough toys and tricks to entice you to spend a day (or two) without leaving your digs. The brightly colored, two-story suite's centerpiece is a slide to whirl you from the second to first floor. It's large enough for the big kids — or maybe you, we won't judge. Exhausted from a long day exploring the ship or the day's destination? Stay in and watch a movie in your private cinema with an 85-inch 4K Ultra HD television, or play a game on one of the three game consoles. There's also a Lego wall, chalkboard wall, air hockey, table tennis, climbing maze and an outdoor whirlpool on the wraparound balcony.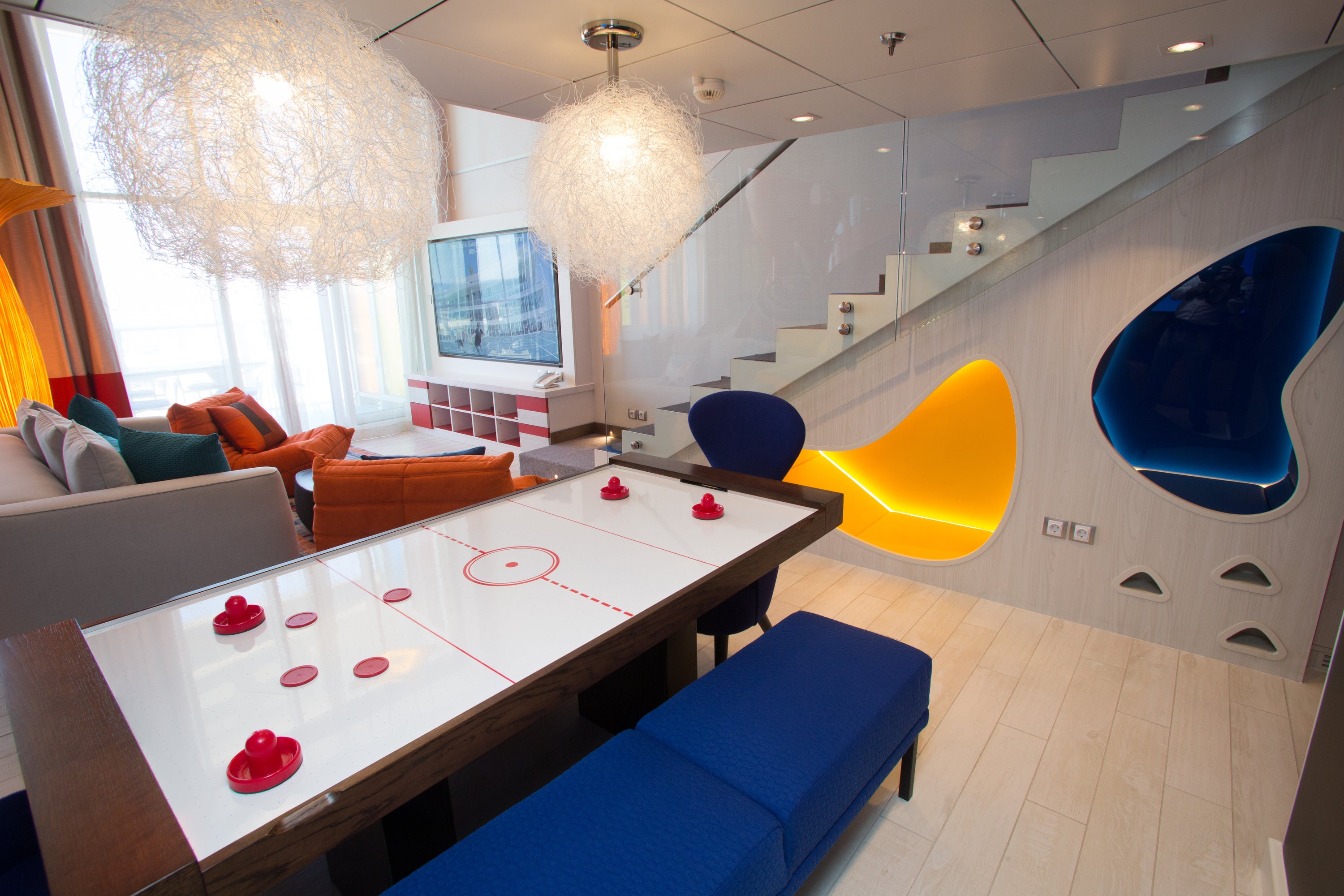 The Itinerary
Symphony of the Seas spends the winter in the Caribbean, with weekly seven-night cruises visiting nearly every island in the sea. An eastern cruise will let you support islands that were heavily hit by Hurricane Maria, so you can help rebuild the economy with your visit. Head from Miami and visit St Maarten, Puerto Rico and Haiti.
Special amenities
'Royal genie' private butler, complimentary deluxe beverage package, exclusive access to Barefoot Beach Club, expedited boarding and departure, priority entrance to select activities, suite lounge access, unlimited Voom high-speed internet, Duxiana mattress, Frette linens, prepaid gratuities
Size 1,346 sq ft
Rate $60,000 per suite based on double occupancy for seven nights
royalcaribbean.com