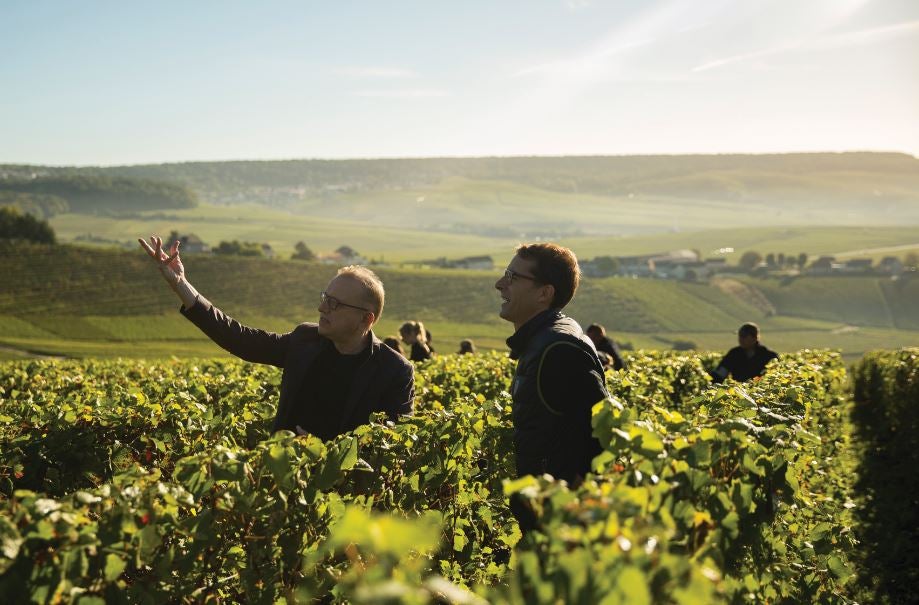 As Richard Geoffroy retires and Vincent Chaperon becomes the new chef de cave, they speak to Kristen Shirley about legacy, waiting for the right moment and how there is no more radical champagne than Dom Pérignon.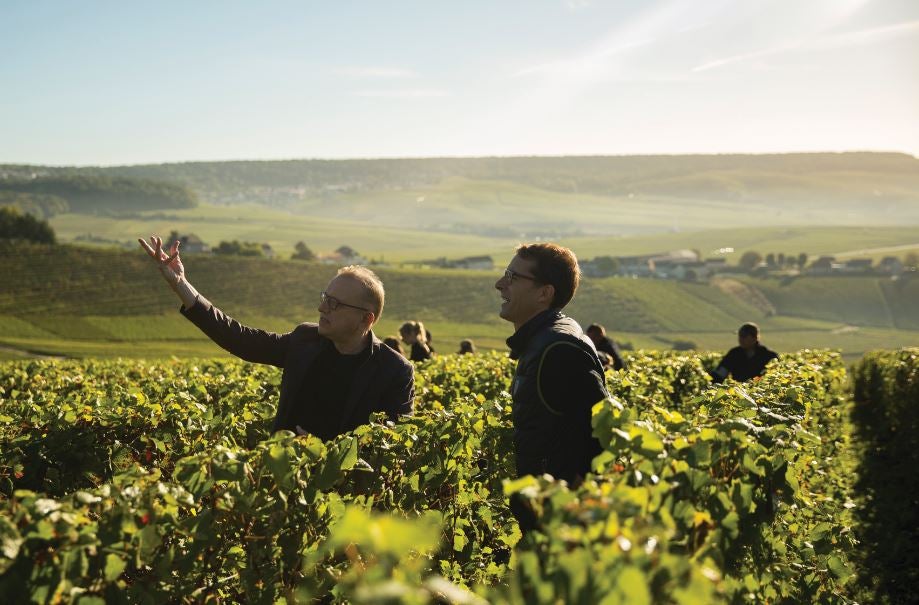 Sitting in a suite in New York City's NoMad Hotel pouring a glass of 2008 Dom Pérignon, Richard Geoffroy seems too relaxed to be discussing his departure from the company where he has spent the past 28 years.
As he hands me a glass of what he deems one of the best vintages ever produced, he explains his calm demeanor by saying the transition is a natural conclusion to a long partnership with Vincent Chaperon, the new chef de cave at Dom Pérignon, and confessing that he'll never be completely gone. While listening to the pair, who are so in tune that they frequently finish each other's sentences, it is clear that the men have been working together for long enough that Geoffroy feels completely comfortable placing his legacy and the future of Dom Pérignon in Chaperon's capable hands. Seamless is how Geoffroy describes the transition, saying he has "a sense of serenity and reassurance having Vincent in the position."
And what a legacy he leaves. The seventh-generation winemaker is the house's longest-serving chef de cave, and he has shaped the modern vision of what Dom Pérignon means. To him, it's boldness and radicality. He's made the bold choice to pick the fruit as late as possible in a long, four-week harvest, potentially putting the success of the year on the line; delayed the release of a vintage because it wasn't quite ready (2009 was released before this year's 2008); and continually took risks in his wine making, which he declares was "the greatest help to the brand," because it kept it from becoming "overly established and complacent."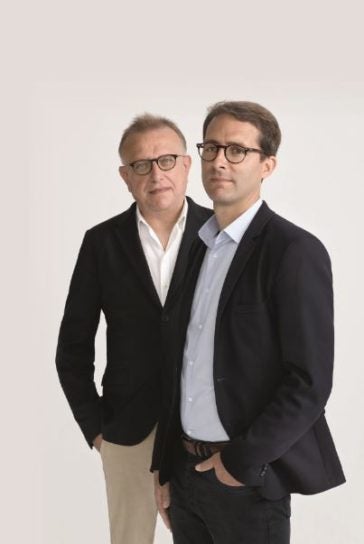 Complacency doesn't seem to be a natural problem here. As each release is a vintage, there's a continuous drive to push the house forward and create something new, rather than match the previous years. While the winemakers evolve with every harvest, they find a way to remain true to what they call the project of Dom Pérignon.
Describing his approach to wine making, Geoffroy says "there's always an element of the unknown, an element of surprise, sometimes. That's the beauty, that we're not in total control of anything." Together, they build a framework for the wine, then let it go. Both compare it to raising children, saying it's not possible to control the wine (or kids) without losing something in the process. Geoffroy attributes the impulses of some winemakers who try to control wine to fear, but says "since we are dealing with the best grapes from the best vineyards in remarkable years, nothing can go wrong as long as you are up to the job."
Chaperon notes that while the vision never changes, the conditions always do, creating an interesting challenge. When asked about climate change and its effect on champagne, both men agree they are trying to find the advantages to the warming weather and use it as an opportunity to go further and evolve. Since they know where they want to go with each harvest, they find the necessary techniques to achieve it, whatever the conditions. "If you want one thing, you have to understand the consequences," Chaperon says. "That's why timing is everything. It can take years to understand the impact of one single move."
It's this patience and understanding that show why Geoffroy chose Chaperon as his successor; they seem to be of the same mind and approach to wine making. For Geoffroy, there are three things the chef de cave must have. First, the technical wine-making ability, which Chaperon proved during 13 harvests together. Next, it's the ability to achieve balance between the rational aspects of winemaking and the creative elements, which Geoffroy describes as knowing which risks to take and finding the little bit of magic that can elevate a vintage. And finally, personality. "What was so important with Vincent is just a personality question, which at that level is very important. It is humility, a sense of really caring.Wine is not about treating the ego of the winemaker, as you see pretty often. Wine is meant to go to others. It's like food. I pride myself in being able to see if the food is made by a happy chef, whether that chef is caring and giving to others, or if he is only treating his ego. Wine making and cuisine shouldn't be an ego trip."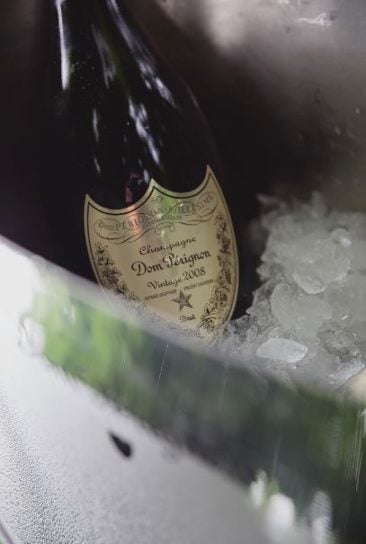 Chaperon echoes this sentiment, recalling how he learned to balance humility, patience and ambition by working with Geoffroy, whose teaching style he compares to "a Japanese guru." It was the opportunity to work with Geoffroy that caused him to extend his time in Champagne (he had originally planned to spend just a few years at the house), despite the fact that his family and his roots are in Bordeaux. "I think the most important thing Richard had me do is really to understand that Dom Pérignon would help me achieve my dreams and mature as a man."
As he looks to the future, Chaperon says, "the more vintages we go through, the more robust the project is. We keep improving just by the simple fact of experience." Each harvest allows them to learn a little bit more, to have more data to compare the next to, which allows them to trust their guts and take risks, which brings them to this year's release of the 2008 vintage.
It's fitting that Geoffroy would end his time as the house's longest-tenured chef de cave with his riskiest vintage, and that Dom Pérignon would honor his legacy by including both men's names on the bottle — a first for the house. Both agree that it's not an ordinary vintage, which was first indicated by the weather before harvest when a cool, cloudy and gloomy summer yielded to bright sunshine in September. Taking advantage of the conditions, Geoffroy took the unusual step of extending the harvest to four weeks, a significant increase, in order to ripen the fruit as fully as possible.
Chaperon describes the process by saying "we were lucky enough to have the time and the good weather to follow the maturity of each plant, to wait for the right moment… to take advantage of the freshness, the acidity, the purity of the fruitiness, which was there naturally in this year because of this really cool, cloudy weather." It's a perfect example of risk and magic coming together to create something special.
This weather brings to mind the 1996 vintage, which Geoffroy partially agrees with. "I suspect the 2008 is one of a kind. There's that resemblance to '96 and yet the physiology and the whole profile of the year is different." Speaking like a Monday-morning quarterback, he declares that he picked too early in 1996, which partially inspired the long harvest in 2008. "We could have gone for extra ripeness in '96, and I think we learned our lesson because in 2008, we definitely picked it as ripe as we could by delaying and pushing, possibly more than anybody else." And even after the long harvest, the 2008 vintage needed more time. Chaperon says "it took longer to open up. It made us switch the order of the release [with 2009]."
As Geoffroy considers his (nearly) three decades spent at Dom Pérignon while enjoying the new vintage, I see satisfaction and pride radiating from him. Satisfaction that his time has brought Dom Pérignon to the top of the champagne world, and that each year taught him valuable lessons to pass on to Chaperon, who has clearly absorbed these messages. And pride, that he has emboldened his successor to do what many young winemakers wouldn't dream of: to shake up Dom Pérignon with each vintage.