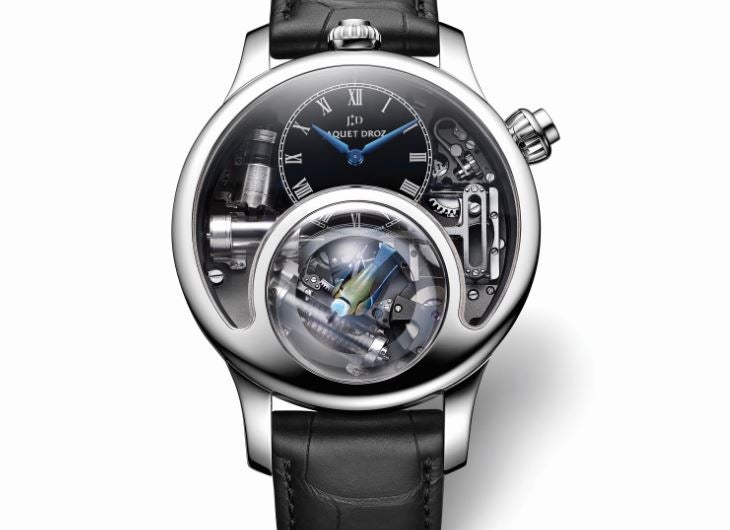 This story originally appeared in the November/December 2017 issue of Elite Traveler.
Only a handful of brands offer these incredible feats of art and mechanics, which can take several hundred hours to make and assemble—something that is reflected in their price.
Moving magic on the wrist is the best way to describe this rare breed of watches. A concept that predates Leonardo da Vinci's days, automatons are mechanical figures that move at will, much like a robot.
Back in the 12th and 13th centuries, these often life-size mechanical figures were operated via a water-flushing system or other methods. Eventually, clockmakers began turning to automatons to make creative clocks, frequently incorporating standing figures that would strike a bell on the outside of the clock.
One of the best-known clockmakers to not just dabble in, but actually conquer the concept of automatons was Pierre Jaquet-Droz. By 1773, he had mastered the art of automatons and sealed his place in watchmaking history. Among the sophisticated automatons he built were a child-sized woman musician playing a keyboard and a writer standing at podium. Jaquet-Droz took a trio of these ingenious automatons throughout Europe to showcase them, and quickly gained acclaim as one of the forefathers of mechanical calculations.
Of course, child-sized automatons are not easy to carry around, so Jaquet-Droz and other clockmakers in the 1800s began producing the concept on table clocks. From there, like all inventions in clocks and pocket watches, top watchmakers eventually found a way to miniaturize the mechanics.
Today, thanks to cutting-edge CNC machines and nanotechnology, watch brands can create the smallest of parts and, with the help of computer-aided designs, bring automaton concepts to fruition on the wrist. Make no mistake, though. These watches are not by any means commonplace and there are only a handful of brands offering automatons.
Naturally, the master watchmakers at Jaquet Droz worked tirelessly to bring its automaton heritage front and center in its watch collection. About five years ago, the brand wowed the watch world with an exceptional minute repeater automaton depicting three birds in a tree and nest, each of which moved with the repeater chimes.
Since then, the brand has unveiled new automatons regularly, including a Charming Bird rendition that has a singing bird encapsulated in a window at 6 o'clock that, with the push of a button, moves around, fluttering its wings and chirping melodiously. The brand also offers a host of other automatons, including a butterfly chariot and more.
A true master at modern automaton wristwatches, and one of my personal favorites, is Ulysse Nardin. For several decades now, it has unveiled some of the most exciting and beautiful minute repeater automaton watches on the market. One of the most alluring is the complex Safari Minute Repeater with a lion, a crocodile and a monkey made in colorful enamel that each move with the different chimes.
The brand also does an amazing job of creating sculptured gold figures — jaquemarts — on the dial that each in turn do something different. With its Jazz Minute Repeater, the hand-engraved jaquemarts are musicians that stand out against a black onyx dial. When the minute repeater is activated, the band begins to play, with each figure coming to life separately as the hours, quarter hours and minutes chime.
Another brand that interprets mechanical figures on its watches is Van Cleef & Arpels. This year, the brand unveiled the Lady Arpels Papillon Automate watch. This timepiece is so exceptional that it also made it into our recent Top 50 Watches of 2017 feature.
Created using a variety of enamel motifs, with gem setting complementing it, the watch dial holds a butterfly that flutters its wings either on demand or on its own — the true meaning of automaton. As time flies, the remarkable butterfly randoml moves its wings two to five times in a row depending on the power reserve of the automatic movement.
Naturally, these incredible feats of art and mechanics take a great deal of time to create, often with hundreds of hours invested in the making of the automatons, and several hundred more spent assembling the movement. They are, therefore, highly coveted and carry retail prices that reflect their craftsmanship and endearing beauty.
Images top to bottom: Ulysse Nardin Jazz Minute Repeater, $455,000, available at Ulysse Nardin in New York, contact Vivian Ariel, store manager, +1 212 257 4920 ulysse-nardin.com; Van Cleef & Arpels Lady Arpels Papillon Automate, $300,000, available by appointment, +1 877 826 2533, vancleefarpels.com; Jaquet Droz Charming Bird, $399,000, available at Manfredi Jewels in Greenwich, CT, +1 203 622 1414, jaquet-droz.com