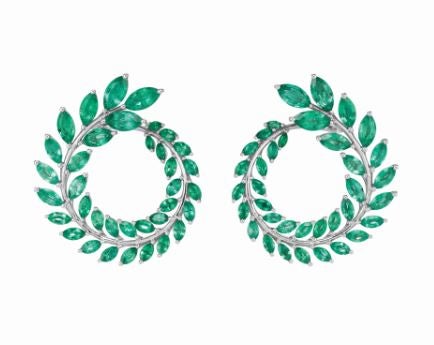 This story originally appeared in the September/October 2017 issue of Elite Traveler.
Today more than ever, consumers are concerned about responsibly sourced jewels and precious metals. They want to buy their jewelry with a clear conscience, knowing the gems and metals were mined both ethically and sustainably.
It was back in 2006 that the concept of "blood diamonds" hit us thanks to the release of the film Blood Diamond starring Leonardo DiCaprio. Also referred to as conflict diamonds (to highlight the negative consequences of the diamond trade), these are gems mined in a war zone and typically sold to finance army efforts.
Six years earlier, in 2000, when southern African diamond producing states met in Kimberley, South Africa, they discussed ways to stop trade of conflict diamonds and ensure that diamond purchases did not finance violence or rebel movements. As a result, the United Nations General Assembly adopted a landmark resolution that involved governments from around the world and created the Kimberley Process Certification Scheme (KPCS), effective in 2003.
KPCS imposes strict requirements on members to certify shipments of rough diamonds as conflict-free. The process is incredibly extensive, but today there are 54 participants from more than 80 countries.Many believe that the implementation of the KPCS brought the issues to the forefront and inspired the movie. Either way, the issues came to light and forever impacted the way we look at diamond mining, and by extension, the mining of other gemstones and precious metals.
It is this heightened awareness, combined with a concern for the health and wellbeing of the miners and the sustainability of our earth, that has made this a true hot-button topic. Today, consumers not only want to buy jewelry that is ethically sourced, but has also followed clear fair-mining practices, is sustainable, and maybe even has a social conscience. Luckily, many top brands are taking an active role in these efforts.
Gemfields, one of the world's largest mining companies for emeralds and rubies, is at the forefront of sustainable mining, with practices implemented at its Mozambique ruby mines and its Kagem emerald mines in Zambia. The company has established benchmark standards for emerald grading and is committed to environmental replenishing of the area, and to ethical and transparent mining.
Additionally, corporate social responsibility is of key importance to Gemfields, which works with local organizations in its mining areas to help build schools, bring in teachers, books and equipment, and build hospitals. It is also working with local farmers to help implement sustainable farming and is investing in reforestation. A host of jewelry houses and designers turn to Gemfields rubies and emeralds for this very reason.
Chopard is a leader, having developed a project in 2013 called The Journey to Sustainable Luxury, and was the first large-scale jewelry producer to sign a multi-year commitment to use sustainable, ethically sourced "Fairmined" gold for some of its creations. Fairmined gold holds a certification that the gold is responsibly gathered by small mining communities in South America where the miners are protected and the environment is replenished. Additionally, last year Chopard infused its Green Carpet Collection of High Jewelry with responsibly-mined Zambian emeralds from Gemfields' Kagem mine.
Another initiative is Diamonds Do Good, started by the global non-profit Diamond Empowerment Fund (DEF). DEF was founded seven years ago by Russell Simmons and Dr Benjamin Chavis to tell the good stories about diamonds, and the benefits a country and its people receive through mining its natural resources. DEF is dedicated to empowering people in diamond communities. It supports education, skill-building and vocational training.
Inspired by the many good programs their supporters champion in communities around the world, DEF started the Diamonds Do Good campaign and initiative to highlight these programs. Supporters include Forevermark (part of the DeBeers Group), Hearts On Fire (part of Chow Tai Fook) and CanadaMark (through Dominion Diamond). In fact, Dominion Diamond Corporation works in partnership with Aboriginal communities near the Ekati diamond mine in Canada to protect sub-Arctic wildlife. While the mining industry brought jobs and economic opportunities to the people, conserving nature was a priority.
All of these efforts showcase the factthat sustainable, ethical mining and jewelry making is possible. We just need to continue to be vigilant.
Images: Dominion Diamond Winds Embrace ring in platinum with 6.01-carat fancy-vivid yellow diamond and white diamonds, $575,000, contact Dylan Dix, +1 416 362 2237, ddcorp.ca; David Gross Group necklace in platinum with 29.30 carats Gemfields Mozambican rubies and 21.61 carats marquise and cushion-cut diamonds, $530,000, available at Jacob & Co in New York, +1 212 719 5887, davidgrossgroup.com; Chopard Green Carpet Collection earrings in 18K Fairmined white gold with 11.8 carats marquise-cut Gemfields emeralds, $151,890, available at Chopard in New York, +1 212 223 2304, chopard.com