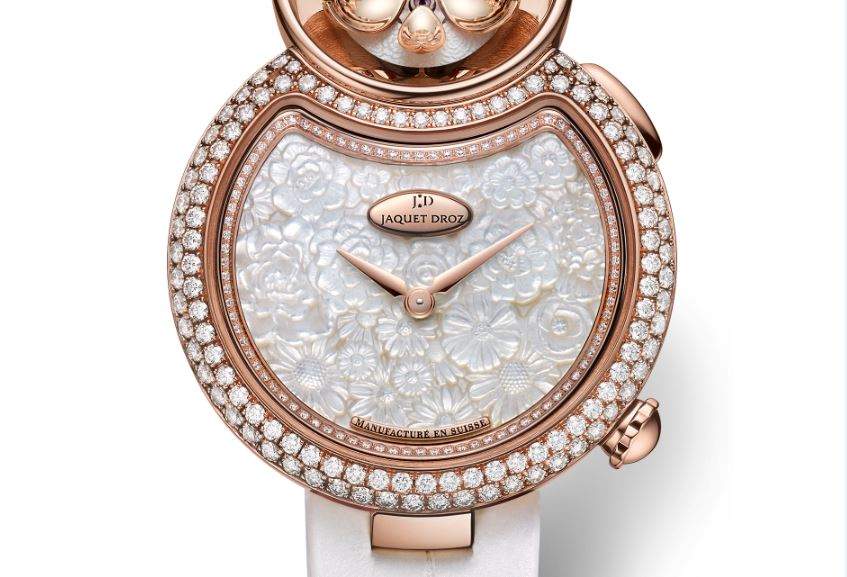 This story originally appeared in the January/February 2019 issue of Elite Traveler.
Shimmering mother-of-pearl watch dials are among the most beautiful on the market. Now, top brands elevate the precious material by carving, etching, painting and gem setting these delicate dials.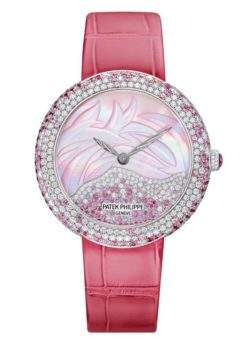 Mother-of-pearl's incredible luster and sheen have made it a feminine choice for watch dials since the early 1900s. Then, designers used stones such as onyx, lapis and mother of pearl to create geometric Art Deco–inspired timepieces — the contrast of glossy black onyx with shimmering mother-of-pearl made a grand statement. Through the years, it has become a classic choice for an elegant watch dial.
Now, brands are putting their craftsmanship to the test by working with the notoriously brittle material in new ways. Whether it's developing innovative methods to paint it, adding gold or diamonds, or even carving motifs into the mother-of-pearl, these new techniques result in incredibly intricate dials. For many collectors, the difficulty it takes to create a mother-of-pearl dial is what makes them so special; knowing that a single artisan spent hours transforming a simple orb into a handmade work of art increases the value of the watch exponentially, both literally and figuratively.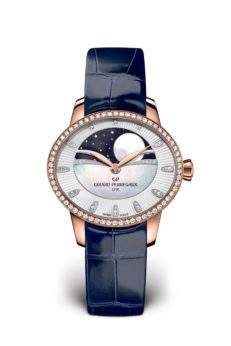 Not all mother-of-pearl dials are of the same quality. Because a mother-of-pearl dial starts with a natural shell, the color and quality of that shell will impact the final product. The raw material can hail from a variety of places, but the best quality and color usually come from the South Pacific, Australia or, in the case of black mother-of-pearl, Tahiti. In its natural form, the shell is found in black, brown, white or pearlescent hues of pink, gray, blue or white.
To create a simple dial, artisans harvest the shell and form it into a paper-thin sheet, from which an orb (or other shape) is cut. The orb then goes through another dozen or so steps in preparation to become a dial. Those steps include notching it for hands and markers, polishing and sometimes preparing it for gemstone setting. Brands can also opt to enhance or transform the color by lacquering the back of the dial. At any step, the fragile material can be chipped or broken, and the artisan will have to start over. In creating a more elaborate dial, the mother-of-pearl undergoes more than 15 different steps, and it often takes several days to complete a single dial.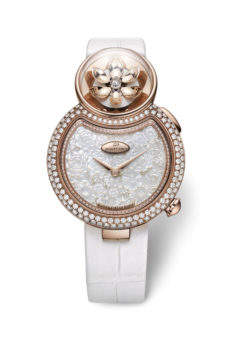 Patek Philippe frequently works with mother-of-pearl, and recently created an unusual high-jewelry masterpiece featuring a naturally pink shell from Mississippi. The incredible hues are captivating, as is the engraved motif with finely finished feather details. The lower portion of the dial was meticulously set with pink sapphires and diamonds to further enhance its luster and unique color.
From its Cat's Eye collection, Girard-Perregaux's Celestial watch is another work of art. Artisans cut, split and polished the mother-of-pearl by hand before the different sections of the dial were finely finished. One section is beautifully hand polished to accentuate the mother-of-pearl's shimmer, while the outer chapter ring is hand-guillochéd to produce the sunrays. Afterward, it's notched to set the water-droplet-shaped diamond indexes.
Jaquet Droz carves mother-of-pearl to spectacular effect in its newest Lady 8 Flower watch. Using a single orb, artisans deftly carve the entire upper side of the dial one flower at a time to form the intricate floral motif. It takes three days to carve a single dial, and another half a day to form the smaller top dial beneath the lotus flower (which swivels and opens to reveal a diamond). Because of the time-consuming, meticulous craftsmanship required, just eight pieces will be made.
Images: Patek Philippe Ref 4899/900G Ladies Calatrava watch in 18K white gold with hand-engraved pink mother-of-pearl dial, 2.69 carats sapphires and 1.66 carats diamonds, $102,060, Gearys in Beverly Hills, California, +1 310 887 4250, patek.com; Girard-Perregaux Cat's Eye Celestial watch in 18K pink gold with polished and guillochéd mother-of-pearl dial and .91 carats diamonds, $31,900, Wempe in New York, +1 212 397 9000, wempe.com; Jaquet Droz Lady 8 Flower watch in 18K pink gold with hand-engraved mother-of-pearl dial and 1.4 carats diamonds, $173,000, Jaquet Droz in New York, +1 646 692 6470, jaquet-droz.com