When it comes to vacationing in Marrakech, there's no place to stay that's more exquisite than this. This month, Royal Mansour Marrakech announced a partnership with Christian Louboutin, revealing two brand-new pairs of shoes that will be sold in the hotel's boutique.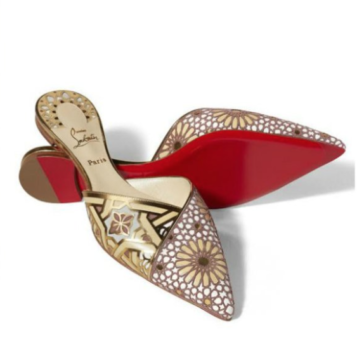 The traditional Marrakechi slippers are given a funky Louboutin twist – in addition to its unmistakable red soles, each is intricately designed with Moroccan design elements and are a chic memento of your time spent in the bustling city. The Lady Mansour is lavishly decorated with mosaic gold, white and taupe designs that are constructed to reflect wood latticework, a common Marrakechi architectural design element. The shoes feature laser cutting atop the specchio leather and silvery floral motifs.
The men's Babouche slipper also represents a classic Moroccan style with a black suspender at the back. The woven star atop the white leather shoe honors the star that can be seen on the Moroccan flag. Also woven into the slipper motif is the Royal Mansour's initials. Wear them while wandering the colorful souks, or to dinner at the hotel's lavish  The Great American Table.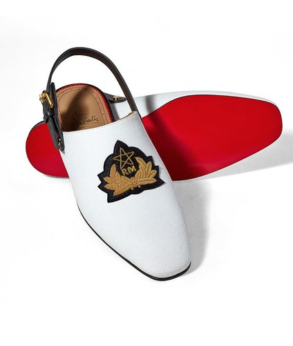 Each pair has horseshoe arches and reflects Royal Mansour's and Louboutin's dedication to art, craftsmanship and design.
Lady Mansour: $910
Babouche: $570
For more information, visit royalmansour.com