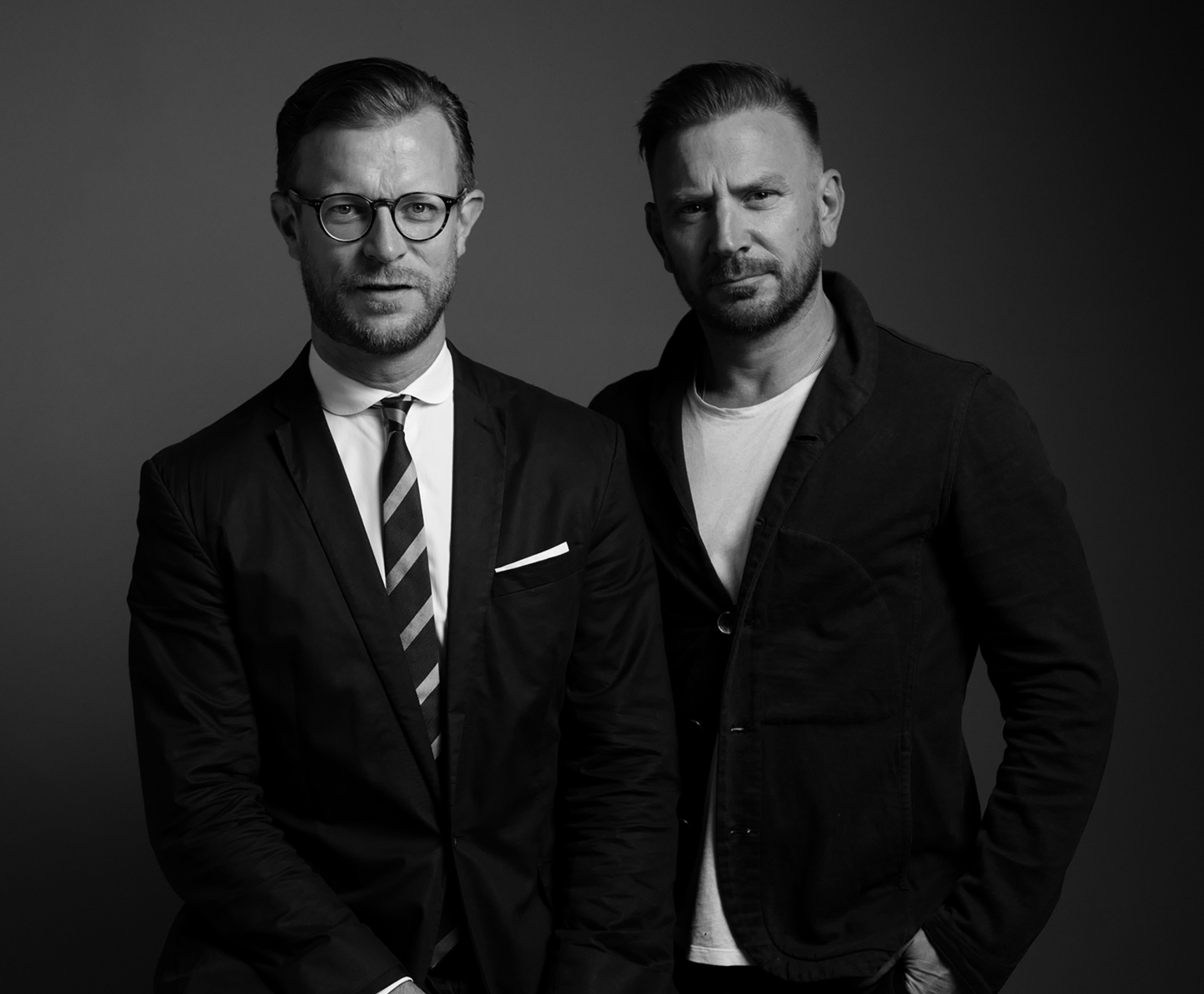 I meet Nick Saunders and Jonathan Long, co-creators of a new luxury grooming brand, a week before their launch night. In a few days, they will see the accumulation of three years work come to fruition, but they will also be exposing their brand – an extension of themselves – into a fiercely competitive market.
They have bet everything on David and are now throwing him in the ring with Goliath. Yet they appear eerily relaxed about the prospect. That is because they believe that the global brands they are about to go up against have left a gaping hole in the market, one that Saunders and Long is about to fill.
"My background is as a hairdresser but I have been fascinated by hair products and brands since I started," Long, co-owner of the long-established Chelsea salon Lockonego, tells me. "I love this job but have always had this lofty dream of having my own line. You just never know if you can make it.
"I met so many different people claiming they could make me a product line, but then you go and meet them and they work with brands that basically have premade products. They sell you that premade product and then you brand it your own way. I wasn't interested in that. I felt that everything was very samey."
The route he rejected is one that many of Saunders and Long's competitors have taken. Very few companies are taking the time to create something new and that has come at the expense of the consumer.
For much of his career, Long has learned to blend different products together in order to achieve the looks his clients want. This maverick approach has helped Long become one of the leading stylists in the UK, but he has always wanted to share his talent for products with the grooming world. He just had no idea how to turn it into a brand. That is where Saunders comes in.
"We could not come from more different backgrounds," Saunders admits. "I was working in the film business and moving backward and forwards between London and Los Angeles when I met Johnny one night in a bar in Notting Hill. It was a very funny and random conversation. We connected and became friends."
Saunders eventually moved on from Hollywood to branding. He worked with big names such as Ryan Reynolds and Rosie Huntington-Whiteley, helping them develop a relationship with the British high street behemoth Marks and Spencer. Despite more career success, he yearned for more.
He continues: "I realized that I really wanted to develop something with my own name on it, a product that I owned and could put on the shelf and be proud of. Johnny really wanted to do something with his name on it as well. During the course of becoming friends, we started having a conversation about what we wanted and the timing was just perfect."
They set to work on bringing Long's vision to life and used industry connections to form the kind of dream team that would make Clarins blush. Supermodel Johannes Huebl came on board in its early days and is now their global ambassador. Meanwhile, renowned photographer Greg Williams is behind their slick and sophisticated press images. Their biggest coupe, however, was catching the attention of a man who Long describes as 'the billion-dollar chemist'.
Long says: "We had the fortuitous moment of meeting Stephen Musumeci, who is the most amazing chemist you will ever meet in your life. This is the guy behind Kiehl's, Bumble & Bumble and Bobbi Brown.
"We met him in New York and sold him our dream. He said, 'This is going to be expensive, it's going to be hard. How do I know you guys are going to work for it?' But I just kept nagging and nagging and nagging him, asking to work in the lab with him because I didn't want to have generic products, I wanted something brand new.
"After six months of battering him, he let me come. I spent just one day with him and we banged out five products that were pretty much nearly there, which came from the fact that we had seen a major gap."
The clarity of Long's vision means the brand launches with eight different products, including the revolutionary 'Long Weekender', a patent-pending five-in-one (shampoo, conditioner, body wash, shaving gel and dry groomer) that they expect to be their biggest seller.
Saunders says: "We really wanted to come out with a hero product for travelers. I imagine we'll be talking about the Long Weekender the most because it is unique. The idea is that whenever you go away for a couple of days, you're never quite sure what products you'll get on the other end. You will be covered for most things if you have one of these in your travel bag."
What they have created is certainly impressive. The branding oozes old-school sophistication, yet the product is very much for the modern man. As they sell me their starry-eyed vision, however, there remains a lingering suspicion that they may be entering a game they simply cannot win. Their initial funding round of £500,000 ($635,000), while impressive, is a drop in the ocean to the companies they are competing against.
Long is defiant, saying: "The thing they have done wrong is that they are all generic. I look at a lot of the big brands, and when a company brings something new out you will see the same big numbers followed by a decline. So many brands came out and grew very quickly, but now the market is flooded and the only difference between them all is the packaging.
"We are making products from scratch and who better to do it than someone who is on photo shoots all the time and using these products every day? I work with it, I feel it and I know how it works. We have been listening to feedback, tweaking the brand and listening to the people we know. I have had 10 to 14 clients a day trying this product and they have all helped us make a better product."
Saunders says one of their big advantages will be the ability to take on feedback and improve the products. They are looking at their London launch as an oversized sample sale with the line only available in Fortnum and Mason, The Barber at Alfred Dunhill and Long's co-owned Lockonego salon.
"We don't want to run before we can walk," Saunders says. "In the same way it was important to launch in the right places, we also didn't want to get too far out into the marketplace before we took feedback on the product. We want to give customers an opportunity to tell us what they like about it and make sure they are right before we figure out how to take it a little wider.
"We have already got friends in New York, LA and Hong Kong who want to help us get into those markets and we are chomping at the bit to take it as far and as wide as we can but we want to make it right before then."
Long adds: "You don't want to launch a brand that you can not fulfill. That is one of the huge mistakes that so many brands make because they get carried away with the numbers.
"This is a passion for both of us. We are going to grow this slow and steady because we want to be around for a while. We have both put a lot into this and I don't want it to be just flash, bang, gone. This idea is 10 years in our heads and three years of complete focus and work."
The real work, you suspect, has only just begun.
Saunders & Long products will be available from June 2019 at Fortnum and Mason,  The Barber at Alfred Dunhill, Lockonego and saundersandlong.com.