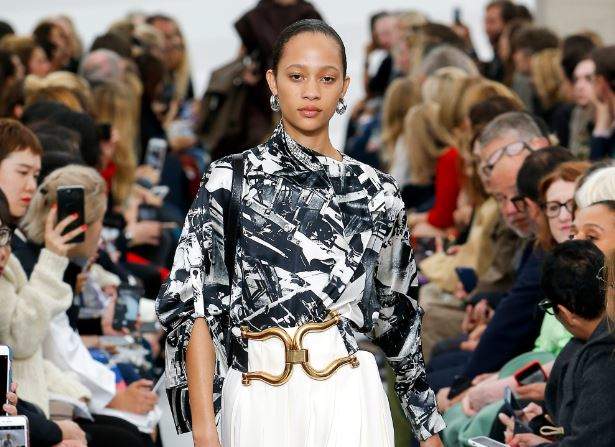 This story originally appeared in the March/April 2018 issue of Elite Traveler.
At the spring 2018 shows,Miuccia Prada incorporated the work of nine female artists into Prada's collection. Vintage comics, friendly spiders and manga characters were sprinkled on the expected T-shirts, but also on sharply tailored garments such as this incredible coat covered in a collage of comic panels. In one of her final collections at Céline, Phoebe Philo showed a vibrant collection with clashing prints. The pictured dress features a modern graphic print on the top and a print that takes inspiration from classic art on the skirt.
Both Donatella Versace and Raf Simons featured Andy Warhol prints in their collections, but in wildly different ways. In her exuberant show at Versace, which was dedicated to her brother Gianni on the 20th anniversary of his murder, Donatella used prints from the Versace archive, including the famous Marilyn Monroe Warhol print. It's also available in a series of bags if outfit of it is too much for you. At Calvin Klein, chief creative officer Raf Simons began a multiyear partnership with the  Andy Warhol Foundation for the Visual Arts in the spring 2018 collection, which meditated on the intersection of the American nightmare and the American dream. The pictured dress features Ambulance Disaster from Warhol's Death and Disaster series.
CALVIN KLEIN 205W39NYC guipure dress with printed plastic overdress, $5,500; high-heeled sandals, $1,595, available at Calvin Klein in New York, +1 212 292 9000, calvinklein.com
Prada denim comic collage coat, $2,600; poplin shirt, $840; nylon pants, $400; tech nylon socks, $210, available at Prada in New York, +1 212 334 8888, prada.com
Versace silk blazer with Warhol SS1991 lining, $2,450; blouse, $1,295; pleated miniskirt, $875; multicolor Warhol SS1991 leggings, $775; sandals, $795, available online at versace.com
Céline dress, $8,200, available at Saks Fifth Avenue in Mexico City, +52 555 246 4800, celine.com
Versace Tribute bag, $4,295, available online at versace.com