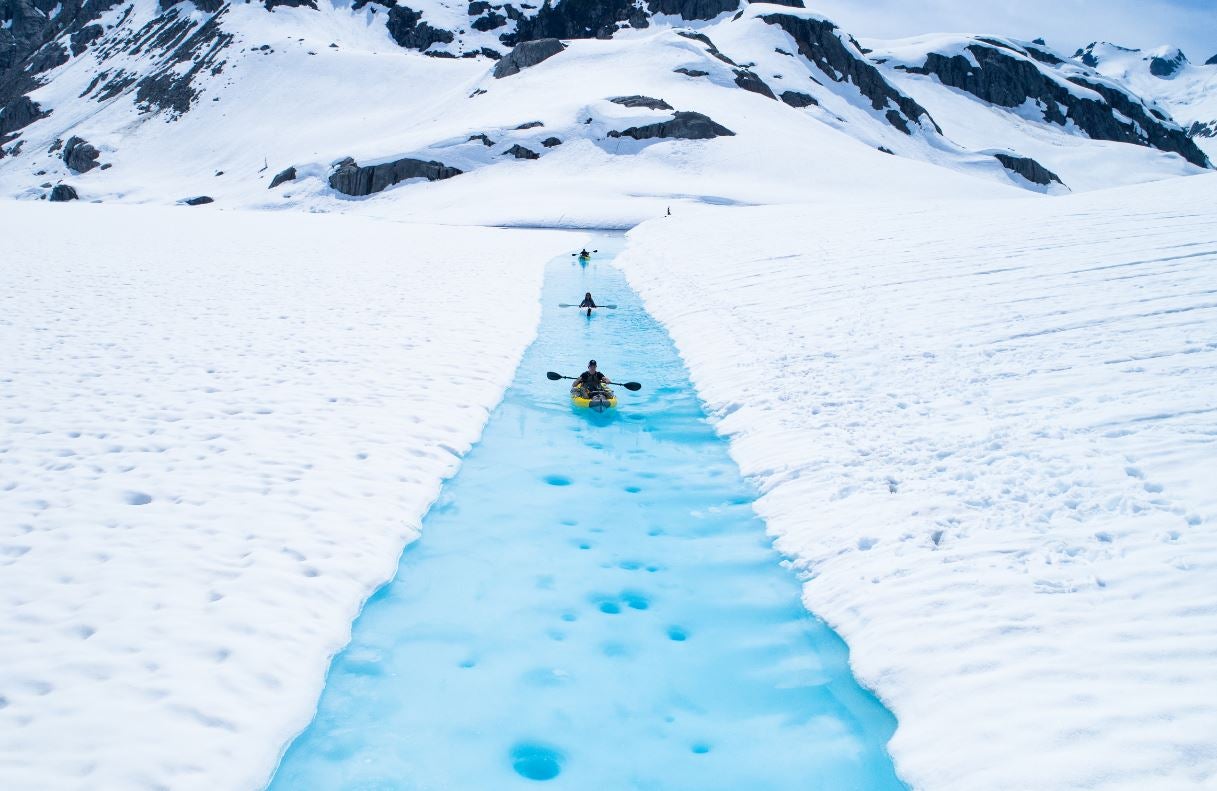 This story originally appeared in the September/October 2018 issue of Elite Traveler.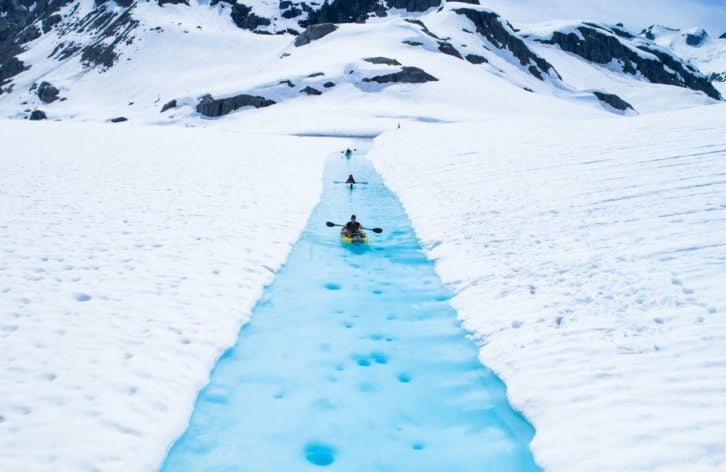 "It looks like Gatorade, right?" remarks Nick Drader, pilot and guide of Compass Heli Tours as we soar through snowcapped mountains by helicopter. He's referring to the melted glaciers that form bright teal lakes and streams during the summer, and the spot of our morning kayak.
We take off from Abbotsford in British Columbia and after a 45-minute ride over the provincial parks, where scenes are so startlingly sublime I find myself shaking my head in disbelief, Drader lands the helicopter next to a picnic bench (more head shaking as it seems implausible to have a picnic bench in such a remote place; Drader flew the bench out previously). The untouched, undulating landscape is so peaceful, the blanketed silence is interrupted only by the creaking and cracking of the melting glaciers — and probably shrieks of delight as we glide through the impossibly blue melt water.
Drader knows the area exceptionally well and takes us on a gentle hike up to a secluded spot with the most astounding (and extremely Instragrammable) views of where the snow melts away to reveal lush, verdant forests, huge mountain ranges and lakes.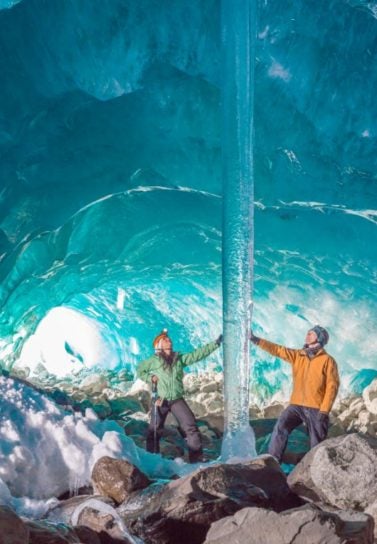 This incredible tour is just one part of Scott Dunn's new Seriously Special collection, a plethora of bucket-list-worthy trips and experiences. This trip combines the raw beauty of British Columbia and the cosmopolitan delights of Vancouver for an unforgettable experience. We begin in uber-trendy Vancouver where we e-bike around the picturesque city, visit Grouse Mountain (including a trip to the top of a 215-ft-high wind turbine, Eye of The Wind, for a glass of crisp Canadian wine) and fly via seaplane for dinner and Caesar cocktails on the charming Bowen Island.
This particular itinerary continues with a trek into the icy kingdom beneath the snow (after all, you can't tick off the bucket list without saying you've been through, above and beneath a glacier). Headline Mountain Holidays' ice-cave exploration begins with a helicopter ride through Canada's southernmost ice fields to land right on top of a glacier. An affable tour guide leads us through the warren of ice passages and rushing streams below while giving a fascinating insight into the caves and surrounding area, as well as pointing out the best spots for a photograph.
The underground world is ever evolving due to changes in temperature, so no two visits are ever quite the same. It is astonishingly beautiful; the 40-ft layers of ice compress to create mystical chambers, natural sculptures and 15-ft icicles so mesmerizing it's easy to lose time just staring at the tiers of formations. The ice creates every conceivable shade of blue, so it is no surprise that the otherworldly setting has been used for many fashion shoots and not-your-average wedding photos.
Once we are back above the glacier, a delicious picnic created by a private chef is ready and waiting, complete with snow-chilled champagne and cozy sheepskin blankets to relax on. Then, we take shots on (quite literally) the coolest golf course — there's a golf mat with biodegradable golf balls. Swinging off into the bewitching landscape is seriously special indeed.
From $8,600 for seven nights, staying at the Shangri-La Vancouver and The Westin Resort & Spa Whistler. Contact Charlotte Smith, senior sales manager North America, +44 203 733 9507, northamericaenquiries@scottdunn.com, scottdunn.com
Photos Archipelago Media Ltd, Compass Heli Tours Ltd, Marc Dionne