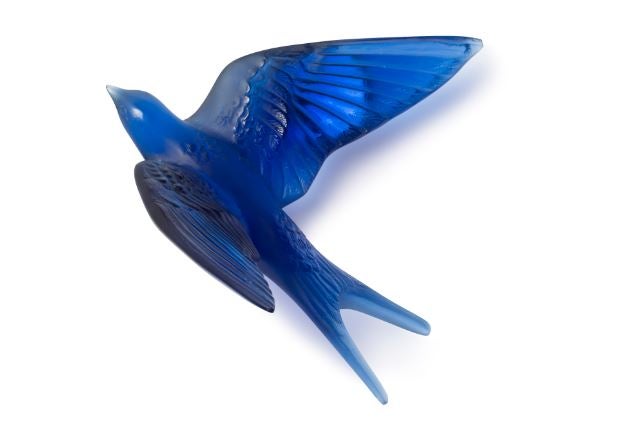 This story originally appeared in the May/June 2018 issue of Elite Traveler.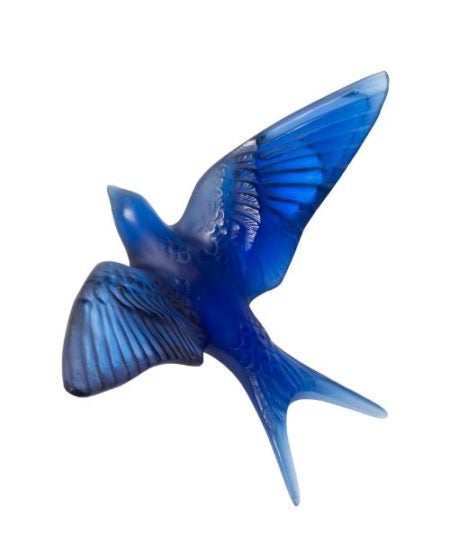 One hundred and thirty years ago in Paris, René Lalique registered his hallmark—his initials and a stylized sword—and began engraving it into the unique gold jewelry he created in his workshop. The French designer quickly gained a reputation for his skill and experimental style; Lalique shunned the trends of the time and instead favored materials for their power, light and color, regardless of whether they were precious or not. He combined gold and gemstones with semiprecious stones, mother-of-pearl, ivory and horn. Over the next few decades, further experiments saw Lalique devote himself to other mediums, creating works of art from glass and crystal to huge acclaim. He was inspired by flora and fauna, and most notably by the delicate form of the swallow. This symbol of happiness and freedom is a reoccurring character in his work, often seen as the centerpiece of many jewels and decorative objects.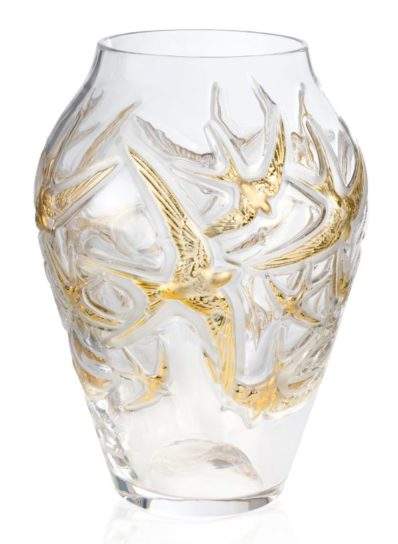 The firm is celebrating this dainty bird and its 130th anniversary in the namesake Hirondelles collection. We visited the Lalique flagship store in London's Soho to toast the occasion and take a sneak peek at the collection (as well as nibble on almost-too-pretty-to-eat macaroons dusted with edible gold). The main attraction was a grand 15in-tall gold-stamped glass vase depicting swallows flying, their finely chiseled feathers spread in motion. Like many of the items in the collection, the vase is limited to 130 pieces, marking the 130 years. The most intriguing works on display were wall sculptures of the birds in various stages of flight. The delicate sapphire-blue or clear crystal swallows, each about 6in long, were magnetically held to a wall before our host gently pulled them off and then attached them to a glass table, bringing the sculptures to life as they 'flew' from location to location.
Images: Swallow wall sculptures in sapphire blue crystal, $875 per piece; Hirondelles grand vase in clear crystal with gold stamping, limited to 130 pieces, $18,000