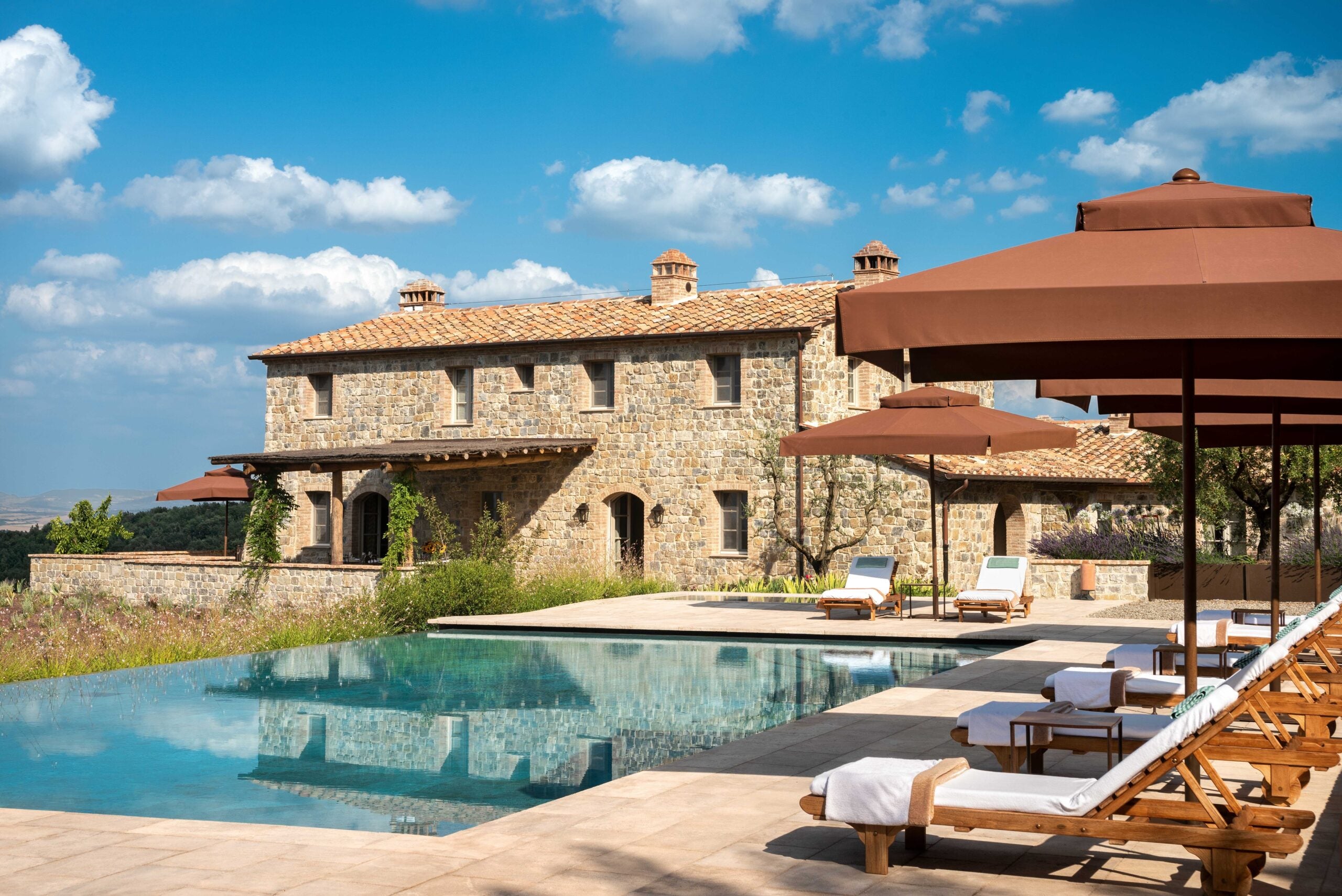 Bucolic Tuscan resort Rosewood Castiglion del Bosco champions Italian wellness through its spa haven that promotes rejuvenation from the inside out and utilizes locally sourced ingredients in all of its treatments.
The spa is situated in the former wine cellars of the estate and encourages you to sit in nature with its private lush gardens, outdoor relaxation areas and expansive views over the rolling hills. Inside, there's a sauna, steam bath and additional relaxation lounges.
The resort recently unveiled a collaboration with Florentine apothecary, Santa Maria Novella, whose history dates back to 1221. Story has it, its founders built a monastery outside the city to study and test local herbs which ultimately led to the creation of medicines and balms that promoted good health. Today, the brand uses modern technology to create artisanal products using raw ingredients.
This new collaboration offers guests of the Rosewood Castiglion del Bosco access to bespoke treatments exclusively for the resort, from Tuscan wine treatments to facials. If there's one treatment to try it's the Santa Maria Novella Purify & Renew. This deep-cleansing facial uses rose water and orange fragrance to combat stress and fatigue, as well as moisturize and calm the skin resulting in a radiant, youthful appearance.
The spa offers body massages; body polishes and treatments; wellness rituals, including the Santa Maria Novella Tuscan Wine Embrace Ritual that uses antioxidant-filled grapestone oil; manicures and pedicures; and wedding packages, plus a private spa suite experience that includes a private dining experience after your treatments.
Rosewood Castiglion del Bosco is a wine and culinary destination, so while here, you can't miss Ristorante Campo del Drago or Osteria La Canonica. The resort also is home to La Canonica Cooking School where you use local, organic ingredients to create authentic Italian meals in an intimate setting.
For more information, visit rosewoodhotels.com