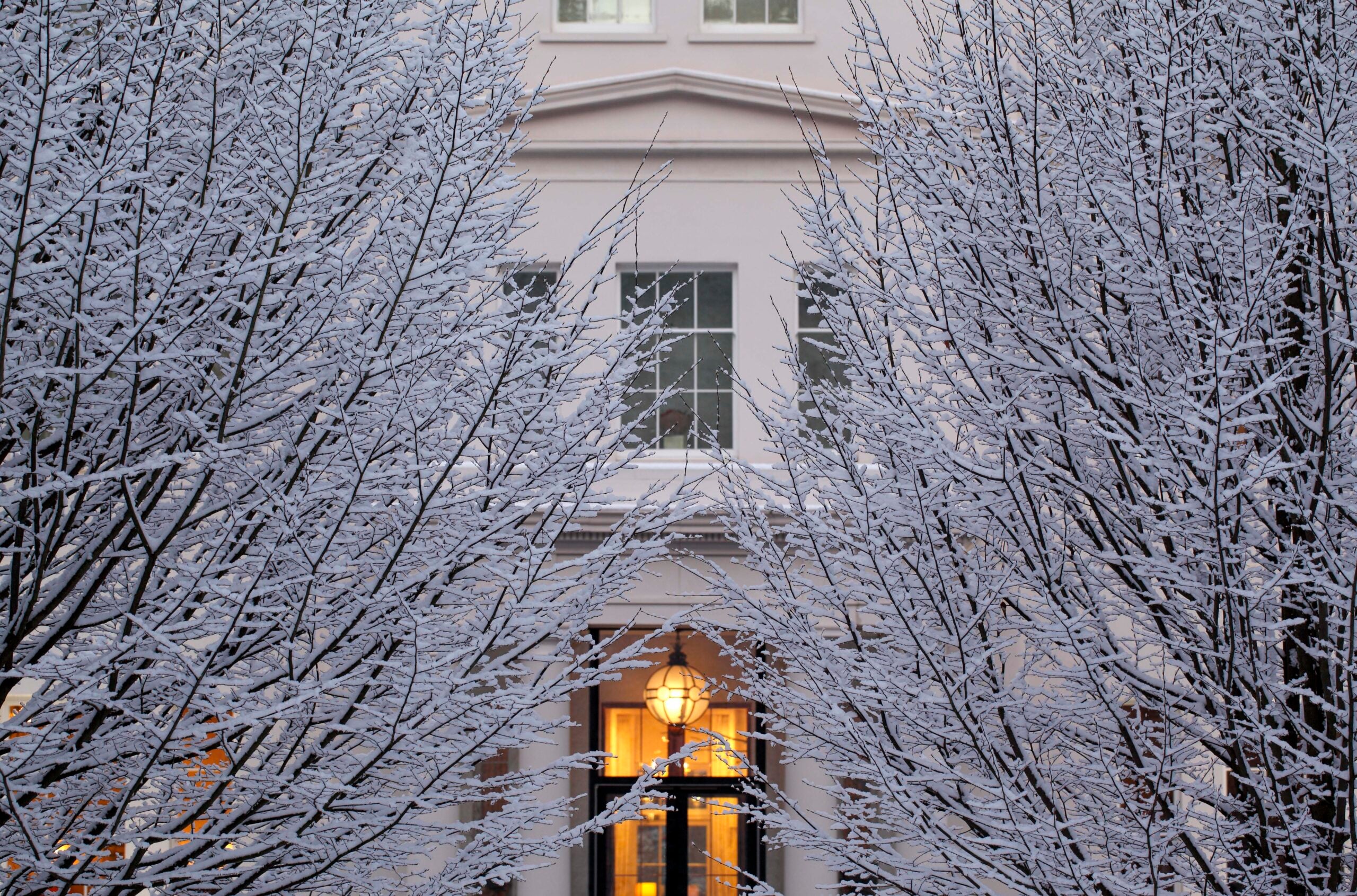 It is hard to imagine a more accessible city escape than Coworth Park. It is a 45-minute drive from central London yet delivers everything that is loved about the British countryside. It is at this time of year that the country house hotel shines brightest. Log fires and lavish Christmas decorations transform it into a sophisticated winter wonderland.
The charm of Coworth Park is its sense of understated luxury but be in no doubt; they cater to the elite here. That much is made clear as we are flown via helicopter and touch down on the hotel's private helipad. Castle Air, a helicopter service that regularly works with the hotel, gets us here in under 15 minutes.
Staff await our arrival and greet us with mulled wine. Twin Christmas trees guard the entrance to the lobby, where a huge tree towers through the middle of its spiraling staircase. It may be mid-November, but it certainly feels like Christmas in this leafy corner of Berkshire.
The hotel's main building, the Mansion House, is at its best at this time of year. A log fire crackles in The Bar as we sip champagne and eat warm mince pies. The rooms and suites all come with stand-alone deep-fill copper bathtubs and the bedding is equipped to keep even the chilliest British weather at bay. There is a palpable sense that the hotel is in its element.
The Dower House
If you are traveling with family or friends, the Dower House offers the ultimate in British country life. It sits apart from the Mansion House but is still well within the confines of the private grounds. This Grade II-listed cottage was built in 1775, making a full year older than the United States of America. It has undergone a couple of renovations since then and is now literally fit for royalty. Indeed, this is where Prince Harry spent his final night as an eligible bachelor before marrying Meghan Markle in 2018.
The Dower House is this hotel's signature suite but there are a number of alternatives worth celebrating. The Mansion House's Derby Suite boasts beautiful views over the hotel's 240-acre garden and polo fields. The Cottage Suites offer the same levels of privacy as Dower House but in a more intimate space.
Regardless of where you stay, Christmas at Coworth Park – a three-night experience from Christmas Eve to December 27 – starts with a welcoming Afternoon Tea in The Drawing Room. Children will then be invited to make Christmas cards, listen to stories or watch festive movies. Adults can enjoy a three-course dinner at the Michelin-starred Restaurant Coworth Park before attending midnight mass at the nearby Holy Trinity Church (transfers included).
Christmas Feast
Wake up on Christmas morning to breakfast in bed before heading down to the lobby to catch a glimpse of a presumably very tired Santa Claus. A private visit can also be arranged for those staying in The Dower House. Head chef Adam Smith will serve an extraordinary six-course Christmas lunch in Restaurant Coworth Park, including a Michelin-level turkey dinner with all the trimmings and that rarest of all things, a Christmas pudding that actually tastes great.
Head to the Garden Room for board games or watch a movie in The Tower House. For those still with an appetite, a buffet-style dinner will be available in the evening. The day after Christmas is Boxing Day in the UK, which means little in the traditional sense but offers a full day to recover from the previous day's excesses. Stroll the hotel's beautiful grounds before a sophisticated wine tasting event in the evening and a final three-course meal to end a decadent weekend in suitable fashion.
If you prefer to keep your feet on the ground for the journey back to London, call upon luxury chauffeur service, Berkley Executive. The company's customized Range Rovers are fitted with fridges (more champagne!?) and entertainment systems and will transport you back to central London in comfort and style.
A three-night Christmas at Coworth Park (December 24 to 27) package is available from $6,200 based on double occupancy in a suite. +44 1344 838160, dorchestercollection.com