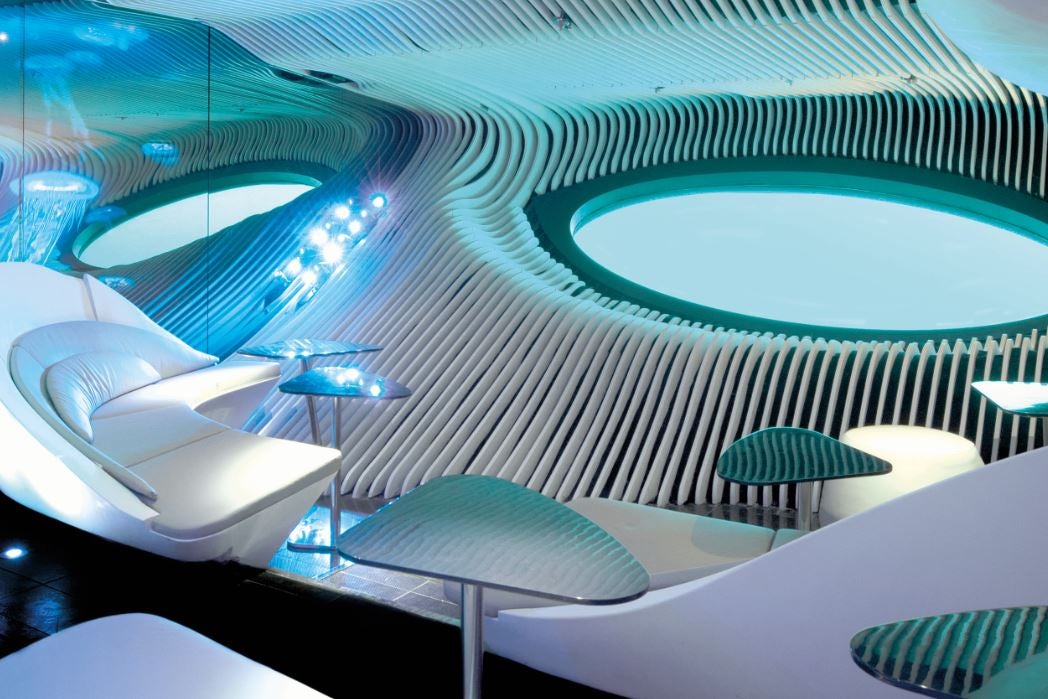 These days it is becoming increasingly difficult to remain in the moment. When you're next on vacation, look around and see who is soaking up the atmosphere and who is bent over their phones, oblivious to their surroundings—you'll likely see more of the latter.
Ponant's latest vessel, Le Lapérouse, tackles this issue by submerging guests in a unique, immersive experience. The Blue Eye is a multi-sensorial lounge situated below the waterline. Designed by architect Jacques Rougerie to mimic the tactually smooth shapes of whales, dolphins and jellyfish, the focal point is two large portholes that allow you to see the marine environment beyond. To ensure your view isn't limited to what happens to be swimming past at any moment in time, there are three underwater cameras under the vessel that take images of the seabed and surrounding creatures, and project them onto the screens within the lounge.
Composer Michel Redolfi created the soundtrack for the lounge. Underwater microphones transmit the natural sounds of the ocean into the Blue Eye, creating a symphony of the seas. The sofas scattered throughout discreetly vibrate in harmony with the sounds, ensuring you are completely encased and absorbed in the experience.
Owner's Suite from $9,930 per person based on double occupancy for a seven-night itinerary, ponant.com