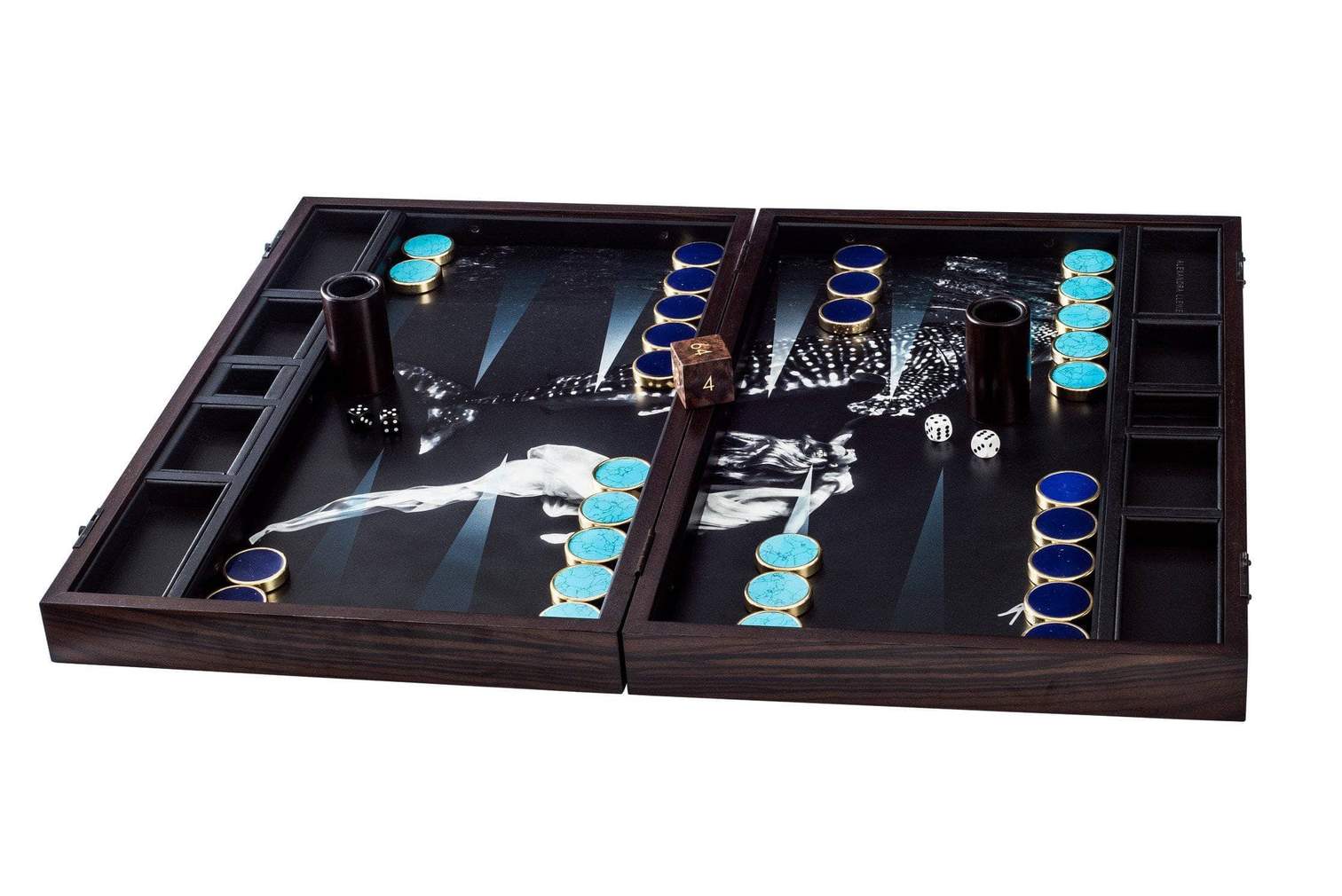 During this temporary quarantine due to Covid-19, indulge yourself in luxurious games housed in leather, shagreen or lambskin. These lifelong game sets that will look just as good as living-room decor as they do while playing them. Whether you're a backgammon master, chess aficionado or love the simpler games, like a Jenga-inspired set, look no further than the best luxury games for your home.
Asprey Hanover Scrabble Set in saddle hide black, $11,850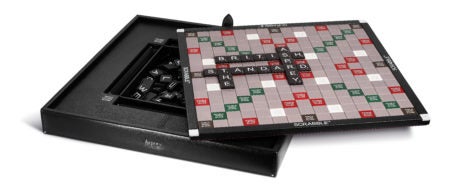 This luxe scrabble set comes with a lambskin board, lambskin leather tiles and in a saddle hide case. While it's still your favorite scrabble game, it looks exceptionally chic in your living room. Enjoy this meticulously crafted set with family while you're confined to home for the time being.
Linley Games Compendium Monopoly and Clue, $4,600
This two-sided board, which has both Monopoly and Clue, comes housed in a beautiful stained-gray ripple sycamore case. Both boards are made from the finest leather, Within the box, the pieces and boards can both be stored snug within the box. The Linley Games board also come in Scrabble and Trivial Pursuit, and Backgammon and Chess.
Louis Vuitton Monogram Tower, $3,050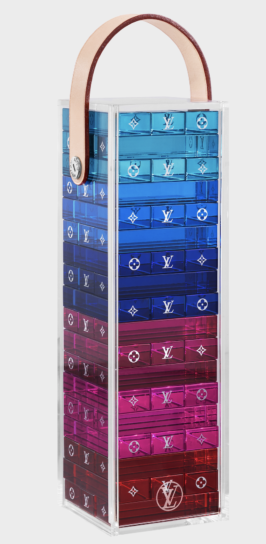 Louis Vuitton's answer to Jenga is this gradient tower with 54 plexiglass pieces ranging from turquoise to fuchsia. Each piece has LV's iconic motif and comes housed in a transparent plexiglass case with a leather handle with Louis Vuitton's signature elements. This playful game not only looks fun and bright on your shelf but is easily transportable at only 9cm tall.
Aerin Shagreen Domino Set, $1,250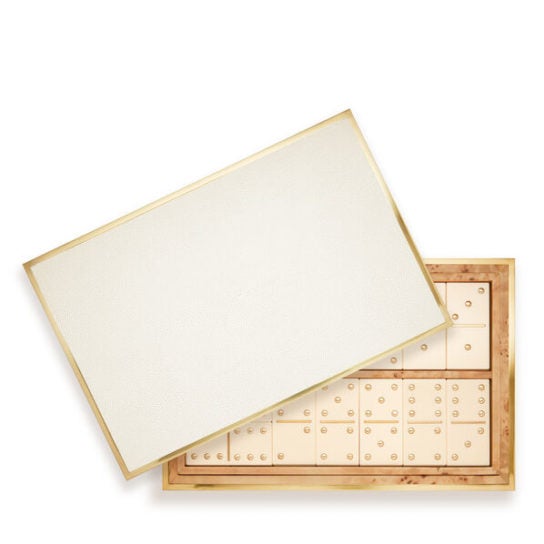 Aerin not only produces chic accessories and home decor, but also gorgeous games made out of shagreen and brass in creamy, neutral hues. When houses in the cream-colored box, the domino set could pass for a lovely piece of living-room decor. Once opened, the box reveals an elegant domino set with a subtle soft blush finish made with brass hardware detailing. They're longer and leaner than typical dominos.
Alexandra Llewellyn Wild Aid Backgammon Set, $9,860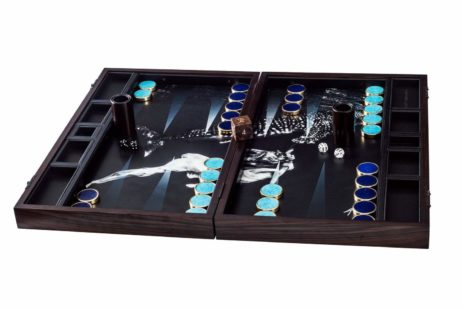 Alexandra Llewellyn produces some of the most luxurious backgammon sets with intricate drawings and detailing. This limited-edition Wild-Aid backgammon set is no different. Made in collaboration with photographer Kristian Schmidt, the board showcases Schmidt's whale shark photo series alongside a woman. Lapis and turquoise pieces encased in brass make this black, white and blue-hued board extremely eye-catching. The box is made in Macassar ebony and only 10 pieces will be made. What's more, 10% of each sale will be donated to WildAid, which helps support wildlife conservation.
Tiffany & Co Chess Set, $75,000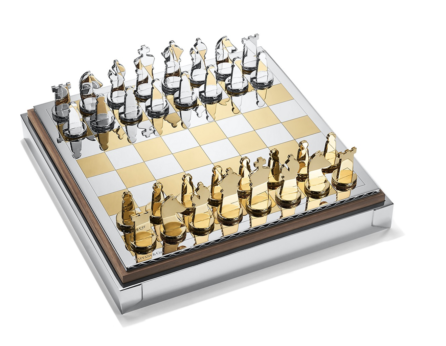 This show-stopping chess set from Tiffany & Co is part of the brand's "Everyday Objects" collection. Treat yourself to this exquisite set, made by Tiffany silversmiths and master artisans. It took one year to make and is made with sterling silver, 24K gold vermeil and wood. The pieces are thinner than usual and were inspired by corrugated cardboard – Tiffany's interpretation of "high and low." It comes in a sterling silver box (and mirrors the design of a Tiffany Blue Box), is lined with gray felt and is shaped in a perfect square at 12×12 inches.
Hermès Set of Rackets, $820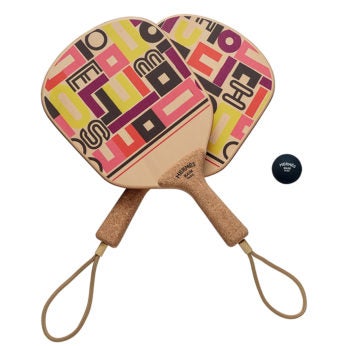 Who says you need a beach to play with rackets? Enjoy playing an active game (this is especially good for kids) in the comfort of your home or in an expansive backyard. These Hermès rackets are made out of beech wood with a colorful design to brighten up any mood. It also comes with a silkscreened ball. Use it while you're restricted to your home or get it for when you can (finally) enjoy warm, summer days on the beach.
Berluti Leather Poker Game, $4,950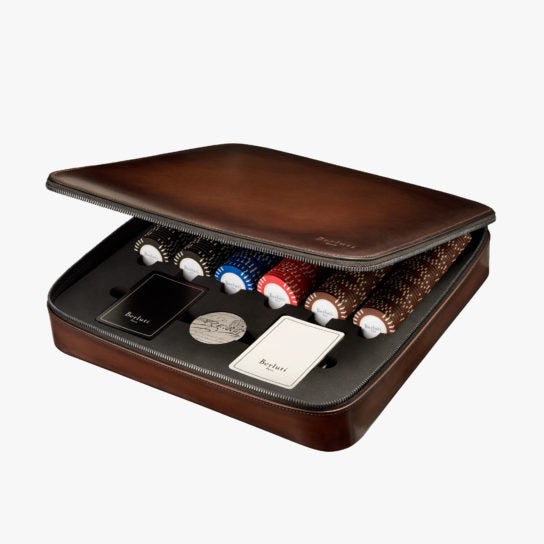 Berluti continally produces masculine games, wrapped in its signature, sumptuous brown leather style. This poker clutch is no different. It comes with all the pieces you need for poker, including chic black and white cards (which you can use for any card-required games at home). The set zips right up and can be easily transported, whether you're embarking on a roadtrip or heading to your second home to escape the city. Each chip is emblazoned on one side with Berluti's logo and, on the other, Berluti's signature Scritto print on a silver bakground.