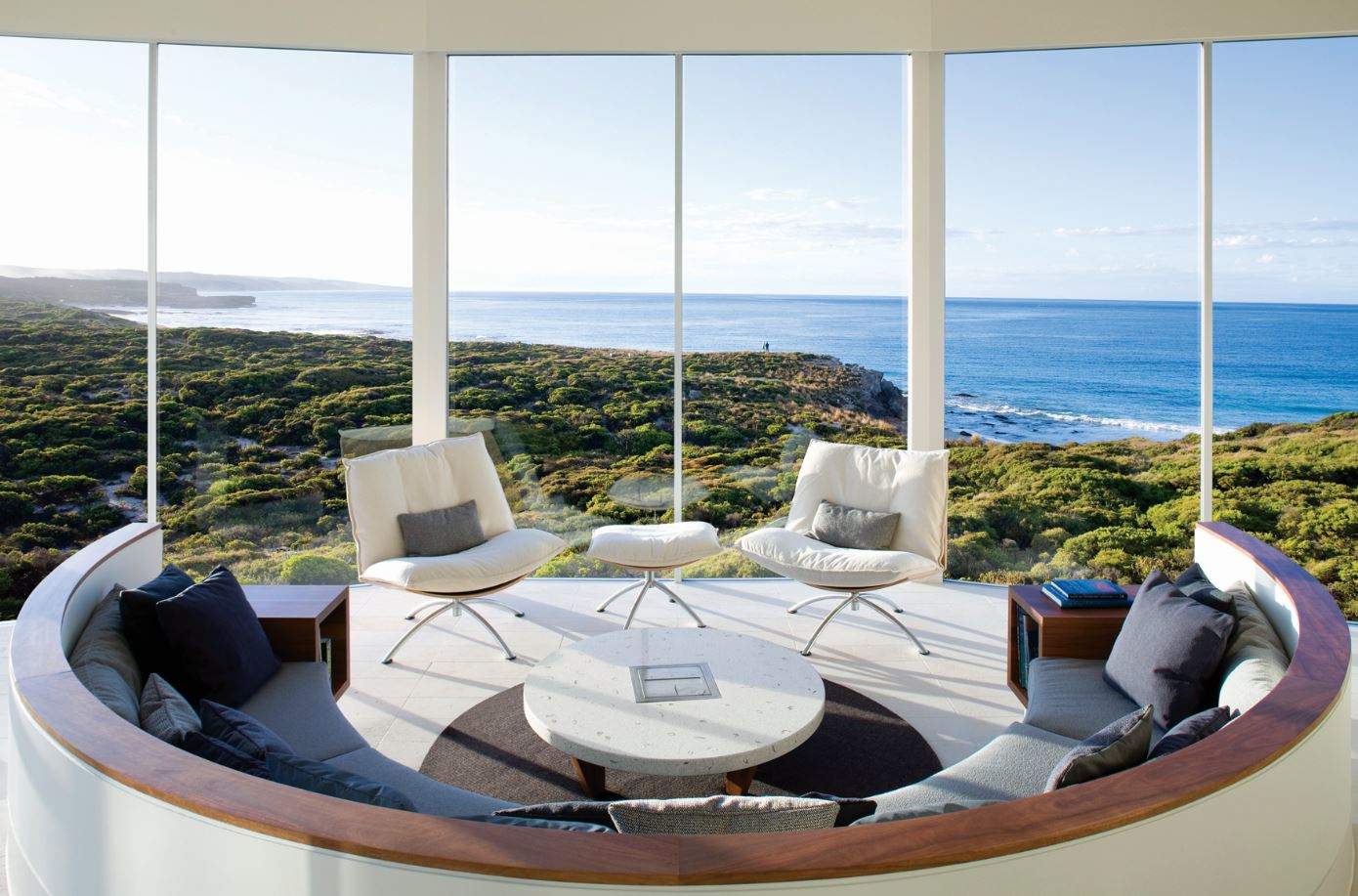 This story originally appeared in the January/February 2019 issue of Elite Traveler.
What images does Australia conjure up in your mind? White-sand beaches and epic surfing? Barren Outback, the wilderness of the bush and huge mountain ranges? Beautiful islands teeming with native wildlife among lush foliage, or the Great Barrier Reef? The vast continent has all this and so much more—and the relaxed, friendly Australians welcome you as if you're an old friend, even if it's your first visit Down Under.
Dune Pavilion Longitude 131°, Yulara, Northern Territory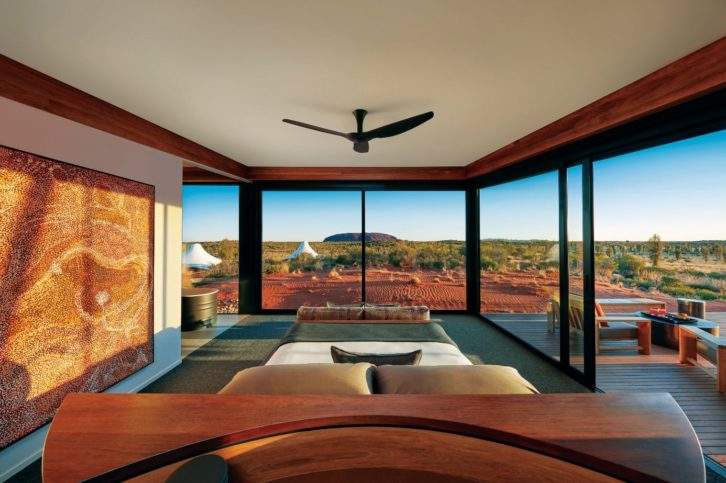 Adjacent to the otherworldly Ayers Rock, Longitude 131° is more of a once-in-a-lifetime experience than a luxury accommodation (although it certainly is that, too). Ayers Rock, also known as Uluru, changes color in the rising light of dawn from a rusty orange to a brilliant red, and you can witness this magical spectacle from the comfort of the Dune Pavilion's king-size bed, as well as views of Uluru-Kata Tjuta National Park. As you're in the desert, it can understandably get rather hot in the daytime — cool off in the pavilion's plunge pool that overlooks the Outback, or with an ice-cold drink from the bar stocked with your favorite tipples. While this is a landscape you most definitely want to explore (try the walk through Walpa Gorge or a guided stroll along the base of Uluru), the views from the pavilion will perhaps see you spend a little more time indoors than you'd expect. The floor-to-ceiling windows throughout the two-bedroom space bring in those ethereal vistas, and the decor pays homage to the surroundings with Tasmanian Blackwood and artwork from local indigenous artists. When the sun sets, it can get cooler — enjoy it as you soak in the deep tub that overlooks the desert, or take it in from the outdoor deck's daybed with a dancing fire warming your toes.
Into the wild
Longitude 131° has so many incredible excursions available that it's hard to choose just one: camel tours, motorcycle rides, helicopter flights, outback cycling, art tours, and lunches and dinners in remote locations, such as on top of Mount Conner. Luckily, if you can't choose just one, you can curate your very own itinerary and combine anything and everything your heart desires.
Rate from $5,500 for three nights Contact Amy Douglas, guest services, reserve@baillielodges.com.au, +61 299 184 355, longitude131.com.au
The Villa Lizard Island, Great Barrier Reef, Queensland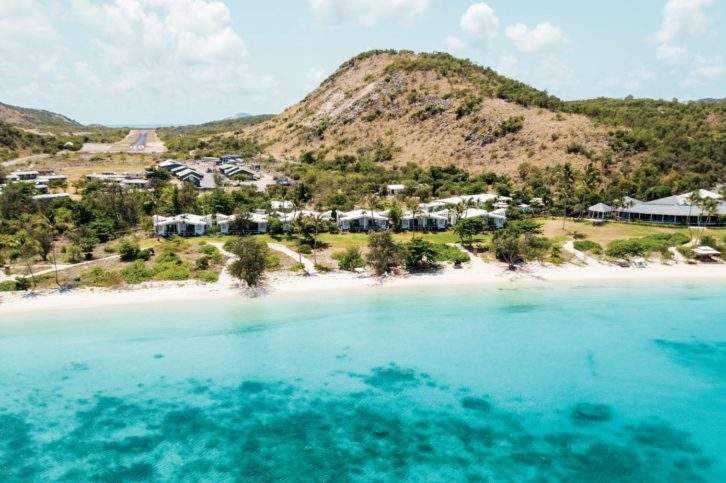 The Great Barrier Reef is one of Australia's biggest draws and you can't get any closer than Lizard Island. It is quite literally on the Reef — you can explore it right off the beach. The Great Barrier Reef is, of course, such a colossal spectacle that it is impossible to see it all at once, but you'll get a pretty good view of it as you fly the 130 miles from Cairns to the island via seaplane. The island hosts no more than 82 guests at any given time so you can be sure of a relaxed, secluded stay, or you can book out the entire island for yourself. Whatever your choice, The Villa is spectacular in every way, from its crowning cliff-top location to its 26-ft-long infinity pool overlooking the Coral Sea. The Villa can sleep up to five and the open-plan lounge and dining area is perfect for socializing, especially as there's a dedicated butler who will serve canapés and drinks as the sun sets, or create a deluxe hamper for a picnic on the beach. Guests of the two-bedroom villa have unlimited access to a number of fun water toys, including a motorized dinghy, snorkeling equipment, stand-up paddleboards and clear-view sea kayaks.
Into the wild
In a new partnership with Dom Pérignon, Lizard Island has a series of extravagant experiences: enjoy a starlit dinner under the sky and dine on fresh gourmet dishes, washed down with Dom Pérignon's P2 2000 champagne. Or, go on a private snorkeling tour in the Great Barrier Reef followed by a lovely picnic of lobster rolls and champagne on Sunset Beach.
Rate from $4,265 per night Contact Aaron Rooney, assistant general manager, dnaprpriority@delawarenorth.com, +61 844 833 7862, lizardisland.com.au
Kingfisher Suite Bamurru Plains, Kakadu National Park, Northern Territory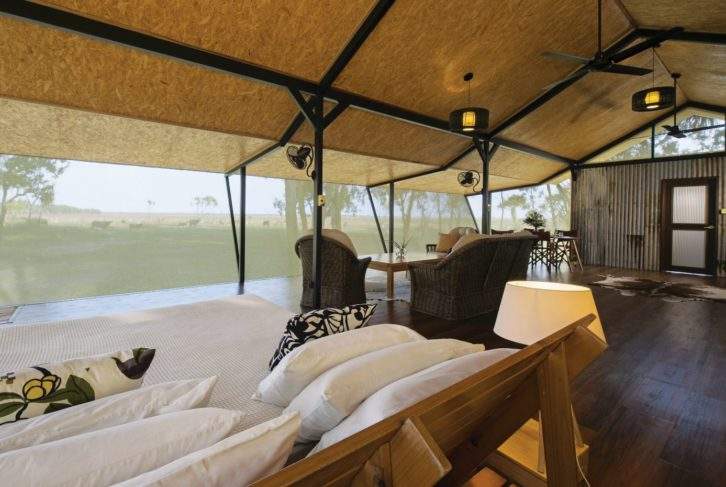 Sitting right on the edge of the Mary River floodplains in the Northern Territory, Bamurru Plains is an outstanding bush camp set within a 173,000-acre working buffalo station. Naturally teeming with birds and animals, including over 5,000 roaming buffaloes and the largest crocodile population in the world. The safari camp is made up of 10 tents, the largest of which is The Kingfisher Suite—and large it is, the bedroom alone is nearly 900 sq ft. It's the perfect choice for a safari-loving family as it can accommodate up to five. The suite has the camp's trademark floor-to-ceiling mesh walls, so you truly feel ensconced in the wilderness as you take in the sights and sounds of the bush, floodplains and paper bark forests. You might even wake up to the call of thousands of magpie geese as they soar overhead. The decor is rustic safari-chic and merges with the environment through recycled eco-friendly materials, timber furnishings and Aboriginal artwork. The suite, and indeed the entire camp, has no Wi-Fi or even cell reception — not that you'll miss it; there's so much to see and do, including open-top safari drives, airboat safaris, barramundi fishing and river cruises.
Into the wild
Capture your Australian safari experience under the guidance of a master. Renowned photographer Richard l'Anson will take you on a five-day, four-night program to discover the wildlife, wilderness and the world's oldest rock art galleries in Arnhem Land, where an ancient culture of 40,000 years lives on.
Rate from $7,000 per night; minimum three nights Contact Alex Abrahams, reservations supervisor, bamurru@wildbushluxury.com, +61 295 716 399, wildbushluxury.com
Beach House Qualia, Hamilton Island, Queensland
This serene island in the Whitsundays is as close to paradise as you can get — sugary-sand beaches, crystal-clear waters, coral reefs, lush bushland and swaying palm trees. On the northernmost tip of the island you'll find Qualia, a splendidly tranquil resort set amid 30 acres of perfect gardens overlooking the Great Barrier Reef. The Beach House is exceptionally private. Set away from the other accommodations, it has a master bedroom with en-suite bathroom, and a large living area with a dining table for 10. The bedroom leads directly to the 39-ft infinity pool and furnished sundeck, and the far-reaching views of the Coral Sea and Whitsunday Islands are magnificent. With such a bounty of nature, the decor blends perfectly with lots of wood and earth tones. The surrounding vegetation is home to wallabies and cockatoos, and you're sure to become well acquainted with them. If you're traveling with a group, there's also an adjoining guest pavilion with a king-size bed, en-suite bathroom and private deck.
Into the wild
Whitsunday sunsets are not to be missed. Charter Qualia's yacht for a private champagne cruise at dusk to watch the sun sink into the sea.
Rate from $4,000 per night Contact guestservices@qualia.com.au, +61 749 489 222, qualia.com.au
Private Pavilion Saffire Freycinet, Tasmania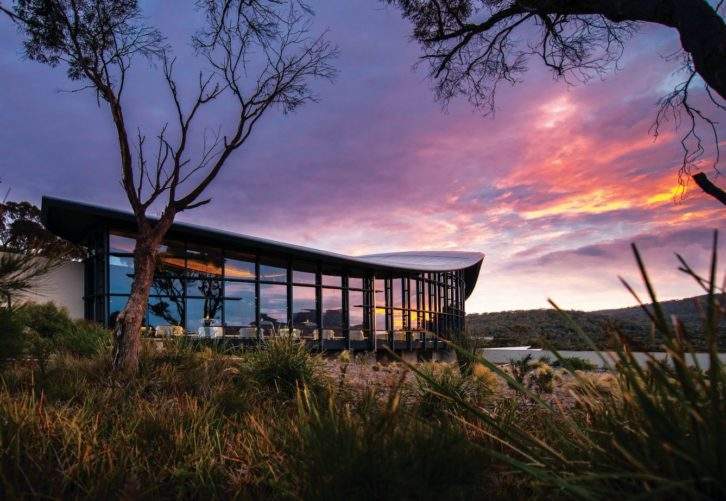 Perched on the Freycinet Peninsula in the Coles Bay Conservation Area, Saffire Freycinet looks out across the Hazard Mountains — the inspiration for the lodge's design. The roof's curved Tasmanian wood beams mimic the undulating mountains, and the glass walls are designed to look like waves on the shore. The glass uses a low percentage of reflectivity, so the views are utterly enchanting — travelers come from all over the globe to witness them. The Private Pavilion is a 1,500-sq-ft space with master bedroom, en-suite bathroom, two courtyards, plunge pool, kitchen, lounge and dining room. It feels more like a home away from home, so choose to dine in-suite—a chef will prepare a delicious meal for you while you relax with a glass of champagne or an Australian gin. The decor in the Pavilion, like in the rest of the hotel, draws on its surroundings: Soft, fresh hues of grey, taupe, green and blue harmonize with the coastal colors, and are punctuated with flashes of orange. Much of the furniture is custom-made by local artisans, but the decor also includes classic pieces by Ray and Charles Eames. Be sure to visit the restaurant, Palate, during your stay. It's famed in Australia for being the country's most exclusive dining venue thanks to the outstanding cuisine: local produce with big impact. The chef even takes requests if you're traveling with a fussy eater.
Into the wild
Visit a working oyster farm and, with a dining table set up right in the water, you'll learn about wetland and marine ecology, and of course taste Pacific oysters, washed down with a crisp glass of white wine or champagne.
Rate from $2,000 per night Contact Justin King, general manager, stay@saffire-freycinet.com.au, +61 362 567 888, saffire-freycinet.com.au
Honeymoon Tent Sal Salis Ningaloo Reef, Exmouth, Western Australia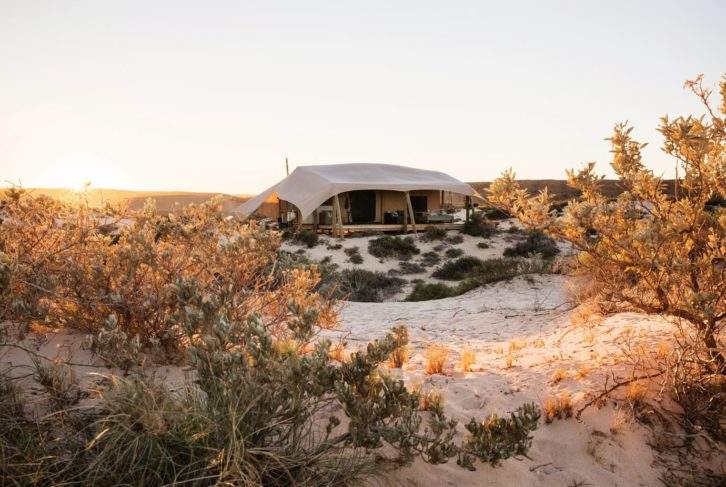 In a most unusual location, on a remote stretch of Western Australia's Indian Ocean, you'll find Sal Salis Ningaloo Reef. This beachfront safari camp is tucked into the sand dunes of the Cape Range National Park and is comprised of 15 wilderness tents. The exceptional location, where the Outback meets the reef,means you'll be privy to an incredible array of both land animals and marine life. The rugged landscapes of the national park are home to red kangaroos, wallaroos, rock wallabies and 100 bird species, while Ningaloo Reef has more than 500 species of fish, 250 coral species and whale sharks, humpback whales, orcas, manta rays and dolphins. Set beyond the beach boardwalk at the end of the camp sits the Honeymoon Tent. The new addition is set at the top of the sand dune, so privacy as well as exceptional views are guaranteed. Take in the vistas of a serene white-sand beach and Ningaloo Reef from the fully furnished deck, or relax in the double hammock — swinging gently in the ocean breeze with the hush of waves in the background, you'll more than likely find yourself dozing off into a peaceful sleep. Inside is a romantic four-poster bed draped with soft fabric, surrounded by wicker furniture. Not strictly for honeymooners of course, but as you'd expect, this accommodation is for couples only. There's no Wi-Fi so that you and your other half can spend quality time together in an unbelievable setting. The tent adheres to the resort's strict eco-policies, so rest assured your visit has little to no impact on the pristine surroundings.
Into the wild
If you live in a city, it's unlikely you get to see the stars due to light and air pollution, a problem that is expected to worsen due to artificial lights — scientists have anticipated that city dwellers will no longer be able to see the stars at night by 2025. Experience a star-filled night at Sal Salis — it's located in a Dark Sky area, where the crystal-clear views of the black sky, twinkling stars and mystical Milky Way are completely uninterrupted. Plan ahead and visit in April 2023; Sal Salis is in the path of a total solar eclipse.
Rate from $705 per night Contact Paul Bester, camp manager, info@salsalis.com.au, +61 899 491 776, salsalis.com.au
Wolgan Villa One&Only Wolgan Valley, New South Wales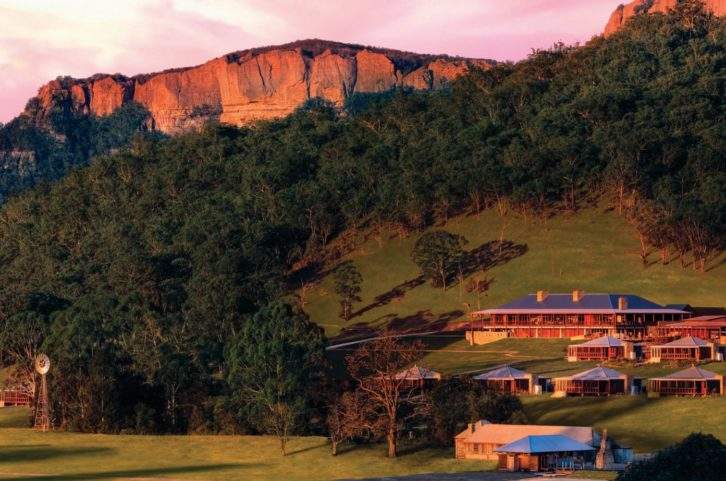 There's nowhere on Earth quite like Wolgan Valley — it has a plethora of wildlife, tumbling waterfalls, engraved rock pagodas, snaking rivers and total and utter seclusion. One&Only Wolgan Valley is flanked by two national parks, the Gardens of Stone and Wollemi, and is Australia's first luxury conservancy: It has planted 200,000 indigenous trees and food is sourced within a 99-mile range or grown in the resort's own kitchen gardens. The 7,000-acre reserve in the Greater Blue Mountains calls out for adventurers, and the outstanding spa and peaceful environment offer respite after a day's exploration. Hidden away in a secluded corner of the resort,Wolgan Villa is more akin to a completely private lodge. The 4,413-sq-ft, three-bedroom villa is built for family vacations with a spacious living and dining room, double-sided fireplace, fully equipped kitchen and butler service. The earth-toned interiors complement the far-reaching views of Wolgan Valley and the Greater Blue Mountains with moss-green furniture, timber-vaulted ceilings and four-poster beds. There's also a pretty garden and courtyard, and pool with separate pool deck.
Into the wild
The choices here are seemingly endless. The surrounding landscape is best explored on horseback (visit the stables and choose your steed — we recommend Marshmallow, a gentle giant) and gallop off into the wilderness with an expert guide. There's also a selection of guided hikes through Wollemi National Park (including the magical Glow Worm Tunnel) and off-track routes.
Rate from $7,300 per night Contact James Wyndham, general manager, reservations@oneandonlywolganvalley.com, +61 291 991 811, oneandonlywolganvalley.com
Elite Tip
Check out Charles Darwin's revolutionary findings in Australia; you'll find a volume of his journal in your suite. Open to the page that details his visits to the valley in the 19th century. Use the magnifying glass to study the minute detail of the historic illustrations.
The Spa Villa Lake House, Daylesford, Victoria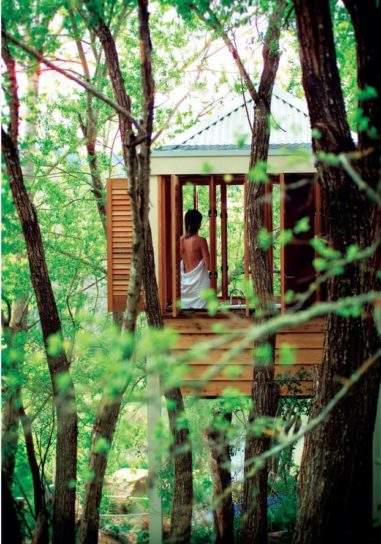 Just over an hour from Melbourne, Daylesford is known as a place of healing as it has the largest number of natural mineral water springs in Australia. The area also has the largest concentration of holistic therapies in the southern hemisphere and is a mecca for wellness enthusiasts. The Lake House, a charming hotel enveloped by pristine bush and, as the name suggests, overlooking a vast and serene lake, will soothe your soul by location alone. It is sheer bucolic romance with a marvelous award-winning restaurant (plus a cooking school, should the delicious dishes inspire you), an impressive wine cellar and a farm where local wine growers and food producers supply the kitchen. The Spa Suite is homey loveliness with neutral, simple tones and eclectic furnishings. It lies beyond a discreet gate and has its own garage and entrance, so it is ideal if you're on a romantic wellness getaway and want utmost privacy. The master bedroom has a quirky iron four-poster bed, and we love the en-suite bathroom's ceramic deep-soak bath, near tall candlesticks and beneath a chandelier. The private courtyard with garden has a sunken hot tub and a striped upholstered daybed for quiet afternoons. Guests of this suite can organize an in-suite, tailor-made, head-to-toe treatment without having to step foot outside.
Into the wild
The cooking school is not to be missed, and a range of culinary experiences are available on demand. We love the culinary 'Forage and Feast,' where you'll venture out with a scavenger list of seasonal produce, then return to the kitchen to prepare a lunch from your haul with a helping hand from the Lake House chefs.
Rate $1,150 per night Contact Marco Castro, general manager, info@lakehouse.com.au, +61 353 483 329, lakehouse.com.au
Osprey Pavilion Southern Ocean Lodge, Kangaroo Island, South Australia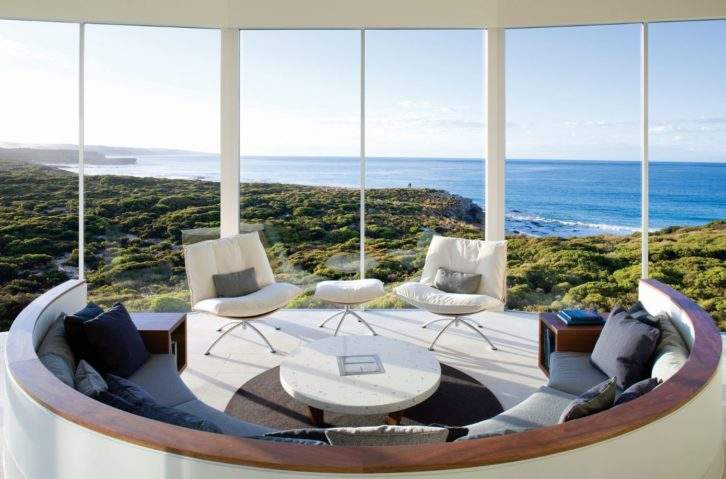 Kangaroo Island (or KI if you're in the know) is packed with coastal landscapes and an abundance of wildlife. On land, you'll see native kangaroos, koalas and wallabies, and in the surrounding waters you might spot a few sea lions,whales and dolphins. Perched on a secluded cliff and overlooking the Southern Ocean, Southern Ocean Lodge is a casual-chic choice with only 21 suites to ensure that delicious feeling of wild remoteness. The Osprey Pavilion is quite simply outstanding. The unusual half-moon-shaped suite has a master bedroom with en-suite bathroom, large terrace and plunge pool and — our favorite feature — a lounge with an open EcoSmart fire. A half-circle sofa faces the floor-to-ceiling windows, and the views are sublime; we won't blame you if you spend an afternoon taking them in with a glass of Australian Shiraz from the in-suite bar. Despite the grandeur of the suite, the lodge's vibe is designed for utter relaxation and invites a casual dress code (and suggests you bring a keen sense of adventure). As the lodge is situated in such a diverse and plentiful place, the eco-credentials are on point from the materials used, such as recycled spotted gum feature walls to the sandblasted limestone floors. Furniture and artworks are commissioned from local artists.
Into the wild
With 21 national and conservation parks, Kangaroo Island is often referred to as a 'zoo without fences.' Curate your own adventure and see as much as you can — meet sea lions at Seal Bay, hike through the limestone cliffs, go fishing on the beach, kayak or go on a nighttime exploration.
Rate from $3,200 per night; minimum two nights Contact Alison Heath, general manager, +61 299 184 355, southernoceanlodge.co.au