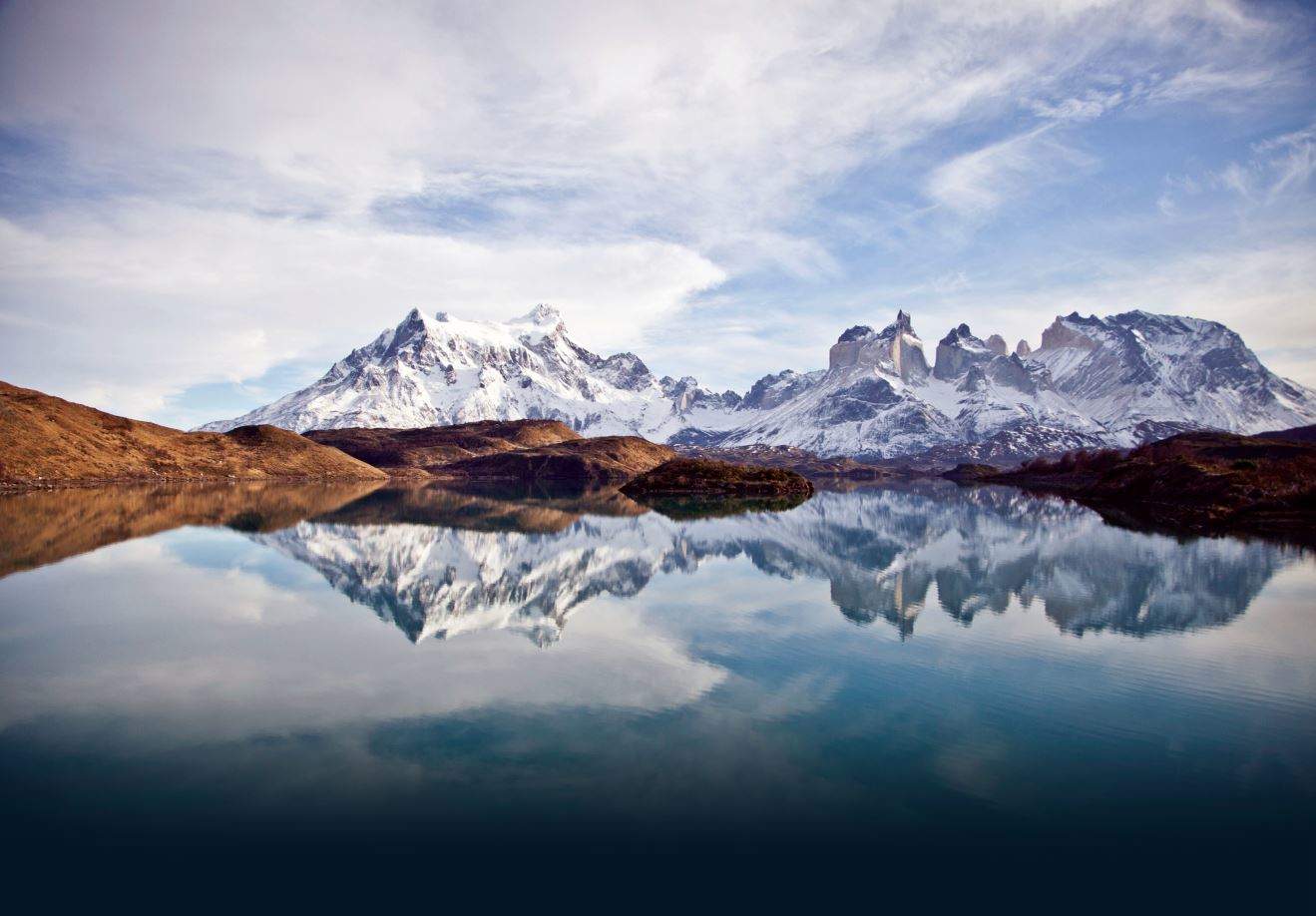 By Chris Moss
This story originally appeared in the January/February 2019 issue of Elite Traveler.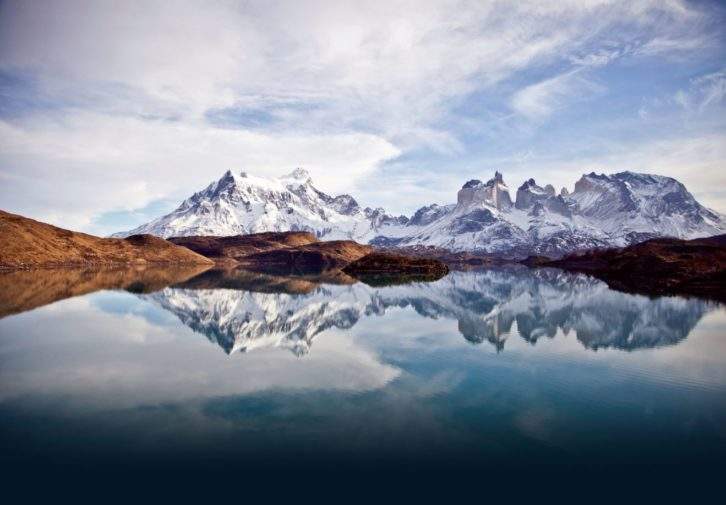 Patagonia, a vast triangle of wilderness straddling southern Argentina and Chile, is beguiling, breathtaking—and can seem overwhelming. Fly over the central steppe and the impression is one of emptiness, aridity — a windswept wasteland. Historic estancias (ranches) provide cozy, characterful lodgings and a window on the world, and criollo horses for those who want to play gaucho for a day. Along the Patagonian Andes are national parks where luxury lodges are situated close to towering glaciers, turquoise-hued lakes and some of the most dramatic peaks in the range. The coast is a marine wildlife wonderland, perfect for an out-there road trip. In Ushuaia, you're as far south as you can go on land; Cape Horn is just a short cruise away. Choose your season: the austral summer is best for hiking and biking; winter is ideal for whale watching; spring sees the fly-fishing rivers in spate; come autumn the temperate beech forests turn wondrous.
The Lie of the Land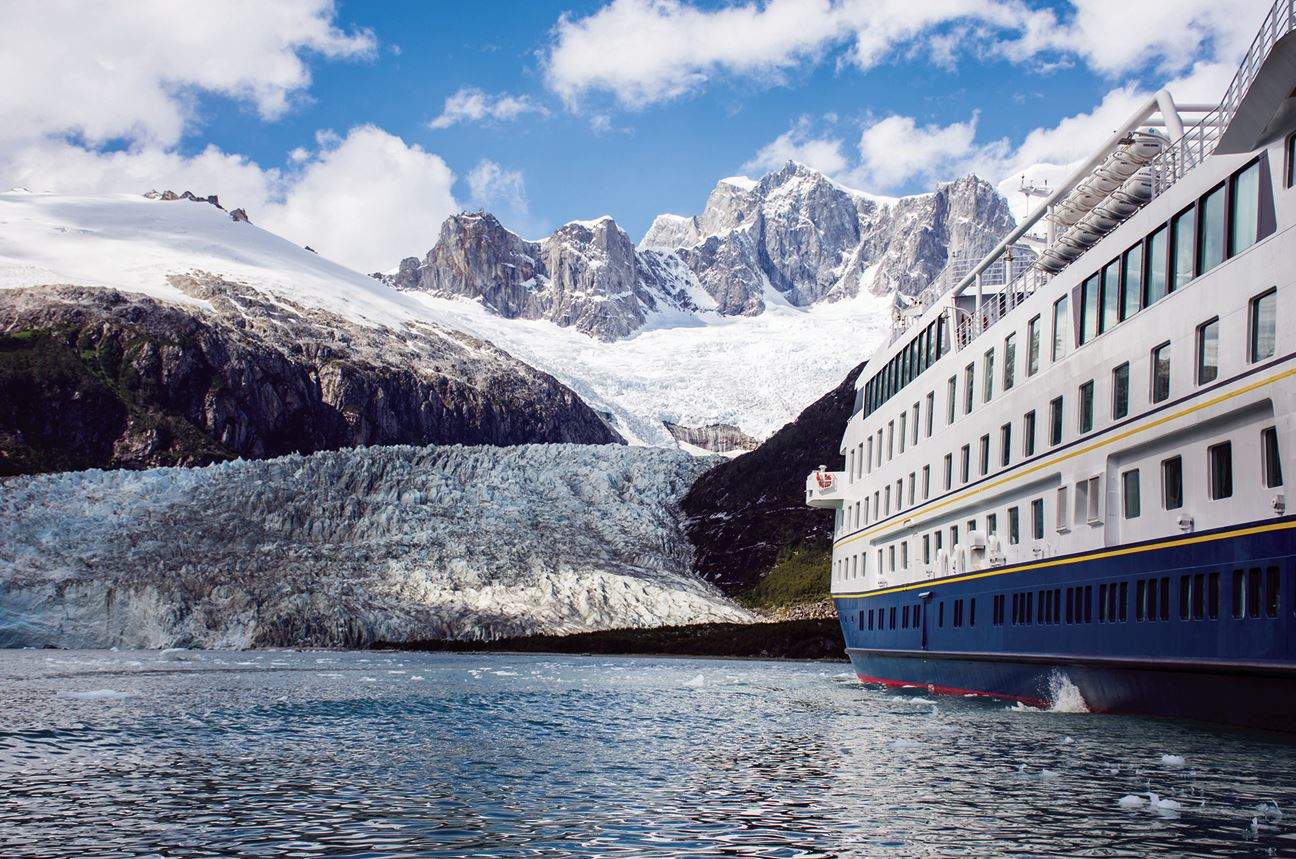 The Pacific
Chile's coast is a rugged chaos of islets, bays, coves, channels and fjords. The soft options here include Chiloé Island, where the excellent Tierra Chiloé adventure lodge offers a base for active excursions, and, south of Palena, there's a string of new national parks to explore — including Parque Patagonia, established by American philanthropists Doug and Kristine Tompkins. Local operator Skorpios runs three-night cruises out of Puerto Natales into the fjords.
The Andes
The world's longest mountain range runs the length of Patagonia, the summits descending from north to south. The main gateways are national parks, notably Chile's Torres del Paine and Argentina's Los Glaciares in the south, and more than a dozen parks around the northern lakes. Hiking, mountain biking, rafting, climbing and, in winter, skiing are all well provided for. Horseback riders can do the Puelo ride via a low pass, crossing from Chile to Argentina.
The end of the world
The landscape of Tierra del Fuego is a sparsely populated wilderness, dotted with large sheep-farming estancias, unexplored mountain ranges, lonely lakes and fly-fishing rivers. Herds of llama-like guanacos are routinely seen, as well as red fox and condor; there's also a penguin colony on the Chilean side. Ushuaia's national park is a wonderland of virgin forests. Australis, a Chilean company, operates four-night cruises from Punta Arenas to Ushuaia via Cape Horn.
From $3,330 per person in Superior Cabin, australis.com
Where to Stay
1. Explora Torres del Paine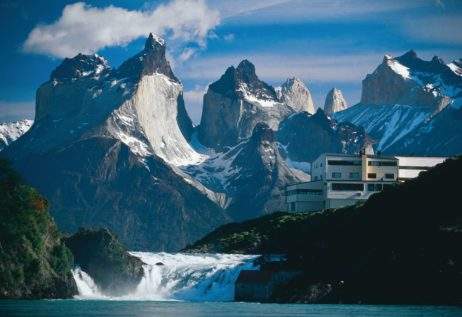 A pioneer of luxurious Patagonian lodging, the Explora occupies an enviable position on the shores of Lake Pehoe, with superb views of the Torres del Paine. Stays include a dedicated guide and a menu of excursions into the park, including hiking, horseriding and a journey across the lake by catamaran.
Exploradores Suite from $4,780 per person; three-night minimum. Contact Gabriel Zanelli, hotel manager, gzanelli@explora.com, +1 800 838 9120, explora.com
2. Estancia Peuma Hue
Take over a lush corner of northern Patagonia by renting an entire estancia for a night or two. On the edge of Nahuel Huapi Lake, 14-room Peuma Hue is set amid dramatic mountains, glorious forests and waterfalls, and offers riding, kayaking, fishing and hiking outings. Homey meals are cooked to order.
Exclusive use from $7,700 per night. Contact Luis Pennacca, general manager,
info@peuma-hue.com, +54 294 450 1030, peuma-hue.com
3. The Singular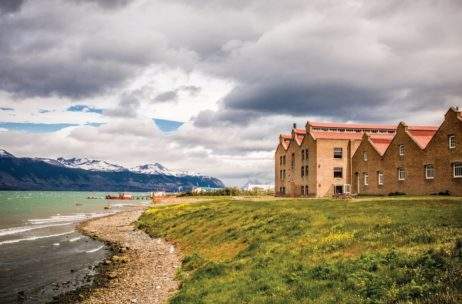 This landmark hotel, one of the most striking architectural buildings in Patagonia, is built around a sprawling former cold storage plant (which operated 1915-1971). One section is a museum, with a Victorian-era engine room, tannery and blacksmith shop open to view. Rooms are bolted on to the back, with huge windows looking out to Last Hope Sound and exposed concrete decor and bare wooden fixtures. The vast restaurant serves dreamy ceviche and great steaks.
Singular Suite $845 per night. Contact carole@thesingular.com, +56 612 722 030, thesingular.com
When in Patagonia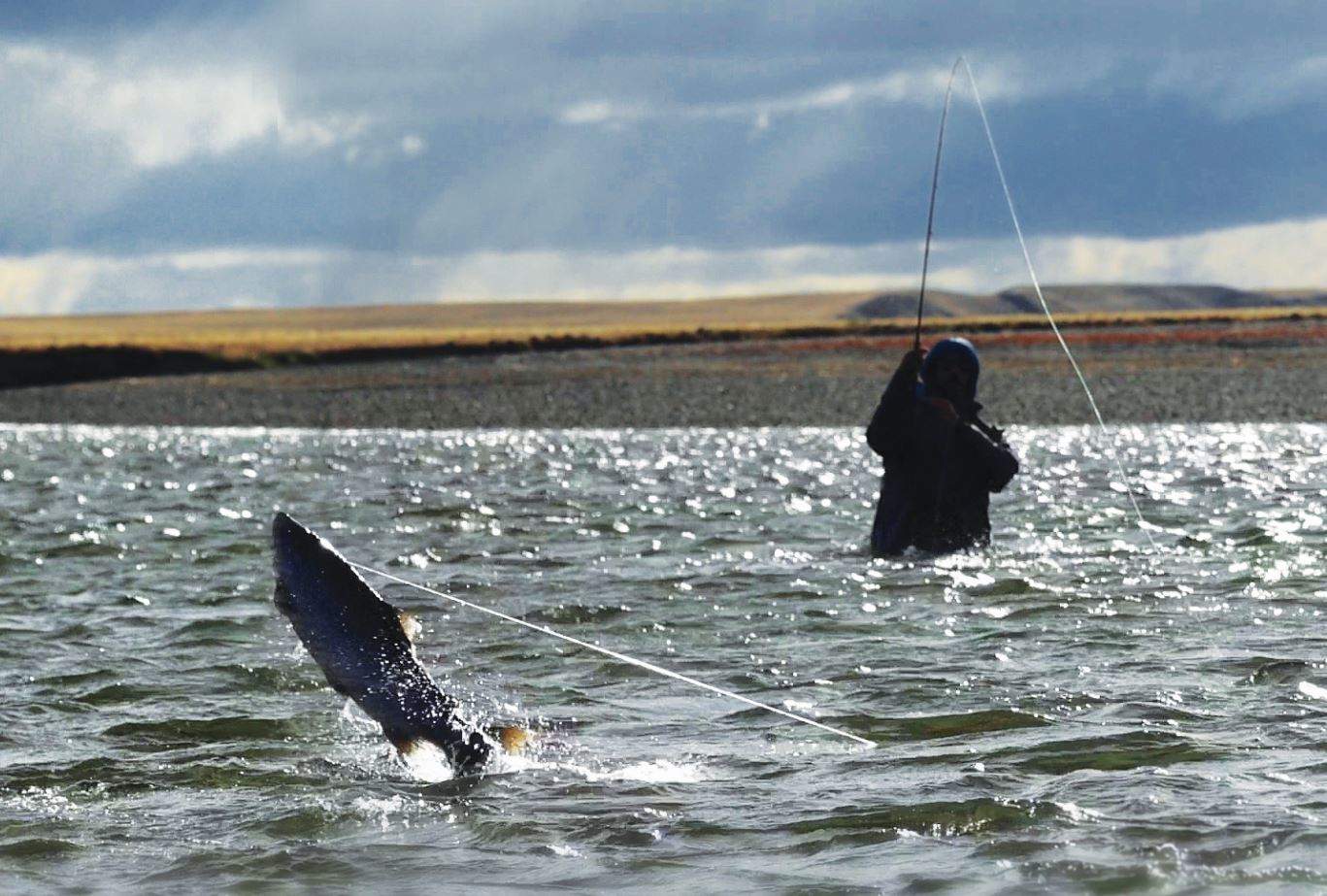 Fly fishing
Tierra del Fuego's Río Grande flows from the Andes to the Atlantic Ocean through approximately 60 miles of Argentine territory. It's called the world's most active sea-run trout fishery, with 20-pounders a routine catch, and the slow-moving water is great for spey casters. Villa María offers anglers first dibs at newly arrived sea trout on the lower Río Grande; the cozy lodge hosts only six anglers at a time, with top-notch cuisine. Guides know the pools and the fish; days are spent on the water, with convenient huts for midday breaks.
From $8,950 per week per person, nervouswaters.com
Riding on the Strait
Perhaps it's the gaucho heritage or simply the absence of fences and folk — but saddling up is the best way to get around the open ranges of Patagonia. Estancias are found across the region, from Andes to the coast. Check out the all-day ride from Estancia Monte Dinero, taking in a lonely cape, an iconic lighthouse on the Strait of Magellan and a penguin colony.
Road trips by 4WD
Three great roads run northwest. On the Argentina coast, Ruta 3 goes all the way from Buenos Aires to Ushuaia. The stretch from Puerto Madryn to Río Gallegos takes in several historic sites, concluding at the Strait of Magellan. Ruta 40 skirts the Andes, passing several huge lakes in the area south of El Chaltén. Chile's Carretera Austral (Southern highway) is a memorable long trip past the mighty General Carrera Lake, as well as glaciers and volcanoes, taking in unexplored national parks along the way and the Río Baker, one of Patagonia's most iconic fly-fishing rivers. Rental cars are available at all the region's main airports; insist on a pickup or jeep-style 4WD.
If you do one thing…
Do the 4WD tour above El Calafate, Argentina. The lakeside landscapes are serene
and beautiful but for a bit more action, take a Land Rover ride up on to Los Balcones (The Balconies, wind-sculpted rock formations from the Cretaceous period) where you stop for lunch and views.
Image: Pablo Saracco
Eating and Drinking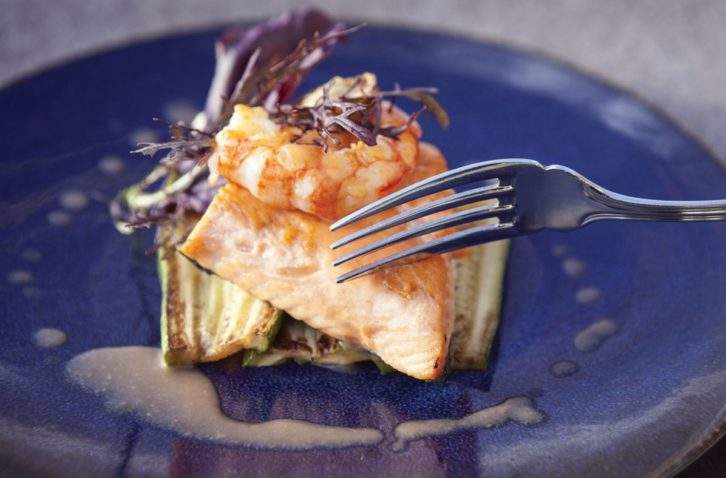 It's not so much where as what in Patagonia; in all the best hotels and estancias you'll have options. Carnivores shouldn't miss the famed barbecued lamb, which is raised organically on the steppe and grasslands. On the fishy side of things, spider crab is Tierra del Fuego's signature dish, and Southwest Atlantic hake and Patagonian toothfish are excellent in both ceviche and hot dishes. Look out for jams made with the local calafate berry. Both Chile and Argentina are pushing south with winemaking—moving down the map to grow grapes in cooler, more southerly climes. Try Humberto Canale (the Gran ReservaMalbec 2013 is a drink of beauty) and Bodega Noemía vintages. You can book a wine-themed tour via specialist firm Swoop.