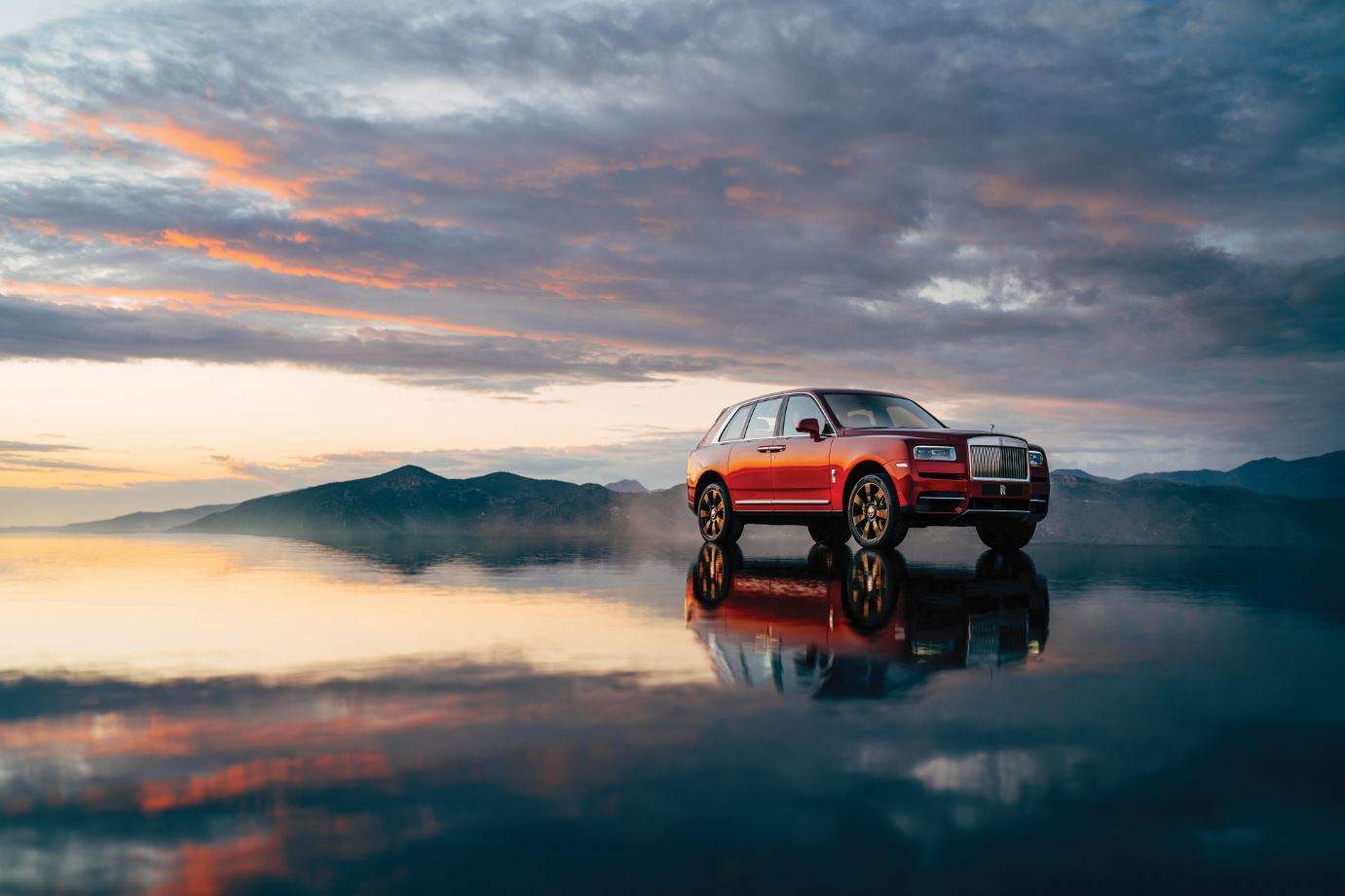 This story originally appeared in the January/February 2019 issue of Elite Traveler.
Utility vehicles continue to gain momentum as the world's favored family car, so automobile manufacturers remain resolute in diversifying the sector. A trio of first drives demonstrate the breadth and depth of possibility; from impressive off-road capabilities to bespoke refinements, Rolls-Royce, Jaguar and Bentley are on a mission to seduce future buyers.
The off-road behemoth:
Rolls-Royce Cullinan
It's downright imposing. From the wide-open dusty trails of Jackson Hole, Wyoming, to the palm tree-lined streets of Beverly Hills, California, the Cullinan looks, frankly, out of place. On one hand, it's a Rolls-Royce, a moveable work of art that is always attracting sideways glances or mouth-agape stares, depending on locale. On the other, it is out of place; Cullinan marks a series of firsts for the Goodwood, England-based brand. First SUV. First all-wheel-drive vehicle. First Rolls-Royce to break the traditional naming convention (christened "Cullinan" after the famed 3,106-carat diamond that became part of Queen Elizabeth II's crown jewels).
In the great outdoors, it feels dauntless to dirty it up, like a dare. In the city, the
6,069-lb SUV seems to rise above traffic. Valets take up two parking spaces, just in case. In both instances, and for very different reasons, the 563-horsepower, 627 lb-ft torque V12 delights.
Ascending Snow King Mountain in Jackson Hole, Cullinan bounds over rocks thanks to its foam-filled tires, comfortable-yet-controlled steering and 6.75-liter twin-turbo. A depression of the 'Off Road' button engages stiffer shocks and raises the suspension 1.5 in. Navigating west to east in Los Angeles rush hour traffic, the four-wheel steering eliminates as much as three feet off Cullinan's turning radius by automatically steering the rear wheels up to three degrees. The addition of 220 lbs of sound-deadening material to the cabin means that, even with the vast sunroof fully open, the quotidian city sounds feel distant.
Exactly six millimeters of glass separate interior from exterior, rectangular buttons assist with all four massive suicide-styled doors (the rear two of which include mounted umbrellas), and the split tailgate/trunk was purposefully designed to  eliminate packages from sliding. A duo of seating options exist: five-seat, three-across and four-seat with fixed console and massaging rear seats, although Rolls-Royce expects the first option to be the favored.
Prior to launch, Rolls-Royce referred to Cullinan as an "all-terrain high-sided vehicle" as opposed to a mere sport utility vehicle. This differentiation is important; the sport and utility of Cullinan have yet to be fully realized. Neither roof racks nor towing capabilities are available.
Inside, Cullinan does not offer Apple CarPlay, lane centering or semi-autonomous cruising. While some may argue Rolls-Royce owners still prefer chauffeurs, this
technology-first experience transcends tax brackets.
Cullinan encourages its owners to take a turn in the driver's seat, should the desire arise, on account of the new double-wishbone front axle and five-link rear axle, which control and tame body roll. It took 300 engineers three years to fully embody the "effortless everywhere" moniker, whether off-road or on pavement.
From $325,000, rolls-roycemotorcars.com
The silently feisty cat:
Jaguar I-Pace First Edition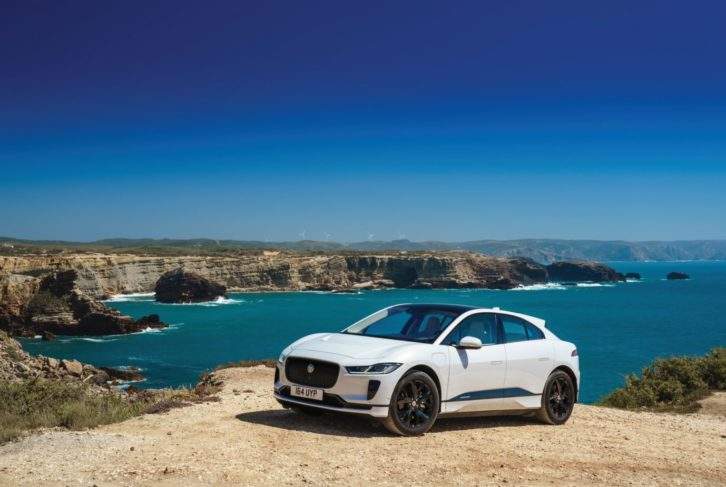 Pure, unadulterated silence is an odd sound on an active racetrack. Refracting off the slate-gray Autódromo Internacional do Algarve pit-row barricades, there's no internal-combustion escalation, no proprioceptive engine foreshadowing. Instead, there's a small but thunderous whir that hits the eardrums all at once on this cloudless day in Portugal. It's not until the I-Pace takes another lap that the sound of air being pushed, pulled and separated is identifiable. Then it strikes: Jaguar's first all-electric SUV demands a whole new vocabulary as the first vehicle to enter the luxury EV market.
Miles per gallon is irrelevant; let's talk range and kilowatt hours (kWh), pouch cells and regenerative braking. While some of these terms may be gently familiar (thanks, Tesla), I-Pace will transport them into the vernacular. The gearless I-Pace features a 90kWh battery under its floor and two motors that launch 394 horsepower and 512 lb-ft torque to all four wheels. In short, the I-Pace joyfully accelerates with ease. Its regenerative braking, though, involves some acclimatization. Imagine sizeable braking simply by lifting your foot off the gas. A coast option is built in, should drivers want to forego regenerative braking.
The EPA granted the I-Pace a range of 234 miles (Los Angeles to San Francisco is a tad over 380 miles), a fair but not outstanding range-to-kilowatt ratio. The difference, though, lies in its charging time. The I-Pace requires 40 minutes to go from zero to 80 percent on a 100-kW fast charger, or 85 minutes on amore standard 50-kW one. That's thanks to the 432-high-energy dense pouch cells inside the battery that expedite charging and regulate heat management. You can even ionize the air or pre-cool the interior during charging.
Trading in the long, lowand signature Jaguar hood for a short, sloped and scooped-out one — there's no front engine, after all — means boosting aerodynamics and boldly redefining decades of Jaguar design. A high, rectangular spoiler atop the rear windshield channels and attracts air at the back of the vehicle. Inside, a panoramic glass roof stuns in its simplicity, while two command screens allude to Jaguar's cousin, the Range Rover. While driving, opt into the active sound design digital soundtrack, a whoosh-like feedback that plays through the cabin's speakers in lieu of engine noise.
From $85,900, jaguarusa.com
The smaller engine that could (and did):
Bentley Bentayga V8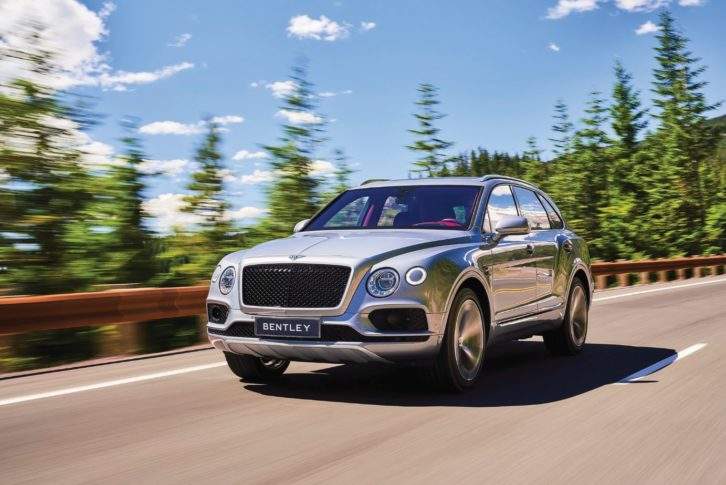 Pragmatism is not typically associated with the Bentley badge. Prior to the 2016 debut of the Bentayga W12, the Crewe, England-headquartered company touted its billion-dollar SUV development spend. Now, Bentley is highlighting the 130 hours of assembly time required for its next iteration, the Bentayga V8. Amidst those numbers, though, lies a lighter, louder and newer version of Bentley's best-selling model.
As the icy blue rapids of the Columbia River run in the snowcapped shadow of Mount Hood, the V8's twin-quad tailpipes gurgle and grunt, hungry for the throttle. Weaving from Oregon to Washington and back again, the 4.0-liter twin-turbo proves more than capable of handling the narrow, rolling roads of the Pacific Northwest. While an additional, and frankly negligible, .4 seconds are needed for the V8 (versus the W12) to reach 60 mph, the smaller, less weighty engine revs higher and sits further back within the engine bay.
The result is a more responsive, deceptively faster Bentayga with better weight distribution. Add the eight driving modes (including permanent 4WD and snow and grass), as well as cylinder deactivation technology (which allows it to run as a V4 in lowerload situations, thus improving fuel economy) and this 542 horsepower, 568 lb-ft torque SUV is smarter, leaner and more practical than its predecessor.
Make no mistake, the V8 retains the pomp and pleasure of a Bentley, with a host of all-black chrome finishes on the bumper and headlight trim, side skirts and grille. The doors are acoustically optimized, and the optional 17.3-in, carbon-ceramic brakes (get them) sit inside 10-piston calipers and tie with the Lamborghini Urus as the biggest front brakes on any production vehicle.
The 99-year-old manufacturer will be taking orders this summer for its new 3.0-liter, V6 Bentayga hybrid with an electric range of 31 miles.
From $165,000, bentleymotors.com