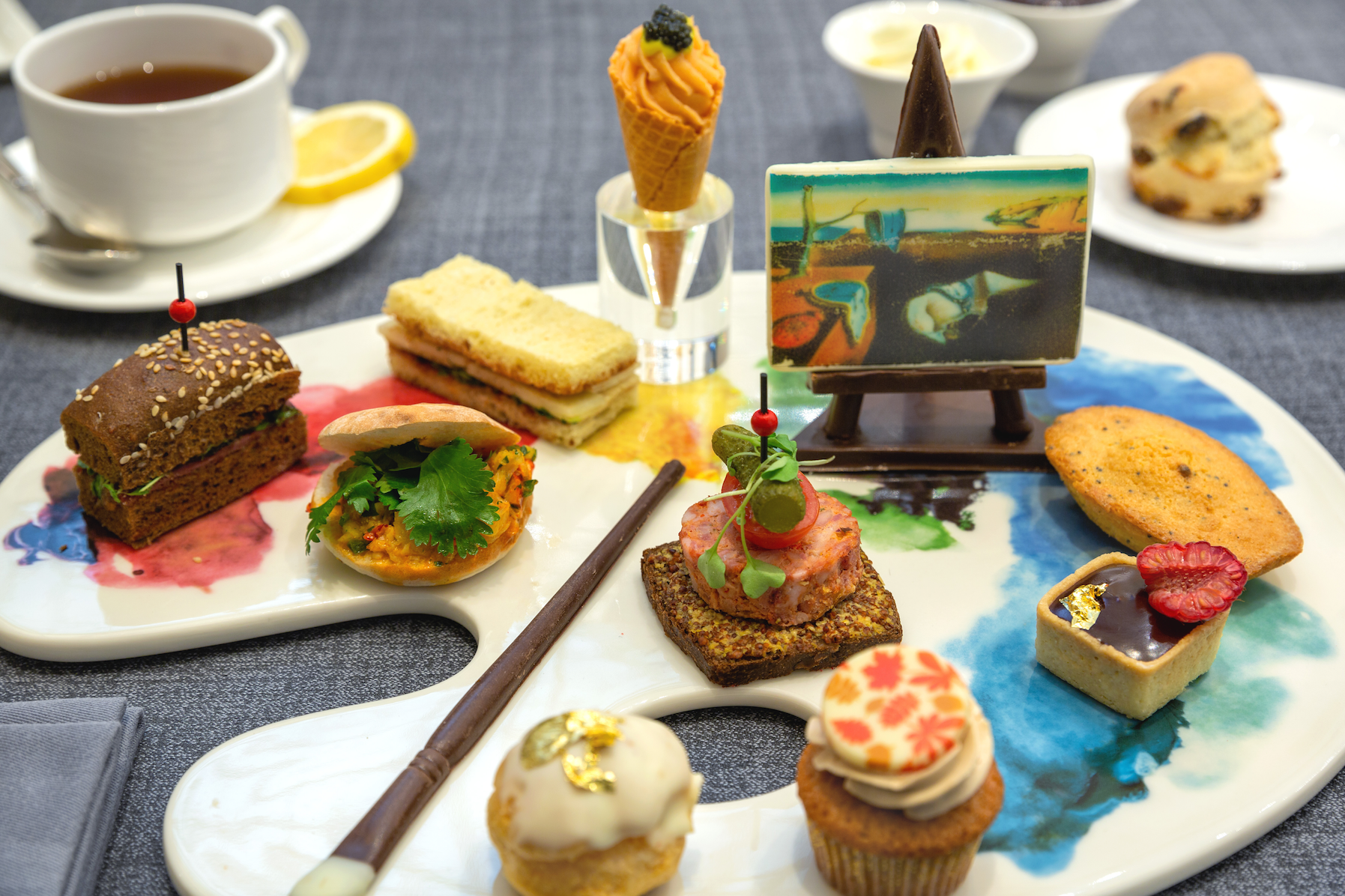 The St. Regis New York is one of the most storied hotels in New York and is known for its afternoon tea that was introduced by hotel matriarch Caroline Astor who is said to have hosted afternoon tea daily in Astor Court.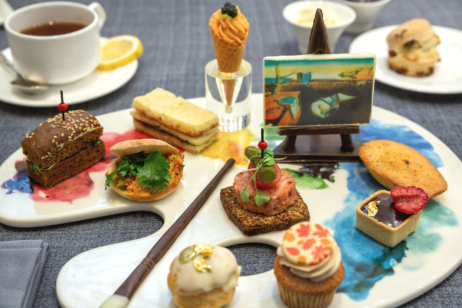 The hotel's important history (it opened in 1904) also includes longtime famous residents, who have called the hotel (temporary) home for extended periods of time throughout their lives. Marlene Dietrich, Alfred Hitchcock and Spanish artist Salvador Dali are just a few of the century's legendary guests. Astor Court's latest afternoon tea menu, The Dali Tea, is inspired by the late Dali, who lived in the hotel on and off for 10 years with his wife, Gala and pet ocelot, Babou. On Monday, The St. Regis New York will launch The Dali Tea afternoon tea, inspired by his iconic art and longtime residency at the hotel.
Served on a ceramic glass plate in the shape and hue of an artist's easel, The Dali Tea menu includes Manchego and Almond Butter finger sandwiches, Basque paté, duck prosciutto and fig mostarda and desserts such as tartelettes, profiteroles, Dulche de Leche cupcakes and Madeleines. The Smoked Salmon Mousse served in a tomato-flavored cone with saffron cream and caviar is inspired by his sculpture, "Ice Cream Van";  the Lobster and Mango Salad inspired by one of his famed surrealist objects, "Lobster Telephone," from 1936 and other pieces, including the Lemon Poppy Madeleine is inspired by his "Life with Two Lemons" painting. Each order of The Dali Tea comes with a chocolate replica of Dali's "The Persistence of Memory" painting and paint brushes made of milk chocolate.
If you're a longtime fan of both Dali and The St. Regis, you must order Dali Historic Tea – you'll get The Dali Tea menu but also get the opportunity to own a piece of The St. Regis history. Take home your choice of original keys, door knobs, plates, tea cups and photographs.
The Dali Tea, $85 per person; Dali Historic Tea, $550 for two people, marriott.com