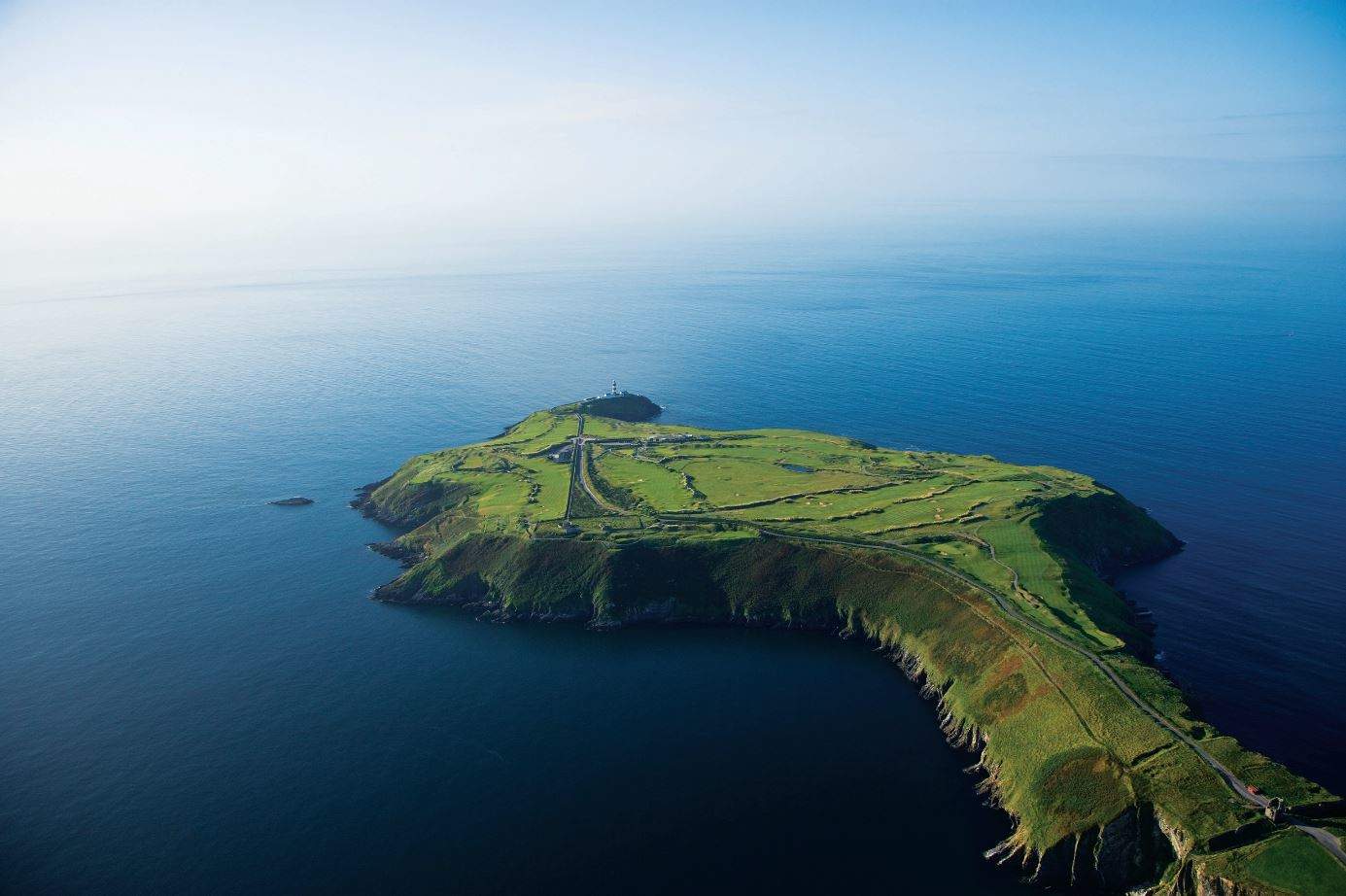 Golf continues to expand its reach to far-flung areas of the Earth, and the world's top tour operators and private travel companies have taken notice. The following 10 golf trips are beyond compare and guaranteed to thrill even the most seasoned golfer, whether you're looking for a classic journey to historic courses throughout the British Isles or an off-the-beaten-fairway golfing adventure through Southeast Asia or South America.
A Jet-Setting American Journey from Coast to Coast
Iconic American golf experiences can take many forms, but TCS World Travel, a luxury travel operator specializing in custom journeys, has bundled the best of them together in a 13-night excursion. Kicking off on California's Monterey Peninsula and concluding in the heart of Charleston's historic downtown district, the journey — which can also be conducted from East to West — is aptly named Golf from Coast to Coast by Private Jet.
Discerning golf enthusiasts won't wait long to check a bucket-list round off their lists as this journey's first tee time brings participants to Cypress Point, an exclusive course that former USGA president Sandy Tatum once declared "the Sistine Chapel of golf." With three nights' accommodations at The Lodge at Pebble Beach, this journey naturally includes a round at prestigious Pebble Beach Golf Links.
Exceptional resort golf along the West Coast continues with two nights and at least one round at Bandon Dunes, a resort that presents guests with four distinctive and natural layouts crafted by a handful of the game's most prolific, modern course architects. From there, take a cross-country flight to Bridgehampton, New York, for a three-night stay at charming Topping Rose House hotel. While in the tri-state area, tee up at a trio of the country's most exclusive and revered private clubs, including Shinnecock Hills, National Golf Links and Pine Valley.
The trip wraps up with five nights at the Belmond Charleston Place and includes rounds of golf at Pinehurst, Sea Pines Resort and Kiawah Island Golf Resort. All told, participants will travel more than 4,000 miles, playing a series of at least 10 world-class courses, a feat possible only aboard a private jet.
From $105,000 per person, contact Anna Hawley, luxury custom travel consultant,
luxurycustomtravel@tcsworldtravel.com, +1 800 454 4149,
tcsworldtravel.com/golf-coast-to-coast
The Best of Ireland, Old and New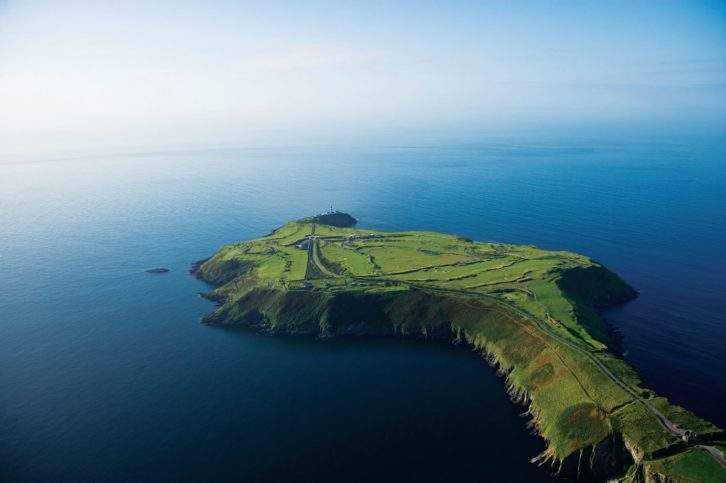 Ireland offers captivating golf across all of its regions. Sam Baker, founder and chairman of Haversham & Baker Golfing Expeditions — a travel operator that specializes in crafting custom journeys for members of private golf clubs — proclaims southwest Ireland to be the country's best destination, simply because it offers cultural and sightseeing opportunities that are on par with the region's world-class courses. "The reason we send so many people there is that it's superior off the golf course," he says. "The scenery, the history and the other things you can do — what we call the good life — it's as attractive as the golf."
On the topic of golf, Haversham & Baker's eight-night southwest Ireland journey includes visits (occasionally by way of helicopter) to a handful of the country's most historic courses, including Waterville Golf Links, the Old Course at Ballybunion Golf Club and the Old Course at Lahinch Golf Club. The latter features a layout that has been modified over the years by the likes of Old Tom Morris in 1894 and Alister MacKenzie in 1927. Contemporary courses on the itinerary include Tralee Golf Club — the first European course designed by Arnold Palmer in 1984 — and Hogs Head, a Robert Trent Jones, Jr design that opened in 2017 and, according to Baker, is more forgiving than the nearby 18 holes at Waterville.
Baker also advises Hogs Head guests to spend some time sitting on the clubhouse terrace, either before or after their rounds. "You look straight out to the point known as Hogs Head and out over the Atlantic Ocean," he says. "It is stunning."
From $10,000 per person, contact Mike Walters, planning manager, mwalters@haversham.com, +1 800 883 3633, haversham.com
A Luxurious Middle East Golf Cruise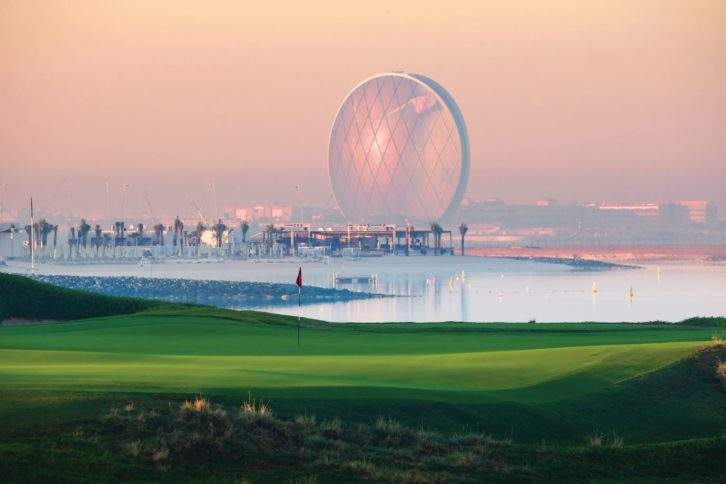 Brothers Colin and Gordon Dalgleish founded PerryGolf in 1984 to introduce enthusiastic golf travelers to the best links experiences in their native United Kingdom. Leveraging connections they made during their amateur playing careers (Colin played on the 1981 Walker Cup), the brothers gradually expanded their coverage areas. About seven years ago, PerryGolf partnered with Azamara Club Cruises, a collaboration resulting in 19 unique golf itineraries that set sail around the world.
One of the most intriguing is an 11-night Arabian Gulf Golf Cruise, which embarks and disembarks from Dubai on board luxury cruise ship Azamara Quest. It includes five rounds of golf at distinct courses, such as the Royal Golf Club, a private links and desert course designed by Colin Montgomerie in Bahrain, and the Majlis Course at Emirates Golf Club, which hosts the Omega Dubai Desert Classic every year. Featuring seven fresh and saltwater lakes, as well as hundreds of indigenous species of flora and fauna, the course impresses with its immaculately maintained fairways and greens, as well as unobstructed views of Dubai's skyscrapers. According to Gordon, all of the courses that make up the itinerary benefit from a similar attention to detail, from groundskeepers and superintendents. "You can go in with high expectations and you won't be disappointed," he says. "There's absolutely nothing that's not done first class."
With lengthy stays in each port, the cruise offers the opportunity to play golf and sightsee throughout the United Arab Emirates, Oman, Qatar and Bahrain. Best of all,  Gordon acknowledges that travelers can safely play their way through the exotic region of the world in total comfort. "You don't have to be adventurous as a traveler," he says. "You just have to have a desire to see the big world."
From $6,874 per person, contact Cameron Reid, vice president of sales and operations, cameron.reid@perrygolf.com, +1 910 795 1048, perrygolf.com
Safaris and Greens in South Africa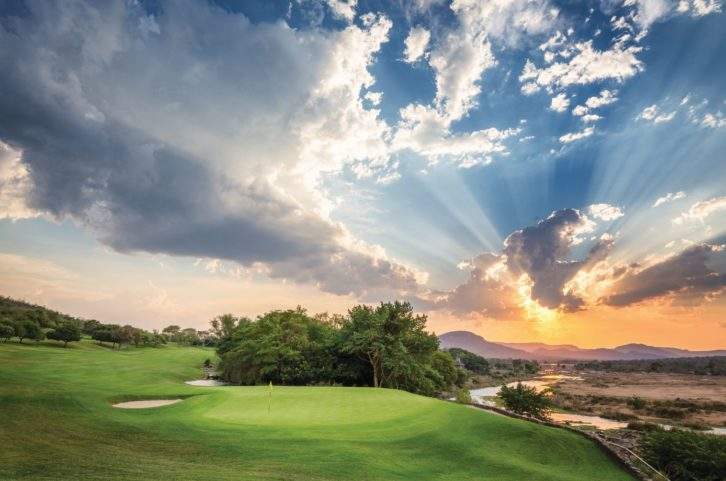 Twenty years ago, Andrew Whitelaw founded Premier Africa to provide discerning travelers with seamless journeys through his native continent, designing excursions that allowed those travelers to experience, as Whitelaw says, "the magic and beauty of Africa." More recently,Whitelaw partnered with fellow South African Ernie Els to create a collection of immersive golf getaways through their home country, the most exceptional of which is a 16-day journey appropriately named Jewel of South Africa.
Among the excursion's six destinations, you will spend two nights in Cape Town, two nights aboard the luxurious Rovos Rail, two nights in the Cape Winelands and three nights in MalaMala, South Africa's oldest and most historic private game reserve.  According to Whitelaw, you're likely to experience a round of golf unlike any other when playing Leopard Creek, a course that shares a border with Kruger National Park. "When you're on the green on the par-5 13th, Leopard Creek's signature hole, you have a clear view into the park," he says. "I've seen elephants and hippos, even a couple of rhinos, while I've been putting. Players might get lucky enough to see a hippo in the water hazard or a giraffe walking down the fairway."
The partnership with Ernie Els is significant, not so much for Premier Africa's access to the courses and golf clubs that make up the trip's itinerary, but for the quality and the extent of that access. Els is an honorary member at The Links at Fancourt Estate, for example, so Premier Africa travelers can enjoy preferred tee times. "Everyone in South Africa wants to be involved in what Ernie does," Whitelaw explains. "He's a legend and a hero, and he's such a likeable guy. Now my connections and contacts jump twice as high as they used to jump just for me."
From $19,550 per person, contact Kayleigh Woodman, partnerships and product manager, kayleigh@premierafrica.com, +1 866 598 8484, premierafrica.com
Memorable Rounds Played around the World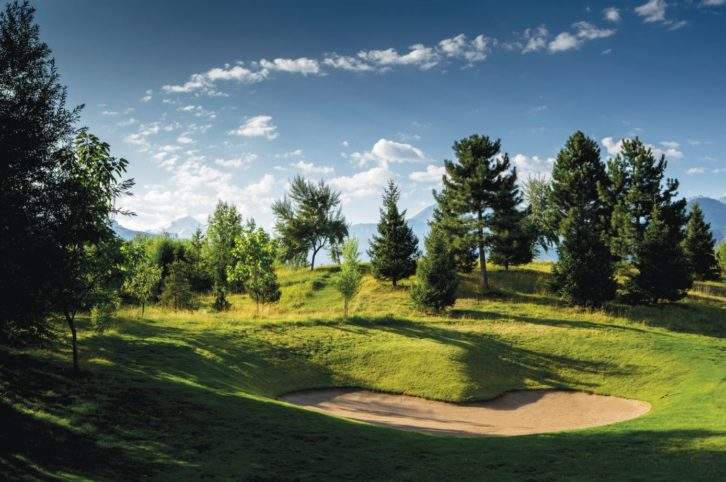 When Kalos Golf entered the golf travel industry in 1994, it specialized in golf cruises aboard luxuriously appointed sailing yachts. More recently, the company expanded its offerings to include chartered air and private jet journeys, the most exceptional of which, Golf Around the World, spans 23 days and more than 15,000 miles, whisking travelers to nine countries on three continents.
The voyage includes rounds of golf at some of the top-ranked courses in the world, including Sentosa Golf Club in Singapore, Spring City Resort in China and Golf de Morfontaine, an exclusive, private golf club located 40 miles north of Paris. Yet, the journey is designed to introduce you to memorable golf courses and resorts in far-flung areas, such as Nepal and Kazakhstan. "We want to take people to these hidden gems around the world," says Kalos Golf vice president, Casey Oliver. "Those are unique places to begin with, and unique places to play golf. Most people wouldn't think that there are golf courses there." Those exotic destinations don't just offer golf, however; they feature superlative layouts designed by some of the sport's foremost course architects, including David McLay Kidd and Arnold Palmer.
According to Penny Polson, a guide with Kalos Golf, the Zhailjau Golf Resort in Kazakhstan is home to a "tournament-quality course in excellent condition," while the visit to Gokarna Forest Golf Resort — set inside one of Nepal's national parks and against a backdrop of the Himalayas mountain range — is prefaced by a helicopter tour around Mount Everest.
From $115,950 per person, contact Casey Oliver, vice president of marketing,
coliver@kalosgolf.com, +1 919 942 3464, kalosgolf.com
An Open Invitation: Playing every British Open Venue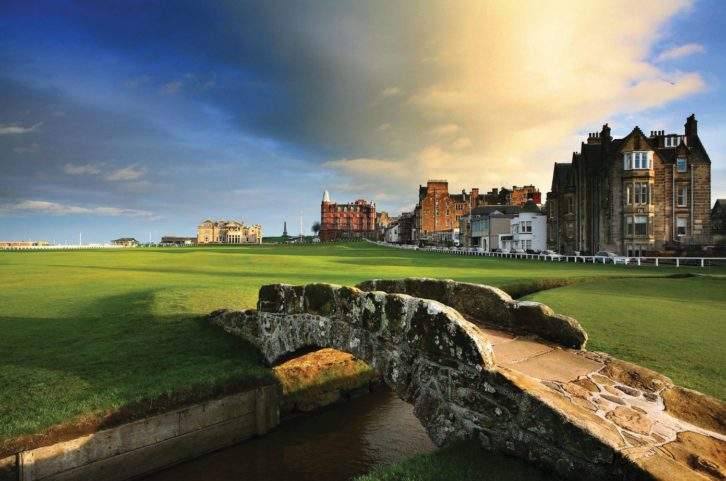 Unlike golf's US Open, which has been contested at more than 50 courses (most of them private and prohibitively exclusive), the British Open's rotation of host venues is far more concise. Only 14 courses have welcomed the world's best golfers as they competed for the Claret Jug, and all provide at least some access to the public. Leveraging that access — and understanding that amateur golf enthusiasts yearn to play famous courses that have hosted milestone championships — Carr Golf has created a two-week journey that allows participants to play every course that has hosted a British Open.
This British Isles golfing adventure begins in Scotland, where you play revered courses such as Carnoustie Golf Links and The Old Course at St Andrews. You'll also play less-famous layouts, including Prestwick Golf Club, which hosted the first British Open in 1860, and Musselburgh Links, the world's oldest course, which rents hickory clubs to visitors that wish to embrace nostalgia.
You then play through England, stopping at five courses with "royal" designations, as well as Prince's Golf Club, which hosted the British Open only once, in 1932 when Gene Sarazen debuted the sand wedge. The trip concludes in Northern Ireland with a round at Royal Portrush, which will host The Open later this summer.
"The British Open resonates with everybody, and all the venues are recognizable," says Marty Carr, CEO of his namesake company. "If you look down the list of courses and think of how old the Open Championship is, you feel privileged to be associated with that history and the great players who have stepped on those courses."
From $14,000 per person, contact Mark Byrne, sales manager, enquiries@carrgolf.com, +1 855 617 5701, carrgolf.com
Temples and Tee Shots through Southeast Asia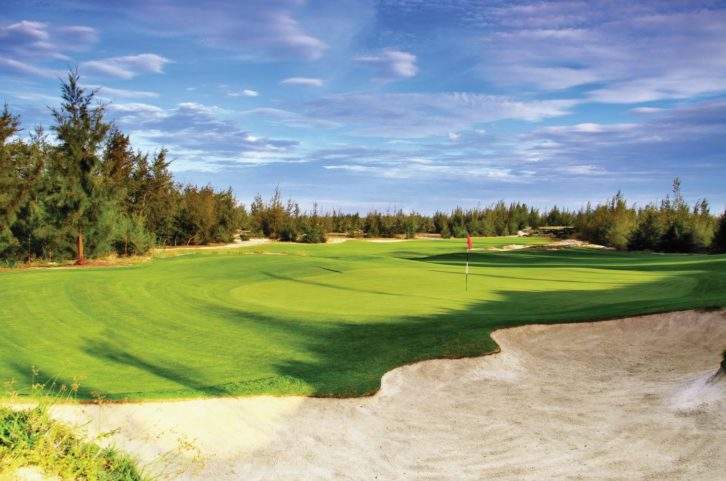 The allure of golf in Asia often conjures up thoughts of Japan's golf-obsessed culture or the many elaborate and expansive golf resorts throughout China. Yet, other Asian countries have embraced the sport in recent years, three of which are showcased in PerryGolf's Golf, Temples & Tombs itinerary, a 14-night journey that takes you through Thailand, Cambodia and Vietnam. "If China is the business side of Asia, these countries are more vested in hospitality," says Gordon Dalgleish, PerryGolf's co-founder and president. "It's a softer side of the Asian culture that you see and experience."
Over the course of two weeks, you'll play eight rounds of golf, including a stop at Angkor Golf Resort in Cambodia, where course designer Nick Faldo received a blessing from local monks before its grand opening. You will also play Nikanti Golf Club in Thailand, a unique layout designed as three six-hole layouts, each consisting of two par-3s, two par-4s and two par-5s. "You're not going to stumble across a Donald Ross design," Dalgleish says of the region's courses. "They're generally European-designed golf courses in the modern style."
Unlike PerryGolf's trips through the British Isles, which attract die-hard golfers who want to play golf every day of the journey, Dalgleish says this itinerary appeals to those who prefer to balance rounds of golf with unique sightseeing opportunities. "They want to say that they've played golf in these various places," he says, "but they've also experienced the interesting aspects of that country and culture."
From $10,725 per person, contact Cameron Reid, vice president of sales and operations, cameron.reid@perrygolf.com, +1 910 795 1048, perrygolf.com
Legendary Links in the Land Down Under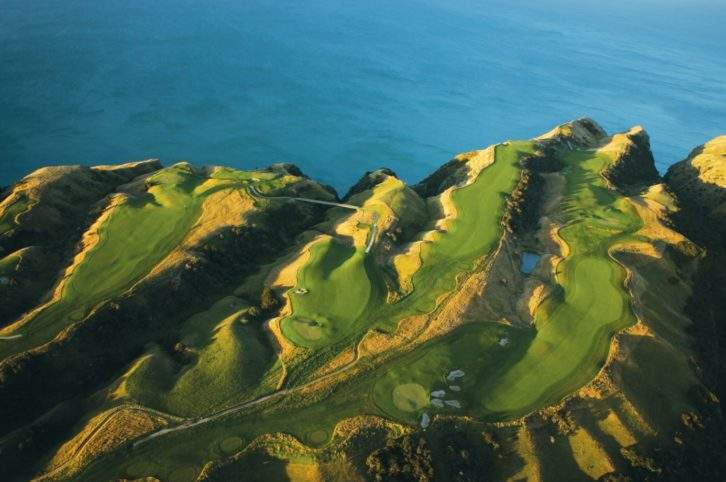 Six years after Andrew Whitelaw launched Premier Africa, the South African entrepreneur and travel mogul expanded his company's outreach to include Australia and New Zealand (offered through a Premier Excursions brand extension), in large  part because his returning clients continued to ask if he could coordinate journeys for them in other exotic parts of the world. Over the course of 15 nights on a Premier Excursions journey to the land Down Under, you'll play some of the region's most elite courses, including Kauri Cliffs and Cape Kidnappers in New Zealand, and Royal Melbourne Golf Club in Australia. "When you combine New Zealand and Australia together, you get some extraordinary and unique golf experiences," Whitelaw says.
Beyond memorable experiences on the links, Premier Excursions' travelers will also be immersed in local culture, thanks to guided tours through the countries' respective wine regions, street-art walking tours through Melbourne and overnight stays at resorts along the Great Barrier Reef, among other activities. "So often people don't touch, feel or breathe in the right experiences," Whitelaw says. "They don't know what they're supposed to be looking for in these cities. Our hosts are there to guide our travelers to the places where they can truly experience the local culture. We eliminate that fear of missing out."
From $18,000 per person, contact Kayleigh Woodman, partnerships and product manager, kayleigh@premierafrica.com, +1 866 598 8484, premierafrica.com
Gold Medals and Grand Adventures in South America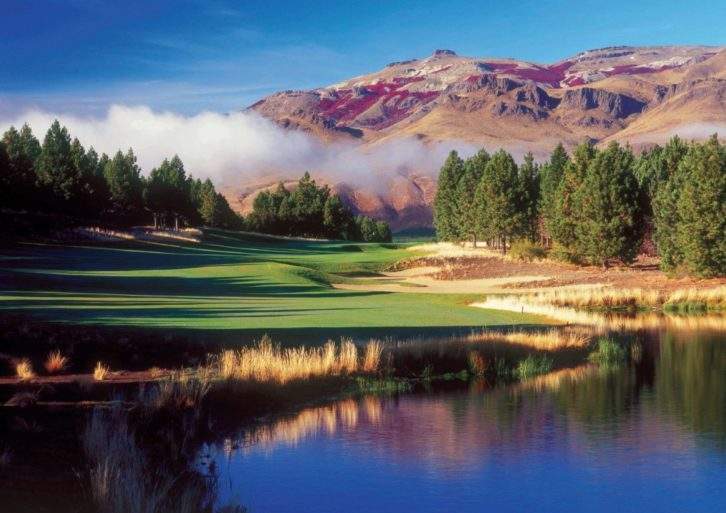 When golf returned to the Summer Olympics lineup in Rio de Janeiro in 2016, the world witnessed a compelling competition for the gold medal on a new Gil Hanse–designed course built specifically for the Summer Games. According to Kalos Golf vice president Casey Oliver, the allure of that championship layout served as the catalyst for the company's new 13-day journey, which includes world-class golf in Brazil, Argentina and Chile. "The Olympic Course was the driving force for people to want to go on the trip," says Oliver, who notes that travelers on this journey enjoy a post-round helicopter tour of Rio de Janeiro. "But there are really good golf courses throughout South America. People just haven't explored farther afield than Buenos Aires or Rio de Janeiro."
This trip assures that exploration. Tee up at Hacienda Chicureo, a course just north of downtown Santiago, Chile, that looks as if it were transported from Arizona; the Gavea Golf and Country Club, which features a course that meanders through tropical rainforest outside of Rio de Janeiro; and Chapelco Golf and Resort, which is home to a Jack Nicklaus–designed course surrounded by a national park, set on the edge of the Andes Mountains in Argentina. The most adventurous round of golf on the trip is played at Llao Llao Golf Resort, a Patagonia estate surrounded by Lake Nahuel Huapi in southwestern Argentina. According to guide Penny Polson, "around almost every turn on the back nine you get a view of the magnificent Andes Mountains and the crystal-clear lake."
From $16,475 per person, contact Casey Oliver, vice president of marketing, coliver@kalosgolf.com, +1 919 942 3464, kalosgolf.com
Links to the Past and the Scottish Highlands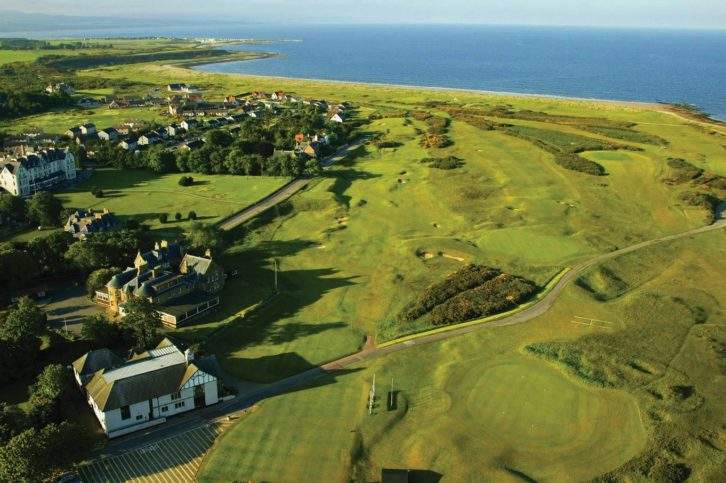 For more than 30 years, Belmond's Royal Scotsman has transported discerning travelers along the rails, whisking them from Edinburgh to the most scenic destinations along Scotland's west coast and throughout the Highlands. Equipped with two restaurant cars, an observation car—where nightly entertainment is paired with cocktails and drams of whisky — a two-treatment-room spa car and 22 cabins, the luxuriously appointed train also transports guests back to a time when the rails
represented the pinnacle of upscale travel.
The Royal Scotsman has offered four-night golf journeys in the past, but the ultimate rail-and-links getaway awaits thosewho opt to charter the entire train privately. A seven-night, private golf journey aboard The Royal Scotsman can include as many as six rounds of golf at some of Scotland most prestigious golf clubs, including Royal Dornoch — the Highlands course where revered course architect Donald Ross learned the game from Old Tom Morris — and Cruden Bay, a unique links layout that offers views of the North Sea and the ruins of Slains Castle, a 16th-century baronial estate that inspired Bram Stoker's Dracula.
Closer to Edinburgh, you can play Kingsbarns, a young course that opened for play in 2000 and is set on a plot of land that saw its first golf holes built during the late 18th century. You can also visit Gleneagles for a round at the King's Course, a layout designed by James Braid that opened in 1919 and in 1921 hosted the inaugural Ryder Cupmatch between British and American golf professionals.
From $365,000 for private train charter, contact Lara Newell, group sales director, lara.newell@belmond.com, +44 203 1171 391, belmond.com
Images: LC Lambrecht; John McLachlan; Getty Images