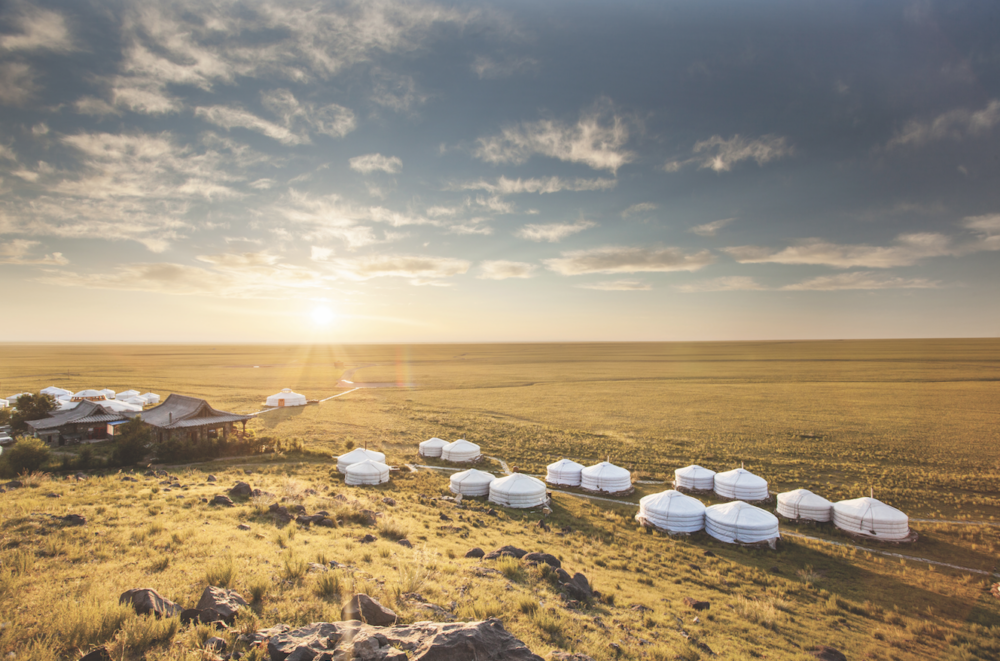 Sometimes you just need to get away from it all, take a break from the fast pace of daily life and embrace a more gentle ebb and flow. These remote hotels are as far away from the hustle and bustle as you can get — some are only accessible via helicopter or boat. Expect magnificent scenery, top-notch cuisine, fun activities and lavish amenities in total seclusion.
Khubilai Ger, Three Camel Lodge, The Gobi, Mongolia
Deep in the middle of the Gobi Desert in Mongolia, you will find Three Camel Lodge: a series of traditional Mongolian tents, or gers. The nomads of Mongolia have lived in gers for hundreds of years, and many of the lodge's staff were raised in the Gobi.
This is a very remote place for those who truly want to disconnect, not only from other people but from technology, too, as traditional life is paramount here (although the hand-painted interior details will have you itching to Instagram).
There are 40 gers to choose from, each with a sumptuous king-sized bed, wood-burning stove and en-suite bathroom. The Khubilai Ger is the largest with two bedrooms and is the best option for families or larger groups. We love the custom furnishings: cozy camel-hair blankets, hand-painted wood-framed beds, wooden-latticed walls and traditional rugs. The Mongolian felt slippers are a lovely touch, too.
There's a beautiful temple-style main lodge, spa tent and media center. Sustainability is championed here — when the lodge was under construction, every step was taken to protect the desert, and it was built using natural materials. The lodge uses solar energy and utilizes unused water for irrigation; you won't find a single plastic bottle.
Since 2003, staff have planted over 8,000 native trees and plants, and hunting is prohibited within a 12-mile radius of the camp to ensure wildlife is protected. The area is known for fossils — in 2000, a previously unknown species of dinosaur was unearthed and named Zaraapelta Nomadis after the lodge's sister company, Nomadic Expeditions.
Three Camel Lodge is also committed to giving back to the local community, and as a guest, you'll see exactly how: Most of the delicious food is from local farmers who have been trained in-house.
There are evening performances from traditional musicians who share their stories on nomadic life, a library stocked with books on the local history and culture, and a store with handmade crafts and the softest cashmere you'll ever touch. Much more than a place to stay, Three Camel Lodge is truly an experience and a gateway to another way of life.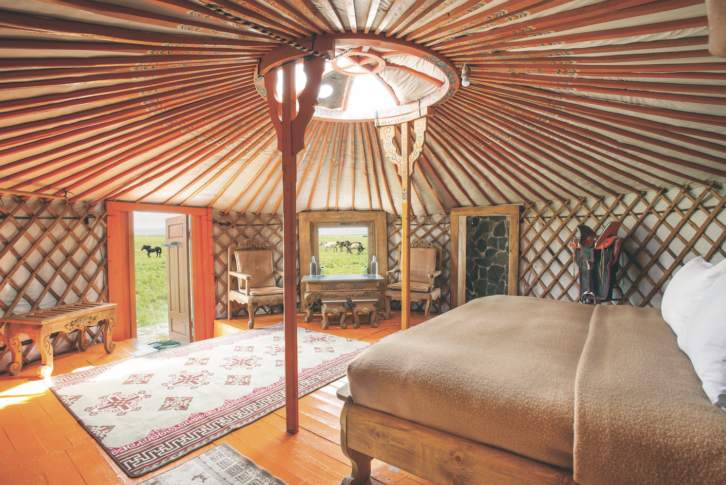 Off grid
The lodge's sister company, Nomadic Expeditions, has a full menu of excellent excursions. Travel through the desert on horse or camelback; kayak through pristine lakes in the north; see the green valleys in the foothills of the Gobi Altai Mountains or witness the dramatic red sandstone of the Flaming Cliffs. If you visit in the winter, there's a festival held on the frozen surface of Lake Hovsgol in honor of the Gobi's Bactrian camel.
Rate: $1,650 per night
Contact: Jalsa Urubshurow, founder, info@threecamellodge.com, +1 800 998 6634, threecamellodge.com
Photos: Nomadic Expeditions
Overwater Bungalow, Bawah Reserve, Indonesia
The journey to Bawah Reserve in Indonesia is an indication of just how remote the resort is: Arrive in Singapore, where a Bawah representative will take you to board a ferry for a 30-minute ride to Batam Center. Then board the hotel's seaplane to soar through the sky over the South China Sea for an 80-minute flight to the island. This alone makes you feel like you're leaving the real world behind.
The seclusion continues as you take your first sandy steps on the island. The reserve is comprised of six islands, three lagoons and 13 beaches, all surrounded by gorgeously clear turquoise waters and lush tropical foliage. At the end of a jetty, an Overwater Bungalow is suspended above the brilliant blue lagoon, which you can wade into directly from the suite (there's snorkeling and diving equipment available, too, if you want a closer look).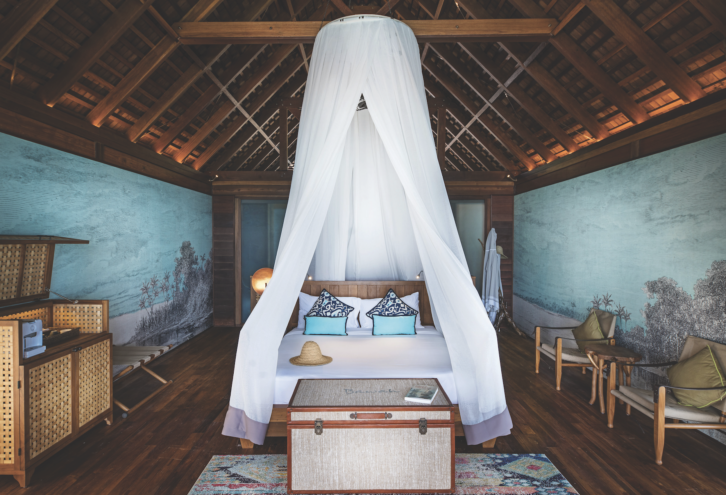 There's an ocean-facing, canopied, king-sized bed, and the interiors have an aquatic theme with jellyfish-shaped chandeliers and lots of soothing blue tones. We love the murals on the walls that depict the surroundings. The covered veranda is a dreamy spot to unwind or, for a romantic evening; arrange a dinner on the suite's open-air sundeck.
Other dining options include the lofty Treetops Restaurant with a private lookout spot and the Boat House Bar & Restaurant for casual dining with the sand between your toes. For a nightcap, visit Grouper Bar for cocktails, champagne and vintage wines, or Jules Verne Bar (named for the French author and keen explorer) which sits above the tree line.
If that doesn't relax you enough, hit the spa — daily treatments, from massages to facials to hair treatments, are included in the price. As the resort is set in the Anambas archipelago, one of Indonesia's first marine conservation areas, sustainability and ecoawareness are taken seriously.
All waste is recycled; the sunscreen is ocean-friendly; boats are solar powered; buggies are electric; rainwater is harvested and treated; wastewater is treated and used on the organic fruit and vegetable gardens; and, of course, any tampering with the marine life is strictly forbidden.
The resort also works with the Bawah Anambas Foundation, which filters funds back into the land, sea and local community — so rest assured your visit is not only 'preserving paradise,' but giving back to it, too.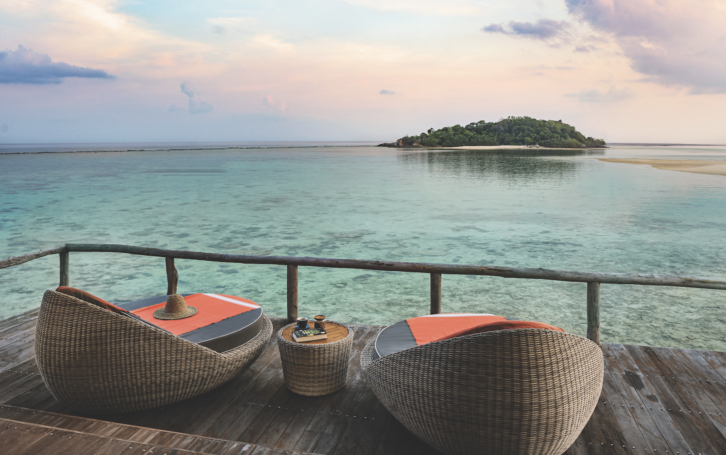 Off grid
Grab one of the two-person kayaks and glide through the clear waters — the kayaks are transparent so you can see the ocean below. Paddle to Sanggah Island and head ashore where a picnic awaits. Be sure to search for turtle nesting sites while on the island.
Rate: $2,400 per night
Contact: Raymond Saja, general manager, reservations@bawahreserve.com, +65 6322 3132, bawahreserve.com
Family and Single Villa Six, Saruni Samburu, Samburu, Kenya
With only six eco-villas on the property, Saruni Samburu is a private oasis with exclusive access to over 200,000 acres of Kenyan wilderness (in fact, you won't find another property for miles). It's located just north of the Samburu National Reserve and has spectacular views of Mount Kenya and the private wildlife sanctuary, Kalama Community Conservancy.
The newest villa, Family and Single Villa Six, is located furthest from the main Kudu House (making it closest to the new infinity pool) and built into and around a volcanic rock face.
At first glance, you hardly even notice the house, as its eco-design and unique architecture blend in perfectly with the natural surrounding. The two-bedroom villa is awash in natural, rustic hues; decorated with handmade rugs, linens and pillows; and adorned with African art sculptures on the walls.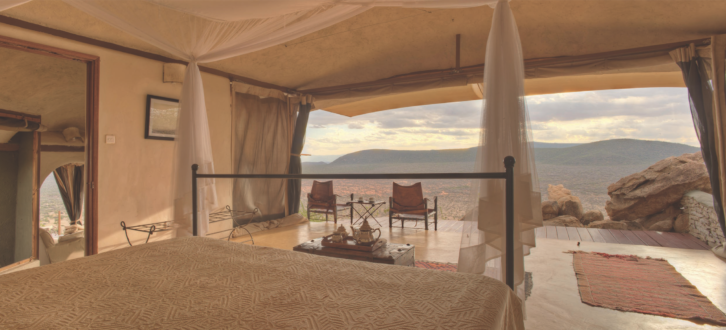 The living space opens directly onto the terrace (there are no doors, just a screen you can pull down come nighttime), which boasts seemingly never-ending views of the looming mountains and wildlife conservancy.
Hilltop views are great, but get a closer look from the Photographic Hide, a hideaway at a waterhole where novice and professional photographers can snap away when the animals gather. You can also book an in-suite massage treatment (or head to the Samburu Wellbeing Spaces) and enjoy stargazing on your terrace (we promise — there's nothing like it).
If it's an excursion you desire, guides will organize local cave visits, bush walks, dinners in a dry riverbed by firelight or a trip to the Reteti Elephant Sanctuary. Tourism directly supports conservation and helps give back to the Samburu tribe, who have worked to protect their land for hundreds of years.
Off grid
Game drives are led by the local Samburu tribe, one of the most well-known semi-nomadic tribes in Kenya. Guides will take you on a journey through the Kenyan wilderness and their village to teach you about their traditions. When you're not partaking in day or night game drives, hike Ololokwe (the Sacred Mountain), just a 30-minute drive from the lodge. At the summit, you'll be rewarded with jaw-dropping views over Samburu land.
Rate: From $706 per person per night
Contact: Fatima Salim, head of reservations, fatima@saruni.com, +254 202 180 497, saruni.com
Lakeside Retreat, Tordillo Mountain Lodge, Judd Lake, Alaska, USA
This year, the US's most remote and wild state, Alaska, celebrates its 60th anniversary. While anywhere you go could be considered as off-the-beaten path, Tordrillo Mountain Lodge, just a 40-minute flight from Anchorage, is about as far away from civilization as you can get.
It's truly the 'last frontier' — which you will realize upon arrival thanks to the endless forest and the sheer and profound quiet — but once you step inside, modern amenities (the Main Lodge just underwent a multi-million-dollar renovation) and alpine-chic decor will make you forget that you are nearly all alone in the woods.
For sports enthusiasts, this is the ultimate playground. In summer, enjoy watersports on Judd Lake including heli-rafting, heli-fishing, heli-biking and sky trekking; in winter, get access to the best heli-skiing in the world (among other 'heli' activities).
The food is delectable — Kachemak Bay oysters, salmon, and Alaskan king crab, halibut and scallops, plus game like elk, lamb and pheasant, are regional delights not to be missed. The kitchen uses fresh, organic vegetables from the resort's garden, so the menu changes often based on what's in season. Most impressive is the hotel's wine list: a curated selection of more than 500 bottles.
The Scandinavian-designed Lakeside Retreats are the property's most exclusive accommodations; they sleep up to eight and come with a private chef, helicopter and landing pad, masseuse and hot tub overlooking Judd Lake. Light wood, modern decor, double-height windows and an open-plan living space make the retreats feel both cozy and luxe.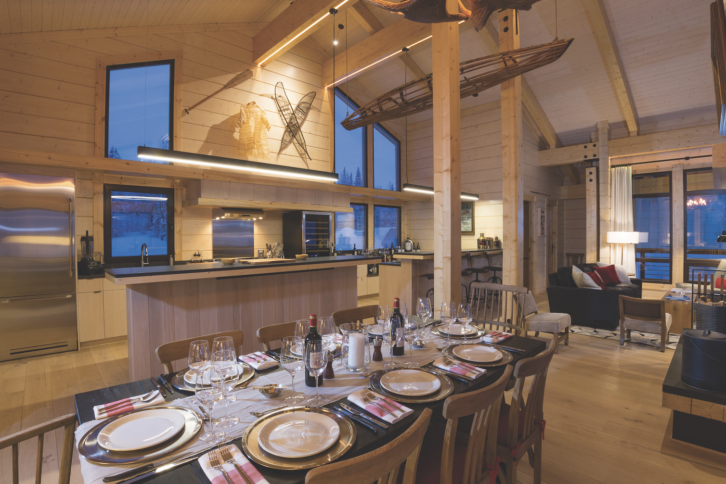 Off grid
Hands down the best year-round heli-skiing in all of Alaska is at Tordrillo Mountain Lodge. The owners and operators, Olympic gold medalist skier Tommy Moe and heli-ski pioneer Mike Overcast will take you to Tordrillo's very own trails. These expert guides keep your ability in mind and find the perfect descent for you to ski, whether it's a glacier, a narrow gully or fun, powdery runs. The world is your Alaskan oyster.
Rate: From $21,000 per night
Contact: Melanie Ross, marketing manager, info@tordrillo.com, +1 907 569 5588, tordrillomountainlodge.com
Photos: Jonathan Selkowitz
Grettir Suite, Deplar Farm, Ólafsfjörður, Iceland
In the mystical land of fire and ice, there's only one place you should consider staying: Deplar Farm. This 18th-century sheep farm turned über-luxe retreat is situated away from the tourist traps and is completely isolated.
Deep in Northern Iceland's Troll Peninsula, Deplar Farm is enveloped by soaring peaks (some reaching 3,000ft) covered in snow in winter and lush greenery in summer.
From the outside, you'd be forgiven for thinking this unassuming building is still a working farm — when it was transformed into a retreat, the original facade was kept. There's even traditional Icelandic 'turf' roofing (it helps with insulation through the notoriously harsh winters).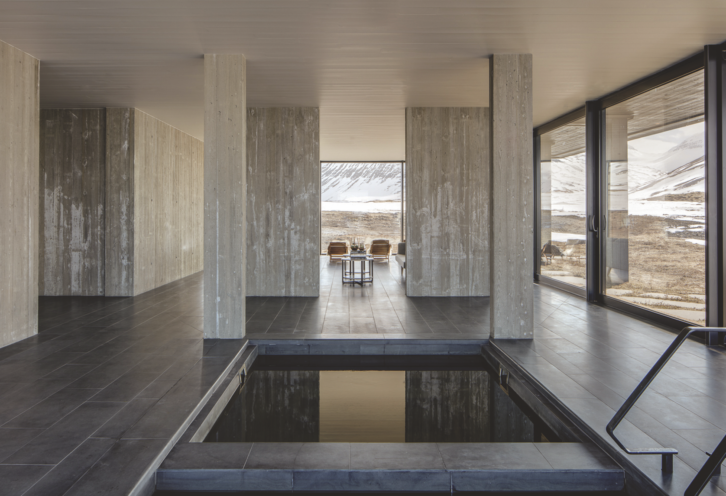 Inside is a glorious hideaway with 13 bedrooms; chic dining room with an exposed brick wall, cozy reindeer-skin rugs and large fireplace; delightful library; cool bar (have the bartender rustle up an Artisan — hard Icelandic liquor, lemon juice, simple syrup and cucumber); and games area with a pool table and binoculars, plus a media room.
The interiors are pure Nordic chic; think hygge touches like the aforementioned reindeer-skin rugs (they're everywhere), hardwood furniture, industrialist sleek lines and floor-to-ceiling windows. The cuisine is just as Nordic and celebrates the sea — freshly caught salmon, Arctic char and cod are highlights.
On the subterranean level, there is a fully equipped gym and modern yoga studio, and an incredible spa with a geothermally heated swimming pool that flows from the indoors out. If you swim outside, head straight to the semi-underground bar built into a small hill. There's also a sunken outdoor hot tub, which is an utterly sublime spot to unwind in and, if you're lucky, watch the northern lights glowing green above.
The farm is owned and operated by Eleven Experience, so it is an adventurer's paradise. There's a great deal to do: Whale watching, heli-skiing (the farm has two heli pads), snowboarding, kayaking, hiking and mountain biking can all be arranged and led by an expert guide.
Off grid
Join Eleven Experience's creative director, Alex Fenlon, for a six-day photography retreat. It's suited for all levels of experience; you will learn techniques and skills in this magical setting, including night photography — handy if the aurora borealis makes an appearance. You'll also head on a scenic flight to Lake Mývatn, go whale watching, tour the fjords by boat and enjoy all the outdoor activities you can imagine.
Rate: $50,000 per night for exclusive use, Grettir Suite from $4,100 per night
Contact: Brian Mordecai, director of sales, reservations@elevenexperience.com, +1 970 349 7761, elevenexperience.com
Photos: Selko Photo, Eleven Experience
The Amangiri Suite, Amangiri, Canyon Point, Utah, USA
Amangiri is a bounty of contrasts — it has a super-futuristic design in a barren, natural setting, and is one of the world's most famous hotels, yet is totally hidden away in Utah's Canyon Point. It sits in the heart of Navajo country, and the terrain is simply extraordinary.
It's quite unbelievable to find such a beautiful and highly luxurious hotel in the middle of nowhere. The design of the hotel is inspired by the natural landscape: The sandstone structure blends in with its surroundings, including the heated outdoor swimming pool that snakes around a large hunk of sandstone rock.
All the suites have outstanding views (did we mention the views?) but the crème de la crème is the Amangiri Suite. It is 3,470 sq ft of clean lines and understated elegance in neutral, soothing tones.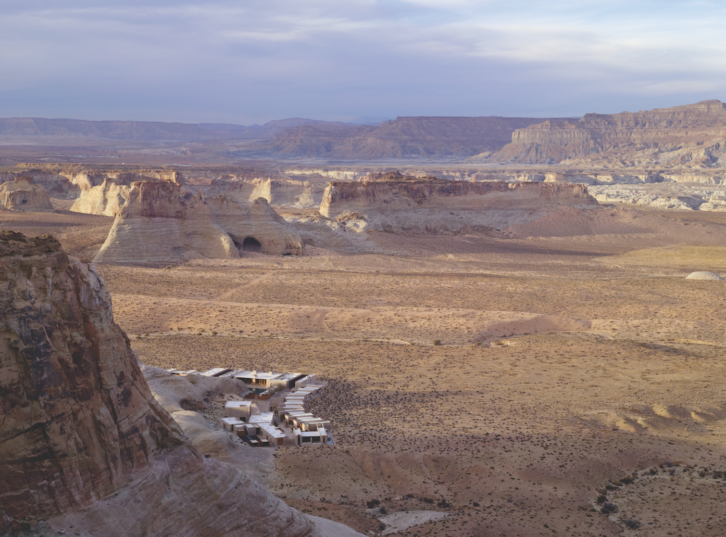 The 59ft swimming pool with floating steps is made for swimming laps as the sun comes up over the desert, and we love the sky terrace with the large daybed. Relax by the suite's fire pit and gaze out over the landscape with a cocktail from the bar — you'll be transfixed.
While you can have in-suite spa treatments, a visit to the Amangiri Spa is a must. There are five treatment rooms, and the extensive menu pays homage to Navajo culture and healing traditions, focusing on restoring hózhó (meaning beauty, harmony, balance and health). There's also a lovely on-site store with striking Navajo art works, jewelry and handicrafts, so you can take home a little piece of this magical land.
Off grid
Amangiri is set among 600 acres of desert, and exploring this ethereal landscape is an absolute must. Go rock climbing along the huge rock formations with an expert guide as you scale the four via ferrata and ladder rungs, or rise with the sun and drift over Lake Powell, Navajo Mountain, the Vermilion Cliffs and the Grand Staircase-Escalante National Monument in a hot-air balloon.
Rate: From $4,350 per night
Contact: Julien Surget, general manager, amangiri@aman.com, +1 435 675 3999, aman.com
Corner Room, Eolo Patagonia, Argentina
Patagonia is one of the only nearly untouched places left on Earth. Come to Eolo Patagonia in Argentina to experience a true off-grid trip that allows you to reconnect with nature without sacrificing luxury.
It's situated far enough between the crowded neighboring city of El Calafate and Los Glaciares National Park (45 minutes away) to ensure that fellow hotel guests and staff will likely be the only other humans you'll see during your stay (there are only 17 rooms in the hotel, so even that number is guaranteed to be low).
Eolo resides on 10,000 acres of land mere miles from the Andes Mountains, meaning that wherever you go, you'll be taking in superior views of mountains, glaciers, rivers and plains, as well as abundant free-roaming wildlife, including horses, on the surrounding land.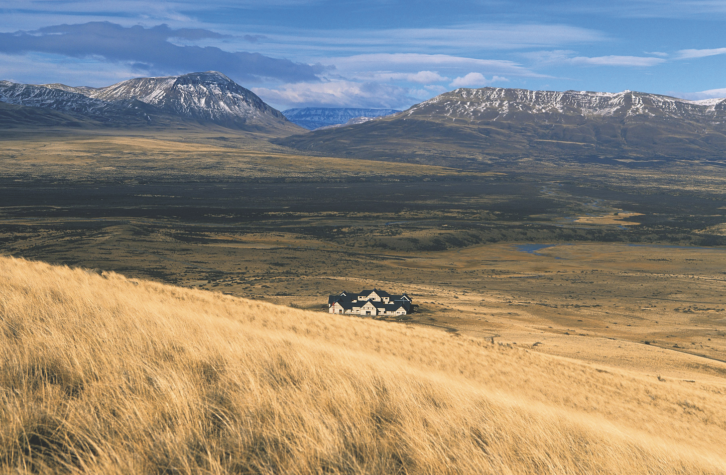 The hotel's decor is simple and strives to highlight the views via floor-to-ceiling windows in nearly every room, giving off an airy ambiance thanks to the sunlight that streams through almost every day. The rooms have buttery, off-white walls, while the restaurant has a distinct South American-rustic style — it's quiet, charming and unpretentious.
Connect with the landscape even more by booking a Corner Room with double windows; you will wake up to more than one uninterrupted vista. The hotel is chic and comfortable, and encourages guests to connect with Patagonia in their own way, be it through stargazing (views of the Milky Way are unparalleled), hiking or touring the Upsala Glacier and Lago Argentino by boat — the iceberg views are jaw-dropping.
Off grid
Located just a few miles from the hotel, the Southern Patagonian Ice Field is the third largest ice cap in the world — stare in wonder as you watch this marvelous piece of icy earth creak and crack as chunks of ice drop into the water. You can also explore the area on horseback or by foot at any time of year.
Rate: From $1,450 per night
Contact: Valentín Virasoro, manager, reservas@eolopatagonia.com, +54 114 700 0075, eolopatagonia.com
Bear House, The Ranch at Rock Creek, Philipsburg, Montana, USA
Just south of Glacier National Park, this dude ranch in a secluded valley near Rock Creek captures the essence of the final frontier of the American West (read: it's blissfully located in the middle of nowhere). It's a working cattle ranch with authentic Montana-style barns and lodges (think weathered log and stone cabins), glamping tents and private homes scattered throughout the 6,600-acre ranch.
There's even a 'Homesteader Experience' where you can stay in a covered wagon. Each space, including the Granite Lodge (the main lodge), Rod & Gun Club, Silver Dollar Saloon (the hotel's bar) and Mercantile Shop, is decorated in period-style fabrics, antiques and decor that hark back to when pioneers and miners settled here. You truly feel like you're living in a different era, only with modern amenities.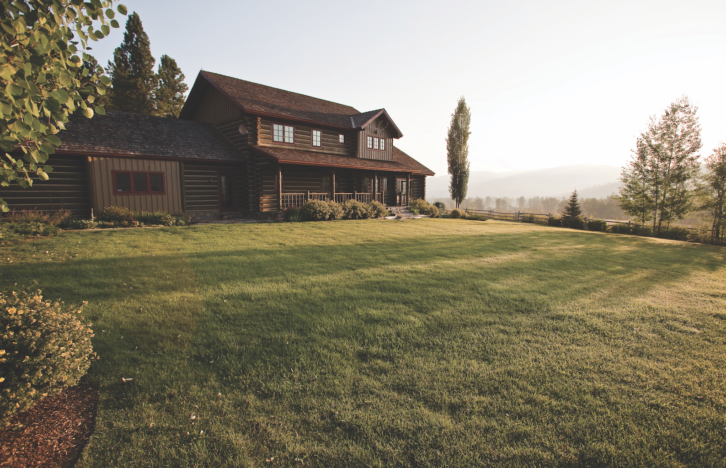 Stay in Bear House, a two-story, five-bedroom home, the largest on the ranch. Leather chairs, handmade pottery, stone accents and open-plan living spaces set the scene for a true ranch-style experience. Though there's so much to explore, you'll never want to leave this cozy rustic haven with its porch (perfect for watching the sunset), full kitchen, dining room, sunroom and a wood-burning fireplace.
The house comes equipped with personal cruisers and mountain bikes, making it easy to navigate the nearby hiking and biking trails just outside the house. A large, fenced-in lawn out front makes it easy to feel like it's your home away from home. For even more relaxation, head to the spa or take a yoga class with scenic views.
Off grid
Of course you can partake in the expected horseback riding, hiking, fly fishing, wildlife tours and shooting sports, but we love The Ranch's Master Naturalist: Bird Your World program, which pairs you with an expert naturalist to learn the basics of birding. In summer, experience a true cowboy rodeo — start with a cowboy social hour to mingle with the athletes before watching a traditional rodeo.
Rate: From $12,400 per night for eight people
Contact: Josh Erickson, manager of reservations and revenue, welcome@theranchatrockcreek.com, +1 877 786 1545, theranchatrockcreek.com
Photos: Tom Cahalan
Luxury Waterfront Ensuite Tent, Clayoquot Wilderness Resort, Tofino, British Columbia, Canada
Situated in the Unesco-designated Clayoquot Sound Biosphere Reserve, this resort in the remote wilderness of British Columbia is an eco-safari-style tented oasis. It offers gourmet cuisine at its dining spots (the Cookhouse and Ivanhoe Glass Lounge), a restorative wellness spa menu and plenty of adventure.
Rest your head in one of the Luxury Waterfront Ensuite Tents, a Victorian-era-style, one-bedroom tent with an en-suite bathroom, ample closet space and a queen-size daybed for lounging after a day of activities. Every aspect is well thought out, from the antique furnishings and heated wood floors to the torches that light the path to your suite and the vintage oil lamps that illuminate your room by night.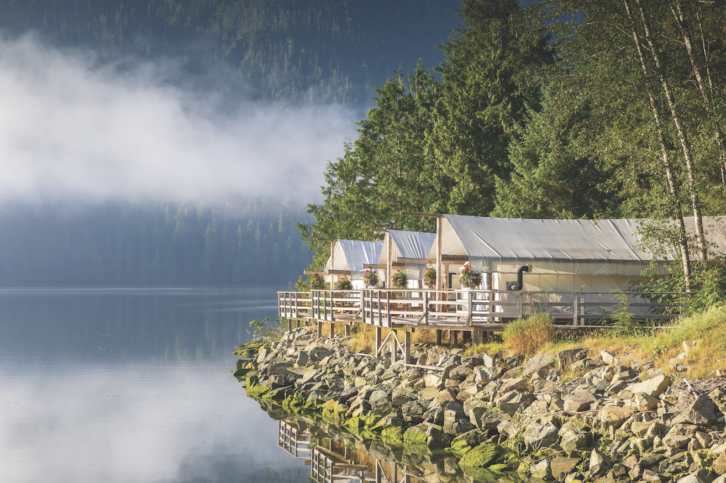 There's no roughing it here — each suite has plush pillows, soft linens and fluffy cotton towels, plus antique silver and crystal decor that makes the space feel more like a luxurious home than a tent in the wilderness. After a restful night's sleep, spend your morning sipping coffee from your private deck while you listen to the sounds of nature.
Off grid
Take to the Bedwell River for river or ocean kayaking, surfing, bear and whale watching, or standup paddleboarding. If land activities are more your style, explore the lush terrain on horseback. Ultimate adventurers can't miss the DIY aerial adventure, where you design your own helicopter exploits, whether it's a gourmet dinner atop a mountain, heli fly-fishing, heli-zip-lining or heli-yoga.
Rate: From $5,700 per night
Contact: Keshia Evans, reservations manager, info@wildretreat.com, +1 888 333 5405, wildretreat.com
Alpine Lodge, Minaret Station, Lake Wanaka, New Zealand
The wild and beautiful Southern Alps of New Zealand are home to soaring glaciers, snowcapped mountains and startlingly blue, glacier-fed lakes. Minaret Station is located on Minaret Bay and is a 20-minute helicopter flight from Queenstown International Airport. In fact, helicopter is the only way to access this utterly secluded hotel.
It sits 3,000 ft high in a dazzling glacier valley, and you're unlikely to see another soul in the station's 50,000 acres, except for deer, sheep and cattle — there's a working farm on the land. It's not just the location that's off-grid — the electricity and water are powered by a nearby waterfall, and beef comes from the Station's farm. It is family owned and operated, so expect a warm, welcoming reception and a home-away-from-home vibe.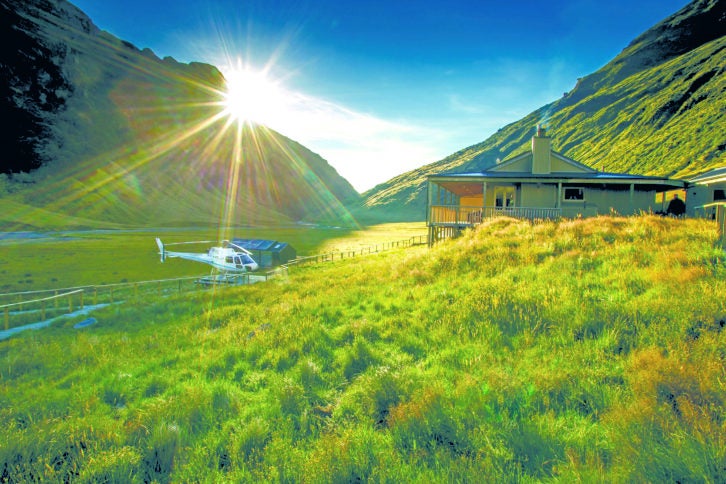 There are just four alpine chalets and only eight guests at any one time, so you can be sure of total and utter privacy, or you could rent the whole place out for yourself. Each chalet is cozy and understated, with a king-sized bed, fluffy sheepskin rugs, en-suite bathroom and a hot tub outside on the deck. Each chalet also comes with its own private guide for hiking on and around the property. The chalets are connected to the Mountain Kitchen by wooden walkways, and it's here you will gather for fine dining followed by a nightcap next to the roaring fire.
There is a great deal to see and do; tours are operated by helicopter, and you can choose from heli-skiing, mountain biking, fishing, boating or hiking.
Off grid
Fiordland National Park is an extremely remote, nearly inaccessible Unesco World Heritage Site. Fly by helicopter to land directly onto a private charter vessel, then glide along the crystal waters through this imitable landscape. Try diving or fishing — the on-board chef can prepare your catch of the day.
Rate: $7,400 per night for exclusive use, Alpine Lodge from $925 per night
Contact: David Hiatt, general manager, dh@minaretstation.com, +64 344 358 60, minaretstation.com
This story originally appeared in the Spring 2019 issue of Elite Traveler