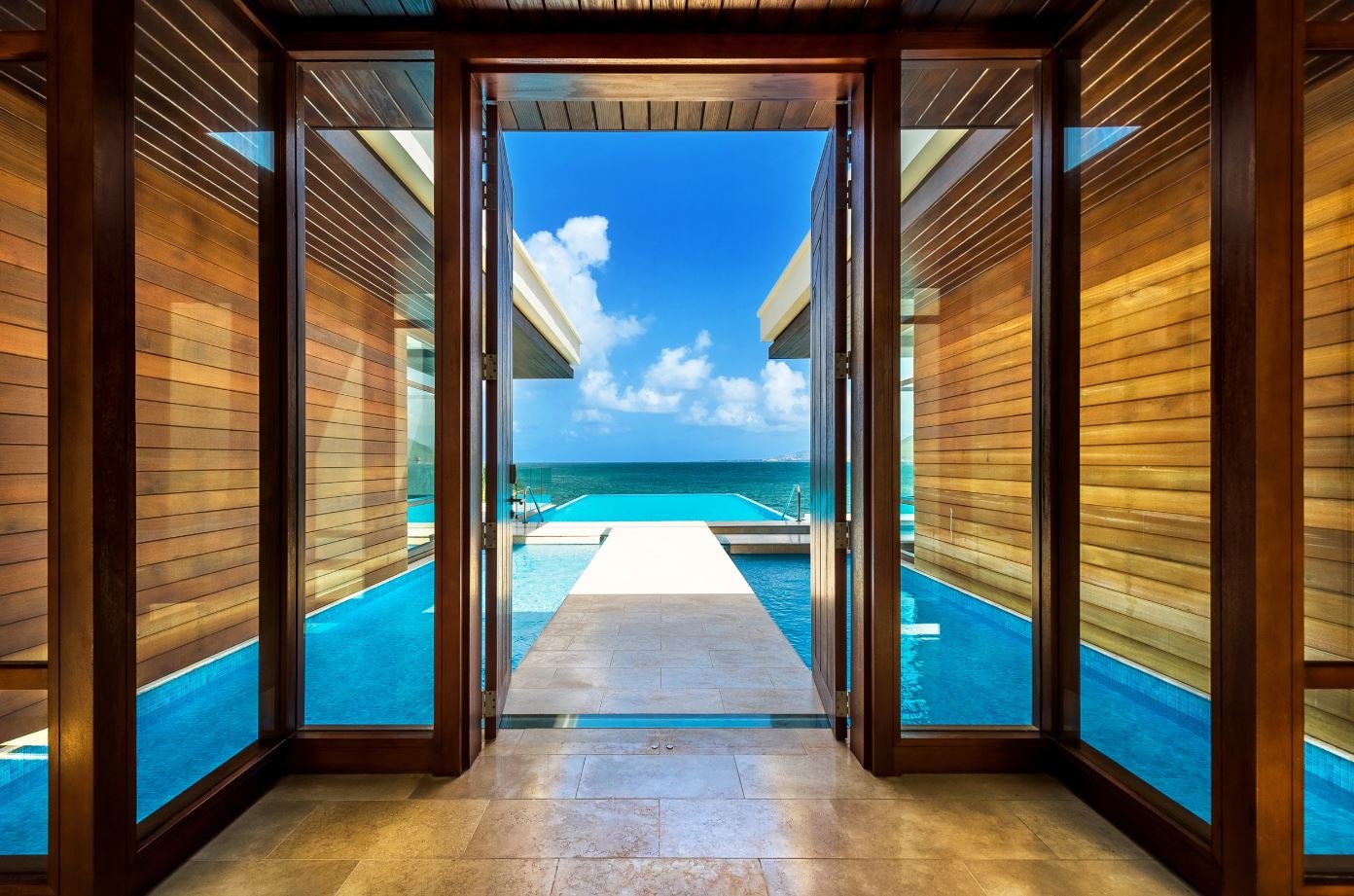 What does it take to be one of the world's buzziest hotel openings? An incredible setting, for one. Our picks span stunning beaches, remote parts of Africa, unexplored islands, prime city locations and places deep inside forests. Next, beautiful and thoughtful design that inspires and provides a strong sense of place. Local materials, art and antiquities (at one, even a village of ancient houses) play a role, but ultra-luxe elements such as giant slabs of imported marble and shimmering, curved glass facades bring these hotels to the next level. Finally, impeccable service and amenities, including Michelin-starred chefs, decadent spas and experiences that immerse you in the destination, provide the finishing touches that make these hotels so special. Read on to find your next must-visit locale.
BULGARI RESORT DUBAI
Opened December 2017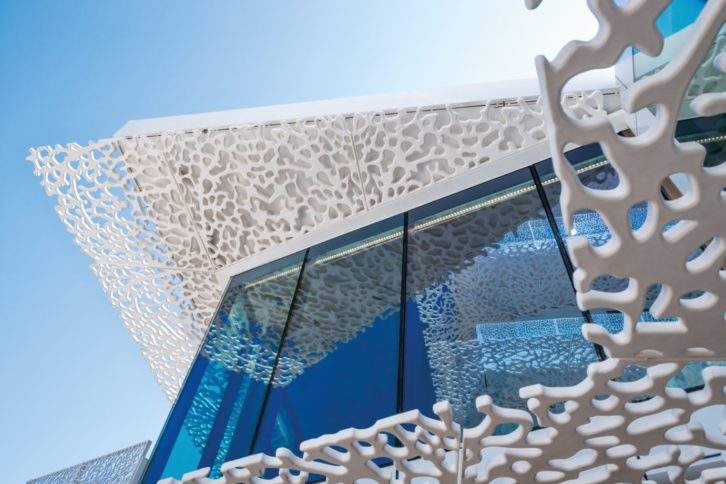 Designed to feel like an Italian village on the Mediterranean Sea, albeit one on a man-made, seahorse-shaped island in the Arabian Gulf, Bulgari's sprawling 1.4m-sq-ft compound has apartments, private mansions, a hotel, 50-boat marina and yacht club. Reputed to be Dubai's most expensive resort—which in a city as over-the-top as Dubai is really saying something—it has every conceivable amenity, including dining from a three-Michelin-starred chef and an incredible spa with views of Dubai's skyline from its infinity pool. Marble and stone abound throughout the resort; the exterior walls are dramatic slabs of Arabescata marble, and inside there's rare Iranian green onyx, Mongolian black granite and, of course, Italian marble. The brise-soleils resemble coral, and they cut a striking profile throughout the property. Providing absolute privacy is a collection of 20 villas, the most luxurious of which is the 5,800-sq-ft Bulgari Villa. The living room's double-height floor-to-ceiling windows open to a suspended wooden walkway that leads to an oval pool overlooking the ocean and a private beach. Butler service, a security entrance, full bar, kitchen that can cater for up to 100 people and a 5,400-sq-ft private garden make it the perfect spot for entertaining.
THE EXPERIENCE
Have an Italian feast with a menu by three-Michelin-starred chef Niko Romito in La Limonaia, a walled secret garden filled with lemon trees. Designed as an ancient Roman garden, a birch walkway follows a geometric pattern as it winds its way through the fragrant trees.
Bulgari Villa from $55,000 per night with five-night minimum booking. Contact Pep Lozano, general manager, dubai@bulgarihotels.com, bulgarihotels.com
AMANYANGYUN, CHINA
Opened December 2017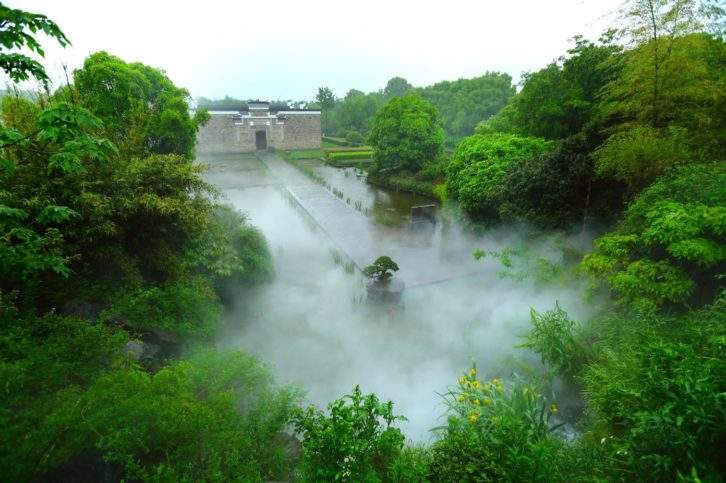 To create this resort just outside Shanghai, Aman relocated an entire forest and collection of antique dwellings, transporting them 435 miles from the Jiangxi province. Through this decade-long venture, Aman saved 10,000 camphor trees from imminent destruction as plans were set to clear the land for a reservoir. A collection of Ming and Qing dynasty homes were also in danger of being destroyed, so they were moved and meticulously reconstructed among the 1,000-year-old trees. When Amanyangyun opened late last year, the scale of this ambitious project was finally revealed, along with the resort's distinctly Aman aesthetic. Kerry Hill Architects injected the luxury hotel brand's minimalist style into each light-filled space, incorporating wood, stone and bamboo, private pools and outdoor fireplaces, and giving the four- and five-bedroom Antique Villas individual courtyards. A highlight of the resort is the 30,569-sq-ft spa featuring two pools, a yoga studio and thermal facilities with treatments combining natural apothecary with Chinese well-being
tradition: local herbs and massage that stimulates the body's meridian lines come together in the spa's signature journey. The food is another triumph. While the restaurant Lazhu pays homage to the Jiangxi region's cuisine, Nama showcases traditional Japanese delicacies, and the lakeside restaurant Arva serves farm-to-table Italian plates by chef Junio Andrea Torre, who previously helmed the kitchen at Aman Venice.
THE EXPERIENCE
Try your hand at calligraphy or Chinese painting and practice the art of the tea ceremony in one of the nine tranquil tearooms in the resort's focal antique villa, Nan Shufang. Taking its name from the Forbidden City's royal reading pavilion, this magical building is dedicated entirely to cultural insight.
Four-bedroom Antique Villa from $11,827 per night. Contact Joyce Bao, reservations manager, jobao@aman.com, +86 218 011 9999, aman.com
PARK HYATT, ST KITTS
Opened November 2017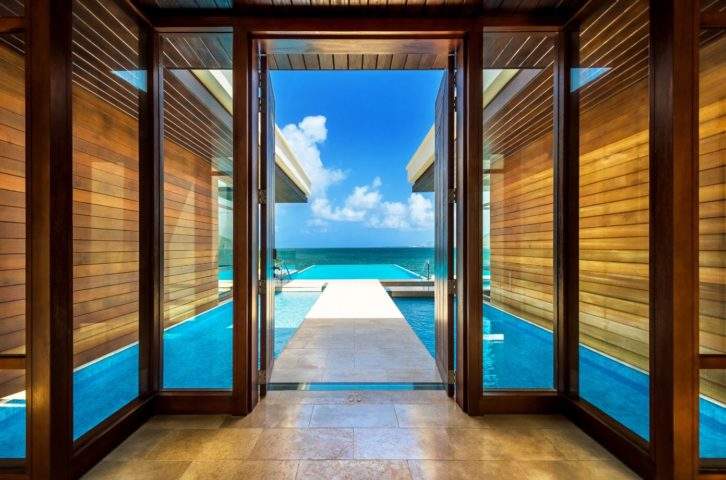 Nestled between green hills and beautiful beaches and overlooking the Narrows, the Caribbean's first Park Hyatt hotel would have been incredible enough on its own. Adding the region's first Miraval Life in Balance Spa transforms it into a tropical wellness oasis. Fans of the world-famous Arizona retreat will love its new beachfront setting, where hikes are surrounded by palm trees instead of saguaros. Part of the Christophe Harbour community, built on a previously undeveloped part of St Kitts, the resort makes the most of its oceanfront setting with floor-to-ceiling windows showcasing the views and casually elegant Kittian decor that doesn't overpower the landscape's natural beauty. For absolute luxury, check into the three-bedroom Presidential Villa. When you arrive in St Kitts, your dedicated butler will whisk you away to the Yu Lounge for private customs clearance. In your villa, you'll design bespoke menus with the help of executive chef Pankaj Bisht; then your private chef will cook for you in the villa's kitchen. The villa has a private gym, pool table, game room and beautiful outdoor spaces. Instead of running parallel to the villa, the dramatic, raised 25-ft plunge pool extends toward the ocean and Nevis.
THE EXPERIENCE
Step back in time and learn about St Kitts's history with a private tour led by an island historian. Visit Brimstone Hill Fortress, a Unesco World Heritage site that served as an important British military post, and other historical landmarks. Cross the Narrows to Nevis and you can tour the house Alexander Hamilton grew up in.
Presidential Villa from $14,000 per night. Contact Mark Guthrie, director of sales and marketing, parkhyattstkitts@hyatt.com, +1 869 468 1234, stkitts.park.hyatt.com
THE LOREN, BERMUDA
Opened April 2017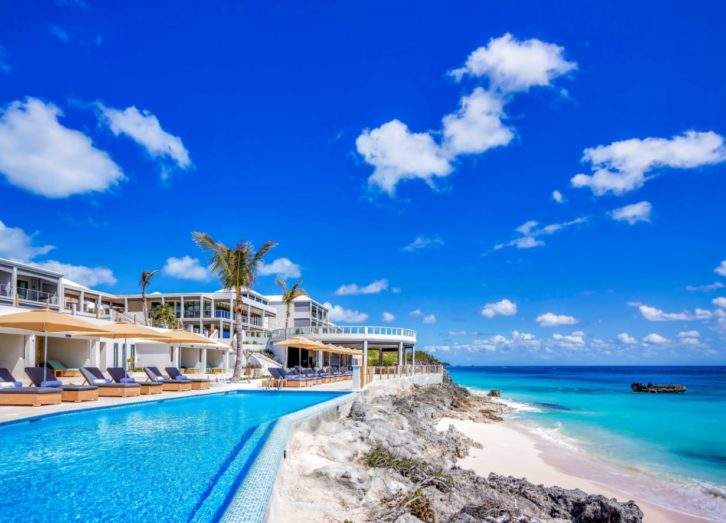 The newest hotel in Bermuda—the country's first new-build hotel in 45 years, in fact—is a striking modern boutique property located on the site of the old Pink Beach Club. Past guests of the club will hardly recognize the area, except for its namesake beach and dramatic rocky bluffs. Gone is the charming English elegance, replaced with a sleek contemporary space where expansive windows flood the place with light and showcase its proximity to Bermuda's famous turquoise water. A floating glass spiral staircase leads from the lobby to the bar and Marée, a restaurant offering a fabulous tasting menu that is best enjoyed alfresco on the patio. Don't miss chef Tim Sullivan's interpretation of the island's fish chowder. The bar harks back to old Bermuda with dark wood, a clubby environment and vintage photographs adorning the wall. The hotel boasts a significant modern art collection, much of which came from owner Stephen King's personal trove or was commissioned by King for the hotel. The Loren is built into a cliff, so every suite has gorgeous ocean views from its own private terrace, just outside floor-to-ceiling windows. If traveling with a group, book The Residence, a gracious two-story villa with three bedrooms, a plunge pool, pool deck, grill area and chef's kitchen.
THE EXPERIENCE
Locally grown food can be difficult to come by on the small, densely populated island. The Loren's restaurants score their ultra-fresh ingredients from Wadson's Farm, in Southampton, Bermuda, and this fall the hotel is hosting a series of dinners at the farm, enabling you to taste the bounty right where it is harvested.
The Residence from $12,000 per night. Contact Anna Gaffney, general manager, anna@thelorenhotel.com, +1 441 293 1666, thelorenhotel.com
TAJ EXOTICA RESORT & SPA, ANDAMANS
Opened February 2018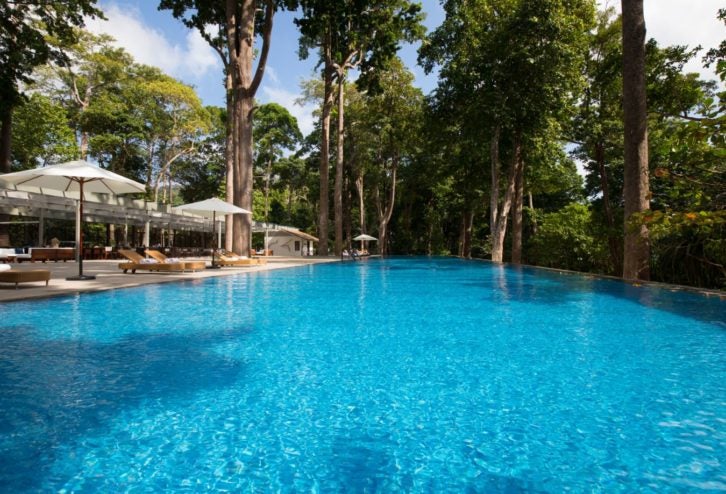 If you haven't heard of the Andaman Islands, an Indian archipelago in the Bay of Bengal, you're not the only one. But once you see its virgin white-sand beaches fringed by tropical forests and mangroves, and the incredible rustic luxury of Taj Exotica Resort and Spa, you'll be booking your next vacation to the idyllic spot. Located on Radhanagar Beach, the sustainable resort was built with great respect for the environment (Taj did not cut down a single tree during construction). Fifty pitch-roof stilted huts, designed in the tradition of the Jarawa tribe, dot the 46-acre property. The cuisine is also regionally inspired—at The Settlers restaurant, the chef
researched local dishes brought to the islands by mainlanders and recreated modern versions with locally sourced produce and seafood. Relaxation and water sports are why visitors come to the Andamans, so the on-site kayaking, snorkeling and diving are undoubtedly highlights of any visit, as is the stilted 6,400-sq-ft Presidential Suite, complete with private elevator, 65-ft-long swimming pool and butler service.
THE EXPERIENCE
Guided by the resort's resident naturalist, kayak at night through the mangroves to observe the fascinating bioluminescent phytoplankton. While you glide through the water, the ocean's surface will look like a starry night sky as the plankton emit a mesmerizing glow.
Presidential Suite from $3,000 per night. Contact Abnash Kumar, general manager,
abnash.kumar@tajhotels.com, tajhotels.com
WILD COAST TENTED LODGE YALA, SRI LANKA
Opened November 2017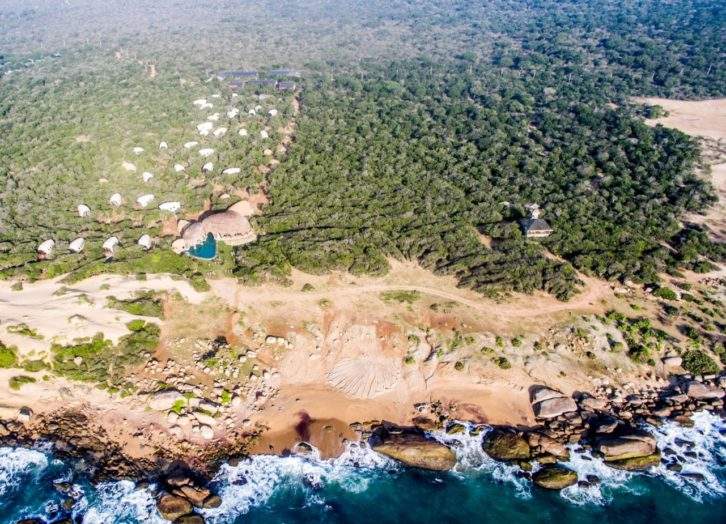 Quite unlike any other resort in this part of the world, Wild Coast Tented Lodge Yala looks as though it's been transported from rock-strewn African plains, pairing a safari aesthetic with a unique setting between a wild stretch of Sri Lanka's southern coast and Yala National Park. The park features more leopards per acre than any other place on earth, and in homage, the forested resort's cocoon-like standalone suites are arranged in a formation that mirrors the shape of a leopard's paw prints. Soaring ceilings and double-height glass sides maximize the views from each tented suite, where teak floors and canvas walls meet safari-inspired four-poster beds and freestanding copper bathtubs. Choose a beach-facing suite to have your own plunge pool overlooking the sand dunes and rocky shores. Designed to reflect the coastline's boulders, the open-air bamboo-clad restaurant and bar is as striking as the suites. Soak in the lodge's free-form wraparound swimming pool, dine on Sri Lankan dishes from a menu that changes daily, and catch the sunset with a cocktail. A picnic amid the dunes is another tempting option.
THE EXPERIENCE
Accompany a knowledgeable naturalist guide and search for the leopards, elephants and sloth bears the region is famous for in the neighboring national park. With years of experience, the camp's guides can take you to the quietest corners of the park and provide insightful commentary every step of the way.
Cocoon Pool Suite from $507 per person per night. Contact Dilshan Gnanapragasam, general manager, dilshan.gnanapragasam@resplendentceylon.com, +94 117 745 708, resplendentceylon.com
JABALI RIDGE, TANZANIA
Opened September 2017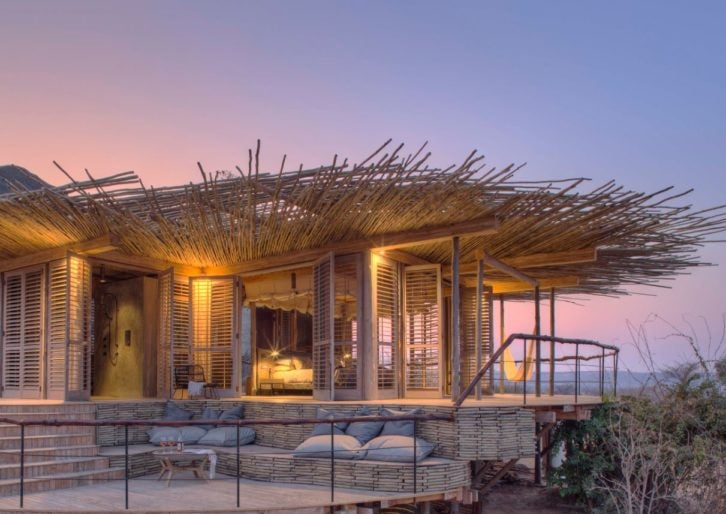 Jabali Ridge seems almost invisible on approach, blending seamlessly into the rocks it's nestled by in the stark landscape of Ruaha National Park. Positioned on a rocky outcrop, the lodge looks out over the park's vast plains, with two towering baobab trees marking the lodge's entrance and the surrounding granite rocks acting as its walls. The interiors are designed to showcase the views from every corner of the room, and louvred shutters allow you to completely open the sides. Understated opulence is the theme throughout the entire property, with hand-dyed linen, woven-palm matting, cane chairs and iron light pendants filling the wood-and-stone interiors. Most striking are the baobab branches jutting out from the roofs to mirror the surrounding landscape. Wooden walkways connect the eight villas to the stilted main lodge, where you can cool down in the infinity pool, dine by candlelight and share stories of your day at the specialty gin bar.
THE EXPERIENCE
Witness the majesty and abundance of wildlife in Ruaha, Tanzania's largest national park, by venturing out on a game drive at sunrise or in the late afternoon. Ruaha has the largest elephant population of East Africa's parks and is the hunting ground for super-prides of lions. These packs of 20 to 30 lions are a natural phenomenon that can only occur in just the right conditions. A limit is placed on the number of visitors allowed into the park at one time, ensuring your group has this wilderness to yourselves.
From $1,567 per night. Contact Fiona Herring, senior sales consultant, fiona@asiliaafrica.com, +44 203 239 4474, asiliaafrica.com
AWASI IGUAZÚ, ARGENTINA
Opened February 2018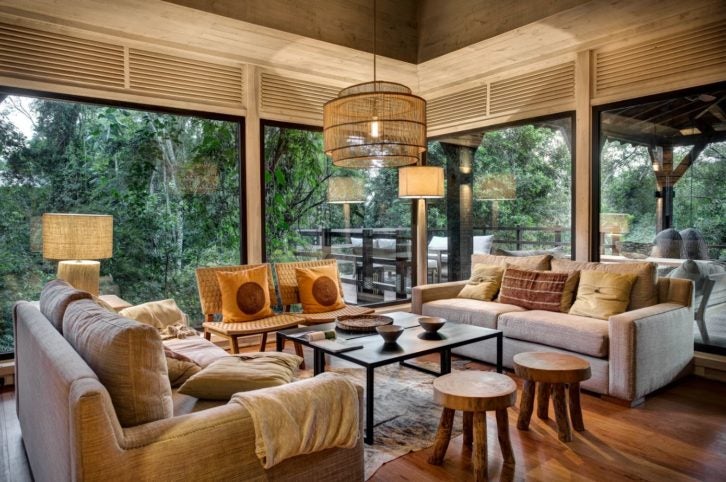 Awasi's latest luxury lodge sits on the edge of Iguazú National Park, just a short drive from the reserve's famous thundering waterfalls. Lush rain forest envelops the resort's 14 stilted standalone suites, immersing each one in a dense canopy where coatis and elusive jaguars roam and toucans peer down from their perches in the trees. Buenos Aires–based designers Patricia Diedrichs and Eugenia Choren furnished each cabin with wood, linen and a palette of neutral tones, finished with botanical prints and paintings by local artists and baskets woven by the Guarani tribe. Each cabin comes with a private terrace and plunge pool.Winding stone paths connect the suites to the main lodge, where guests gather to dine on multicourse meals of prettily plated dishes with Relais & Châteaux rating, and sip cocktails at a bar crafted from native wood. Each suite is assigned its own four-wheel-drive and private guide, so you have complete freedom to venture out at your own pace. Iguazú Falls is understandably the region's biggest draw, but there's so much more to discover, from meeting the local Guarani community to exploring the region's 18th-century ruins.
THE EXPERIENCE
By working with local experts, Awasi has created a series of experiences that give greater insight into the Atlantic Forest that surrounds the lodge. Thousands of endemic species exist here, and it's thought to be Argentina's most biologically diverse area. Navigate the forest trails with an expert in regional birdlife, kayak along its waterways and meet the local Guarani tribes to find out about life in the forest.
From $2,100 per person per night. Contact Diego Borjas, head of reservations, dborjas@awasi.com, +1 888 880 3219, awasiguazu.com
BISATE LODGE, RWANDA
Opened July 2017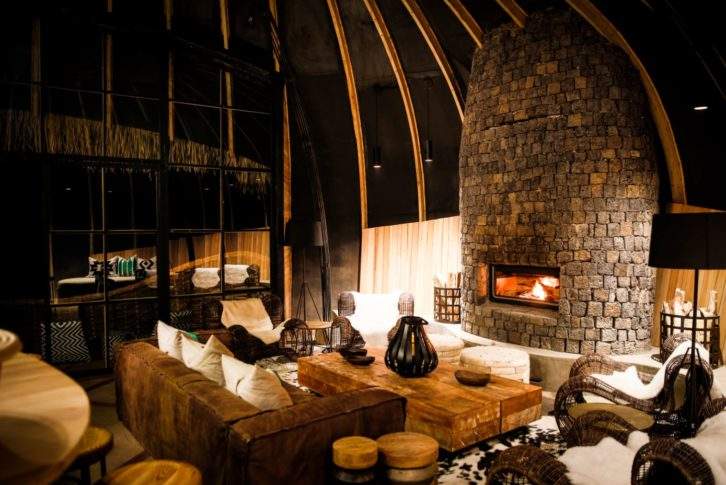 A number of incredible properties are opening in Rwanda, making it one of 2018's most-talked-about destinations for luxury travel. Among these arrivals is the latest lodge from Wilderness Safaris, which focuses on introducing travelers to the region while pioneering conservation and community projects—it planted more than 15,000 trees before it even opened. Located at an altitude of 8,700ft, the camp lies within the amphitheater of an eroded volcano cone on the edge of Volcanoes National Park. This thrilling setting gives the lodge and its six forest villas easy access to the park's gorilla-trekking headquarters, as well as the privacy of being among the trees and sweeping views of the region's volcanoes. The architecture and interior design were inspired by Rwandan tradition, with domed thatch villas echoing the shape of Rukari Palace and decor incorporating the same emerald green as the forest, circular stone fireplaces, patterned textiles and private decks with woven railings. In the cool evenings, dine on slow-cooked, healthy-but-hearty dishes fusing Rwandan flavors with international influence, paired with wine from a cellar featuring a chandelier made from 358 glass bottles.
THE EXPERIENCE
After tracking Rwanda's mountain gorillas and experiencing the lodge's conservation efforts first-hand, join Bisate's barista for a Rwandan tea-and-coffee tasting. Both crops flourish in Rwanda's temperate climate. Here, you can try different top-quality brews amid the undulating landscape they originate from, while listening to the stories behind their production.
From $1,155 per person per night. Contact Rob and Ingrid Baas, general managers, enquiry@wilderness.co.za, wilderness-safaris.com
FAIRMONT MALDIVES SIRRU FEN FUSHI
Opened April 2018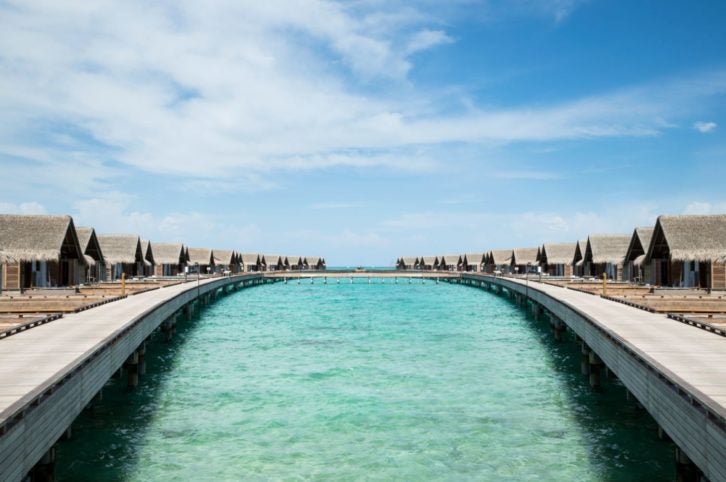 The latest addition to Fairmont's portfolio of legendary hotels, which includes The Plaza New York and The Savoy London, Fairmont Maldives Sirru Fen Fushi certainly isn't compromising on luxury. Nor is the turquoise lagoon and white sand of the Shaviyani Atoll any less mesmerizing than that of its neighboring islands. But the resort has some less conventional hallmarks too, fulfilling people's desire for something unexpected beyond the idyll we've come to expect of the Maldives' many superlative resorts. The most exciting feature here is the underwater sculpture museum created by British artist Jason deCaires Taylor, whose work has been declared one of the Top 25 Wonders of the World by National Geographic. The accommodations feature overwater and beach-facing villas, plus a safari-style tented jungle villa tucked into a lush grove, with a master suite and second bedroom, which both lead out to a private sala and pool. For each meal, you have a spectrum of international culinary styles to choose from, in light, bright dining spaces of wood and stone. For a sunset cocktail, head to the Onu Onu pool bar, which is almost entirely made of bamboo with a thatched roof that's inspired by Balinese architecture.
THE EXPERIENCE
Take inspiration from Taylor's underwater artworks and sculpt your own pieces in the island's art studio. With a helping hand from a resident artist, you can create your own masterpiece to take home. Materials and tools for painting and drawing are also available for you to use on your own or with guidance.
Three-Bedroom Water Sunset Villa from $7,650 per night. Contact Melanie Hofler, marketing manager, reservations@gbh.mv, +960 654 8888, fairmont.com
FOUR SEASONS MEGÈVE, FRANCE
Opened December 2017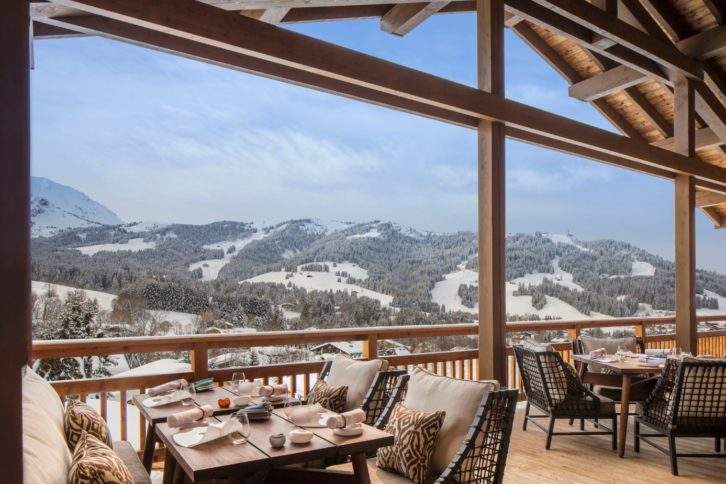 Though it's true that Four Seasons Megève, a charming modern alpine chalet located directly on Mont d'Arbois, is only open during two seasons, you will have trouble deciding which is more delightful. In winter, there's the region's only in-house ski valet and ski concierge, who will clean your gear and welcome you each morning with warmed boots and perfectly waxed skis, then help you plan an itinerary based on the current conditions across Megève's 277 miles of slopes. In summer, you can't beat adventures such as hot-air ballooning, canyoning, mountaineering and golf on the 18-hole Mont d'Arbois golf course, designed in 1964 by Sir Henry Cotton. At both times of year picturesque views abound and charming towns await your discovery, as does Le 1920, chef Julien Gatillon's two-Michelin-starred restaurant. Explore its interesting wine list that showcases the Rothschild family's vineyards and magnificent 10-course gastronomic experience with dishes such as Brittany langoustine served two ways. In summer, you can enjoy your decadent meal on the terrace. The resort also has the largest spa in the region, with an indoor/outdoor pool with underwater music and a fireplace for chilly evenings. The three-bedroom Suite des Alpes occupies the entire sixth floor of the hotel and has two outdoor balconies, a living room, dining room and lovely alpine decor—think curling up in a fur chair next to a roaring fire.
THE EXPERIENCE
Don't want to feel confined by one ski area? With the help of the ski concierge, plan a ski safari and hit Megève, Chamonix, Courchevel and Val d'Isère during your trip. Each morning the concierge will design a route to chase the day's best snow conditions, and your helicopter will quickly fly you to each spot. In addition to skiing, there will be fabulous views of Mont Blanc, and you can arrange a champagne picnic at a remote locale.
Suite des Alpes from $11,600 per night. Contact Aurore Franquin, marketing director, aurore.franquin@fourseasons.com, +33 450 211 211, fourseasons.com
THE FONTENAY HAMBURG, GERMANY
Opened March 2018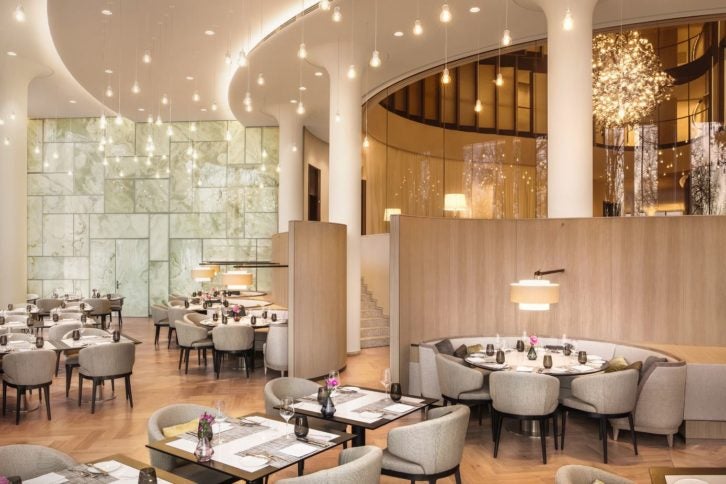 Hot on the heels of the Elbphilharmonie, Hamburg's groundbreaking new concert hall, the city has another prominent arrival, this time in the form of a luxury hotel. Situated amid leafy parkland on the shores of Lake Alster, the hotel's structure of three intertwining circles reflects the city's dynamic spirit. The ambitious curving design by Hamburg-born architect Jan Störmer allows for each of the 131 guest rooms and suites to have a scenic view, and the glass walls and inner atrium flood the entire property with light. Not to be missed is the sixth and seventh floors' roofscape—a space that seamlessly connects the terraces of the panoramic Fontenay Bar, 65-ft indoor-outdoor pool and adjoining spa. The hotel also has a first-rate fitness center, although joggers would be hard pressed to find a lovelier running path than the 4.7-mile route around the lake. The two-bedroom Fontenay Suite, meanwhile, has an airy feel and uninterrupted city and lake views thanks to its 9.4ft-high ceilings and floor-to-ceiling windows, with oak parquet flooring, design features by Georg Jensen and artwork by the Peruvian painter Antonio Máro dressing the space beautifully.
THE EXPERIENCE
Discover the city's creative energy by setting out on a private guided art and architecture tour that delves into the diversity of artists' and designers' work in Hamburg, including cutting-edge creations by acclaimed design firms such as Zaha Hadid Architects. Equally as diverse, the city's art collections cover nearly 700 years of history, right up to the present day.
Fontenay Suite from $11,171 per night. Contact Marlon Radon, reservations manager, reservations@thefontenay.de, +49 406 056 605 850, thefontenay.de
WALDORF ASTORIA BEVERLY HILLS, CALIFORNIA
Opened June 2017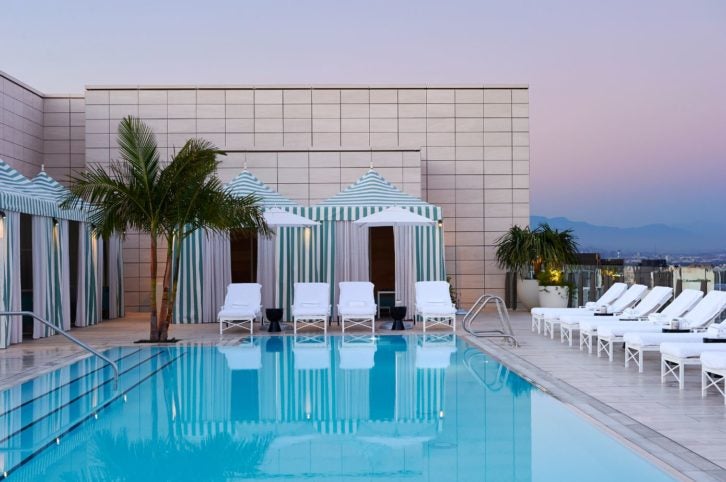 In a city overflowing with five-star accommodations, it seemed nearly unimaginable that a new property could open and upend Los Angeles's tony hotel scene. But shortly after launching last summer, it was clear that the Beverly Hills Waldorf's opulent residential feel, dining by Jean-Georges Vongerichten, celebrity-filled bar, La Prairie Spa (the brand's only outpost in the city), impeccable service and supremely Instagrammable rooftop pool all combined to eclipse its neighbors and create the city's newest hot spot. At the crossroads of Wilshire and Santa Monica boulevards, the newly constructed property showcases serene and luxurious decor from Pierre-Yves Rochon, who is currently hard at work redesigning the iconic Waldorf Astoria New York. Just below its fashionable rooftop scene is the ultra-luxe Presidential Penthouse Suite, with floor-to-ceiling windows and a private 1,459-sq-ft terrace that allow you to enjoy views of the hills. There's also a private wellness area with spa room and mini gym, dining room, full kitchen and Noir Saint Laurent marble throughout.
THE EXPERIENCE
Should a jaunt to Rodeo Drive call your name, take the house car (a Maybach) to meet one of the city's premier personal stylists. Together, you'll head on a swanky tour of the boutiques. Each stop will have VIP treatment and preselected pieces for you to try on, so you can plan for any event or refresh your wardrobe. If you want to shop in private, they can arrange for after-hours shopping or bring a selection straight to your suite.
Presidential Penthouse Suite from $20,000 per night. Contact Aileen Carreon, director of sales, aileen.carreon@waldorfastoria.com, waldorfastoriabeverlyhills.com
This story originally appeared in the May/June 2018 issue of Elite Traveler.