The Maldives, Sri Lanka, Mauritius and Seychelles – these Indian Ocean islands have become a byword for luxury. From a secluded bungalow overlooking one of the world's finest tea plantations to a honeymooners' retreat with its own private cove, our pick of the 10 best private villas in the Indian Ocean showcases the very best the region has to offer.
Villa 11, North Island, Seychelles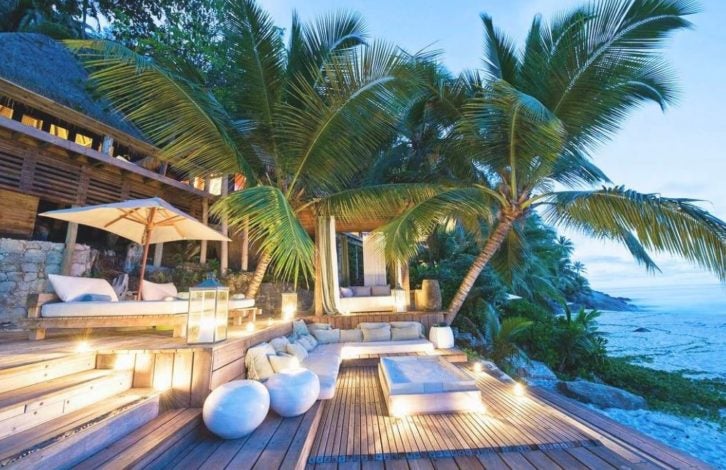 It's no surprise North Island is popular with a host of famous faces, including the Duke and Duchess of Cambridge, who spent their honeymoon here. Tucked away at the far end of East Beach and available only to couples, Villa 11 is the grandest choice and guarantees the utmost privacy and romance. There's a multitude of secluded spaces, spread out across tiered levels, that tumble down to a private beach for two. In a nod to the resort's sustainability ethos, locally-made furniture and recycled decorative glassware have been used throughout, introducing a note of rusticity among the sleek bathroom fittings designed by Philippe Starck for Hansgrohe. Elsewhere, luxurious touches, such as Ivano Redaelli linens and carpets handwoven in silk and Himalayan wool, abound. Special amenities: From homemade mango ice cream to sashimi made from your daily catch, an on-call butler will attend to your every whim. Cinema lounge, circular rim-flow pool, in-villa spa treatments.
Size 8,000 sq ft
Number of bedrooms One
Contact Nick Solomon, general manager, nicholass@north-island.com, north-island.com
Price From $10,317 per night
[See also: Top 100 Suites in the World]
Presidential Suite Sanctuary, Four Seasons at Anahita, Mauritius
Situated on the tip of the resort's 11-acre private island and sleeping six, this chic and contemporary villa amply lives up to its name. The finest modern comforts have been teamed with amuted palette, shell artworks and natural materials to create a retreat that's as zen as it is luxurious. Porta Romana lamps and a signature Pierre Frey wallpaper add serious style credentials in the spacious master bedroom; not that you'll be spendingmuch time indoors – the vast patio includes a heated swimming pool,whirlpool and day bed with panoramic lagoon views. For those traveling with family and friends, the suits now offers optional connectivity to the adjacent One Bedroom Ocean Pool Villas via a private corridor. Special amenities: The opulent master bathroom, complete with outdoor shower and a 5ft natural sandstone tub beneath an ornate glass chandelier. Butler service, plus a wine and champagne fridge.
Size 4,854 sq ft
Number of bedrooms Three
Contact Davina Bansropun, reservations manager, davina.bansropun@fourseasons.com, fourseasons.com/mauritius
Price From $10,136 per night
Romantic Pool Residence, Velaa Private Island, Maldives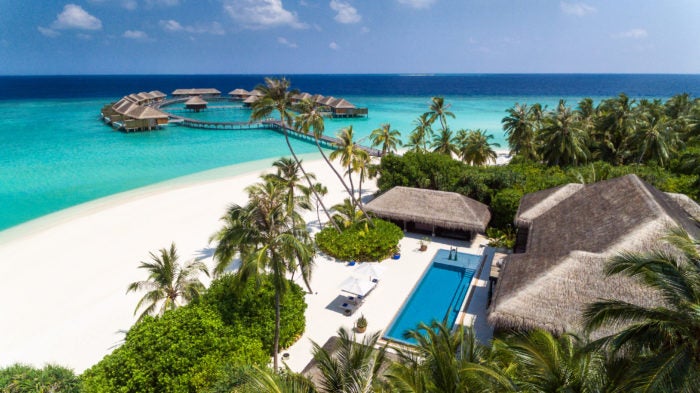 Honeymooners and lovers old and young will find it hard to tear themselves away from this dreamy villa, isolated from the rest of the resort, accessible only by boat. Contemporary monochrome design featuring splashes of vibrant color, with rich woods and carefully considered lighting maintain a suitably laid-back vibe. Suspended above a lagoon, the suite offers little incentive to explore further afield. With a personal gym, spa treatment rooms, a private chef and butler, guests have everything they need for an uninterrupted break from the rigors of daily life. If you do decide to venture out, there's plenty to amuse, from deciding which bottle to choose from the 6,000-bottle wine "cellar" to a round of golf on the 2.5 acre course or even a private cruise on the resort's yacht. Special amenities: Cocktails in the sunken bath, brought to you by your butler. Private beach, swimming pool, Jacuzzi, pool table, full-size Clarins toiletries.
Size 13,000 sq ft
Number of bedrooms One
Contact Gabriela Markova, director of sales and marketing, gabriela.markova@velaaisland.com, velaaprivateisland.com
Price From $8,000 per night
Presidential Suite Pool Villa, Maradilva Villas, Mauritius
At the heart of this award-winning resort sits your very own private paradise. The 3,713 sq ft complex boasts Italian marble-clad bedrooms with en-suite bathrooms equipped with large tubs and rainfall showers, a kitchenette plus a spacious living area with home cinema. Each bedroom has its own lush garden-patio, outdoor shower and walk-in closet. The villa has direct access to the beach, but you'll struggle to tear yourself from the 183 sq ft infinity pool. Special amenities: Bespoke excursions organized by the concierge – such as a day trip in a Rolls-Royce Phantom with a personalized picnic basket. In-villa dining and spa treatments, 24-hour butler.
Size 3,713 sq ft
Number of bedrooms Two
Contact Criss Albert, head concierge, reservation@maradiva.com, maradiva.com
Price From $5,505 per night
Beachfront Villa, Raffles Seychelles
Top interior architectural design firm Wilson Associates, the creative brains behind the St. Regis Macao, Shangri-La Bangalore and others, has taken a meditative approach to Raffles Seychelles' largest villa, located within steps of the beach. From the calming neutral tones and natural woods used throughout the bedroom space to an abundance of greenery and fresh flowers, a strategically placed bath tub to facilitate star gazing, yogamats and even an easel and sketch pad for whiling away the hours in quiet contemplation, each element encourages total relaxation. The generous living area opens onto a balcony boasting a sheltered pavilion with day bed, dining table and a dedicated barbecue area, where a private dinner can be prepared by one of the resort's chefs. Special amenities The famed Raffles butler service, 24-hour in-villa dining, in-villa yoga and pilates classes and spa treatments, two bars, double walk-in closet, limousine transfer.
Size 2,960 sq ft
Number of bedrooms Two
Contact Joerg Roterberg, general manager, mailto:bookus.praslin@raffles.com raffles.com/praslin
Price $2,885 per night
Owner's Cottage Ceylon Tea Trails, Sri Lanka
Arguably one of Sri Lanka's finest hotels, the world's first tea plantation resort consists of five converted colonial bungalows high in the hills of the Bogawantalawa region. The secluded and self-contained Owner's Cottage, perched 4,750ft above the majestic Castlereagh Lake, is the ultimate romantic retreat, elegantly furnished with classic pieces, a canopied king-size bed and a striking fireplace in the living room for chilly nights. The huge bathroom is a real treat – twin tubs placed side by side enjoy enviable views of the lush fields below. Meanwhile, the infinity pool and adjoining hot tub is the place to head to watch the sun set after a day of white water rafting or mountain biking around the tea fields. Special amenities: "Bed tea" is not to be missed – guests are awoken with a pot of their favorite tea, brewed from leaves freshly plucked from the surrounding estate. A dedicated butler and chef plus, of course, the afternoon tea.
Size 2,000 sq ft
Bedrooms Two
Contact Suraj Perera, general manager, suraj.perrera@resplendentceylon.com, resplendentceylon.com/teatrails
Price From $1,268 per night
Private Reserve, Soneva Fushi, Maldives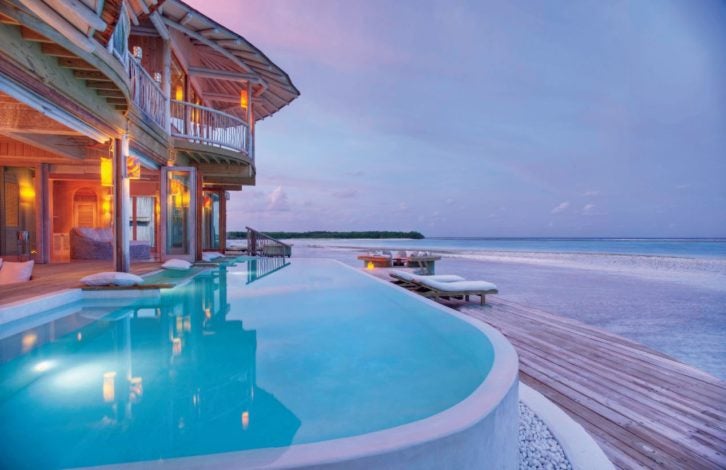 Palm-frond roofs, woven ropes, tree-branch bannisters and a water slide leading to an enormous lagoon-style pool – this beachfront mansion is the stuff of childhood (and grown-up) dreams. There's a pantry, walk-in wine cellar and mini-bar, children's playroom, study and TV lounge, as well as a private outside sitting area with sun loungers and direct access to the beach. For those seeking privacy, the master bedroom has its own pool, spa bathtub and sundeck. Special amenities: The spectacular sunken dining area in the middle of the swimming pool, which is lit by lanterns at night, is a showstopper. A private spa, sauna and fitness room, a dedicated butler and access to Cinema Paradiso, Soneva Fushi's open-air theatre, with cushioned loungers, popcorn and over 60 flavors of ice cream.
Size 18,175 sq ft
Number of bedrooms Nine
Contact Godrefy Vas, general manager, grm-fushi@soneva.com, soneva.com
Price From $30,600 per night
The Villa Residence, One&Only Le Saint Geran, Mauritius
It's the detail that makes this grand villa, hidden in a quiet corner of the resort's expansive grounds, so special – little touches such as fruit bowls laden with fresh mangoes and papaya. Or the daily bath, expertly drawn with aromatic essential oils and fragrant petals, by the dedicated villa host. Then there's the pre-dinner sundowner cocktails and canapes, served on the terrace by the private swimming pool. Comfort is king here – the four-poster, king-size bed in the master bedroom will ensure a good night's sleep, while the cascading shower and double Jacuzzi bath should ease wearied limbs after a day of water sports. Special amenities: A villa host on hand 24-hours a day, team of butlers and a private chef. Welcome bottle of vintage champagne and XO Mauritian rum, a complimentary early dinner for guests departing on evening flights, a pillow, soap and fragrance menu.
Size 6,695 sq ft
Number of bedrooms Two
Contact reservations@oneandonlylesaintgeran.com, oneandonlyresorts.com
Price From $2,575 per night
Royal Banyan Ocean Pool Villa, Banyan Tree, Seychelles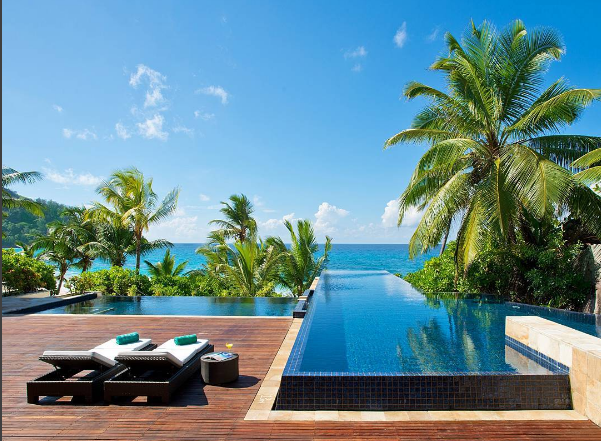 The former Presidential Villa is a favorite among couples and honeymooners, thanks to its cloistered setting – it occupies a private, secluded cove by the water's edge. It includes a spacious kitchen and can be combined with the nearby Hillside Pool Villa to form a sprawling two-bedroom, double-pool complex. Two Thai salas commanding full views of the Indian Ocean make scenic spots for the complimentary 90-minute massages, afternoon tea or pre-dinner cocktails. Or head indoors, where your villa host will prepare an indulgent soak complete with relaxing music, oils and wine. Special amenities An expansive infinity pool that flows over granite boulders. Villa host, two powder rooms, his and hers dressing area, pool decks with sun loungers, outdoor jetpool and steam room.
Size 4,800 sq ft
Number of bedrooms One
Contact Ricardo Suarez, general manager, seychelles@banyantree.com, banyantree.com
Price From $2,000 per night
Private Reserve, Gili Lankafushi, Maldives
"A decadent palace," "flawless jewel," "rustic uber luxury" – Gili Lankanfushi doesn't hold back in the promotion of its top suite, reputedly the largest over-water villa in the world. But the praise is well deserved. In fact, there aren't enough superlatives to adequately describe the Private Reserve, a five-unit complex in the middle of a shimmering turquoise lagoon. Accessible only by boat, the thatched-roof property features glass doors throughout, which can be opened up for uninterrupted vistas of the Indian Ocean. Oenophiles will delight in the wine selection of some 400 labels, from which guests are invited to design their own cellar. Special amenities: Mr and Ms Friday – an (optional live-in) personal assistant, on call 24/7. They can accommodate any request, from booking spa appointments and sunset cruises to unpacking luggage. A private cinema, personal chef, on-demand spa treatments, sauna and steam room, personal motorized transfer boats, water slide and a terrace with infinity pool.
Size 5,577 sq ft
Number of bedrooms Four
Contact Steven Phillips, general manager, steven.phillips@gili-lankanfushi.com, gili-lankanfushi.com
Price From $12,495 per night