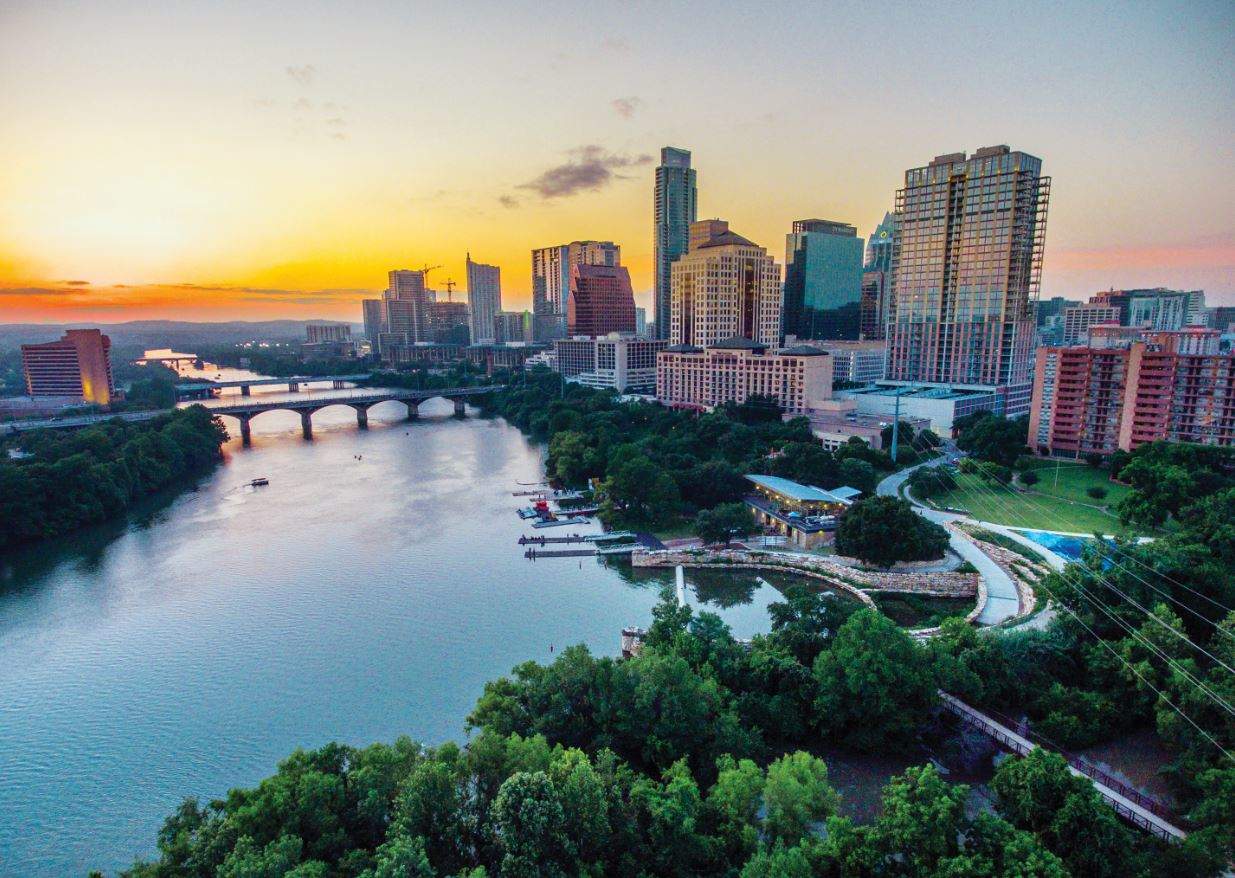 By Becca Hensley
This story originally appeared in the May/June 2018 issue of Elite Traveler.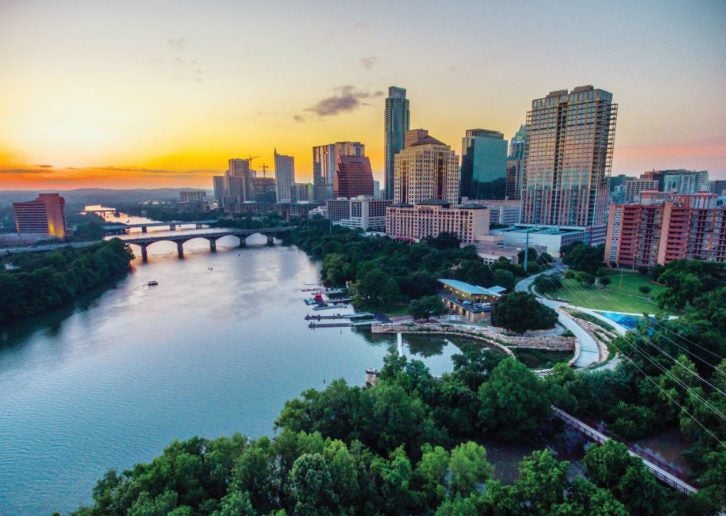 People say that Austin isn't like the rest of Texas. But the truth is that this capital city, set amid emerald hills and glimmering lakes, is so idiosyncratic it isn't like any place else—anywhere—period.With a proud outlaw's outside-the-box vibe, the metropolis harbors hipsters, yogis, sophisticates, tie-wearing business folk, politicos, professors, athletes and artists. Its vibrant downtown straddles a fitness-trail-girded lake, crossed by bridges aplenty. Beneath one, Ann W Richards Congress Avenue Bridge, lives the world's largest urban bat colony. Each year from April to October, more than 50,000 tourists come to watch the 1.5 million migratory creatures emerge at dusk, a vast ribbon of black dots heading out for an evening meal of insects. Beyond bats, the city has bragging rights to a rich and varied live music scene fed by untold numbers of local musicians, more than 300 music venues and several world-renowned music festivals. A fitness paradise, Austin is perfect for residents addicted to stand-up paddleboarding, kayaking, running and cycling. Celebrity chefs, mixologists who pour glasses of magic and food pioneers (Whole Foods and Tito's Vodka began here) keep the denizens sated—as do organic farms and a wine country that rolls out through peach orchards and pecan farms like an oenophile's fantasy carpet. There's a historic spring-fed pool with its own endangered species (a blind albino salamander), art in the parks, a sprawling university rife with intellectual opportunities, a state-of-the-art Formula One track, world-class museums and abundant mom-and-pop boutiques. Best of all, the population of two million connects so well with one another (and leans so toward unpretentious cool) that the city exudes a village intimacy celebrated by everybody. Whether you want handmade cowboy boots, barbecue, breakfast tacos or long nights spent in a boozy honky-tonk, Austin welcomes you with open arms.
TEXAN PURSUITS
Go speed racer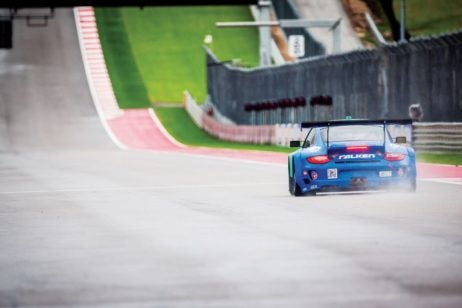 Austin boasts one of Formula One's fastest racetracks, Circuit of the Americas. Test your mettle behind the wheel of the all-new 2018 Audi RS 3 in a program that will exhilarate thrill seekers and amateur automobile enthusiasts alike. Learn proper competitive driving techniques while satisfying your inner speed demon as you tear around the track.
circuitoftheamericas.com/drive
Made for walking
Urban broncos from Yoko Ono to Arnold Schwarzenegger have found their two-step-worthy cowboy boots at Allens Boots in SoCo, one of Austin's trendiest districts. With an unequaled inventory listing more than 4,000 pairs of boots, it carries the best brands, from Old Gringo to Justin's. An exclusive partnership with Lucchese also allows shoppers to create top-of-the-line custom boots. In addition, Allens provides private (store closed) shopping opportunities for groups of 12 or more.
Wine not?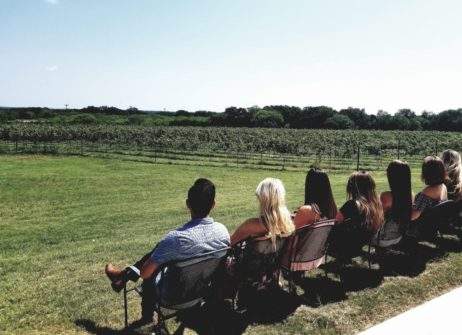 The Texas Wine Trail unfurls just a short drive from the heart of Austin. Undulating past scrub oaks, wildflower-dotted fields, peach orchards, vineyards, antique stores and picturesque hamlets, the marked road leads to 52 Texas wineries—with more opening each day. Leave the driving to someone else with Access ATX's VIP winelands tour. The custom outing includes perks such as private tippling in a wine cave and sommelier-paired Texas sips and bites, making this daylong jaunt an oenophile's winner.
Tune time
Austin proudly bears the moniker Live Music Capital of the World. Find out why with a behind-the-scenes tour of Moody Theater, home to ACL Live, PBS's long-running music series. Tucked into the vibrant Second Street District, the intimate concert space is a favorite venue for accomplished musicians and their fans. Hear some of the music world's best stories from ACL's famed photographer, Scott Newton, who leads an Austin Detours adventure through the theater and to other acclaimed music spots.
Bird's-eye view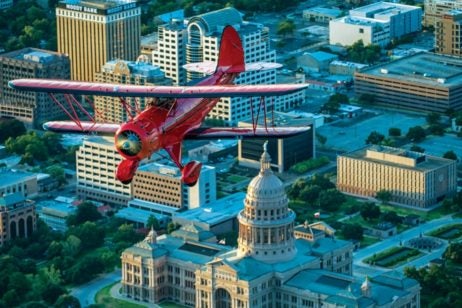 With a tantalizing skyline, a bevy of lakes and rivers, and abundant green hills, Austin is a jaw-dropping sight from above. Cruise over it on a helicopter tour with Helo Austin, which also offers wine or barbecue flights. Or, choose a romantic, old-fashioned bright red biplane as your aircraft. Rides by Austin Biplane even include barrel-roll options.
heloaustin.com, austinbiplane.com
ACT LIKE A LOCAL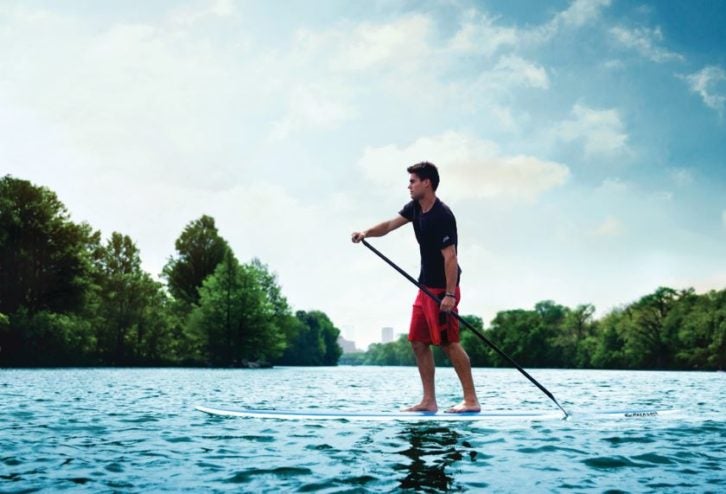 Eat chili at Texas Chili Parlor, where meaty, mouth-burning bowls are graded X to XXX for hotness. txchiliparlor.com
Stand in line at Franklin Barbecue for its world-famous brisket. franklinbbq.com
Learn to dance the Cotton-Eye Joe at Broken Spoke. brokenspokeaustintx.net
Take advantage of Austin's incredible climate and abundant nature—dive into the 68°F Barton Springs all year round, or waterski and stand-up paddleboard on Lake Austin.
Stand on the Ann W Richards Congress Avenue Bridge at dusk and watch 1.5 million bats emerge. batsinaustin.com
Slurp salsa, eat breakfast tacos and dip chips in queso at Tex-Mex favorites such as Gueros and Maudies. gueros.com, maudies.com
Take in a 3:30 happy-hour show at Austin's original honky-tonk, The Continental Club. continentalclub.com
Run or bike the 4.4-mile Lady Bird Lake Trail.
Climb to the highest point in Austin, Mt Bonnell—ideal for sunset.
WHERE TO DINE
Fonda San Miguel
For decades, this powerhouse of Mexican cuisine has been the place where Austin residents (and out-of-towners, too) have gathered to celebrate their lives. Evoking a hacienda feel with handmade furniture, bright Oaxacan colors and eye-popping art, Fonda serves up authentic regional dishes. Enjoy tortillas made as you watch, and the town's best margaritas any evening, but don't miss the bountiful Sunday brunch, which is a local institution.
Uchi
James Beard award winner Tyson Cole learned to cook under the tutelage of a chef
in Japan. When he returned to Austin, he brought a new appreciation for meticulous preparation and scrupulous presentation, as well as tried-and-true Japanese techniques. The success of Uchi, his first restaurant, led the rise of Austin's burgeoning gourmet food scene. Expect well-crafted Asian food with flair and Japanese style using farm-fresh Texas ingredients. Ensconced in a cozy South Austin bungalow, this contemporary eatery reflects both Austin's old guard and its openness to what is new. Taste some of Cole's favorites with the 10-course omakase menu.
Jeffrey's of Austin
For date night, reserve a table at Jeffrey's in Clarksville, a characteristic 'Old Austin'
neighborhood. This new-school steakhouse blends Mad Men–era panache with an intimate local feel. Don't miss the Gulf fried oysters and extensive caviar menu. And since we are in Texas, expect to be tempted by immense cuts of meat, such as a 42-ounce Beeman Family Ranch porterhouse.
Fareground
Emblematic of Austin's cool-kid vibe, Fareground opened downtown in January as the perfect noshing spot for gourmets who want it all. A stylish food hall designed by local architect Michael Hsu, the chichi eatery houses outposts by some of the capital city's most storied chefs—several of them honored by the James Beard Academy. From tacos to sushi, charcuterie to epicurean dagwoods, each diminutive restaurant within offers a slice of the city's culinary largesse. With menus (and bars) deeply committed to local ingredients, this all-day dining spot oozes see-and-be-seen appeal—not to mention unforgettable flavors. A highlight? Bake shop Easy Tiger's artisanal breads.
Emmer & Rye
An homage to the farmer's bounty, Emmer & Rye particularly honors the world's lesser-known grains via creatively executed presentations and combinations. Chef Kevin Fink, a James Beard finalist and alumnus of Noma and French Laundry, redefines ordinary cuisine without affectation at this extremely unique restaurant. Aptly situated in the Rainey Street Entertainment District, the eatery keeps things fun with a brunch pastry cart and dim sum–style service at other mealtimes. Choose items bursting with flavor and anchored by grains, such as short-rib carnitas in a hominy broth or green Emmer garganelli with pork belly.
TOP SUITES
The Cattle Baron Suite
The Driskill
A century before Austinwas a hipster paradise or a music mecca, it beckoned settlers to the West. The Driskill, situated among the Bourbon Street–like ruckus of West Sixth Street, began in Victorian times as the vision of cattle baron Jesse Driskill. A palatial haven of glitz and marble, it remains a slice of upscale Western hospitality and elegance. Rumored to be haunted, the downtown hotel lies steps from the Texas State Capitol and the University of Texas. Fully restored, retaining classic glamour throughout, the hotel projects a nostalgic grace. Honor the founder by staying in the Cattle Baron Suite, a 1,200-sq-ft, four-room oasis crowned by 16ft-tall ceilings. Accented with Western art, cowhide rugs and period antiquities, it features all the creature comforts Driskill himself imagined.
From $800 per night. Contact Margaret Teisberg, reservations supervisor, +1 512 391 7103, driskillhotel.com
Presidential Suite
JW Marriott Austin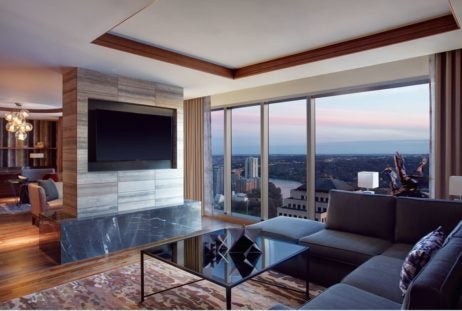 One of the largest JW Marriotts in the world, this stylish giant filled a citywide need for upscale guest rooms when it opened in 2015. Immediately delighting Austinites with its trendy Texas-centric design and buzzing restaurants, the hotel has become an unexpected social hub that energizes the once staid Congress Avenue. There's not one, but three Presidential Suites to welcome high-profile guests. Designed to showcase panoramic city vistas, they encompass a bedroom, two bathrooms and a dining section—all with minimalist furnishings and floor-to-ceiling windows. For larger groups and VIP clients, the hotel provides the opportunity to rent the entire 34th floor, its highest. The Austin 360 package includes 23 Skyline View rooms, two Presidential Suites and for good measure, a dedicated butler.
Austin 360 package from $30,000 for two nights. Presidential Suite from $2,000 per
night. Contact Samantha Stites, senior marketing manager, samantha.stites@whitelodging.com, +1 512 608 4271, jwmarriottaustin.com
Lady Bird Presidential Suite
Lake Austin Spa Resort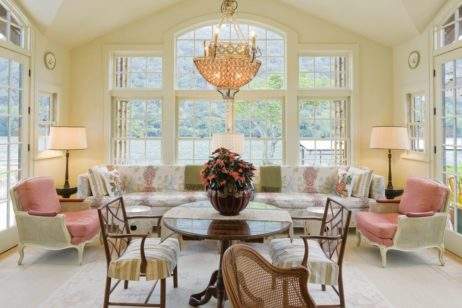 Texans have long loved summering at lake houses. Join that ritualistic pilgrimage to healing water with a stay at Lake Austin Spa Resort, widely recognized as one of the world's best destination spas. Reachable by luxury boat transfer from downtown Austin (or 30 minutes from the airport by car), the casually sophisticated hideaway overlooks the lake, surrounded by untrammeled nature. Offering sensible gourmet cuisine,water sports galore, fitness classes, hiking trails, three pools and hammocks strung beneath trees, the retreat ensures further restoration at its spa, a tranquil sanctum with more than 100 varied treatments. Opt for the Lady Bird Presidential Suite, named for the former First Lady and wildflower devotee. Aptly, the commodious suite honors her with a private wildflower-flecked garden with a hot tub. Inside, two rooms with a fireplace and sitting area await.
From $1,500 per person per night, including meals, classes and seminars. Contact Janis Clapoff, managing director, jclapoff@lakeaustin.com, +1 512 372 7388, lakeaustin.com
Congressional Suite
Four Seasons Austin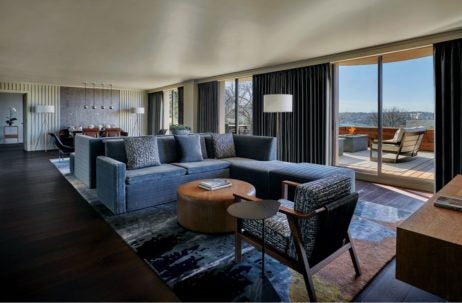 Long occupying what everyone acknowledges as the best location in town, Four Seasons Austin rises from the banks of Lake Lady Bird, just beside the Ann W Richards Congress Avenue Bridge. A hub for locals who love its snazzy lobby bar and contemporary American gourmet restaurant, Trio, the hotel has just renovated its suites to be in line with Austin's contemporary flair. Evoking a slightly masculine urbanity, this getaway opens its back doors to an ample lawn with hammocks, sitting areas and a pool, and offers direct access to the city's popular waterside trails. Try the Congressional Suite, designed in the spirit of Austin's luxurious waterside mansions. It boasts a 955-sq-ft wraparound deck furnished with full-size dining table, two fire features and lounge seating with a view. Texas design elements, such as a dyed cowhide ottoman, let you feel as if you are on a chic ranch, not in the center of the city.
From $6,500 per night. Contact Ashley Getsinger, guest experiences supervisor, ashley.getsinger@fourseasons.com, +1 512 685 8106, fourseasons.com