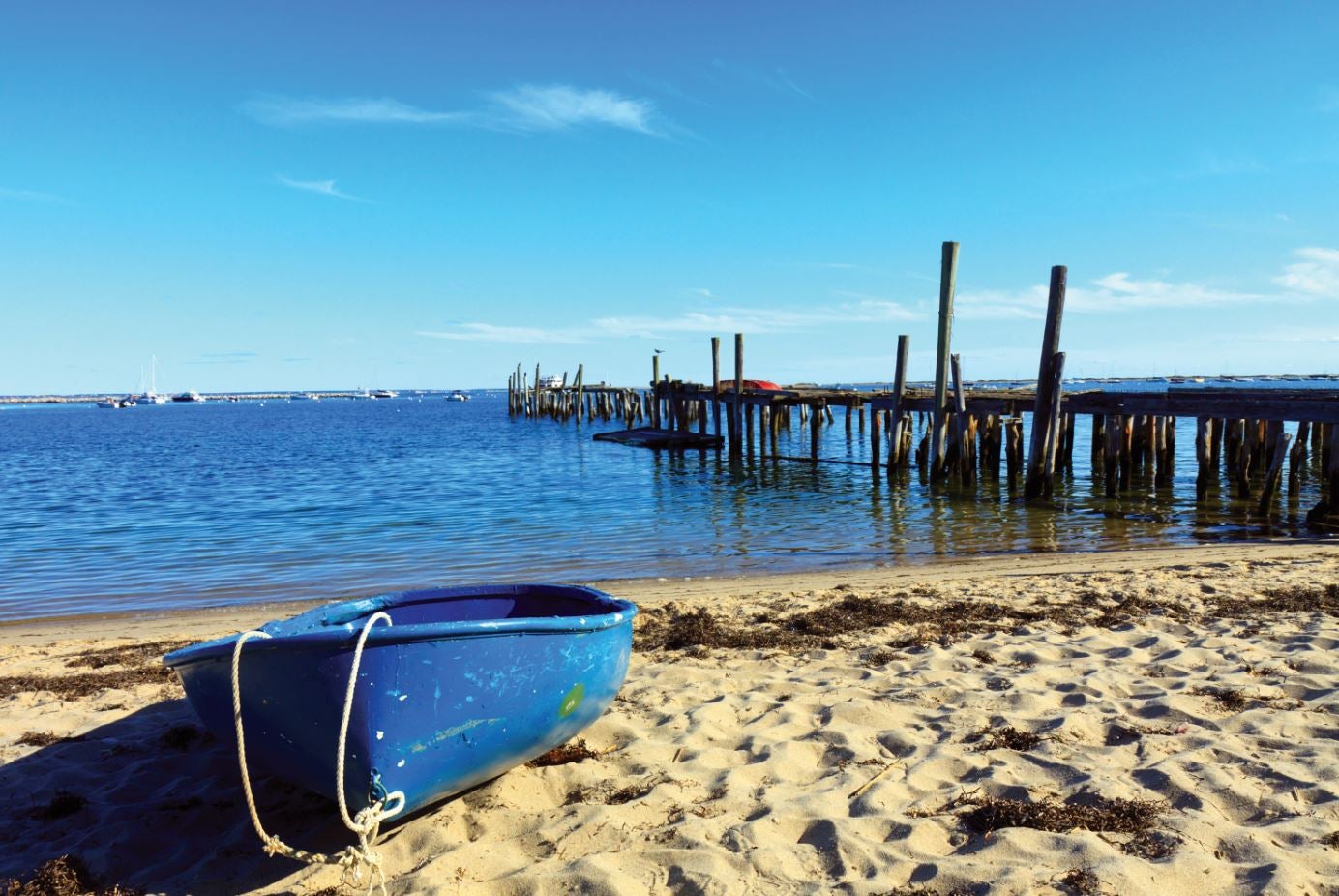 By Shaun Tolson
This story originally appeared in the July/August 2018 issue of Elite Traveler.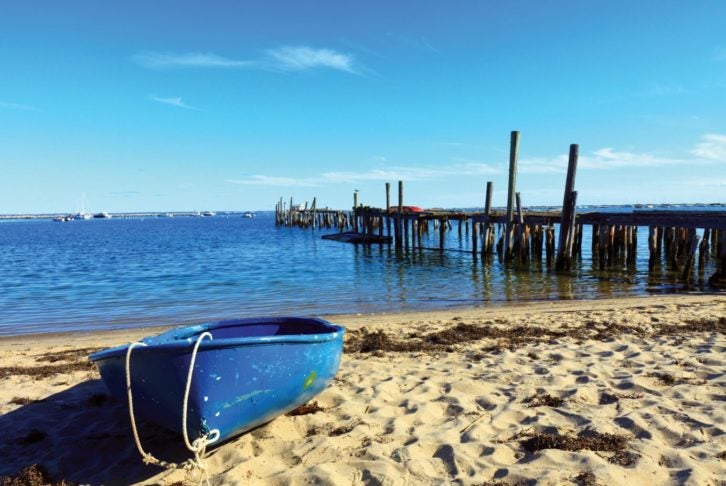 Since the mid-19th century, when train service first connected Boston to the upper region of the hook-shaped peninsula that is Cape Cod, New England's wealthy elite have summered here. Former President Grover Cleveland built the Cape's first 'summer White House' during the 1890s, and the Kennedys began vacationing in the village of Hyannis Port only a few decades later. Spanning 339 square miles with more than 500 miles of sandy beaches, the Cape acts as a barrier island to a large swath of Massachusetts shore; but unlike a traditional island, which typically fosters a single dominant culture and lifestyle, Cape Cod is a patchwork of four distinct regions. The historic Upper Cape is home to loads of charming museums and a popular ferry connection to Martha's Vineyard. The Mid-Cape is diverse and densely populated by miniature golf and ice cream establishments, but is also rife with tranquil ports and harbors. The Lower Cape, elegant and picturesque, is best known for its luxurious resorts, quaint towns and exclusive golf clubs. And the Outer Cape, with its national-park-protected seashore, is wild and windswept but also refined, thanks to the cosmopolitan culture of its largest town, Provincetown. Simply put, Cape Cod offers something for everyone.
Memorable Meals
From intimate cafes to fine dining, a meal in Cape Cod is best served with sea views and a glass of crisp white wine.
Clean Slate Eatery
Established in 2016, this intimate 17-seat restaurant in West Dennis began as a series of pop-up restaurants executed by chefs Jason Montigel and Patrick Monahan. Open for dinner Tuesday through Saturday in the high season, Clean Slate Eatery embraces modernist cuisine and aims to deliver recognizable flavors in unexpected or unusual forms. Although the monthly tasting menus chart only six courses, guests are likely to receive almost a dozen, especially during the summer. Reservations are paramount and sometimes must be made a month in advance.
Blackfish
Now in its second decade of operation, Blackfish in Truro continues to serve decadent upscale food in a sophisticated yet comfortable setting with exposed brick walls, copper-topped tables and wrought-iron accents. Executive chef Eric Jansen has called the Cape home for more than 30 years and adheres to the seasons when menu planning. Bright, vibrant flavors and a plethora of fresh-caught local seafood define Blackfish's summer menus, while braised wagyu short ribs and a variety of rich wild-game dishes punctuate the fall.
+1 508 349 3399
Water Street Kitchen
From many popular spots on the Cape, a trip to Water Street Kitchen in Woods Hole requires commitment, but the meal that awaits such intrepid gourmands will justify the lengthy journey. Chef John Wilson relies on sustainably fished and farmed ingredients and prepares everything from scratch. The menu, which changes with the seasons, comprises small plates and supper-sized portions reflecting Wilson's eclectic global inspirations. Even better, the consistently impressive fare is paired with waterfront views.
Spinnaker
The aroma of Mediterranean food abounds in this 49-seat Brewster restaurant run by chef Rob DeSimone, who attended culinary school in Italy and trained at a two-Michelin-starred restaurant on the Adriatic Sea. Despite his southern European inspirations, DeSimone sources local ingredients that showcase the best of Cape Cod. Spinnaker's menu changes seasonally, yet a few standout offerings return each summer. These include handmade gnocchi with lobster in a lemon-butter sauce; and Sicilian-inspired swordfish agrodolce, topped with a sauce made from pears, pine nuts, raisins, peppers and red onions.
Cape Retreats
Day at the Beach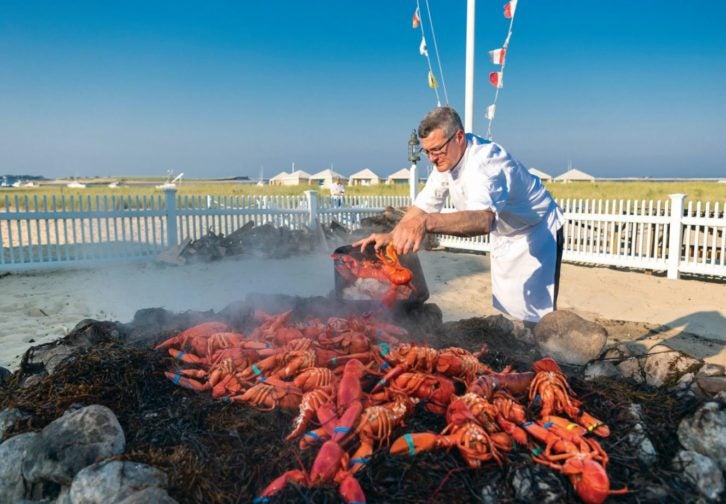 Cape Cod can easily satisfy vacationers longing for a day at the beach; however, not all Cape beaches are created equal. Nauset Beach, which spans 10 miles through Orleans and Chatham, is a gateway to the open Atlantic and a popular destination for surfers. (A fleet of food trucks will replace the beach's old clam shack this season.) Chapin Memorial Beach in Dennis, on the other hand, is a perfect sanctuary for families, thanks to almost a mile of shallow tidal pools that connect the sand to Cape Cod Bay. Unlike other beaches in the area, Chapin has a parking lot. It also has sandy trails for permitted off-road vehicles.
Fairways and Greens
The Cape is home to more than 40 golf courses, but three exclusive clubs eclipse all others. Chatham's Eastward Ho!, designed by William Herbert Fowler during the early 1920s, features as genuine a traditional Scottish links layout as any golf course in the US. Just across the waters of Pleasant Bay, the younger 18 holes of Cape Cod National Golf Club—which opened in 1998— meander over, around and through glacial hills and hollows and border cranberry bogs. In Osterville, privileged golfers can walk the fairways of the Oyster Harbors Club, a Donald Ross–designed course that opened for play in 1927.
eastwardho.org, ccngolf.org, oysterharborsclub.org
Setting Sail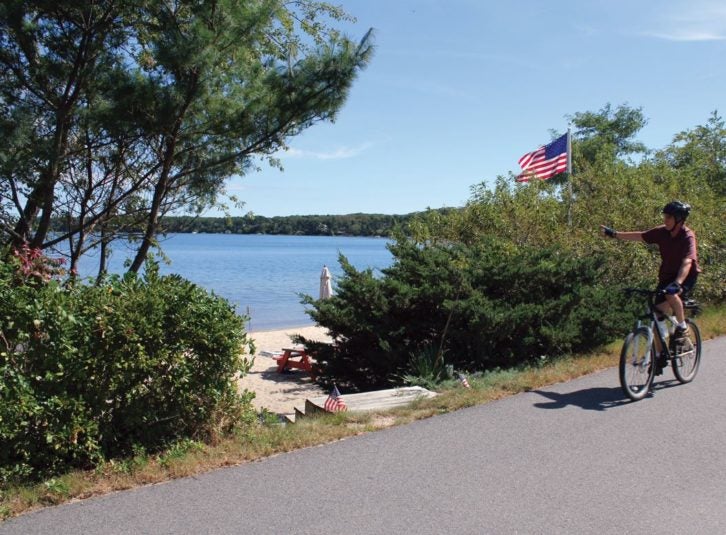 A Barton & Gray Mariners Club annual membership, which ranges from $29,500 to $49,500 (plus a $12,000 initiation fee), offers access to a fleet of crewed and captained Hinckley yachts from almost 20 ports along the eastern seaboard. After climbing aboard a Talaria 40 at the Nauticus Marina in Osterville, many Barton & Gray members jaunt over to Nantucket or Martha's Vineyard. Others prefer to sip cocktails during sunset cruises around Oyster Harbors. Some have even enjoyed private catered clambakes on the beach of nearby Dead Neck Island. Reservations for prime days in July and August are best made a week in advance.
Trailblazing
The Cape Cod Rail Trail is a 22-mile paved bike and walking path that gently meanders from South Dennis to South Wellfleet, running through state parks and alongside town centers. Numerous bike-rental shops along the route can accommodate those in need of a set of wheels. Riders who pass through Orleans should duck into Hot Chocolate Sparrow—the specialty shop's iced (or hot) coconut mocha is well worth the stop—and those who pedal all the way to South Wellfleet should ride the extra mile east to Lecount Hollow Beach, where striking views of Cape Cod National Seashore await.
Seafood Splurges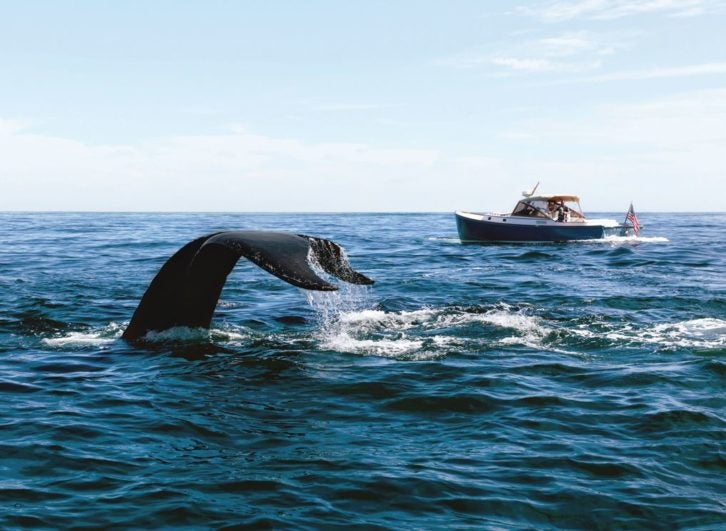 Lobster rolls are a quintessential New England summer delicacy, and the ones served up at Raw Bar in Popponesset (within the town of Mashpee) are arguably the best on the Cape. Unparalleled in size, these summer sandwiches are big enough for two… or make for a glorious and gluttonous affair for one. If you're hankering for a more traditional raw bar experience, Ocean Terrace, the signature restaurant at Brewster's Ocean Edge resort, features a rooftop patio where local littlenecks, mussels and oysters are served. The bar also offers views of Cape Cod Bay, where the proprietor of Brewster Oysters routinely tends his beds.
poppyrawbar.com, oceanedge.com
Historical Features
Built in 1957, the Wellfleet Drive-In continues to entertain thousands of patrons all summer long. The theater has been upgraded with digital projection and a Dolby Digital sound system that broadcasts over your car radio; however, it still boasts individual pole-mounted speakers — most of which still work. As was the case more than 60 years ago, ticket sales are cash only.
Take Two// Seaside Havens
PRESIDENTIAL SUITE Chatham Bars Inn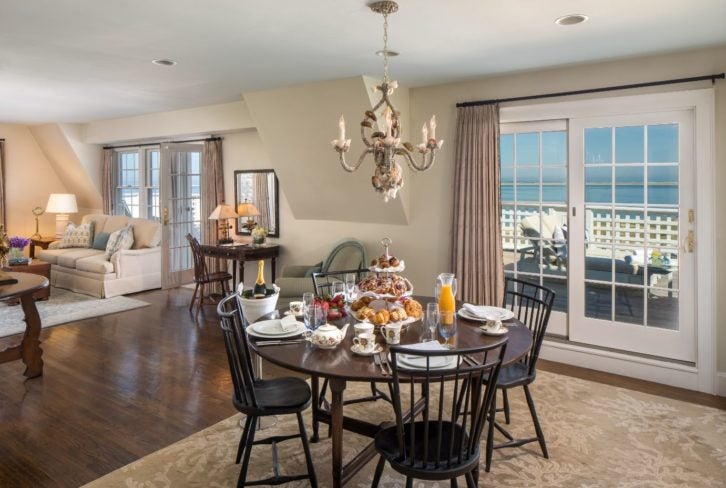 More than a century ago, the main building of the Chatham Bars Inn operated as a luxuriously appointed hunting lodge for the Boston Brahmin. Today it serves as the nucleus of a charming resort spread out over 25 beachfront acres, one that attracts discerning travelers who seek out superlative accommodations, attentive service and easy access to the area's shops, galleries and restaurants. Guests who yearn for quality time on, in or near the ocean can retire to the resort's private beach. Additionally, powerboat, sailboat and sport fishing charters—not to mention great white shark observation excursions offered by the Atlantic White Shark Conservancy—can all be arranged and accessed at the resort. Chatham Bars Inn is home to 139 guest rooms and 78 suites; however, the 1,120-sq-ft Presidential Suite—equipped with numerous gas fireplaces, a marble master bath (complete with soaking tub) and a private deck that overlooks the Atlantic—is the resort's crown jewel.
From $3,095 per night in high season. Contact Paula Whitcomb, reservations manager, pwhitcomb@chathambarsinn.com, +1 508 945 0096, chathambarsinn.com
MOTHER GOOSE HOUSE Wequassett Resort and Golf Club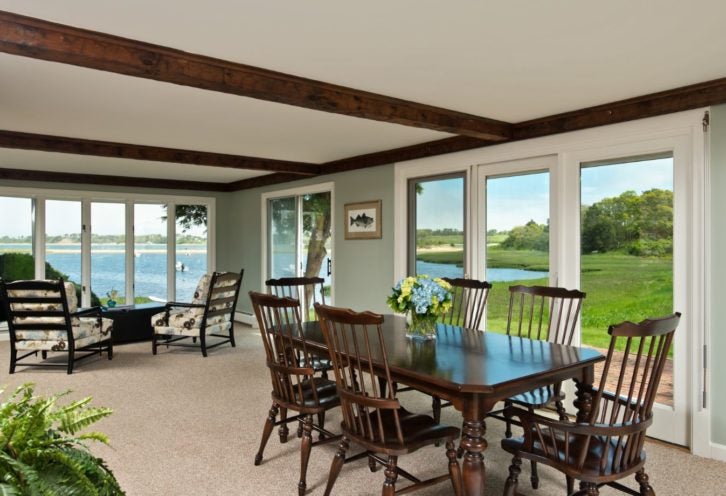 Situated on 27 waterfront acres, the Wequassett Resort and Golf Club — with its gray and white cedar shingles and English-style gardens planted with hydrangeas, spring tulips and azaleas — epitomizes Cape Cod charm. The resort's Lower Cape setting is further enhanced by dramatic vistas of the Atlantic Ocean and Pleasant Bay, bodies of water that guests can easily access and enjoy thanks to the resort's powerboat and sailboat rentals, as well as private fishing charters that specialize in striped bass, bluefish and bluefin tuna. Resort guests can also tee off at the otherwise members-only Cape Cod National Golf Club nearby. The resort's three-bedroom private residence, affectionately named Mother Goose House, shines brighter than the rest. Located on the shores of Pleasant Bay, the house offers the best of both worlds: the secluded setting guarantees peaceful relaxation, yet guests are only a short walk from all of the resort's amenities.
From $14,000 per week in high season. Contact Kara Lachance, director of sales and marketing, klachance@wequassett.com, +1 508 430 6880, wequassett.com