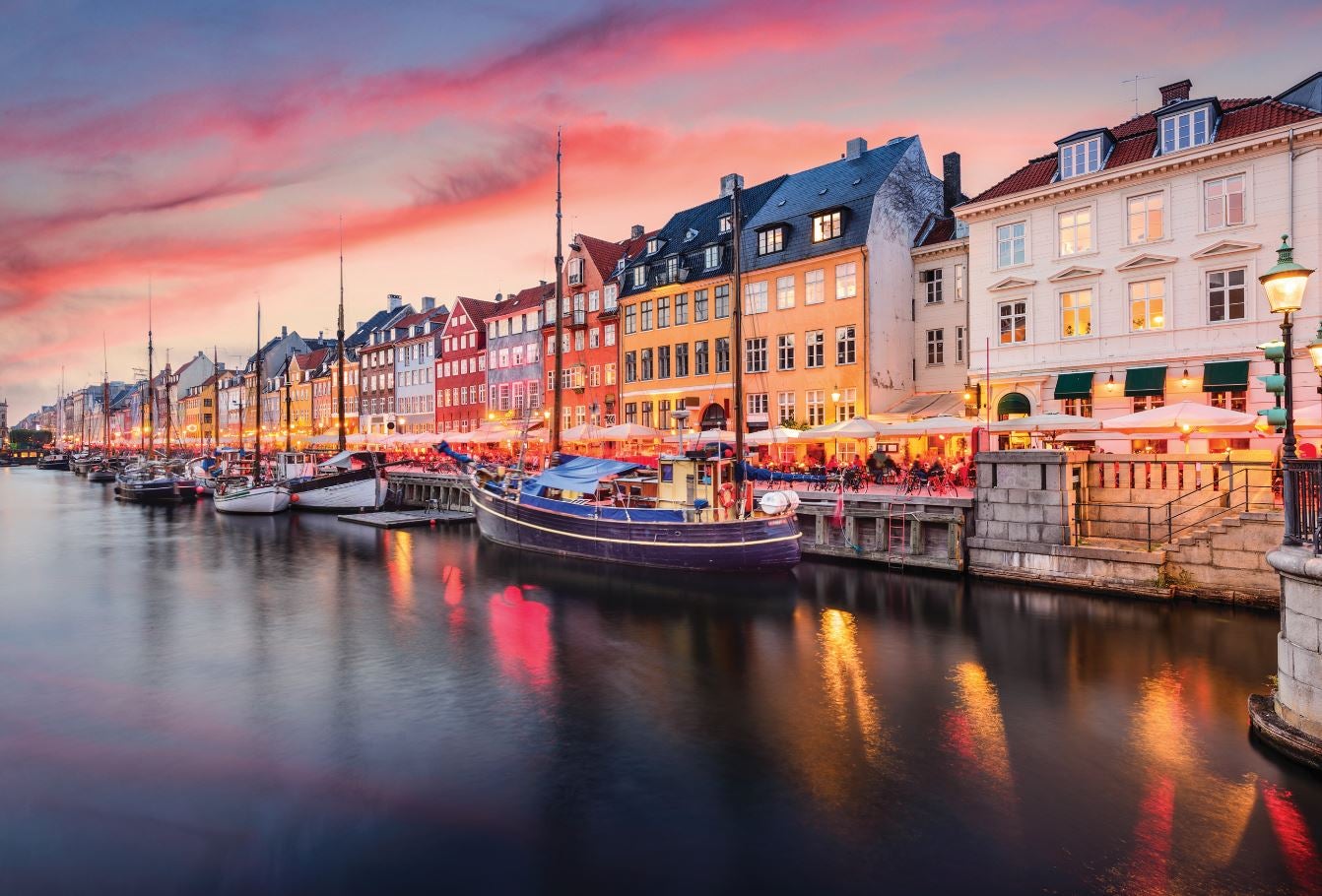 By Becca Hensley
This story originally appeared in the July/August 2018 issue of Elite Traveler.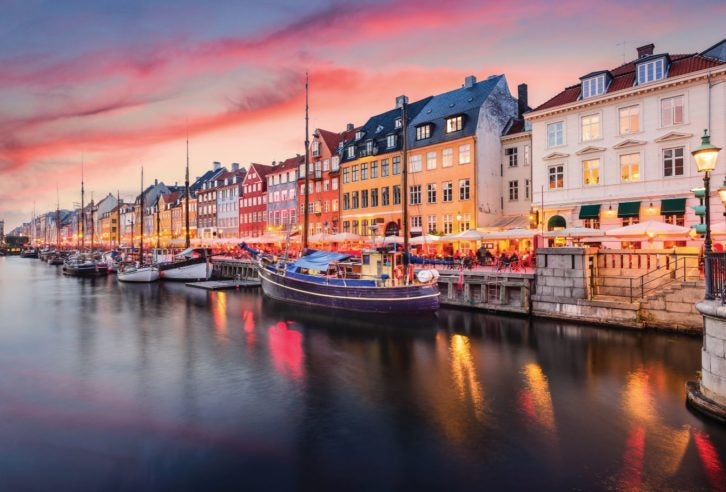 No doubt you've been hearing a lot about hygge in the past few years. For the Danish, it's a way of life. It describes those cozy, joy-focused moments of casual conviviality where people slow down to appreciate what matters—family, friends, food, conversation and beauty. This fondness for hygge may explain why Denmark perpetually ranks as one of the happiest countries on earth. Though the rest of the world has embraced this concept as a trend, why not go right to the source with a visit to Copenhagen? This walkable city, with pedestrian streets (try Strøget, one of the longest and oldest such pathway in Europe), canals brimming with boats, castles and fascinating museums, reigns today as a top culinary destination. Besides Noma 2.0, it boasts 15 Michelin-starred restaurants—more than any other place in Scandinavia. But don't miss a chance to take to the streets (which harbor avant-garde boutiques and galleries, a boon for fashion and design fans) to sample indigenous treats as well. Try towering open-faced sandwiches known as smørrebrød (shrimp is a favorite), well-crafted beer and pickled herring in not-to-miss historic Nyhavn, a 17th-century waterfront entertainment district. Later, grab a bike to pedal off your meal, joining the locals in their favorite mode of transportation. You'll feel the hygge all around.
DINE DANISH
Noma 2.0
As the adage goes, the only thing constant is change. As if to spur that concept on, New Nordic cuisine's wunderkind chef René Redzepi closed his original two-Michelin-starred restaurant last year to open a new version across town in the edgy, graffiti-adorned neighborhood of Freetown Christiania. Conceived as an urban farm, with separate rooms for fish, meat and fermentation, the larger restaurant concept seeks to re-earn its Michelin stars with creative cuisine that utilizes surprising ingredients from across the globe. Expect reservations to be as elusive as ever, with dinner priced at $364 per person, including wine.
Kadeau
Looking like something the fairies from A Midsummer Night's Dream would concoct, the plates at two-Michelin-starred Kadeau come framed in nasturtium leaves, dotted with fermented berries and flecked with flower petals. But what they hold is yet more celestial. Serving foraged seasonal cuisine from Bornholm, an island in the Baltic Sea that is home to chef Nicolai Nørregaard, this inventive restaurant serves traditional Nordic fare with contemporary yet unpretentious flourishes. Opt for the 20-course tasting menu, which might include dishes such as sweetbreads with wild garlic, turbot atop green asparagus and oysters.
Geranium
Perched on the eighth floor of Denmark's national soccer stadium, Geranium lords over the city's treetops just as it dominates the Danish culinary scene with its three Michelin stars. A terroir-focused restaurant helmed by Rasmus Kofoed, the only chef
in the world to have won gold, silver and bronze in the prestigious Bocuse d'Or competition, the kitchen puts out canny renditions of Scandi-cuisine, known for its wild, rural overtones. Artistic offerings, such as razor clam shells made from dough and colored with squid ink, satisfy both the aesthete and the gourmet with every bite.
CHEF FOR A DAY
Several cooking schools and kitchens open their doors to culinary buffs wanting to try their hand at Scandinavian cuisine.We suggest Meyers Madhus or Timm Vladimir's Kitchen, two hot spots which tutor in basic preparation, seasonal foraging, fancy presentation and meal planning. These hands-on classes are ideal for culinary-minded individuals and larger groups.
meyersmad.dk, timmvladimirskoekken.dk
Copenhagen Capers
Museum Madness
Commonly called the SMK, the National Gallery holds a tremendous collection of
artwork that runs the gamut from the Middle Ages to today. European works are a
particular highlight; Rembrandts, Rubenses and Titians, as well as centuries of Danish works, are worth your visit. Private after-hours tours can be arranged by your hotel concierge for both large and small groups to avoid the crowds and wander at leisure.
Tasty Bites
Follow Rasmus Palsgård, a Renaissance man who is the food concierge at the hotel
Nimb, a Danish food television star, journalist, and sommelier, into some of Copenhagen's top restaurants. An aficionado who has the ear of the city's best chefs, this gourmand takes you on a moveable feast to taste some of the best dishes in town. A casual trek can also be scheduled through the Vesterbro neighborhood for tastes of treats such as smørrebrød, and the myriad restaurants of Tivoli can also be explored. Book through Palsgård at Nimb Hotel.
Treasure Trove
One of Scandinavia's leading luxury brands, Georg Jensen, a purveyor to the royal Danish court, stands out in the annals of handcrafted jewelry and silversmithing. Offering classic antique designs and modern creations, the main store in Copenhagen draws discriminating shoppers. Delta Scandinavia offers a unique program allowing you to join a private after-hours tour with access to Georg Jensen silversmiths and a private viewing of the house's special collections. Afterward, enjoy a private dinner in a Michelin-starred restaurant—opened just for you.
Tivoli Gardens
No trip to Copenhagen is complete without a visit to Tivoli Gardens. Built in 1843, it's one of the world's first amusement parks and was an inspiration for Disneyland. Those who want Tivoli's charming potpourri of rides, theaters, boutiques and restaurants for themselves can rent the entire park. Or you can take over, say, a roller coaster just for your clan. Consider hiring the Tivoli ballet master to teach you a class, a private pantomime show, a personal concert from the Tivoli Youth Guard band, or have Pierrot, Tivoli's beloved mascot, pick you up at the airport.
TOP SUITES
Executive Suite Vilhelm
Nimb Hotel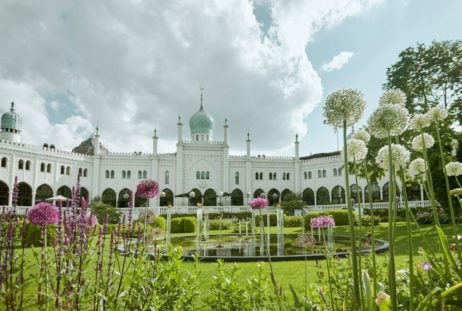 "Life itself is the most wonderful fairy tale," wrote famed Danish storyteller Hans Christian Andersen. The incredible Moorish facade at Nimb Hotel, a member of Small Luxury Hotels of the World, channels classic storybook awe and nostalgia. Choose its coup de grace, the 1,432-sq-ft Executive Suite Vilhelm, which has a large terrace overlooking the action in Tivoli Gardens. Richly appointed with original modern artwork and vintage touches, it features a combined dining and living area. Opt for a private chef to cook for you on your balcony as you enjoy the views.
From $3,300 per night. Contact Solveig Frederiksen, reservations manager, solveig.frederiksen@nimb.dk, +45 887 000 00, nimb.dk
Nobis Suite
Nobis Hotel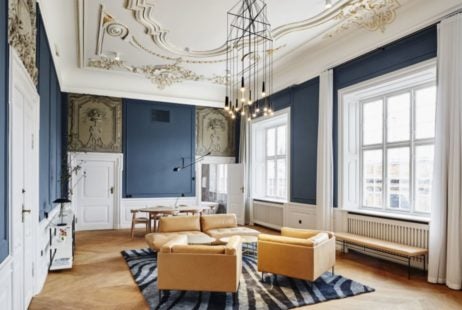 In a cunning fusion of old and new, Nobis, a family-owned hotel group renowned for creative use of historic landmarks, recently tapped starchitect GertWingårdh to transform the Royal Danish Conservatory of Music into an airy hideaway with sumptuous overtones that retains a comfortable, casual appeal. Chevron oak floors and floor-to-ceiling Bardiglio marble bathrooms add swanky gravitas, while blue and green tones soothe throughout. Book the Nobis Suite, which is decorated in cobalt with white trim. At 980 sq ft, crowned with a soaring ceiling, it lures you to linger. Sexy Danish design fills out the space with separated dining, living and sleeping areas.
From $4,150 per night. Contact Julie Aastrøm, reservations manager, reservations@nobishotel.dk, +45 787 414 00, nobishotel.dk
Sanders Apartment
Hotel Sanders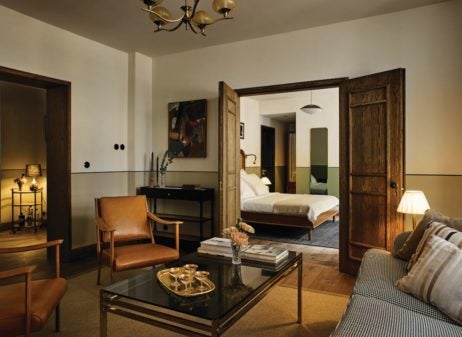 Just like in a breathtaking pas de deux, former ballet dancer Alexander Kølpin lets elegance and drama set the mood at Sanders, his third hotel in Denmark. Interiors by Lind + Almond bring chic, urbane notes and a classic Danish edge to play. Mid-century rattan furniture, exposed timber, paisley upholstery, fireplaces and loads of cascading velvet enliven the refurbished 19th-century structure, creating a tony townhouse feel. Try the spacious two-bedroom Sanders Apartment, which can sleep six. As in the hotel at large, all furniture, lighting and artwork have been customized for the apartment. On the top floor, the airy hideaway provides the perfect soirée space.
From $3,200 per night. Contact Nikolaj Tamakloe, general manager, nt@hotelsanders.com, +45 464 000 40, hotelsanders.com
The Royal Suite
Hotel d'Angleterre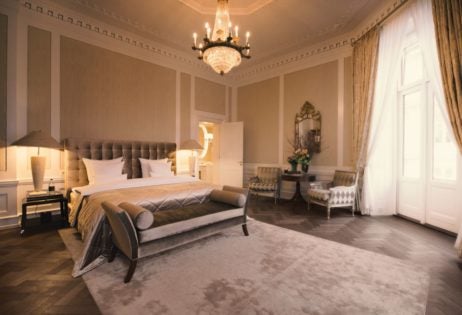 As the world's oldest kingdom, Denmark historically has catered to royalty. Indulge in its well-honed princely traditions at Hotel d'Angleterre. This palace-like haven overlooks the city's most iconic square, Kongens Nytorv, which is just off Strøget, the famed pedestrian shopping street. Established in the mid-18th century, its New Georgian facade looks regal amid Copenhagen's classic townhouses. Soak in the atmosphere of the gold-domed lobby, the city's only indoor hotel pool, and Balthazar, a stunning champagne bar. Choose the Royal Suite, where gilded walls hold a master bedroom, dining room and living room. Views from a grand balcony showcase the Royal Theatre.
From $8,285 per night. Contact Gitte Fenger, reservations manager, g.fenger@dangleterre.com, +45 787 951 76, dangleterre.com