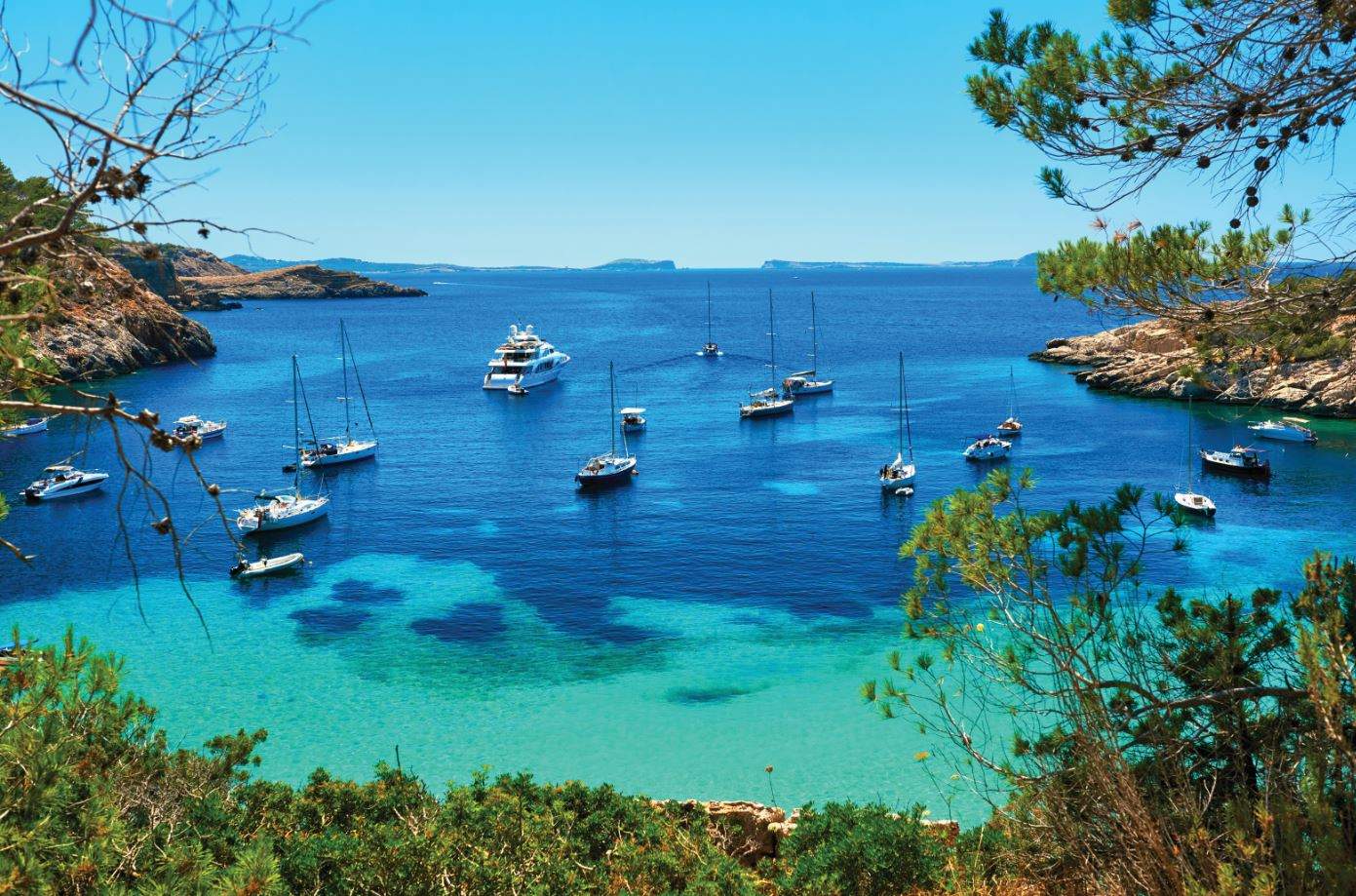 By Peter Clover
This story originally appeared in the May/June 2018 issue of Elite Traveler.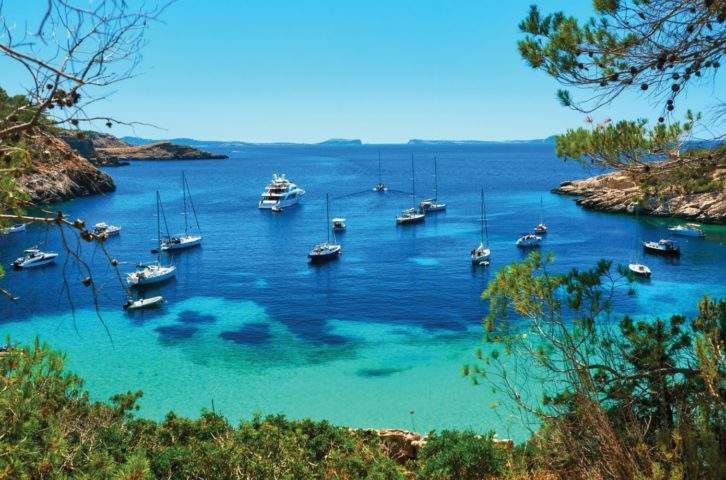 Rife with hedonistic nightspots and mystical yoga retreats, no other destination has maintained its bohemian signature style quite as successfully as Ibiza. A mecca for disco madness and home to some of the best-loved clubs in the world, the Spanish island is also a destination of culture and grace, awash with historic architecture, designer cuisine and contemporary art. A tsunami of new happenings is flooding the island with unique diversity, balancing the old Ibiza's dance-until-dawn scene with a more holistic vibe. Venture inland for a taste of the island's eclectic artisanal restaurants, or dine at one of its famously decadent beach venues. This Balearic hot spot has attracted artists and musicians to its sumptuous cerulean shores for decades. Rediscover yourself in this magnetic, magical landscape.
The Fab Four////
Beautiful Beaches
Punta Galera
No sandy toes here, as perfectly formed stone platforms shelve out above azure waters. Bring your yoga mat and enjoy the best sunset salutations on the island. Or if your idea of spirituality leans more toward drinkable spirits, the ledges are a great place to rest that G&T on the rocks!
Las Salinas
The who's who of the party scene gather on this milelong crescent of glittering sand. When in town, the likes of Jade Jagger and Kate Moss sip mojitos at Sa Trinxa Beach Bar.
Cala d'Hort 
Be inspired by silver sand and the impossibly blue ocean and sky as they showcase the iconic backdrop of Es Vedrà island, a dramatic monolith rising majestically from the surf.
Raco de ses Dones
Seeking solitude? The far end of crowded Es Figueral beach hosts a peaceful, sandy secret. This hidden cove is off the radar to the party crowds of summer. To reach, you will need to descend a rope ladder, unless you sail in. Take your own yacht, or charter one and make the most of your elite beach-hopping experience, with over 80 glorious hangouts to choose from.
THE SECRET SISTER ISLAND
For a gentle respite from Ibiza's frenetic party pace, head to Formentera. This secret sister, and the smallest of the Balearic Islands, is definitely worth a visit. Travel light and hang loose on some of the most blindingly white beaches in the Mediterranean. It's a barefoot paradise, lost in a time warp when life was a beach…and then some.
WHERE TO EAT

Best of the best: Sublimotion
Unquestionably the most expensive restaurant in Ibiza, Sublimotion is located within the Hard Rock Hotel, Playa d'en Bossa. A gourmet extravaganza that costs $2,100 per person, a meal here is the product of the combined genius of five Michelin-awarded chefs who've garnered a collective eight heavenly stars. Twelve diners immerse themselves in a sensory experience that is simply out of this culinary world.
Best for views: Amante
The real draw of Amante—a master class in refined rustic decor—is its secluded clifftop setting. The shimmering ice-blue vista that greets diners as they enter the restaurant is one of the most breathtaking in Ibiza.
Best for people watching: Blue Marlin
With a lively beach-club ambience, Blue Marlin remains the famed five-star option. It's the place to see and be seen, where the high spirits match the high heels—strictly for those who like their sashimi and champagne served with a selfie.
TOP SUITES
The Royal Suite
Nobu Hotel Ibiza Bay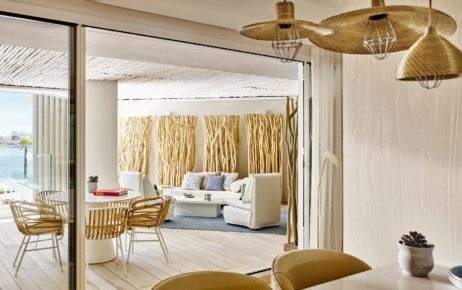 Embrace the spirit of the White Island by relaxing in five-star luxury on the silken shores of Talamanca Bay. What could be dreamier than two seafront pools, a soothing palette of ivories and taupes, and an on-site Nobu restaurant? The 2,444-sq-ft Royal Suite, itself a paragon of contemporary elegance, is on the top floor, so the two-bedroom space has spectacular views from its floor-to-ceiling windows and the private rooftop terrace with lush gardens. Be sure to visit the Six Senses Spa to further unwind.
From $6,762 per night. Contact Enrique Mandl, general manager, reservasnobuhotelibizabay@nobuhotels.com, +34 971 19 22 22, nobuhotelibizabay.com
ME Suite
ME Ibiza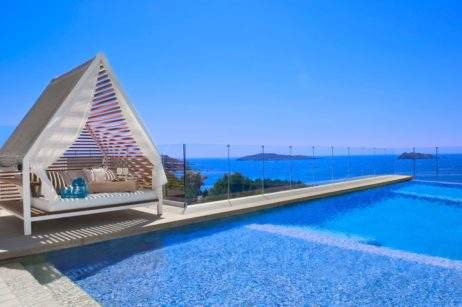 Ibiza's only lodging that's a member of Leading Hotels of the World, ME Ibiza is luxury hospitality at its finest. And with a surprising eight banquet and meeting venues, it accommodates both vacationers and fortunate business travelers. The decor is clean-lined and minimal, with occasional organic flourishes and stylish pops of color. The three-bedroom, 4,300-sq-ft ME Suite sings with the spirit of Ibiza, all shimmering sunlight and spectacular bay views. The sleekly furnished terrace with private pool is perfect for that decadent early morning dip.
From $12,900 per night. Contact Andrea Giorgi, general manager, meibiza@melia.com, +34 971 330 051, melia.com
Grand Suite
Hotel Mirador de Dalt Vila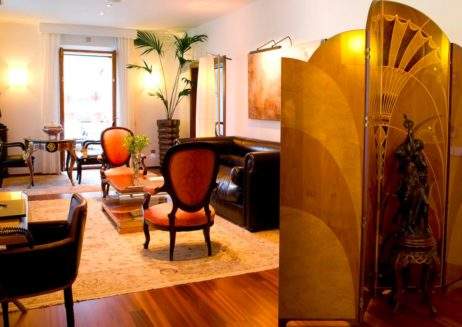 Hotel Mirador glitters in the tradition of a grand 19th-century townhouse—situated within the sun-warmed web of the medieval Dalt Vila (old town), a Unesco World Heritage site, the inn embodies old-world elegance yet doesn't lack for new-world pizzazz. Marbled and gilded but also light and fashionably bright, it meets every 21st-century expectation. The 1,012-sq-ft, one-bedroom Grand Suite offers a decadent marble bathroom, 800-sq-ft private terrace with Jacuzzi and private gym with a sauna.
From $1,740 per night. Contact Ángel Miguélez Riera, director,
info@hotelmiradoribiza.com, +34 971 303 045, hotelmiradoribiza.com
THE BOOK: Ibiza Bohemia
Your coffee table needs a new art tome, and Ibiza Bohemia is just the ticket—300 glossy pages of freewheeling voyeurism. Published by Assouline, this phenomenal photographic insight into the Spanish island, focusing on its legend and celebrated cast of colorful characters, is the brainchild of Renu Kashyap, an inspirational global stylist, with help from British travel writer Maya Boyd.
$85, assouline.com