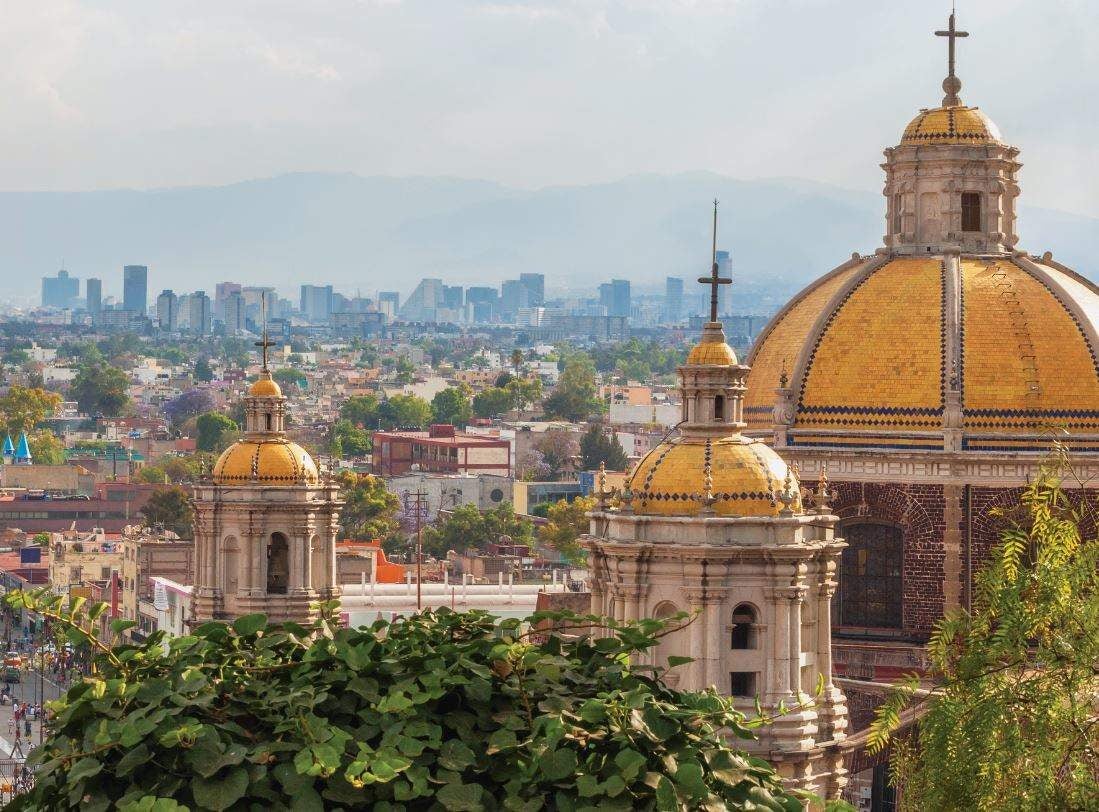 By Brooke Porter Katz
Walking the picturesque, buzzing streets of Mexico City, you'd never know that a year ago on September 19, the city experienced a devastating earthquake—32 years to the day that another history-making tremor had occurred. Sure, some physical signs remain—such as cordoned-off buildings in certain neighborhoods—but there's a palpable, positive energy that's impossible to ignore. This metropolis of almost nine million people is undoubtedly thriving, and there's never been a better time to visit. Chefs both young and established are transforming the dining scene, one modern Mexican, Italian or Mediterranean restaurant at a time. The destination is a design force, which helped it earn the designation of the World Design Capital for 2018 (a first for a city in the Americas). There's enough to do to keep a visitor busy for weeks: countless museums celebrating everything from history to modern art; a historic center that's always a hive of activity; and beautifully restored buildings that now house cool cafés, stylish boutiques and cutting-edge art galleries. The best way to tackle it? Create a short must-see list and leave the rest to chance by wandering through its many vibrant neighborhoods. No matter what, chances are you'll be planning a second trip before your journey home.
TOP TABLES
International Flavor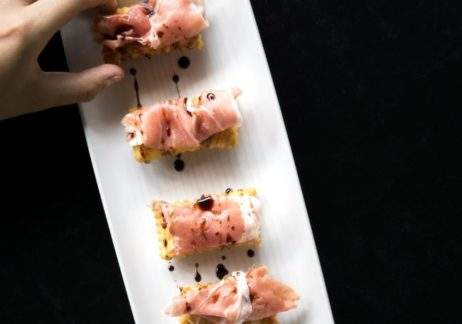 The city has a variety of top-notch, non-Mexican restaurants for when you've had your fill of tacos. In hip Roma Norte, Sartoria turns out expertly prepared handmade pasta courtesy of chef Marco Carboni, who trained under the Italian master and restaurateur Massimo Bottura, chef patron of three-Michelin-starred Osteria Francescana. The cacio e pepe is not to be missed. In nearby up-and-coming neighborhood Juárez, Havre 77—set inside a beautifully renovated 19th-century building—will transport you to Paris, with its bistro-style menu and a first-rate raw bar. If you're craving super-fresh sushi, make a reservation at the intimate Rokai, located in an area that's been dubbed "Little Tokyo".
sartoria.mx, havre77.com, edokobayashi.com
Modern Mexican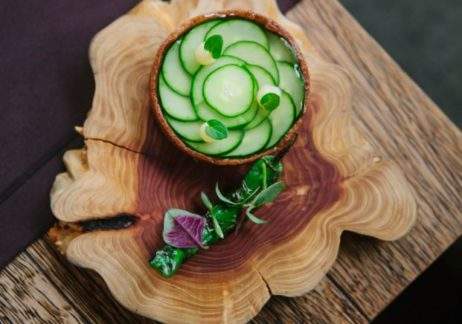 Mexico City is brimming with inventive chefs who are putting contemporary spins on classic dishes, while also celebrating the country's own bounty. Of course, there's
Enrique Olvera of bucket-list-worthy Pujol. The sun-lit space in tiny Polanco has a Japanese vibe, with lots of clean lines and natural materials. Book the taco omakase to sit at the bar and sample nine courses paired with everything from sake to tequila. A few blocks away, Pujol alum Jorge Vallejo runs Quintonil, named for a Mexican herb. Here, an unfussy, airy dining room sets the stage for a hyper-local menu; a few favorites include the crab tostada and charred avocado tartare. You'll have to travel south to the residential Jardines del Pedregal for a chance to try Edgar Núñez's creations at Sud 777, where a party vibe prevails. Artfully plated dishes get a boost from ingredients grown in the on-site garden.
pujol.com, quintonil.com, sud777.com
Stick with Tradition
There's a reason these old-school spots have been around for decades. In Centro
Histórico, the family-owned, white-tablecloth El Cardenal is as classic as it gets—and the building itself is a beauty, with high ceilings and stained-glass windows. Suited waiters serve up everything from chile relleno to chicken with mole. Restaurante Nicos is another storied icon, open since 1957 in the off-the-tourist-track Azcapotzalco neighborhood. Make sure to start with the sopa seca de natas (layers of thin crepes soaked in a tomato cream sauce) and order something from the mezcal cart. And after a night of drinking mezcal, there's no better remedy than breakfast at Fonda Margarita in Tlacoquemecatl del Valle. It's an early-morning institution known for its guisados (meat stews) and black-bean-and-egg scramble.
restauranteelcardenal.com, nicosmexico.mx, Fonda Margarita +52 55 5559 6358
TAKE FOUR//// TOP STAYS
HABITACIÓN NEGRA
Ignacia Guest House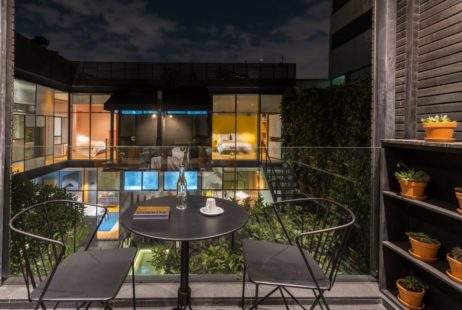 A made-from-scratch breakfast of traditional Mexican dishes, a dreamy garden filled with orange trees and stylish, Instagram-ready public spaces are just a few reasons to stay at this new boutique hotel in laid-back La Roma. The main draw, however, may just be the Habitación Negra, or Black Room. It's the largest of the hotel's five guest rooms, each of which is named and decorated in a single color; other options include yellow, blue, green and pink. It may sound gimmicky, but it works. What the Negra lacks in size—just 430 sq ft—it makes up for with its sleek design, including a separate seating area with leather chairs, a showstopping black-marble bathroom and a quiet, private patio for sipping your morning café de olla.
From $443 per night. Contact Julio Salazar, manager, hola@ignacia.mx, +52 55 2121 0966, ignacia.mx
PASAJE PENTHOUSE
Las Alcobas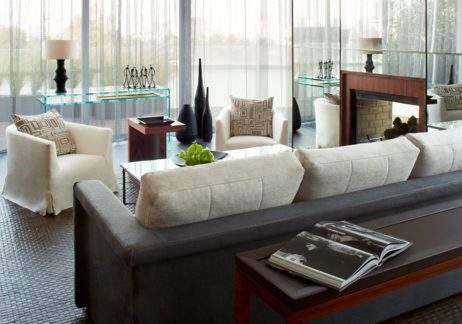 This longtime luxury favorite in Polanco feels like a private oasis within the bustling city; you can't help but feel relaxed upon stepping foot inside. Come October—thanks to a renovation project overseen by the talented duo Yabu Pushelberg—it will debut a softer, more refined look in each of its 35 rooms, including the one-bedroom Pasaje Penthouse. Think neutral tones and textured details, such as punched leather and custom wood furniture. The 1,313-sq-ft space is bright and sunny, with floor-to-ceiling windows that face a wraparound furnished terrace—which is where the indoor/outdoor fireplace comes in handy. Save time for a body treatment using a custom-made scrub at the on-site Aurora Spa and dinner at Dulce Patria, where legendary chef Martha Ortiz puts a modern spin on Mexican classics.
From $3,250 per night. Contact Michael Chiche, general manager, mchiche@lasalcobas.com, +52 553 300 3900, lasalcobas.com
PRESIDENTIAL SUITE
Four Seasons Hotel Mexico City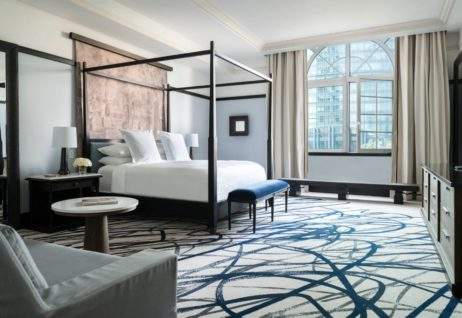 This grande dame hotel—which stands sentry on a corner right off of the energetic Paseo de la Reforma—may have more than two decades under its belt, but it's anything but fusty. That's because a 2015 top-to-bottom redo left it feeling fresh and modern, with 240 rooms done up in off-white and maroon, and a lush, romantic inner courtyard you'll never want to leave. Two stellar restaurants (one Mexican, one Italian) and one of the best cocktail bars in the city only sweeten the deal. And then there's the antique-filled, 2,228-sq-ft Presidential Suite on the top floor, which overlooks the main avenue. It has a super-spacious bedroom, gleaming white-marble bathroom and separate office, living and dining areas. Guests who book it receive a bottle of Dom Pérignon and access to the house BMW 7 Series.
From $7,000 per night. Contact Sagrario Guerrero, reservations director, sagrario.guerrero@fourseasons.com, +52 555 230 1809, fourseasons.com
ST. REGIS SUITE
The St. Regis Mexico City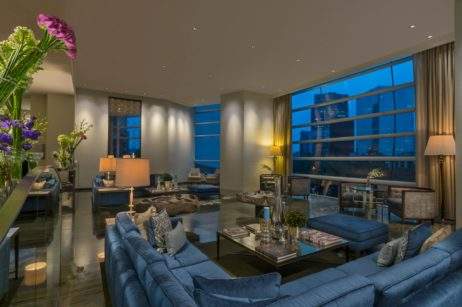 This stunning hotel is centrally located right on Paseo de la Reforma. Here, it's all about the service, with a butler available 24/7 and kid-friendly perks like a candy trolley during weekend turndown and the option to turn your suite into a glamping site, complete with a tent. There's plenty of space for that in the 14th-floor, 3,089-sq-ft St. Regis Suite, which has a soothing natural palette with subtle pops of green. There are two bedrooms, a large living space, dining area with seating for eight, modern kitchen and even a steam room. If you're in town during Day of the Dead, reserve an outdoor seat at the revamped King Cole Bar, which overlooks the parade route and serves expertly crafted libations.
From $4,800 per night. Contact Mayra Cruz Cortés, butler service-desk manager, mexico.city@stregis.com, +52 55 5228 1818, stregismexicocity.com
MUST-SEE SIGHTS
Step back in time
There's always a discernible zest in the Centro Histórico, home to iconic sites including Zócalo (main square), Aztec-era Templo Mayor and Palacio Nacional, which houses a large-scale mural by Diego Rivera. More of the artist's work (and those of José Clemente Orozco and David Alfaro Siqueiros) adorn the walls of the nearby Palacio de Bellas Artes cultural center. To see it all from above, head to the towering Torre Latinoamericana—but instead of joining the crowds on the viewing platform, get off on the 41st floor and order a drink at the Miralto restaurant.
templomayor.inah.gob.mx, palacionacionaldemexico.mx, palacio.inba.gob.mx, torrelatinoamericana.com.mx
Embrace your creative side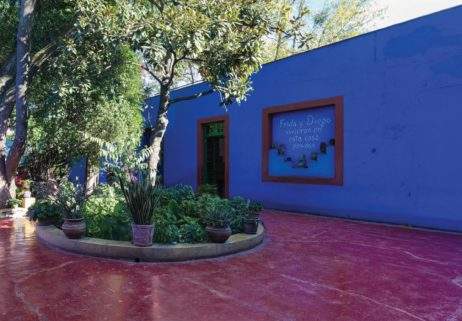 The artist Frida Kahlo was born and raised in the southern neighborhood of Coyoacán, and her house and studio has been meticulously preserved as a museum, down to the table that holds her paints and brushes. Make sure to buy tickets online in advance. Design buffs should seek out the appointment-only homes by Pritzker Architecture Prize winner Luis Barragán, including Casa Gilardi where brightly painted walls and surprises await at every turn.
museofridakahlo.org.mx, casagilardi@gmail.com
Shopping spree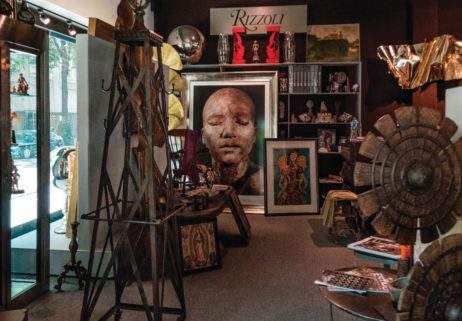 Polanco has earned its nickname as the "Beverly Hills of Mexico City" mostly for its abundance of international brands, such as Dolce & Gabbana and Bulgari, but indie and local designs are also on offer, if you know where to look. Sandra Weil sells feminine, floral fashions in her flagship boutique, while Onora Casa is the go-to for super-chic housewares and accessories inspired by traditional Mexican crafts. In the market for rare antiques? Rodrigo Rivero Lake runs a showroom where you can browse colonial-era Hispanic pieces, like 18th-century oil paintings, as well as ancient Asian art.
sandraweil.com, onoracasa.com, rlake.com.mx
Park it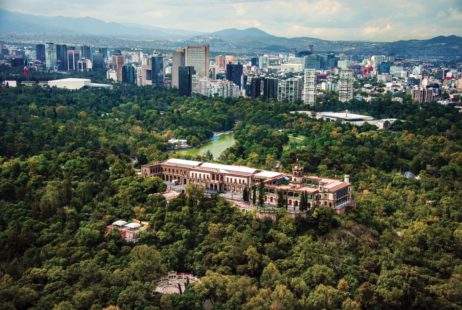 Mexico City has a surprising number of green spaces—including Bosque de Chapultepec, which is about 850 acres larger than Manhattan's Central Park. Spend a day exploring its paths, renting paddle boats for the lake and visiting museums, such as Museo de Arte Moderno and the expansive Museo Nacional de Antropología, which is filled to the brim with ancient artifacts. (One-hour guided tours showcasing the highlights are available.) And high on the hill, there's Castillo de Chapultepec, where the country's presidents resided until the mid-1900s.
Flying high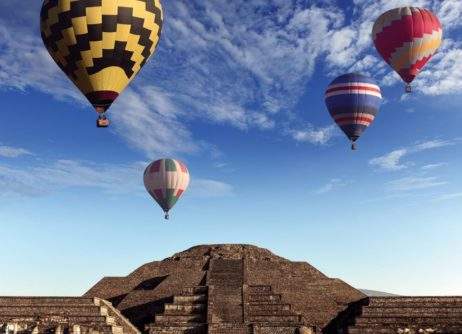 About 30 miles outside of Mexico City lay the pyramids of Teotihuacan, an archaeological site that is said to date back to 100 BC. It's easy to hire a car (or an Uber) to make the drive—or you could experience it from above at sunrise from a hot-air balloon. (We know which option we would choose.) Travel advisor Zachary Rabinor of Journey Mexico can organize it all, from transportation to the sparkling wine toast to the expert-led tour.
Images: Photo The St. Regis Mexico City, Kamira / Shutterstock.com; Photos mexicoculturaltravel.com, Museo Frida Kahlo