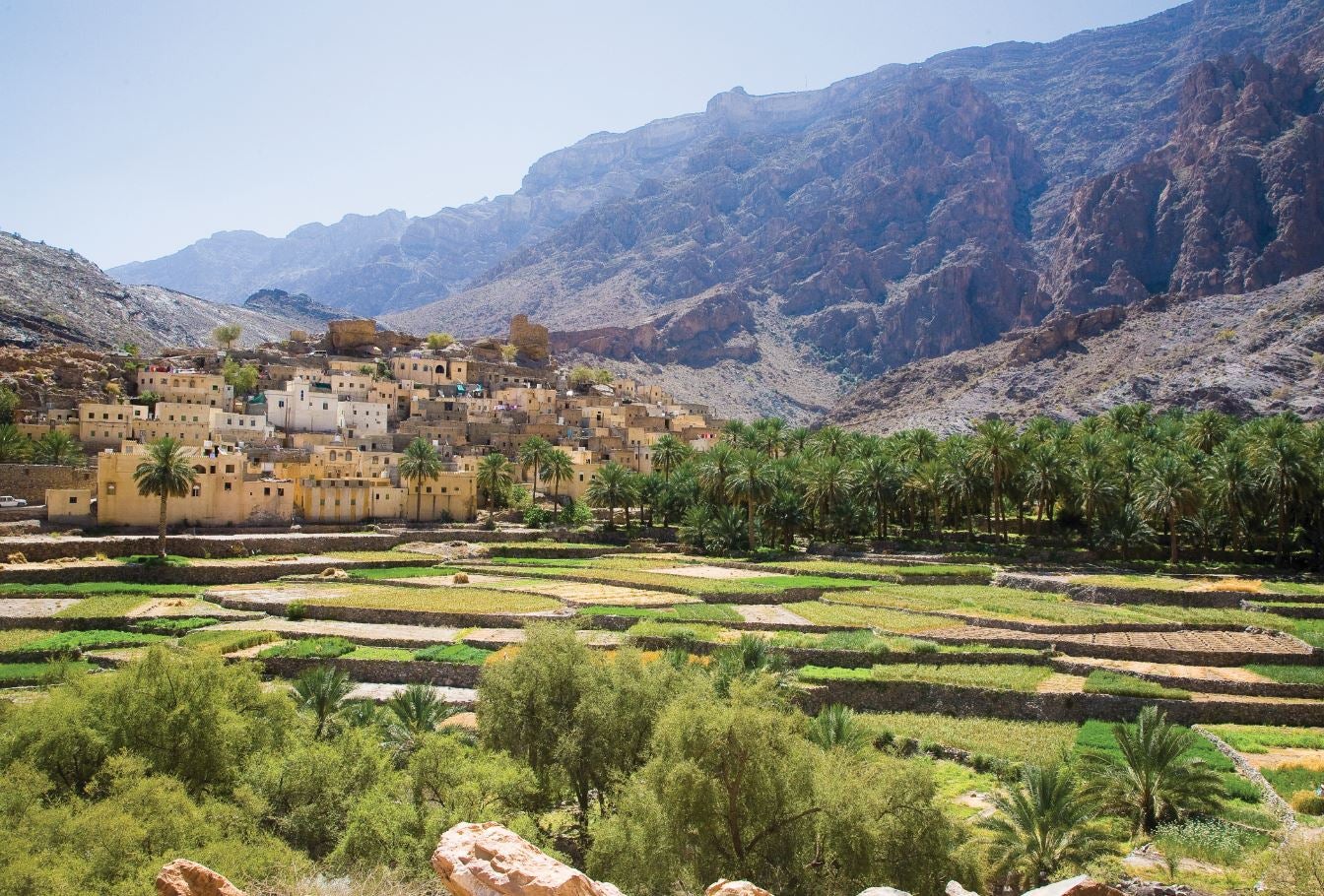 Despite being neighbors with Dubai, the Sultanate of Oman couldn't be more different. Away from the glitz and glamour of the Middle East's answer to Las Vegas, Oman's resplendent natural beauty and rich culture are enticing those who want to go off the beaten path and immerse themselves in an ancient way of life. The varied terrain is like nowhere on earth—outside the bustling markets and grand mosques of Muscat, you'll find Musandam's sparkling fjords and white-sand beaches, the imposing peaks and wadis (valleys) of the Hajar Mountains, and, of course, endless stretches of desert with gargantuan sand dunes.
Where to have…
A MAGICAL NIGHT
Dining by Design
Anantara Al Jabal Al Akhdar Resort's Dining by Design concept brings private dining to new heights at Diana's Point. Named after the Princess of Wales who visited the very spot in 1986, the protruding platform features panoramic canyon views that will have you feeling the grandeur of nature. It's a magnificent spot for a private dinner—your personal chef will prepare your meal tableside as you cocoon in a plush blanket, kept warm by a crackling fire pit and surrounded by flickering lanterns. Advanced booking is a must.
fb.aaja@anantara.com, jabal-akhdar.anantara.com
SEAFOOD ON THE SAND
The Beach Pavilion
The Beach Pavilion Bar and Grill, at the Ritz-Carlton Al Bustan Palace in Muscat is unbelievably romantic—tables for two are set right on a beach peppered with lanterns and torches. Start with salmon tartare, then order the fresh seafood platter and enjoy the gentle lull from the Sea of Oman. After dinner, head to the bar for shisha and cocktails.
A TRADITIONAL FEAST
Kargeen
The Muscat restaurant Kargeen, meaning 'little wooden cottage' in Omani, serves traditional Arabic dishes such as shuwaa (lamb or beef wrapped in palm fronds and cooked over hot embers underground). In the garden, trees are entwined with twinkling fairy lights, and a tent structure called Al Marjal features traditional Omani dining on plump floor cushions.
DINNER WITH A VIEW
The Indus Fine Dining
Located at the Opera Galleria in Muscat, The Indus's alfresco terrace has incredible views looking over the Royal Opera House courtyard and beyond. The dishes include traditional Arabic cuisine, but the desserts are not to be missed—order homemade kulfi, with either mango, pistachio or cardamom puree. There's also a private dining area if you're after a more intimate affair.
WHEN IN OMAN
Go Back in Time

The fascinating Green Mountain villages Al Aqr, Al Ayn and Ash Shirayjah are archaeologically significant, and many ancient practices are still in place there. Go on a cultural walk with friendly guide Ali to visit all three villages, one of which is completely abandoned. You'll see the cascading terrace farms, ancient falaj irrigation systems and climb through the villages to find waterfalls and serene natural pools. Ali offers insight into the culture and history of the villages while leading you through the winding alleys and steep walkways, stopping en route for a snack of dates and traditional Omani qahwa (coffee brewed with cardamom, rosewater and saffron). Be sure to cover your shoulders and knees, as is the local custom.
From $156 per person. Contact Abdou Ibrahim, reservations manager, +968 252 181 12, jabal-akhdar.anantara.com
Search for Secret Pools

In an exclusive seven-day itinerary created especially for Elite Traveler readers, Pelorus X will take you to see some of Oman's most wondrous sights, among them the Wadi Arbaeen in the Selma Plateau. Considered one of the most picturesque wadis in Oman, it's also difficult to get to. A 4×4 will whisk you there to marvel at the shimmering freshwater pools and surrounding sandy mountains, before hiking through a canyon to discover secret pools and waterfalls. Thrill-seekers can rappel 400ft down into the Seventh Hole, followed by lunch in a cave chamber before traversing through the largest surveyed cave system in Oman. Other highlights include paramotoring over the Empty Quarter's sand dunes and exclusive access to the Sultan of Oman's stables.
From $98,700 for four people. Contact Jimmy Carroll, cofounder, jimmy@pelorusx.com, pelorusx.com
Fortified History

Bahla Fort stands as Oman's only Unesco World Heritage–listed fort. Built by the Banu Nabhan tribe in the 12th to 15th centuries, the sand-hued structure is an epicenter of mystical tales—all manner of paranormal activity and wizardry have supposedly taken place there (legend has it a woman constructed the fort in a single night). Nearby you'll find Jabreen Castle. Erected in the late 17th century, the castle is historically significant because, unlike most forts in Oman, it was not built during wartime. The architecture is breathtaking—don't miss the Sun and Moon Hall. In the Al Batinah region, Nakhal Fort rises dramatically above its rocky surroundings. Well over 1,000 years old, it's now a museum. Visit all three on Bediyah Safari's private 4×4 tour with a personal guide.
From $365 for up to three people, omansafaris.com
WHERE TO STAY
IN THE DESERT
Hud Hud Travels Luxury Camps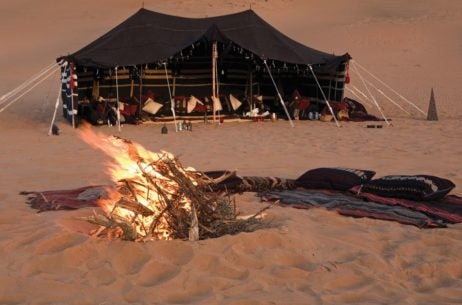 In line with the time-honored Arabian way of life, Hud Hud Travels provides an authentic Bedouin-style experience, but with luxurious touches such as a private chef and camp staff who can arrange a traditional lunch with a Bedouin family. The tents have minimal negative impact on the surrounding environment and can be pitched wherever you wish: desert, mountain or beach, or create a trip that combines all three. We recommend the deserts of Wahiba Sands, where dunes in the northeast can reach an astonishing 300ft high—an awesome spot to try dune bashing or sandboarding. Bespoke itineraries are available.
From $4,420 for two nights. Contact Jo Archer, general manager, sales@hudhudtravels.com, +96 899 802 922, hudhudtravels.com
ON THE BEACH
Six Senses Zighy Bay Resort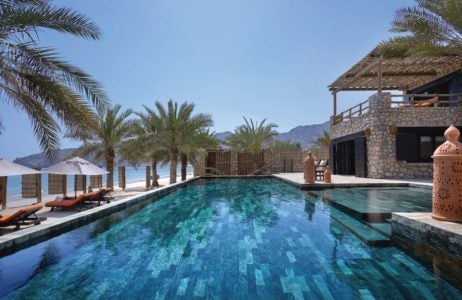 A new entry in Elite Traveler's annual Top 100 Hotels 2018, Six Senses Zighy Bay is flanked by the gargantuan Hajjar Mountains and the powdery sands of Zighy Bay itself. Native villages inspired the gorgeous architecture—think stone alcoves and beamed ceilings punctuated with sumptuous materials and pops of color. As the resort has its very own marina, glide through the calm seas on a traditional dhow. The Beit Musandam (House of Musandam) Private Reserve is the largest private villa in the Middle East and spans a mammoth 32,000 sq ft. Within the huge space, you'll find three buildings, including the four-bedroom villa, a 60ft-long infinity pool lined with palm trees, wine cellar, majlis with space for 100 people, spa, gym and yoga studio—all on your own stretch of private beach.
The Private Reserve from $8,500 per night. Contact Ahmer Rasheed, head concierge, reservations-zighy@sixsenses.com, +986 2673 5555, sixsenses.com/resorts/zighy-bay/destination
IN THE MOUNTAINS
Anantara Al Jabal Al Akhdar Resort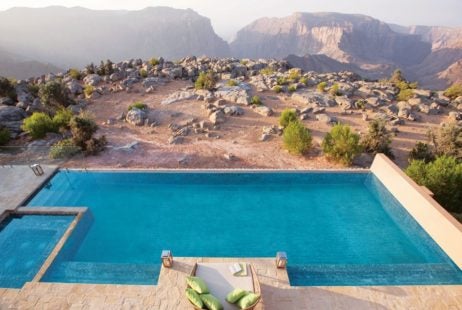 Perched 7,200ft above sea level, the resort Anantara Al Jabal Al Akhdar (on Green Mountain) is far from the coast, the heat and pretty much everything. In fact, you'll hardly come across another soul as you snake up the winding canyons on the two-hour drive from Muscat airport. But your reward is stunning: the resort's award-winning design by architect Lotfi Sidirahal features grand Moorish archways, fountains, brass lanterns and intricate Omani patterns. With a private entrance and garage, the Royal Mountain Villa is a favorite of the Saudi royal family and celebrities. The three-bedroom villa is the only accommodation with a second story, so total privacy is guaranteed. The views from the spacious infinity pool are incredible, and the dining table on the deck is the perfect spot to watch the sun dip beneath the dramatic mountains.
Royal Mountain Villa from $5,500 per night. Contact Darren Darwin, general manager, ddarwin@anantara.com, +968 2521 8000, jabal-akhdar.anantara.com