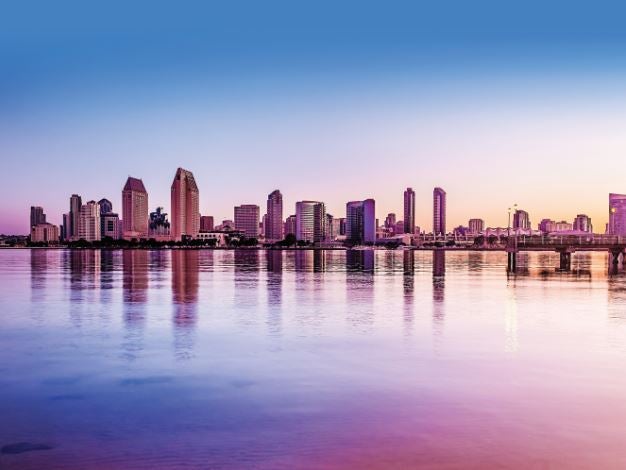 This story originally appeared in the November/December 2018 issue of Elite Traveler.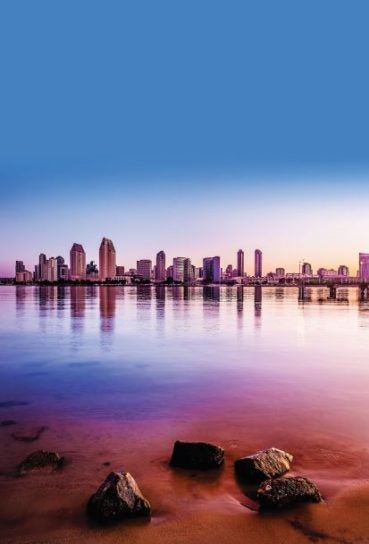 Originally inhabited by the Kumeyaay Native Americans, San Diego violently changed hands  several times throughout history; first by colonizing Spaniards in 1774, then by Mexicans in 1821 during the Mexican War of Independence and finally by early American settlers in 1848, after Alta California joined the United States thanks to the Treaty of Guadalupe Hidalgo. From the street names to the cuisine, the Mexican influence on San Diego is impossible to miss. Just a half-hour's drive from the US/Mexico border, San Diego offers up legendary surf spots as well as an energetic Gaslamp Quarter, and posits itself as the craft brewery capital of America. The oceanfront city is home to July's largest international comic book convention, San Diego Comic-Con, as well as the mustachioed Ron Burgundy, the hot shot newscaster played by actor Will Ferrell in Anchorman: The Legend of Ron Burgundy. His eternal words "you stay classy, San Diego" have become somewhat of proverb in this Southern California town, echoed multiple times a day by its friendly and humorous residents.
EXPERIENCE
Golden Door
Nestled in 600 acres of hiking trails, with mountains to climb and fresh air to inhale, Golden Door has attracted wellness seekers from all over the world looking to reset with daily massages, fitness classes and on-property-sourced meals. For the last 60 years, the resort has focused on preserving and enhancing human tranquility. While the typical experience is a week long, three- to seven-day full buyouts are now possible with a 30-guest minimum.
From $4,250 per guest per night, goldendoor.com
The America's Cup Match Race Experience
Race a pair of America's Cup competition yachts, the 24-guest Stars and Stripes against the 12-guest Il Moro with yachtsman Dennis Conner as your skipper. Get hands-on, jibing and tacking up the coast, or simply relax, glass of wine in hand, and let the handful of crew handle the sailing. The three-hour tour includes an onboard photographer and videographer for each yacht. A full dual buyout is possible.
From $3,000 for Stars and Stripes, $2,000 for Il Moro. Contact Warren Allan, warren@acsailexpert.com, +1 619 630 6383, dennisconner.com
Take Two// Home-Design Destinations
SCOUT@QUARTERS D
Housed in the old naval commander's quarters, the retail store of this interior design and home-staging company is brilliantly curated. Vintage maps, Moroccan rugs and locally made artisan candles outfit the store, which also sells custom furniture and antiques. Feeling more like a private home than a retail shop, Scout@Quarters D boasts a one-acre walkable garden filled with citrus trees and the salvaged giant marquee from the old Hotel San Diego, demolished in 2006.
ARCHITECTURAL SALVAGE
A veritable treasure trove of building materials, Architectural Salvage's inventory is ever changing. From vintage door knobs to the casual German street sign, you never know what you'll find. Massive stained glass windows hang from the ceiling; claw foot bathtubs share floor space with antique watering cans. Preservation-oriented, the two-story shop takes requests; should its staff stumble upon a particular piece you've expressed interest in, they're happy to follow up.
TOP SUITES
Three-Bedroom Beachfront Cottage
Hotel Del Coronado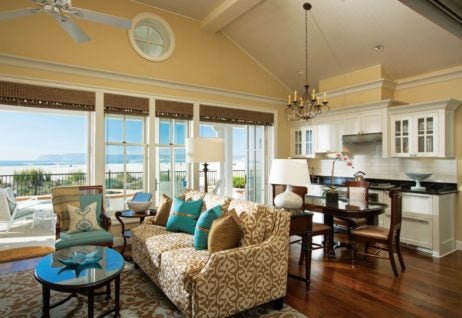 The Victorian-style Hotel Del Coronado, or simply "the Del," celebrates its 130th birthday this year. The iconic red-roofed turrets inspired The Wonderful Wizard of Oz author L. Frank Baum, a frequent guest, and provided a backdrop for the 1959 film Some Like It Hot. From the towers to the beach, the Del is kid- and dog-friendly, with robust programming for each. Find your zen at the Seaside Spa and Salon. Ocean-inspired, the treatments will leave an "inDELible imprint"—the hotel's corny, but clever (and truthful) tagline. Check into the Three-bedroom Beachfront Cottage in the Beach Village. Admire the uninterrupted views during a soak in one of the two outdoor tubs. Turn on your private outdoor fire pit and watch the sunset while your personal concierge tops up your champagne flute.
From $3,879 per night. Contact Nicholas Untermann, director of Beach Village, bvconcierge@hoteldel.com, +1 619 522 8809, hoteldel.com
Presidential Penthouse Suite
The US Grant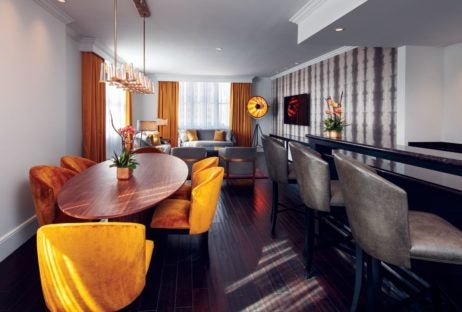 A downtown mainstay since 1910 and now a Luxury Collection Hotel, The US Grant housed a Prohibition-era underground speakeasy, broadcast radio station KFVW (from which the hotel claims President Franklin D Roosevelt delivered one of his first national addresses) and a $6.5m art collection. Renovated in 2006 and restyled to the tune of $13m in 2017, the hotel preserved its Arcadia windows, dentil cornices and balcony balustrades originally built by the son of 18th US President, Ulysses S Grant. It also modernized, adding custom Yves Clément drip-painting headboards and contemporary art. Stay in the former radio station, now the Presidential Penthouse Suite. Sink into the marble infinity whirlpool bathtub, complete with chromatherapy, or drink in the 11th floor panoramic views.
From $4,500 per night. Contact Demi Ricario, guest loyalty coordinator, demi.ricario@luxurycollection.com, +1 619 744 2052, theusgrant.com
Manchester Presidential Suite
Fairmont Grand Del Mar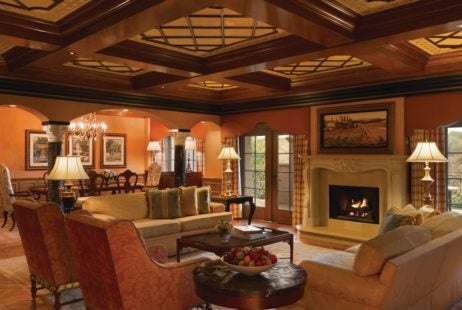 Fairmont Grand Del Mar's golf resort and spa feels more old-world Mediterranean estate than Southern California hotel. Perched atop 400 acres located five miles from the Pacific Ocean, Grand Del Mar boasts an 18-hole golf course, 37 miles of trails, an equestrian center, pro-style tennis courts and four pools. The multicourse, multi-hour tasting menus at Addison, the on-property restaurant helmed by Relais & Châteaux grand chef William Bradley, will not disappoint. His ode to modern French fine dining includes sake-cured kampachi, a contemporary twist on duck à l'orange and foie gras pot de crème with passion fruit gelée. Opt for the Manchester Presidential Suite; light the fireplace, open the French doors and decompress as the rolling verdant hills lull you into a deep relaxation.
From $4,000 per night. Contact Kami Tainatongo, reservations supervisor, kamil.tainatongo@fairmont.com, +1 858 369 4727, fairmont.com
SPIRIT SAMPLING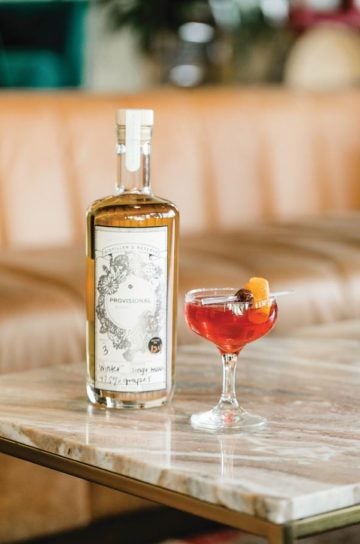 Within San Diego county lie more than 150 licensed craft breweries—the most of any region in the United States. Take a tour, swing in for a sample or meet the proprietor, chances are they're working on site.
Bagby Beer Company
Brewed on premises in Oceanside, North County San Diego, Bagby's 20-plus drafts on tap range from Bohemian-style pilsners like Sweet Ride to imperial stouts such as Zombie Gate. In addition to informal tours and several beer gardens, master brewer Jeff Bagby and his wife Dande host Beerleader experiences — a day-long brewing activity with custom food and drink menus. Bagby leads participants from recipe formulation through fermentation, and can even ship the batch of beer to your home upon completion.
You & Yours Distilling Co
Founded by Laura Johnson, You & Yours is San Diego's first urban distillery. To distill her grape-based vodka and Winter and Sunday gins, the 26-year-old uses a custom-built hybrid eau-de-vie still as well as fresh ingredients like juniper berry, Valencia orange, rose hip and lime leaf. Whether sipping or swigging, the result is smooth, insanely drinkable spirits. Enjoy in the airy tasting room that features a marble bar,
family-style table and several blue and blush sitting areas, or rent out the full space, which accommodates up to 85 people.
Image: You and Yours
EATING AND DRINKING
Prep Kitchen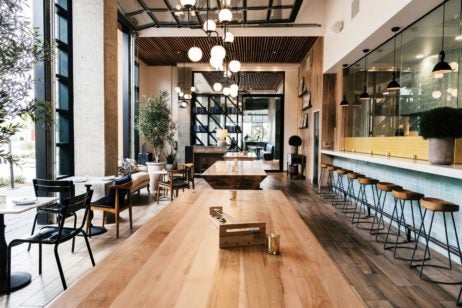 Perched on a corner in Little Italy, Prep Kitchen serves farm-fresh modern comfort food. Head there for brunch, where the stylishly prepared tableside Bloody Marys and cucumber-honey mimosas whet the palate. Chef Joe Elevado's Loco Moco features a wagyu hamburger steak, perfectly cooked over-easy farm eggs and hand-whisked gravy. His smoked bacon beignets with maple cream are sumptuous, and the hot coffee sundae served in a bento box allow diners to playfully mix and match flavors.
Ironside
From the anchor-themed floor lights to the copper bar, calling Ironside nautical-themed is a bit of an understatement. Linger at the raw bar; the selection of oysters on the half shell, from the creamy Baja Nautilus to the highly briny, wild, beach-raised Reach Island in Washington, are deliciously dynamic. Sample the uni scramble, a brioche topped with chervil and chives. Ironside lists its local fishermen and their vessels on the menu, a small detail that's curried local favor and granted it the freshest daily catch.
Herb &Wood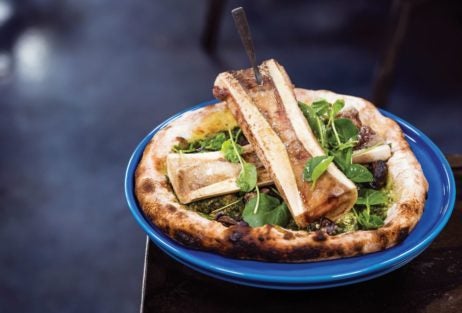 Wood-fired is at the center of this industrial-meets-garden-party concept. A splashy opening from former Top Chef competitor Brian Malarkey wowed top food publications, in part due to the menu's daily changes. Order the off-menu buttery Parker House rolls as well as the bone-marrow pizza, which includes escargot, Gruyère and fine herbs, and pairs swimmingly with the bourbon and thyme cocktail. Stay for the decadently simple chocolate-blueberry soufflé, but opt to leave the toppings on the side.
Level2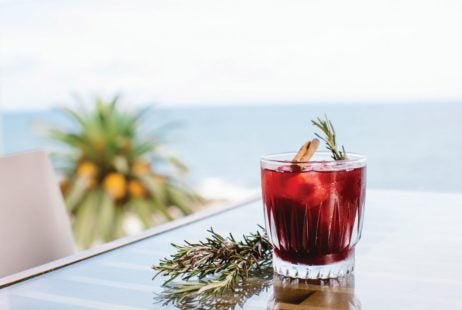 Watch as day calls it a night over the Pacific Ocean at Level2 at George's at the Cove. The craft cocktail program revolves around a series of beverages named after San Diego's 23 neighborhoods. La Jolla showcases a lime- and chili-infused tequila along with dehydrated mango, agave and a seaweed-filled ice cube. Ocean Beach, meanwhile, spotlights Calwise Big Sur Gin fat-washed with hop butter, with orange blossom oolong tea, IPA and oleo saccharum. Spirit-forward, more traditional cocktails, as well as a generous list of wines by the glass round out the menu.
BURRITO VS TACO
Lolita's Mexican Food
With several locations throughout San Diego county, Lolita's is family run and all of its ingredients are made from scratch. Don't be fooled by the unassuming facade, the
California burrito made within is crunchy, tangy and perfectly West Coast. Basic ingredients include carne asada, French fries, cheddar cheese and sour cream. Make like a local and add a little avocado.
Oscars Mexican Seafood
Just off the main boulevard in Pacific Beach, this is the ultimate beachside taco spot. Grab a pair of flip-flops and stroll into this quaint indoor/outdoor order-at-the-register
restaurant. Start with a trio of tacos; grilled octopus, smoked fish (which changes seasonally) and shrimp all have uniquely crisp and slightly spicy flavors. Move on to the scallops taco, but don't forget the traditional battered fish topped with cilantro. The house-made piquant green sauce is not to be missed.
Photos: Jessica Sample, Brogen Jessup Photography, Zack Benson