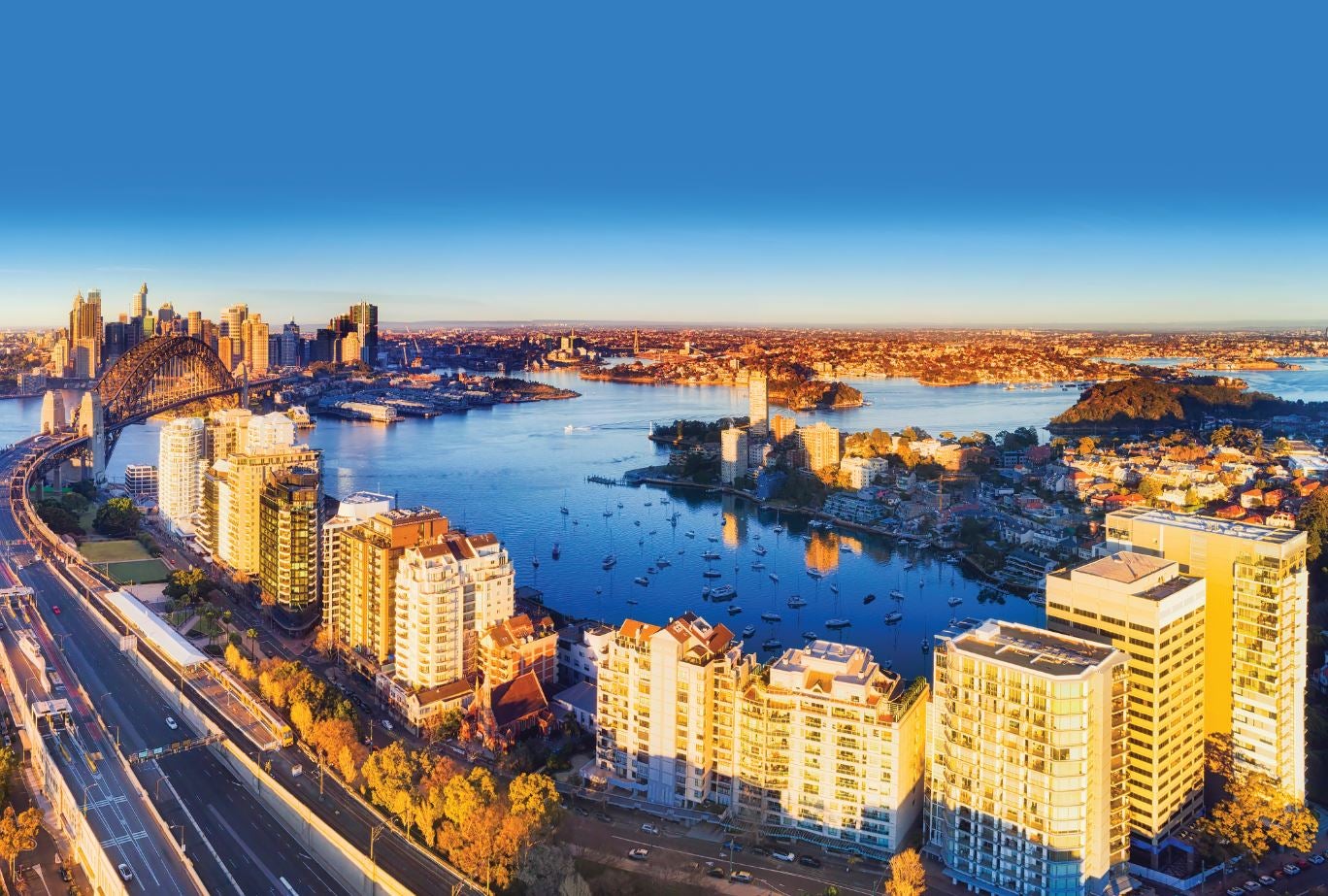 Sitting pretty on the southeast coast of Australia, ever-upbeat Sydney is a vision of sun-kissed glamour. The iconic harbor glows in the afternoon sun, while Bondi Beach buzzes all year long. Even in the cooler winter months, from June to August, the cosmopolitan city revolves around outdoor experiences. Alfresco restaurants and bars spill onto the sidewalks, while hikes, sailing, coastal drives and wine tastings punctuate a perfect itinerary. Whether you're seeking out the latest blink-and-you'll-miss-it bar or luxuriating on an empty beach, the city's casual-cool attitude will make you feel right at home.
Buzzing Bars
Jangling Jack's
If it's killer cocktails and classic rock you're after, Jangling Jack's is the place to be. Named after a famous tune by Aussie musician Nick Cave, the chic bar in Potts Point combines playful Victorian-era accents, leather booths, and vintage decor for an eclectic vibe that feels instantly authentic. Run by Australia's only all-women bar team, the cocktail list will impress aficionados with reimagined classics, such as the Rosemary Gibson and Trinidad Sour (made with a whole shot of bitters).
MV Bistro & Wine Bar
A casual-chic spot in Surry Hills, MV Bistro & Wine Bar was converted from a 19th-century workshop into the popular gin and wine bar that Sydneysiders know and love today. Whether you're digging into an indulgent cheese board or simply sampling the lengthy drink list, the two-level venue promises excellent atmosphere and friendly service. In the winter, ask about the 100-plus wine list or the homemade mulled wine. Come summer, work your way through the lengthy list of gin-fueled cocktails.
The Baxter Inn
This subterranean watering hole just off Clarence Street in Sydney's financial district should be the first port of call for every whiskey enthusiast. Once you wind your way down the unmarked alley and a flight of stairs to the basement, the old-world atmosphere opens to reveal a long wooden bar, backed by a wall of more than 1,000
whiskeys. Suspender-clad experts will help you find the perfect drink, whether it's a neat nip, carefully crafted cocktail, local wine or craft beer.
Sydney Stays
Sydney Suite
Park Hyatt Sydney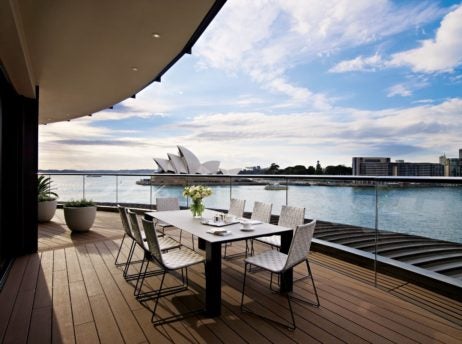 Located near the Sydney Opera House in the charming Rocks village, the Park Hyatt Sydney delivers sleek interiors and superlative service. Among the 115 rooms and suites, the Sydney Suite is the crème de la crème, featuring panoramic views of the harbor and Sydney Opera House that will sweep you off your feet. The 3,767-sq-ft oasis features soft cream and wood decor, as well as two bedrooms, marble bath, sauna, sitting area and a spacious outdoor terrace. It's also perfect for entertaining thanks to the Bose sound system and full kitchen.
From $15,350 per night. Contact Christine Haddad, director of sales and marketing, christine.haddad@hyatt.com, +61 292 561 234, sydney.park.hyatt.com
Penthouse Suite Deluxe
The Darling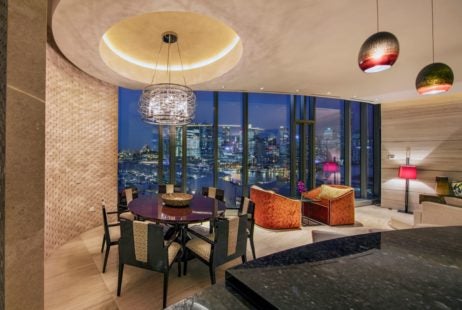 The Darling hotel is the jewel in the crown of The Star entertainment complex, and it oozes glamour—think high ceilings and modern artwork, as well as an all-star lineup of restaurants and bars. The Penthouse Deluxe Suite stretches across 1,507 sq ft and features wraparound windows framing the Harbour Bridge, a large dining table, contemporary lounge furniture, precious artwork, full kitchen, optional private chef and walk-in wardrobe. Of the five penthouse suites, we'd recommend booking the one that includes a karaoke lounge.
From $3,230 per night. Contact Roland Juhasz, reservations services assistant manager, roland.juhasz@star.com.au, +61 297 779 888, thedarling.com.au
Image courtesy of The Star Entertainment Group
The Observatory Suite
The Langham Sydney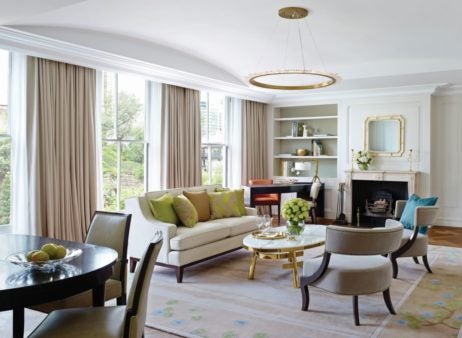 Overlooking the Sydney Harbour, The Langham Sydney delivers English style in spades. Awash with soft shades of white, gold and green, The Observatory Suite is the hotel's most luminous option. The 1,313-sq-ft suite spoils guests with views of Observatory Hill and the Sydney skyline. Every inch has been thoughtfully designed, from the luxurious sheets to the double drawing room, regal fireplace, Chuan Spa toiletries, marble bathroom and grand dining room.
From $1,685 per night. Contact Gaylord Lamy, general manager, gaylord.lamy@langhamhotels.com, +61 292 562 222, langhamhotels.com
Top Restaurants

Reuben Hills
If you're keen to try Australia's world-famous coffee, make a beeline to Reuben Hills in the Surry Hills neighborhood. When this industrial-chic cafe opened in 2012, it quickly became a must-visit for all caffeine addicts. The owners traversed the globe to handpick single-origin beans, which they roast on site and then expertly filter. The food menu also came together on the back of these roasting trips, so you'll see lots of South American and African influence on the all-day breakfast menu. Every Saturday morning, there's an educational "public cupping" coffee tasting, where you can learn more about the provenance and process.
Momofuku Seiōbo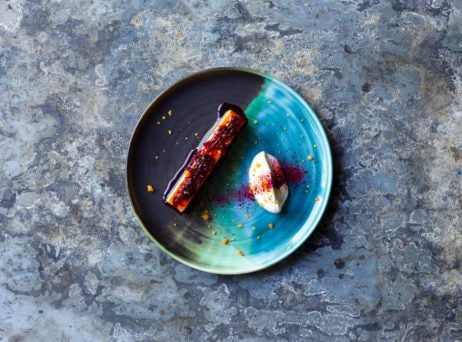 Fans of chef David Changwill appreciate an intimate date night at Momofuku Seiōbo. Designed by Australian architects Luchetti Krelle, the gorgeous restaurant combines minimalist decor, muted colors and an open kitchen complete with a custom Molteni stove. As for the cuisine, executive chef Paul Carmichael takes inspiration from his Caribbean heritage and the bounty of Australian ingredients. Pair the meal with sake
or wine sourced from boutique producers.
Image © Jason Loucas

Bennelong
Nestled inside the iconic sails of the Sydney Opera House, Bennelong promises stunning interiors and harbor views. Designed by chef Peter Gilmore, the menu revolves around Australian ingredients, from meats to vegetables, beers and wines. The menu changes with the seasons, but you can usually count on staples such as Sydney rock oysters, Flinders Island lamb, beef tartare and the oft-photographed pavlova—a meringue based dessert whipped into the shape of a mini Opera House.
Image © Nikki To
SUNDAY SESSION
The Grounds of Alexandria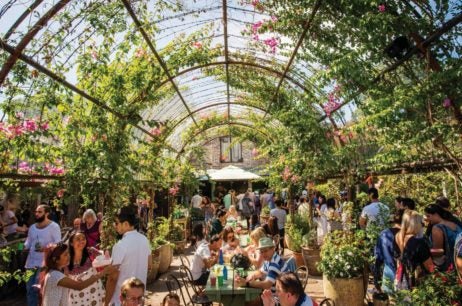 A playground for gourmets of all ages, The Grounds of Alexandria is perfect for a leisurely brekkie. It's part restaurant, part rustic market and coffee roastery—all built on the site of a former 1920s warehouse complex. Around the sprawling area there's an organic garden, on-site bakery, florist, barbecues, outdoor seating and even a petting zoo for little ones.
Image courtesy of Destination NSW
Take Three/// Day Trips
Wine Tasting in Hunter Valley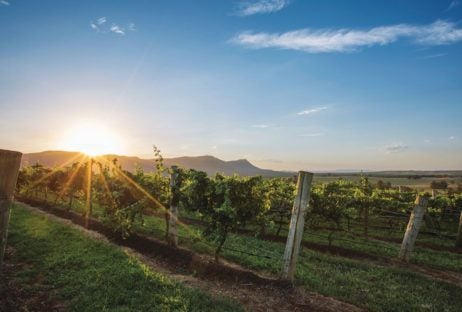 Hunter Valley is Australia's oldest wine region and is only a 45-minute helicopter flight from Sydney. There are more than 150 cellars open for tastings on any given day, including picturesque outfits such as Audrey Wilkinson, Margan Restaurant & Winery, Scarborough Wine Co and Pepper Tree Wines.
Image © MJK Creative
Royal National Park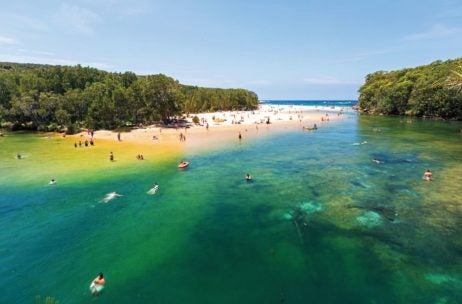 A trip to Sydney isn't complete without a romp through the Royal National Park. Southeast of the city, the sprawling park is home to empty beaches, waterfalls,
wildflowers and pathways through the forest or along the coastline. Between June
and August, you might even spot whales from the popular Coast track.
Image courtesy of Destination NSW
Sydney Harbour Exclusive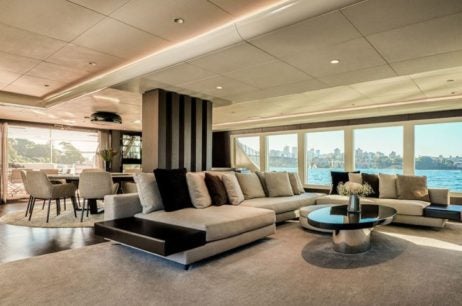 The best way to experience Sydney's famous harbor? On a private superyacht. Sydney Harbour Exclusive offers fully crewed vessels—such as the luxurious Tango, with three kayaks, a spa and sauna on board—complete with premium catering, so you can sit back and enjoy.