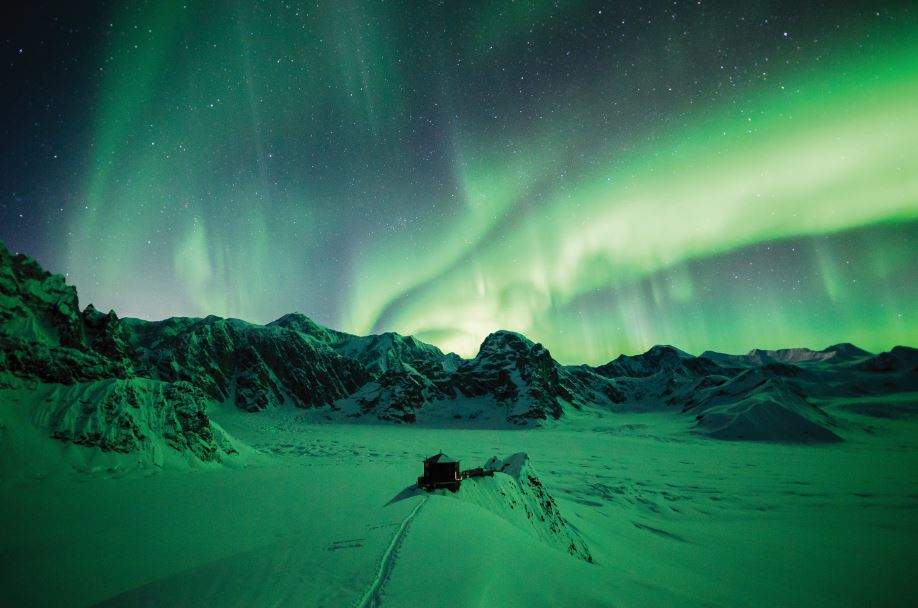 This story originally appeared in the November/December 2018 issue of Elite Traveler.
Only from a remote spot atop a glacier, hours from civilization, could you walk outside your room and see some of the world's most majestic sights. At ultra-luxury lodge Sheldon Chalet, you won't sacrifice comfort in exchange for your proximity to the Alaskan wilderness. Read on for an exclusive itinerary created especially for Elite Traveler's intrepid explorers.
Whether it's tasting a freshly shucked oyster on the edge of a 3,700-ft gorge or relishing the pure indulgence of watching the Aurora Borealis from bed, Sheldon Chalet pairs five-star hospitality with rugged adventure at every opportunity. From its isolated locale in the middle of Ruth Glacier, hundreds of miles from the nearest town, exploration is quite literally at your doorstep. And each day's adventures will be rewarded with a decadent dinner.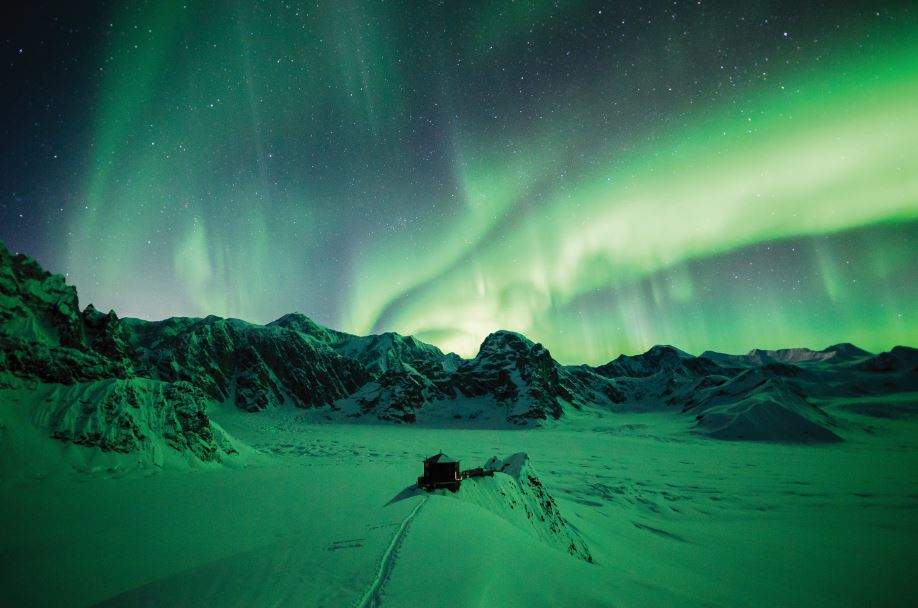 DAY 1
After arriving in Anchorage, fly by helicopter to Sheldon Chalet. En route, you'll begin to get a sense of the vast, epic landscape that awaits while you soar above the Chugach Mountains, Cook Inlet and Matanuska Valley. As you approach Denali National Park, six million acres of pristine nature, North America's tallest peak begins to appear on the horizon. Standing at 20,310 ft, Denali dominates the snow-covered landscape. Take a scenic tour of the mountain before arriving at Sheldon Chalet. Here, the juxtaposition between your uninhabited surroundings and the hotel's absolute luxury is put in stark relief as you are welcomed with champagne and a tower of the freshest Alaskan seafood.
DAY 2
After seeing it from above, prepare to explore Ruth Glacier on foot. Your guide will plan an itinerary just for you, whether you want to hike its crevasses, explore the nunatak or head to the Great Gorge. At 3,700-ft deep, it's the world's deepest, and it is surrounded by walls that rise up to 5,000 ft, which make its depth even more pronounced. The guide will unpack a delicious meal for you to savor in the middle of this dramatic landscape. Upon your return, you'll be welcomed by a roaring fire on the chalet's deck and a gourmet dinner with locally sourced cuisine. After dinner, head to the deck with a hot toddy and marvel at one of the most star-studded skies you will ever see. Gaze at the Milky Way while you wait for the aurora to appear, dancing and crackling before you in a riot of colors.
DAY 3
Return to the skies and head further afield by helicopter on a journey to a remote, and secret, hot spring. Keep an eye out for caribou, bear and moose (bring your camera and you'll be rewarded with beautiful photos). At the hot spring, enjoy a delicious picnic while your guide tells you about the region's history and culture. You'll have plenty of time to soak in the restorative waters as well. At night, venture out onto the glacier for a moonlight trek—the stars and moon are so brilliant that you won't need a headlamp.
DAY 4
On your last day, pick between relaxation and adventure. Aviation and mountaineering enthusiasts will want to head to Don Sheldon Mountain House, built in the 1960s by the famous aviator, where you can learn about Sheldon's flying adventures and what it takes to summit Denali. The house is placed on an outcrop at 5,800 ft, so the views of Don Sheldon Amphitheater are sublime. Or stay closer to home and revisit the nunatak, relax in the sauna and practice your photography, capturing the incredible vistas from the Chalet. The chef will prepare a feast for your farewell dinner and, with luck, the aurora will put on a final light show for you.
DAY 5
Wake up early and watch the sun rise over Denali's summit from the warmth of your bed before returning to Anchorage by helicopter, this time flying through Devil's Canyon of the Susitna River. Cherish your final views of the US's last frontier and the majesty of its raw, natural beauty before heading home, forever changed.
From $144,000 for 10 people, all inclusive for five nights with exclusive use of Sheldon Chalet and Sheldon Mountain Lodge; from $59,000 for four people without exclusive use. Contact Marne Sheldon, owner, visit@sheldonchalet.com, +1 907 854 7007, sheldonchalet.com