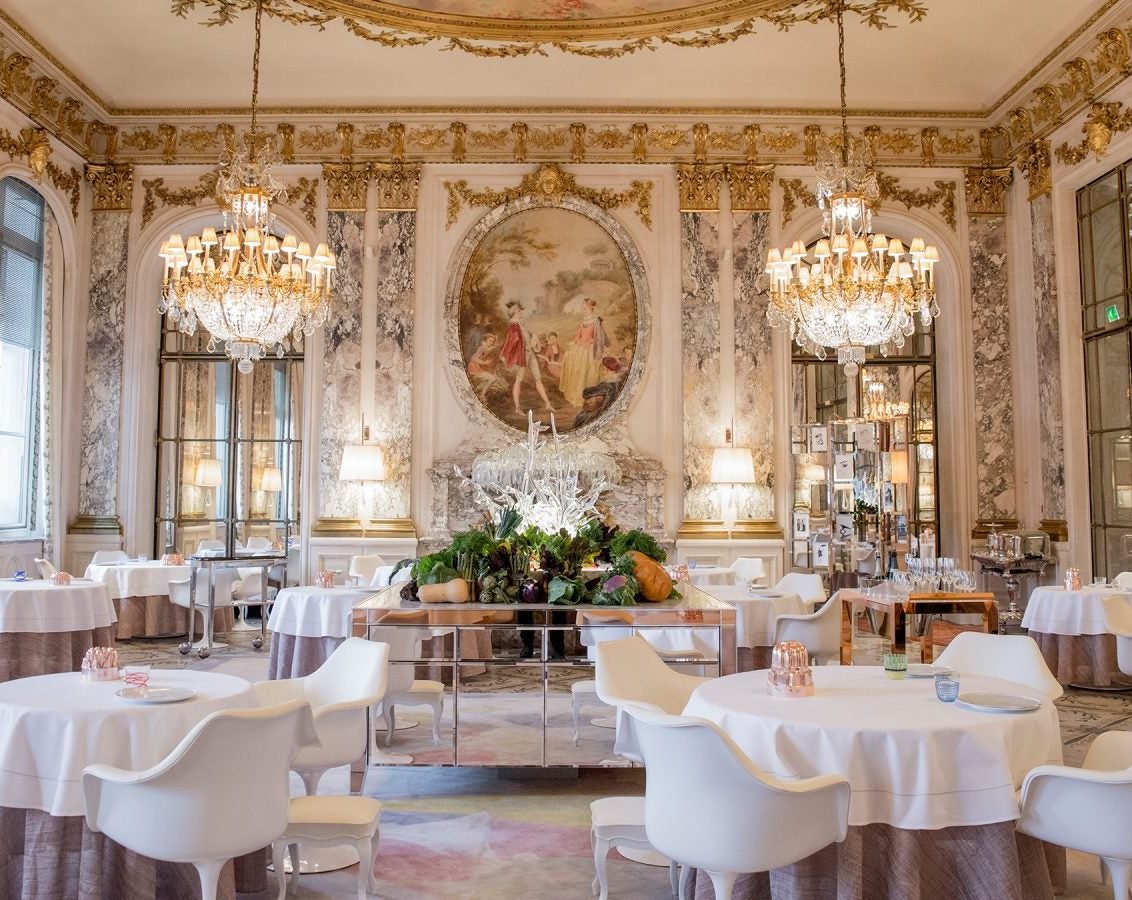 With well over 100 Michelin stars and a number of the world's most exclusive hotels, it's no surprise that Paris is one of the world's most luxurious dining destinations. To celebrate this perfect combo, Elite Traveler has rounded up the 11 best hotel restaurants in the City of Love.
Alain Ducasse au Plaza Athénée – Hôtel Plaza Athénée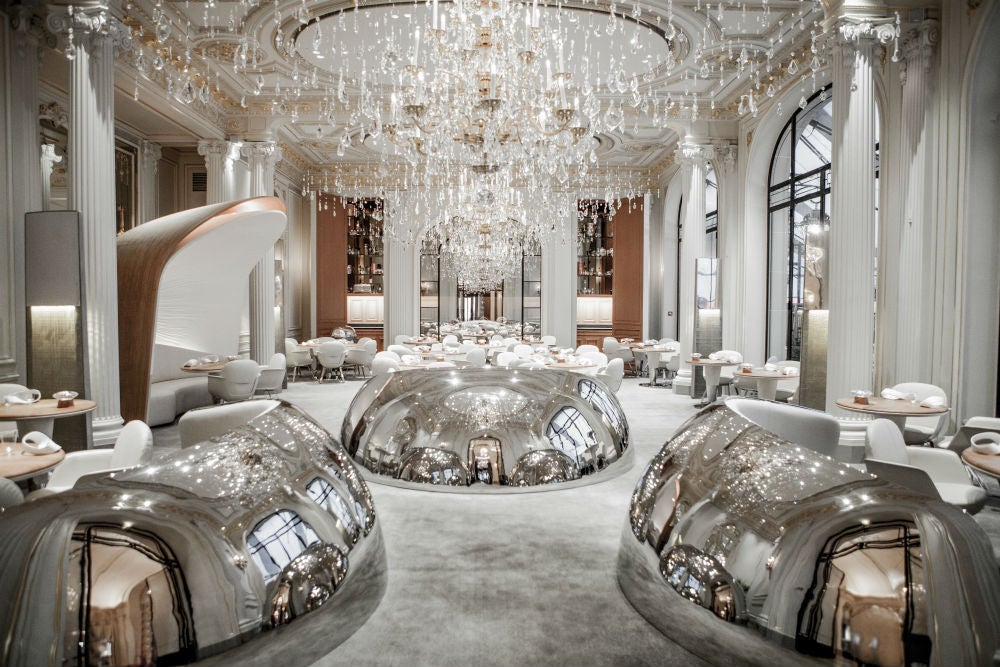 Inside the gorgeous Hotel Plaza Athénée on avenue Montaigne, Alain Ducasse's fine-dining restaurant serves healthy, natural cuisine worthy of three Michelin stars. After roles as sous-chef and chef-de-partie, executive Chef Romain Meder now directs the menu of 'naturalness' dishes based on the fish-vegetables-cereals trilogy that brings out the original flavors of the ingredients with a gourmet touch. While the restaurant promises a delicious meal, the lavish hotel setting is an exquisite complement to the award-winning cuisine. Stunning crystal chandeliers hang above silver and white seating, creating an atmosphere that is both soft and elegant.
Click for more on Hotel Plaza Athénée, one of the Elite Traveler Top 100 Hotels 2018.
Restaurant Le Gabriel – La Réserve Paris
Just a short walk from the glamorous Champs-Elysées, La Réserve Paris is renowned for its opulent accommodations as well as its dining offerings. Achieving a two-Michelin-starred rating just one year after opening its doors, Le Gabriel at La Réserve Paris is led by a veteran of Le Crillon and L'Ambroisie: Brittany-born chef Jérôme Banctel. The chef offers a seven-course tasting menu in addition to a four-course experience menu of classic French cuisine with elements of Asia in its flavors. Dining here harkens back to the era of Napoleon III, evoked by gold detailing and regal accents from the dining room's floor to its ceiling.
Click for more on La Réserve Paris, one of the Elite Traveler Top 100 Hotels 2018.
Le Cinq – Hotel George V, Four Seasons
Over from three-Michelin-starred Ledoyen, chef Christian Le Squer is the current face of Hotel George V, Four Seasons' crown jewel, Le Cinq. Overlooking a picturesque marble courtyard and outfitted in gold and gray tones, Le Cinq expertly takes on traditional French gastronomy with the addition of lighter fare crafted from fresh, regional ingredients. The hotel's wine cellar is a piece of history in itself, designed in 1928 but walled up during World War II to hide its contents from France's enemies. Today, the cellar shelves are stocked with 50,000 bottles and 2,800 references waiting to be paired by sommelier Eric Beaumard with a nine-course Epicurean Escape menu.
Click for more on Hotel George V, Four Seasons, one of the Elite Traveler Top 100 Hotels 2018.
Epicure – Le Bristol Paris
The dazzling Le Bristol Paris is home to another of Paris's three-Michelin-starred restaurants: Epicure. Celebrated chef Eric Frechon has been running the kitchen since 1999, and since its renovation in 2011, Epicure has continued to delight with award-winning seasonal French cuisine. Aside from Frechon's menu of personal selections, another notable offering is the cheese board developed in partnership with master cheesemakers — the perfect complement to French wine. Try the famous stuffed macaroni with black truffle, artichoke, duck foie gras and aged parmesan. During summer months, guests are invited to dine on fresh fare in the restaurant's lush Parisian garden.
Click for more on Le Bristol Paris, one of the Elite Traveler Top 100 Hotels 2018.
Le Meurice Alain Ducasse – Le Meurice
The talents of designer Philippe Starck and chef Alain Ducasse come together on this two-Michelin-starred restaurant at Le Meurice hotel. The inherently French interior featuring antique mirrors and dramatic chandeliers draws its inspiration from the palace of Versailles, affording guests a dining experience fit for royalty. Ducasse's lauded nature-first cooking style is carried out by executive chef Jocelyn Herland, with dishes based around high-quality produce. Book the Chef's Table, tucked away through a private entrance, where Herland herself will guide you through a seasonal gourmet menu while you watch the skilled kitchen staff at work.
Click for the Le Meurice suite that made the Elite Traveler list of Top 100 Suites 2017.
La Table de l'Espadon – Ritz Paris
At Ritz Paris, an otherwise old-world inspired scene is modernized by the innovative cuisine of chef Nicolas Sale. La Table de l'Espadon is an experience, featuring a menu on which Sale imparts his unique creativity to serve dishes such as blue lobster with imperial caviar and free-range French chicken in a pastry-sealed cocotte for two. Private dining is available in the Salon Auguste Escoffier, where the chef will prepare an intimate meal for up to 12 guests. In iconic Ritz Paris fashion, the restaurant has an air of refinement created by its curving arches, draping curtains and gold accents.
Click for more on Ritz Paris, one of the Elite Traveler Top 100 Hotels 2018.
Sylvestre – Thoumieux Hotel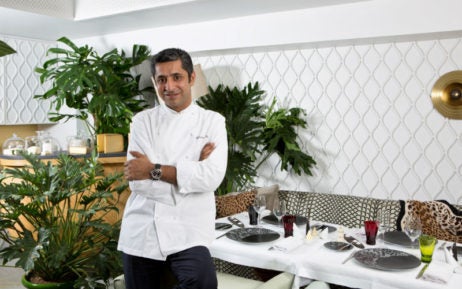 With two Michelin stars and a highly rated wine list, it's hard to not be impressed with Sylvestre Wahid's offering at the Thoumieux Hotel. Having taken over from the world-famous Jean-François Piège, Wahid had his work cut out for him when he took over the restaurant in 2015, however his impressive culinary skills and dedication to developing a truly unique dining experience has led to Sylvestre becoming one of Paris's greatest restaurants.
Offering three constantly changing tasting menus, including dishes such as braised cauliflower with curry leaves, goji berries, fresh horseradish and milk frosts, and pigeon served with cherries, fresh almonds, chard and chia seeds, Sylvestre is definitely worth a visit whether you're staying at Thoumieux or not.
L'Abeille – The Shangri-La Hotel
Another one of Paris's two Michelin-starred hotel restaurants is L'Abeille at The Shangri-La Hotel. Taking influence from Napoleon's favorite emblem, the bee, L'Abeille's head chef is Christophe Moret, whose career has seen him work with the likes of Bruno Cirino, Alain Ducasse and Jacques Maximin. While Moret's food has been criticized by some for being less-complex than his predecessor Philippe Labbé, the food on offer is certainly nothing to turn your nose up at.
Moret pairs the freshest seasonal ingredients with some of the most daring flavors. Some of the top dishes include spider crab and John Dory, both of which are prepared spectacularly.
Mandarin Oriental – Sur Mesure Par Thierry Marx
Set inside the ultra-luxurious Mandarin Oriental, Sur Mesure Par Thierry Marx is one of the city's most exciting hotel restaurants. As the name suggests, the restaurant's head chef is the legendary Thierry Marx.
Having spent the early part of his career training at restaurants such as Ledoyen, Taillevent and Robuchon, Marx later won a series of Michelin stars at restaurants such as Cheval Blanc, Roc en Val and a ten year stint as head chef at the two Michelin-starred Chateaux Cordeillan Bages.
Specializing in molecular gastronomy, Marx's menu encompasses unusual dishes such as foie gras paired with smoked eel, onion soup in a 'trompe-l'œil style', soy and oysters risotto with black truffle pan-fried scallops with pistachios and confit lemon, with his vibrant dishes acting as a stark contrast to the dining room's all-white interior.
Inka – 1K Paris
Billed as the 'first Peruvian restaurant in Paris', Inka has become somewhat of a trend-setter in Paris. Over the last few years Peruvian restaurants have popped up around the city, however it is still Inka that holds the title of the city's most authentic Peruvian restaurant. Focusing on serving ceviche alongside a number of refined flavors and textures, Inka's menu sprawls decades of Peruvian culinary history, all of which is adapted and modernized for the refined traveler's palate.
Set inside the rather chic 1K hotel, Inka is one of the best casual dining spots in all of the 3rd Arrondissement and should be on the list of any traveler looking for something a bit more unusual when visiting Paris.
Restaurant le W – Warwick Paris
Set inside the elegant Warwick Paris, Restaurant le W is the brainchild of Franck Charpentier and Paulus Van Gessel, previously of Vié and Barrier restaurants respectively. More recently the kitchen has been taken over by Ludovic Bonneville who is perhaps most well-known for his work at Restaurant La Terasse Mirabeau and Restaurant le Caméléon.
The food on offer at Restaurant le W is unpretentious, yet capable of showing Bonneville's unrivaled skill. With dishes such as sole "Petit Bateau" – meunière with candied lemon, steamed potatoes with seaweed tartare, it's obvious that Restaurant le W is easily one of the city's most opulent dining options.