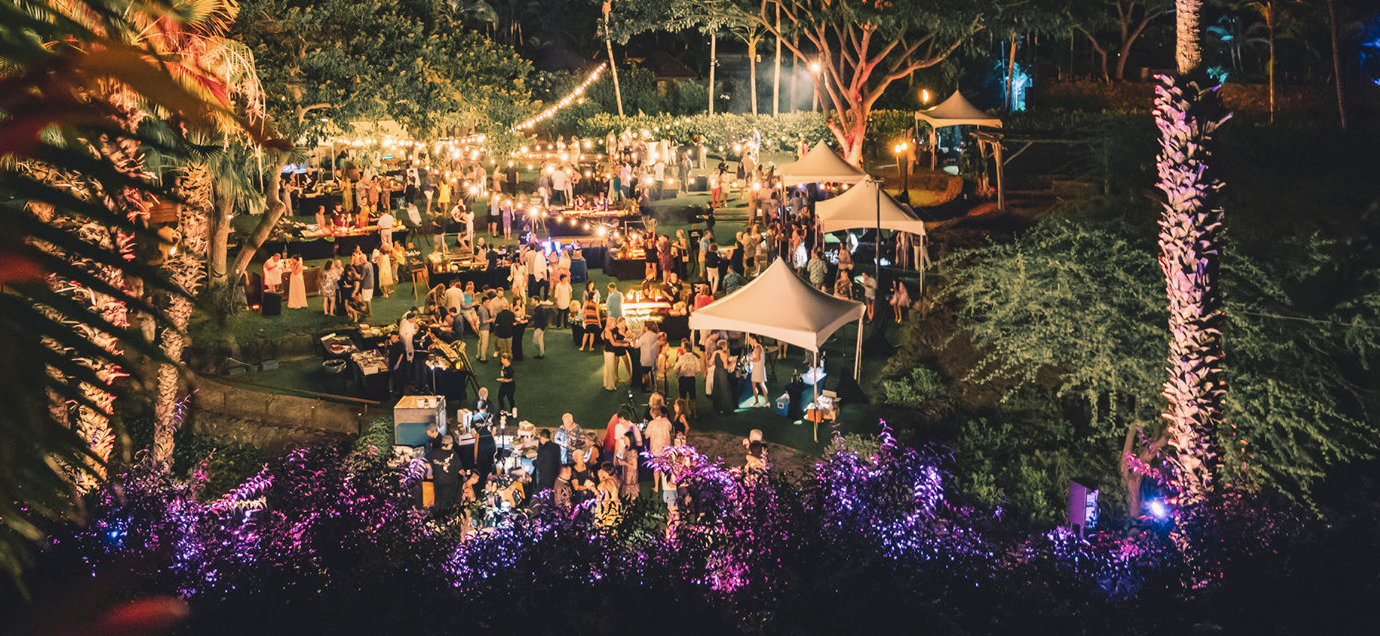 Gone are the days of waiting in line for uninspired bites; the best gourmet food festivals bring chefs from Michelin-starred restaurants, the world's best mixologists, award-winning sommeliers and fans together to celebrate their love of food and wine during extravagant dinners, outrageous parties, intimate cooking classes and grand tastings.
Chef Fest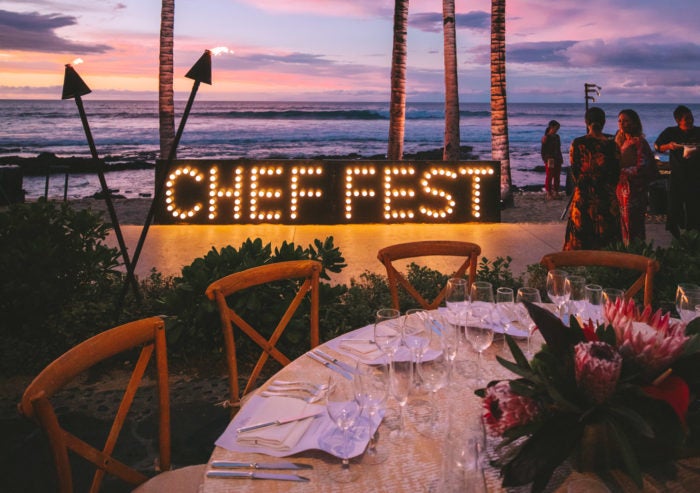 It's always a good time to visit Hawaii, but savvy travelers plan their trips around Chef Fest at Four Seasons Resort Hualalai each November. The relaxed and intimate event takes place in the beautiful resort and features a roster of interesting chefs, like James Beard Award winners Mashama Bailey, Claude Le Tohic and Charles Phan, alongside Hualalai's executive chef Thomas Bellec. The weekend kicks off with bocce and bubbles with the chefs, offering guests an opportunity to ask questions and get to know them. The cooking classes are interactive, unlike many other festivals, so guests pair up to cook the dish at the same time as the chef rather than just watch the chef cook. Last year, chef Bailey of The Grey in Savannah taught guests how to humanely kill and cook lobsters to make her famed lobster and grits.
There are various cultural activities, like lei making, and the schedule is quite relaxed, so there's plenty of time to explore the Big Island and to relax at the resort's beautiful beaches and pools. There is an important wine and spirits component as well: Top mixologists host daily beachside cocktail demos and small workshops. One of the most sought-after tickets of the weekend is the rare wine tasting, which has featured vertical tastings from some of the biggest names in Napa Valley, including Colgin Cellars and Harlan Estate. At night, there is a mix of casual evenings where chefs set up stations with signature dishes and more formal seated dinners. The festival concludes with a gala at 'Ulu Ocean Grill, where guests sip fabulous champagne (last year they served Louis Roederer Cristal) and mingle with the chefs before a multi-course extravaganza under the stars.
The Epicure
The Dolder Grand, Zürich, Switzerland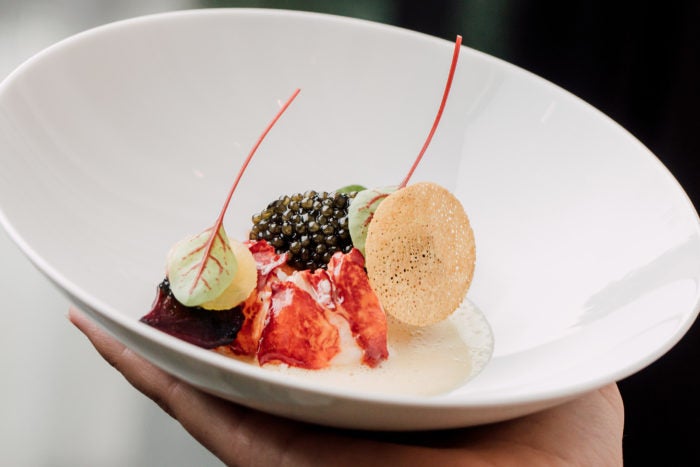 From Botero to Miró, including Warhol, Man Ray, Judd and more, the art collection at Zürich's The Dolder Grand rates the hotel as a destination in itself. Ensconced in the woods, it overlooks the city's gleaming lake, just walking distance from downtown. But it also reigns as a food mecca, with a culinary program helmed by Heiko Nieder of two-Michelin-starred The Restaurant. Best-known for elegant presentation and light fare, his artful cuisine mirrors Zürich's contemporary, urbane buzz. To share his talents and collaborate with other like-minded gastronomes, The Dolder Grand and Nieder launched The Epicure — Days of Culinary Masterpieces, an indulgent, six-day gourmet jamboree, in 2014. Each September, a group of chefs from Michelin-starred restaurants around the world (last year's lineup included Alain Passard, Nick Bril and Jan Hartwig, among others) join Nieder at The Dolder Grand to converse, exchange ideas, teach and prepare toothsome dishes for the attendees. Guests can dine on guest-chef-prepared, multi-course dinners at The Restaurant, attend master classes on a slew of subjects from cigars to caviar, and taste plenty of dishes in the exquisite, two-story Steinhalle Gallery. "The best part of the event is watching my colleagues applaud and support one another," says Nieder. The next event is scheduled for June 29-July 4, 2021. Words by Becca Hensley
Aspen Food & Wine Classic
Aspen, Colorado, USA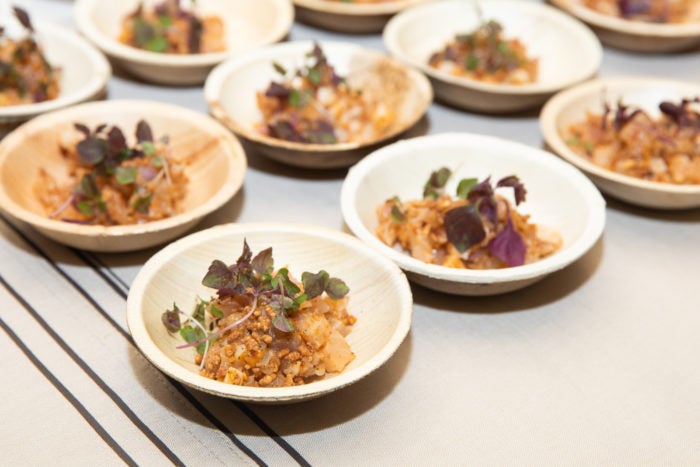 In the off-season, Aspen can still feel like an unassuming mountain town — until you walk by Prada or notice Gwyneth Paltrow traipsing down the street. But the upscale vibe intensifies one weekend each summer in June when the gourmet crowd descends upon the ski hamlet in a throng 5,000 epicureans strong. This seriously food-centric festival welcomes the world's premier experts on grub and libations. Expect celebrity chefs (think: Rick Bayless, Geoffrey Zakarian and Food & Wine's Best New Chefs) and kitchen-savvy authorities of every stripe. Martha Stewart (who shared her Aperol spritz recipe last year to a full-house audience) will return to a gargantuan program, which features more than 80 cooking classes and wine seminars, plus panel discussions and foodie soirées. Sponsored by a clique of luxury brands and sometimes even countries, the Classic's veritable living room is the see-and-be-seen Grand Tasting Pavilion, an immense tent that mimics the surrounding peaks. Book the Paepcke Suite, Aspen's top suite, at the slope-side Little Nell, which is big enough to throw your own food lover's shebang. New to the program: a non-alcoholic beverage seminar in honor of the mocktail trend. The 2020 festival was canceled due to safety concerns, but it will return June 18-20, 2021. Words by Becca Hensley
St Moritz Gourmet Festival
St Mortiz, Switzerland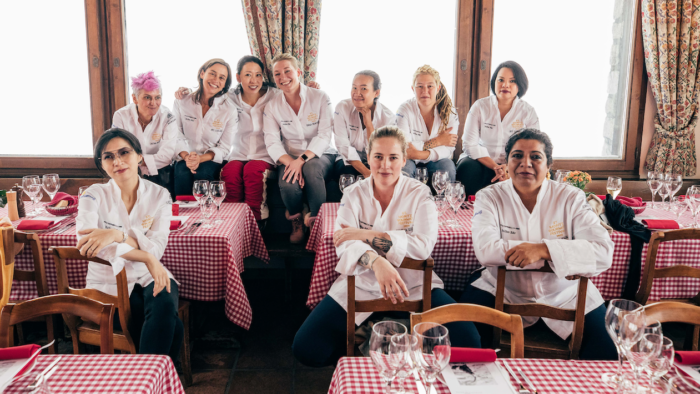 A penchant for healing waters first drew tourists to St Moritz in the late 19th century. Today, the swanky alpine village in Switzerland's Upper Engadine Valley prevails as a peerless ski destination, as famous for its social scene as its nearly 250 miles of ski trails and slopes. Two-time host of the Winter Olympics and home to some of the world's most acclaimed hotels and restaurants, the glamorous ski town hosts an annual winter festival called White Turf — multiple days of horse races executed across a frozen lake. In between events, spectators ski, snowboard, frolic — and eat. Most skiers vie for hard-to-procure mountainside reservations, knowing that where they lunch (and après ski) is as important as which mountain they've conquered. In that mode, St Moritz Gourmet Festival joined the winter milieu more than a quarter-century ago, bringing choice culinary stars from around the globe for nine days of cooking demonstrations, mountaintop dinners, fêtes, collaborations and competitions. Sponsored by St Moritz's top hotels, restaurants and other luxury brands like Porsche, the culinary party involves the entire town. Visiting chefs are matched with local chefs for both cooking and skiing activities. Last year's festival showcased an all-female lineup of 10 chefs, including London's Asma Khan, Copenhagen's Kamilla Seidler and Bangkok's Bee Satongun. To channel St Moritz's original snowbirds, book the moody Hitchcock Suite (Alfred's favorite room) at historic Badrutt's Palace. Words by Becca Hensley
Cayman Cookout
The Ritz-Carlton, Grand Cayman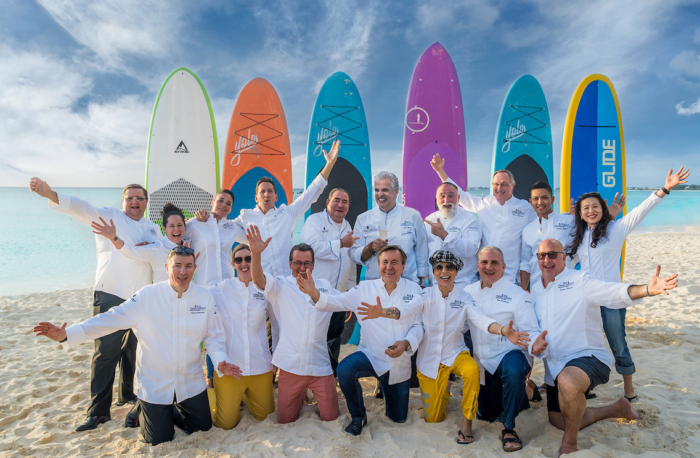 Every January, chefs of Michelin-starred eateries and foodies flock to the Ritz-Carlton, Grand Cayman for an extremely indulgent weekend hosted by world-renowned chef Eric Ripert. The Cookout is full of famous chefs, like José Andrés, Daniel Boulud, Dominique Crenn and Clare Smyth, who all say they come to the Cookout to support their close friend chef Ripert (the sunshine can't hurt either). Chef Crenn, of three-Michelin-starred restaurant Atelier Crenn in San Francisco, says, "the most attractive thing for me is to be able to support my friend Eric. We're coming here because we are supporting each other." Only guests attending the Cookout can stay at the hotel, so everyone is there to celebrate the same thing: fabulous food and drinks.
Grand Cayman's famed Seven Mile Beach is the scene for the cooking and mixology demonstrations. Chef Andrés kicks off the Cookout with an elaborate arrival (past years have seen him arrive by submarine, by horseback and by jumping out of a helicopter). He then heads straight to one of the most popular cooking demos. In his exuberant style, he shows how to cook classic Spanish dishes like paella, and will also have a Spain vs France competition with chef Ripert. The rest of the events are scattered throughout Grand Cayman in beautiful spots like Stingray City, the Botanical Gardens, Rum Point and Royal Palm Beach Club. One of the most exclusive events whisks a small group by private jet to GoldenEye hotel in Jamaica for a decadent lunch in Ian Fleming's villa, hosted by Craggy Range winery owner Terry Peabody and a different chef each time. Every night, there is a sensational dinner event, whether it's barefoot dancing on the beach alongside the chefs and watching fireworks, popping bottles of champagne on a glass dance floor over the Ritz-Carlton's pool, or the exquisite gala dinner at Blue by Eric Ripert.
Gather
JW Marriott Venice Resort & Spa, Italy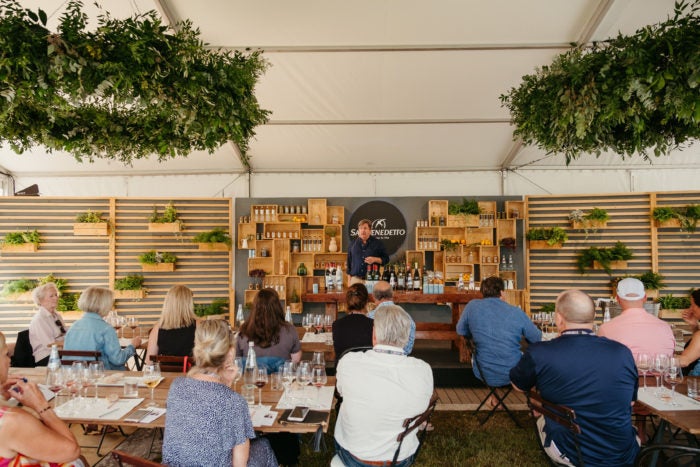 Set on Isola delle Rose, an island a short boat ride away from the tourists in St Mark's Square, JW Marriott is a private oasis with space to decompress and truly relax, especially while enjoying its celebrated spa and extensive wellness offerings. It is fitting that its signature event, Gather, is described as an epicurean and mindful experience, as it's not just about the food and wine — although it is excellent, as this is Italy, after all. A host of chefs from Michelin-starred restaurants, including Fabio Trabocchi, Ciccio Sultano, Angela Hartnett and Martina Caruso; James Beard Award winner Jonathan Waxman; and celebrity chef Giada De Laurentiis attend the weekend and participate in cooking demonstrations and fabulous dinners. Each night, the chefs host individual dinners around the island before the final evening's gala dinner, where each prepares a course. To recover from the indulgence, head to JW Mindfulness House or enjoy wellness programming with experts offering yoga classes, guided meditations, a crystal bar and tuneBed, which uses sound, biofrequencies and vibration to calm your mind and body. It's the perfect antidote to overindulgence and savoring la dolce vita.
Melbourne Food & Wine Festival
Melbourne, Australia
Ravenous? Wouldn't you love a seat at the world's longest lunch? In Melbourne, that constitutes a coveted reservation for 1,600 during the Melbourne Food & Wine Festival, held each March. A keystone event of the fête since 1993, Bank of Melbourne World's Longest Lunch takes place outdoors in verdant Treasury Gardens, with Melbourne-based culinary masters at the helm. Enthralling roads are packed with unique shops, bars, cafes and galleries — inventive, idiosyncratic, sophisticated Melbourne does everything with style. It has set high standards in the food industry, with local chefs showcasing their diverse heritage in style and preparation. There is a focus on local produce, and the festival has a strong farm-to-table ethos, but it goes further than that by including ingredients used by indigenous Australians or dishes that tell a local story with poetic elan. Each year, the festival brings together some of the world's top names in the epicurean universe for 10 days of events, demonstrations, seminars and workshops. Base yourself at The Langham, Melbourne, the city's grande dame, five-star hotel, which lords over the Yarra River along the buzzy Southbank Promenade. Relax at the impressive Chuan Spa between bites. The next edition will be held in spring 2021. Words by Becca Hensley
Newport Beach Wine & Food
Newport Beach, California, USA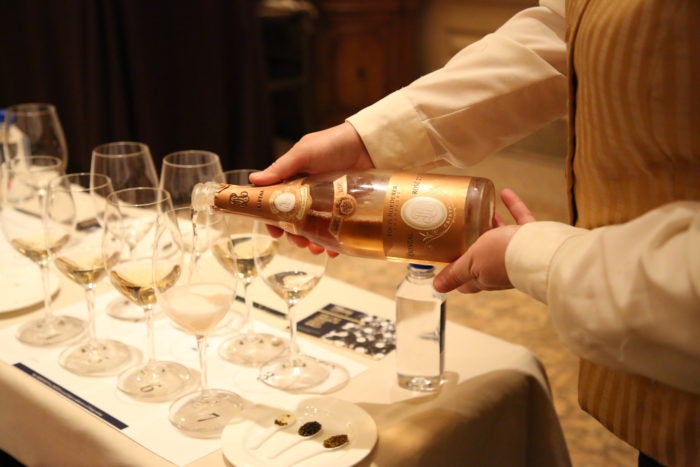 Newport Beach epitomizes laid-back California glamour. It has pristine beaches, incredible restaurants and friendly residents who are happy to share their idyllic town with visitors. This hospitality moves to the next level during Newport Beach Wine & Food Festival, when some of the town's most glamorous estates open their doors during the signature estate tour and progressive lunch hosted by celebrity chef Richard Blais, where guests enjoy a dish at each estate in a moveable feast. The weekend mixes premier events — including the opening gala dinner, Cristal champagne and Petrossian caviar pairings, Opus One vertical library tastings and a VIP golf tournament at Pelican Hill — with casual grand tasting events and a waterfront barbecue at Newport Harbor. This year's edition takes place October 8-11 and features local restaurants alongside celebrated chefs like Nobu Matsuhisa, whose cooking demonstration and lunch is one of the weekend's hottest tickets, and master sommeliers who guide you through the intimate wine panels and tastings. Be sure to buy a ticket that includes access to the Diamond Club Lounge, which hosts private meet and greets with the sommeliers and chefs, has exclusive wine tastings and the chance to join the mailing lists at some of Napa's most prestigious vineyards.
Images: Andrew Richard Hara, Galdones Photography/FOOD & WINE, Attila Czinke, David Biedert, Rebecca Davidson Photography, PPR Media Relations AG