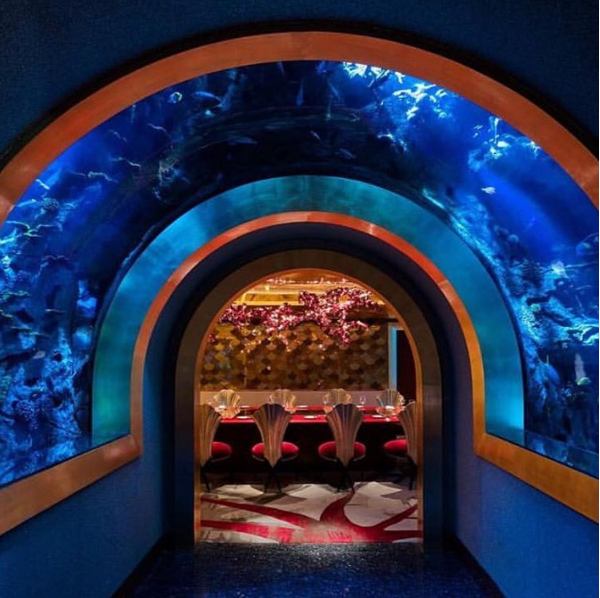 Over the last three decades, Dubai has completely reinvented itself. Now it is widely regarded as having some of the greatest hotels in the world, and with that, have come a number of fantastic restaurants offering food from around the globe. But which hotel restaurants are the best?
Stay by Yannick Alleno, One&Only The Palm, Dubai
Set within one of Dubai's many beautiful resorts, STAY by Yannick Alléno brings some classic French finedining to the Middle East. Building on Alléno's culinary expertise, STAY bridges classic and modern French cuisine. The menu shows Alléno's ability to take classic dishes and reinterpret them in the most effortless way possible, giving each dish a contemporary edge and redefining French cooking in the process. Some of the standout dishes include Lobster cassolette with squid ink pasta and Black Angus beef 'Cafe de Paris'.
Bleau Blanc by David Myers, Renaissance Downtown Hotel
Dubai is in no shortage of celebrity chefs, however David Myers (also known as the gypsy chef) has really brought something fresh and original to the city. The menu offers a simple yet superbly refined dining experience, split into bread, raw, starters, wood-fired, mains and vegetables. With Myers's food focusing on serving beautifully prepared fresh ingredients in a way that is as unpretentious as it is delicious. Some of the standout dishes include sturia caviar flatbread, Maine lobster roll and basil pesto ravioli.
Scalini, Four Seasons Dubai Jumeirah Beach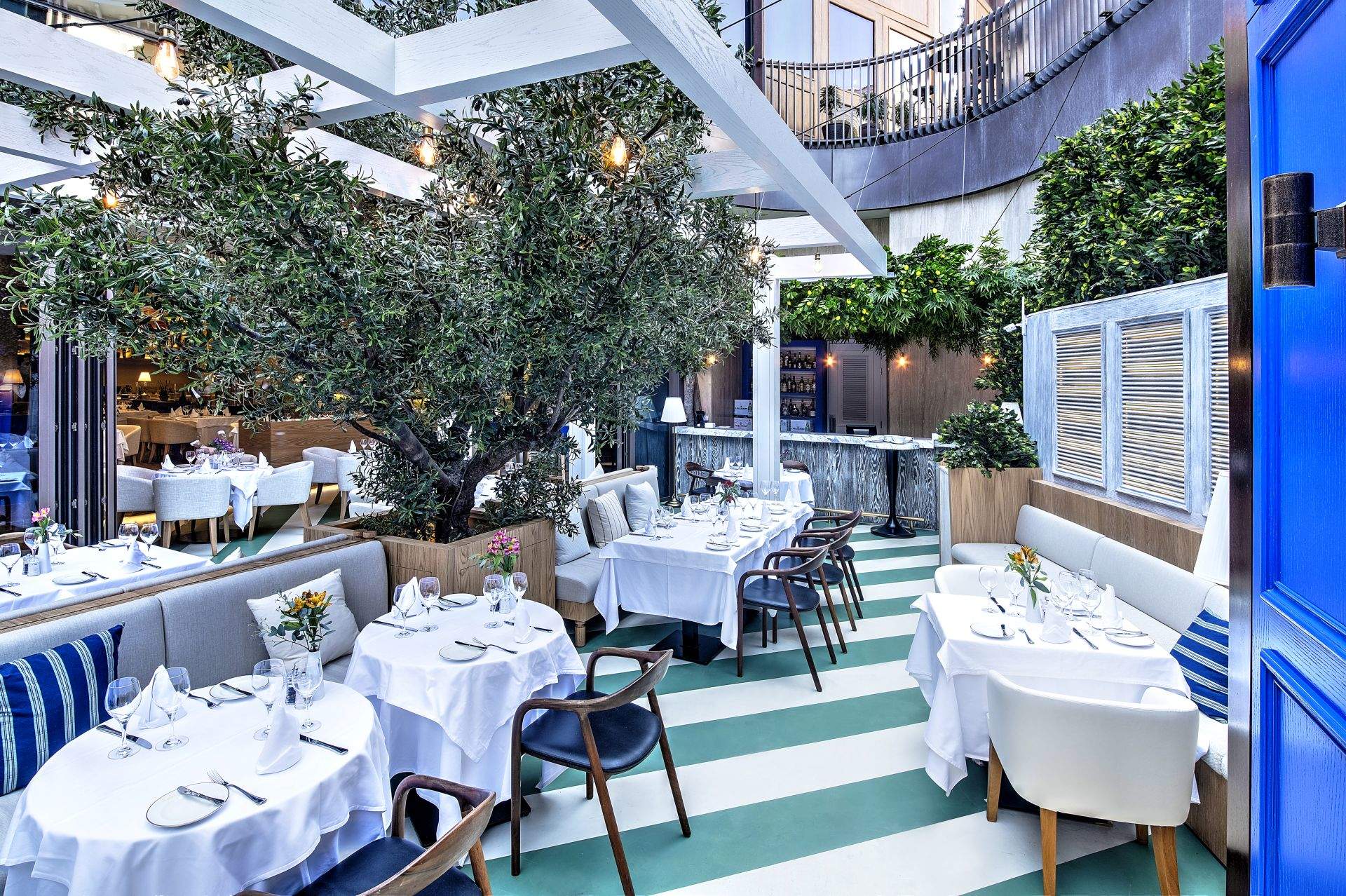 The first of two Four Seasons Dubai restaurants to make our list, Scalini established itself in London as one of the city's first truly Italian fine dining restaurants and has since opened in the awe-inspiring Four Seasons Dubai. The restaurant offers a rich Italian menu that has won the hearts of celebrities such as Kate Moss, Johnny Depp, Jude Law, Cheryl Cole, Cesc Fabregas and Simon Cowell. The menu focuses on serving traditional Italian dishes with a contemporary twist, with the restaurant sourcing all of its ingredients directly from Italy.
Coya Dubai, Four Seasons Dubai Jumeirah Beach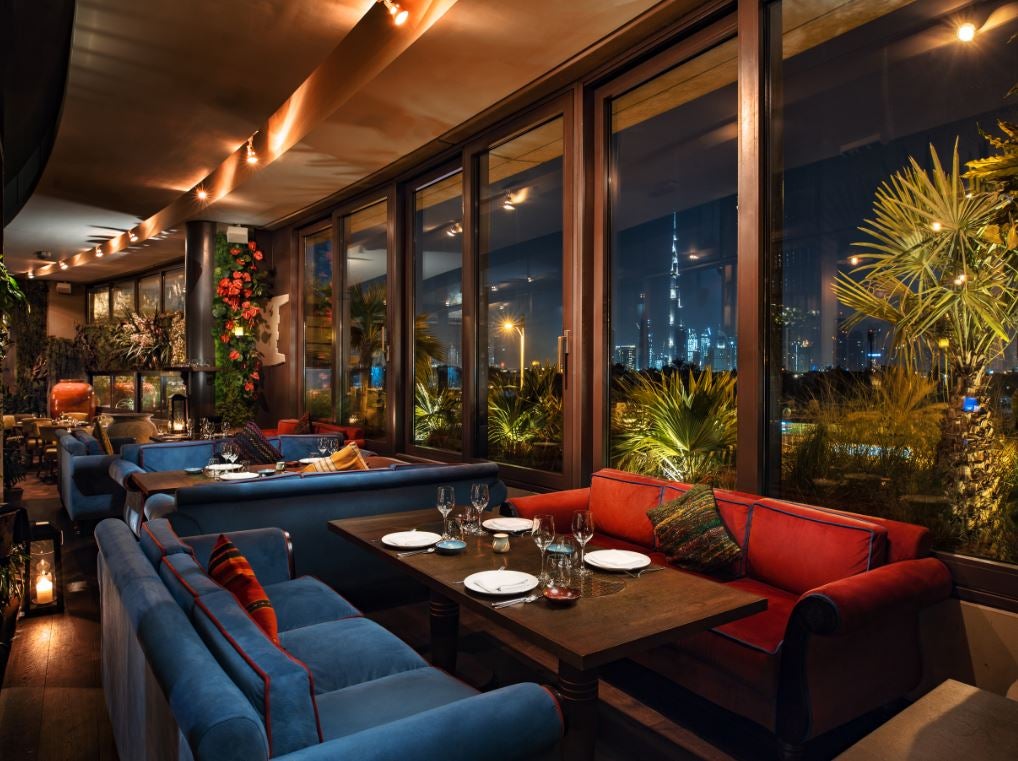 Since launching in London in 2012, COYA has become one of the world's most prestigious restaurant groups. Focusing on serving only the freshest South American food, COYA has carved out a name for itself as one of the world's best ceviche restaurants.
COYA's interior perfectly blends a traditional Dubai furnishings and color palette with some nice luxury touches such as velvet lined chairs and ornate facades.
The food on offer spans from langosta iron pot (a beautifully cooked piece of lobster with rice and pea shoots) right through to Josper-grilled octopus.
Armani/Amal, Armani Hotel Dubai
As the name suggests, this is one of Dubai's most stylish dinners. From the moment you walk through the door the Armani/Amal oozes class.  With unrivaled views of the Burj Khalifa, diners are treated with one of the best views of Dubai, including the opportunity to watch the Dubai Mall's many fountains from the comfort of your dinner table.
The food on offer matches the Armani/Amal interior, pairing beautifully crafted dishes with fine spices that never overpower and work together in a refined manner.
Nathan Outlaw at Al Mahara, Burj Al Arab Jumeirah
Being tasked with reinventing one of the world's most photographed restaurants is no easy task, but it seems Nathan Outlaw took it in his stride and turned the Burj Al Arab Jumeirah's opulent dining room into one that is as pared back as it is delicious. Set within a beautiful aquarium, Nathan Outlaw is one of the city's most daring restaurants. Not only does the overwhelmingly opulent interior give diners a multi-sensory experience, but Outlaw's refined approach to serving seafood will blow you away.
Focusing on serving only the freshest and most well prepared seafood in the world, Nathan Outlaw is easily one of Dubai's best restaurants (and not just because of how good it'll look on your Instagram feed).
Pierchic, Jumeirah Al Qasr Hotel
Owing to its over-water setting at the end of a private pier, Pierchic is often named Dubai's most romantic restaurant. Fitting in with this waterside setting, the restaurant specializes in fresh seafood, serving up lavish seafood platters, succulent Canadian lobster and an array of mussels, clams and oysters. Come during the daytime for the restaurant's famous brunch or book a table for the Sunset Dinner, which features tempting dishes like Alaskan black cod with honey. Request to be seated outdoors or dine in the modern, light-filled dining room to take in the views through its floor-to-ceiling windows.
Nobu Dubai, Atlantis, The Palm
The Dubai outpost of world-renowned chef Nobu Matsuhisa's restaurant group is tucked within Dubai's instantly recognizable hotel, Atlantis, The Palm. This Japanese restaurant, sushi bar and sake lounge showcases the distinct culinary style the chef has become known for, fusing Japanese recipes with influence taken from South America. In the restaurant's sleek low-lit dining room, try signature Nobu dishes such as black cod baked in sweet miso, paired with cocktails and fine sake. The resident DJ adds to the restaurant and bar's energy, and this Nobu restaurant has a garden for al fresco dining.
Il Ristorante – Niko Romito, Bulgari Resort Dubai
This elegant restaurant within the Bulgari Resort Dubai was designed to reflect its Italian heritage, drawing on the style seen in the original Bulgari Hotel in Milan. This relaxed fine dining environment of polished wood, glass and soft leather seating provides just the right setting for the modern Italian cuisine of the Michelin-starred chef Niko Romito who counsels the chefs here while based at his three-Michelin-starred restaurant in his home country. Go for antipasti such as marinated wild sea bream with Oscietra caviar, sour cream and extra virgin olive oil, and pasta dishes such as spaghetti with lobster and red prawns, and homemade spinach and ricotta tortelli. Main courses include braised lamb with asparagus and grape must. A tasting menu is also available.
Celebrities Restaurant, One&Only Royal Mirage
With its sparkling chandeliers, sumptuous banquet seating and color scheme dominated by gold, Celebrities Restaurant provides a lavish backdrop for dinner with a view of The Palace Esplanade. French-inspired international cuisine is the focus here, with complementary wines sourced from around the world. Start with decadent plates like king crab royal and caviar with lobster gelee, followed by roasted langoustine risotto with lobster bisque foam, seared Norwegian salmon fillet with foie-gras and fricassee of baby vegetables, or roasted duck magret with fig and beetroot and pink praline sauce. The restaurant also offers a selection of tapas.
Social by Heinz Beck, Waldorf Astoria Dubai Palm Jumeirah
Dine on the accomplished cuisine of the three-Michelin-starred chef Heinz Beck at this contemporary Italian restaurant in the Waldorf Astoria. In a modern wood-paneled dining room, guests are served the chef's famously innovative plates in which simple ingredients are transformed using modern culinary techniques. The menu brings together a wide variety of seafood and meat plates. Try the duck foie-gras with black truffle and artichoke, or Perfume of Sicily couscous with tempura prawns, followed by mushroom tortellini on spinach foam and black truffle, and veal marinated in yogurt and spices with peach coulis. The wine list highlights labels from every corner of the wine-making world.
Zest, One&Only The Palm, Dubai
Zest combines opulent Arabian-inspired surroundings—think high ceilings, white columns, silver-leaf, cut-quartz crystal and tropical plants—with cuisine that blends influences from the Middle East, Asia and the West. In the grandeur of the dining room or out on the restaurant's terrace, tuck into a seafood pasta dish or risotto, selection of meze or platter of sushi and sashimi. Or opt for Sea & Farm plates such as grilled Omani rock lobster, beef tenderloin Rossini and lamb shank with Arabic spices. The restaurant also hosts an excellent weekend brunch, which is the perfect way to while away an afternoon.