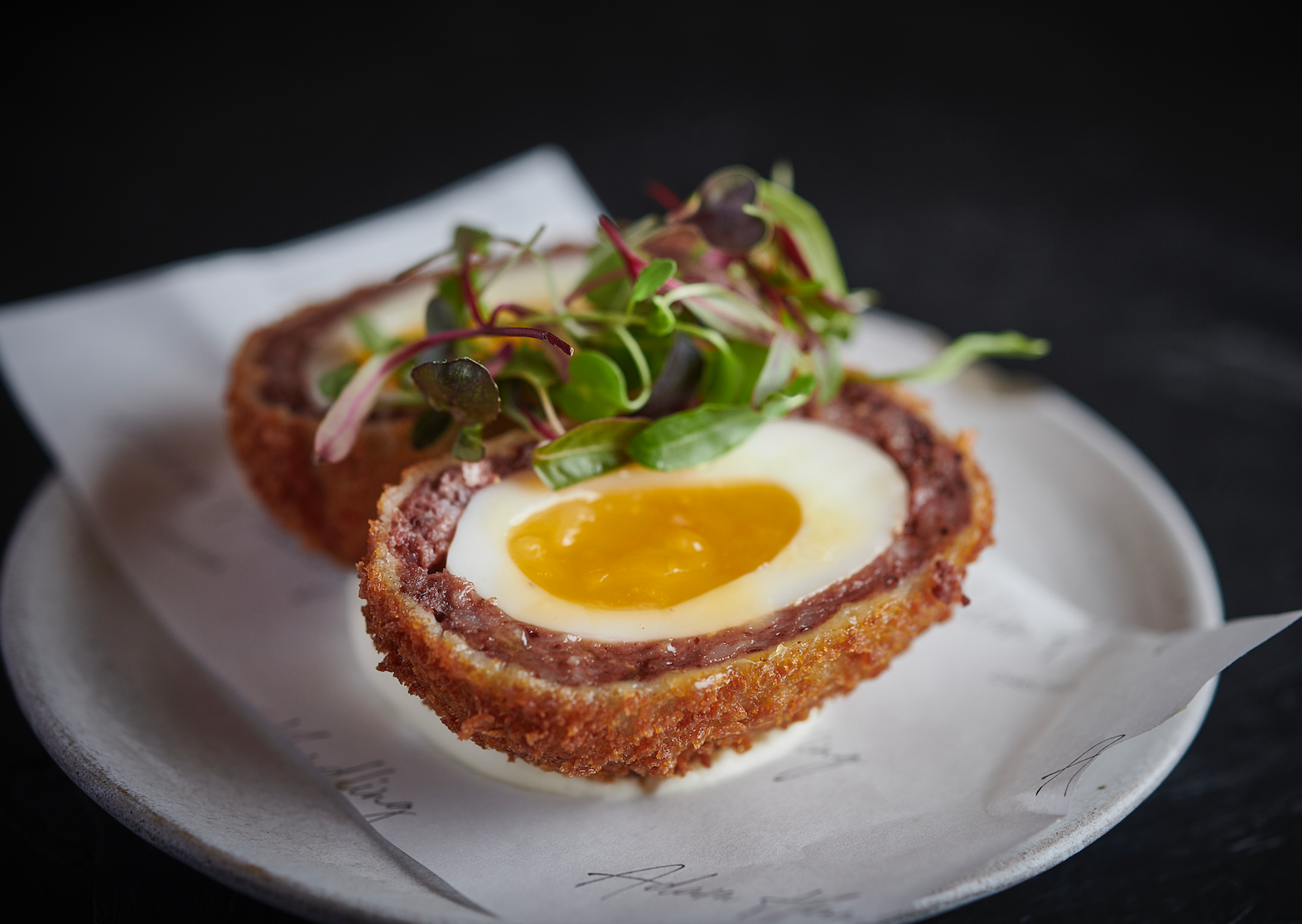 This time of year is defined by family meals and home-based celebrations, but there are still a number of exciting new restaurants worthy of a trip this winter. In our guide to the Best Restaurants for December, we travel to New York, San Francisco, Miami and London to explore new openings, reimagined menus and a Michelin-star-studded pop-up.
In New York, we take a look at three restaurants likely to make a stir in 2020 including Portale, which sees one of the city's most experienced chefs return with a fresh concept. In London, there is an innovative new zero-waste restaurant from an exciting chef and in San Francisco, we take a look at a rising star following its quiet opening earlier in the Fall.
JUA
New York
Korean cuisine is certainly having its moment in New York, and JUA is set to provide the latest modern take on it this month. Chef Ho Young Kim – formerly of two-Michelin-starred Jungsik – has partnered with the revered Hand Hospitality group to formulate his debut project that focusses on wood-fired cooking techniques.
A trendy space located in the heart of the Flatiron district, JUA will initially offer an ambitious six-course tasting menu at an accessible $95. Expect the menu to change frequently, but the first offering begins with raw mackerel and concludes with a signature duck dish. The restaurant will dry-age ducks for two weeks before smoking them over cherry wood and slow-roasting them for an hour. A small bar will also offer small dishes from an a la carte menu.
Portale
New York
Alfred Portale's departure from Gotham Bar & Grill after 34 years came as something of a shock to New York's dining scene, but there was a sense that both parties could benefit from a new challenge. Gotham Bar & Grill has since relaunched with a new head chef, Victoria Blamey, and Portale has now re-emerged with an eponymous restaurant in Chelsea. Far from a half-baked idea quickly drummed up following his departure from Gotham, this modern Italian is the realization of a vision he has held for years. Portale has brought several members of his Gotham team with him, but this restaurant is completely different from the old-school, one-Michelin-starred bistro. Expect fresh, seasonal Italian dishes including 'Cappellacci with sheep's milk ricotta, wild mushrooms, and pine nuts' and 'Burrata with roasted beets, poached fruit, and pistachios'.
Kōyō
New York
Gaijan satisfied many a sushi fan in Astoria, before closing its doors earlier this summer to transform into a modern and up-market version. The result is Kōyō, which opened with limited hours mid-November to much acclaim. It is overseen by new head chef Darry Liu, who cut his teeth at some of the city's best eateries including Eleven Madison Park. He has curated two set menus. The first ($135) focuses on sushi and provides 12 pieces of Nigiri. The second ($175) has a stronger focus on seasonal ingredients and multi-course plates. All of the fish is sourced from Japan's major Fukuoka and Toyosu markets. The restaurant itself is small and intimate with just 18 covers and two sittings per night, so expect a long wait for a reservation once the restaurant's reputation grows as it surely will.
Ugly Butterfly
London
Dining on the food waste generated from another restaurant may not sound appetizing, but our interest was piqued when we learned that the waste would be handled by one of Britain's hottest chefs of the moment, Adam Handling. He opened Ugly Butterfly this month, a sustainable, casual restaurant that transforms ingredients that would usually be thrown out into fine-dining dishes.
All of the dishes will be made from the parts of ingredients that are usually discarded as waste, most of which will come from one of his other restaurants (Adam Handling Chelsea), with an emphasis on the four most-wasted foods; bread, milk, eggs and bananas. Staying true to its aims, the restaurant's interiors have also been created using upcycled and reutilized materials throughout.
The menu includes some daring dishes such as deboned crispy fried chicken feet with caviar; cheese doughnuts made with left-overs from the cheeseboard; banana bread and chicken butter and lobster shell soup. The restaurant has also committed to donating 2.5 percent of its takings to The Felix Project to support its fight against food waste.
The Yard, Great Scotland Yard Hotel
London
Great Scotland Yard Hotel is one of the most anticipated openings in London this year, and that excitement was enhanced earlier this summer when it was announced Robin Gill would be opening a restaurant within it. The man and his team behind one of London's best restaurants, The Dairy, will in charge of all the food and drink at the hotel which is expected to open in December.
The main dining area will be The Yard, which will serve high-end food in a casual and approachable setting. If The Dairy is anything to go by, diners can expect a menu full of modern takes on British food, ultra-seasonal menus and experimental cocktails. Gill's team will also be in charge of the in-house butchers and bakery as well as two bars serving everything from barista-served coffees to signature cocktails.
The Grill at The Dorchester
London
The Dorchester has been London's place to be seen for almost a century, but less could be said of the hotel's restaurant, The Grill, which has fallen out of the city's fast-paced fine-dining viewfinder. But they are not going down without a fight and fresh blood has been brought in to bring it up to speed. Tom Booton, a culinary prodigy at just 26-years-old, became the youngest head chef in the restaurant's 88-year-history.
He is charged with the task of rejuvenating the restaurant and recently launched a reimagined menu that is simple in its offerings but refined in its approach. Along with a new British-focused menu is the novel Pudding Bar, which allows guests to enjoy dishes such as the delectable Double Decker at a bar and chat with either Booton or a member of his team. There is also a new bar with a selection of British-themed cocktails that champion the country's favorite spirits.
Hina Yakitori
San Francisco
Opened earlier in the Fall, Hina Yakitori is a novel concept from Tommy Cleary. The restaurant offers a 16-course tasting menu focused on none other than chicken skewers. Cleary is working in partnership with Tan Truong and Geoffrey Lee of nearby Michelin-starred sushi restaurant Ju-Ni, who offer a high level of expertise when it comes to omakase dining.
The restaurant itself is as novel as the menu. It is devised of just 12 seats, which surrounds Cleary and his team as they slice and dice pasture-raised chicken and grill it over binchotan coals. The 16-course menu ($110 per person) has gone down storm with locals and it is now one of the hottest restaurants in town. Reservations are already booked through January although some cancellations are likely through the holiday period so keep your eyes peeled on its reservations page.
Once Upon A Kitchen
Miami
People travel thousands of miles to taste the food of the world's best chefs, but on one special night in December, four of them will come together for the culinary event of the year. The third edition of the Once Upon a Kitchen dinner, taking place December 1 in Miami Beach includes guest appearances from Massimo Bottura, Mauro Colagreco, Alex Atala, and Antonio Bachour.
Colagreco can claim to be the best chef in the world after his restaurant Mirazur was crowned No 1 at the "World's 50 Best" awards earlier this year. Bottura's restaurant, Osteria Francescana, topped the rankings in 2018 and 2016 in the same award. Atala is behind D.O.M, widely-regarded as South America's best, while Bachour won the best pastry chef in the world award in 2018. Needless to say, the combination of these four extraordinary chefs represents a once-in-a-lifetime opportunity.