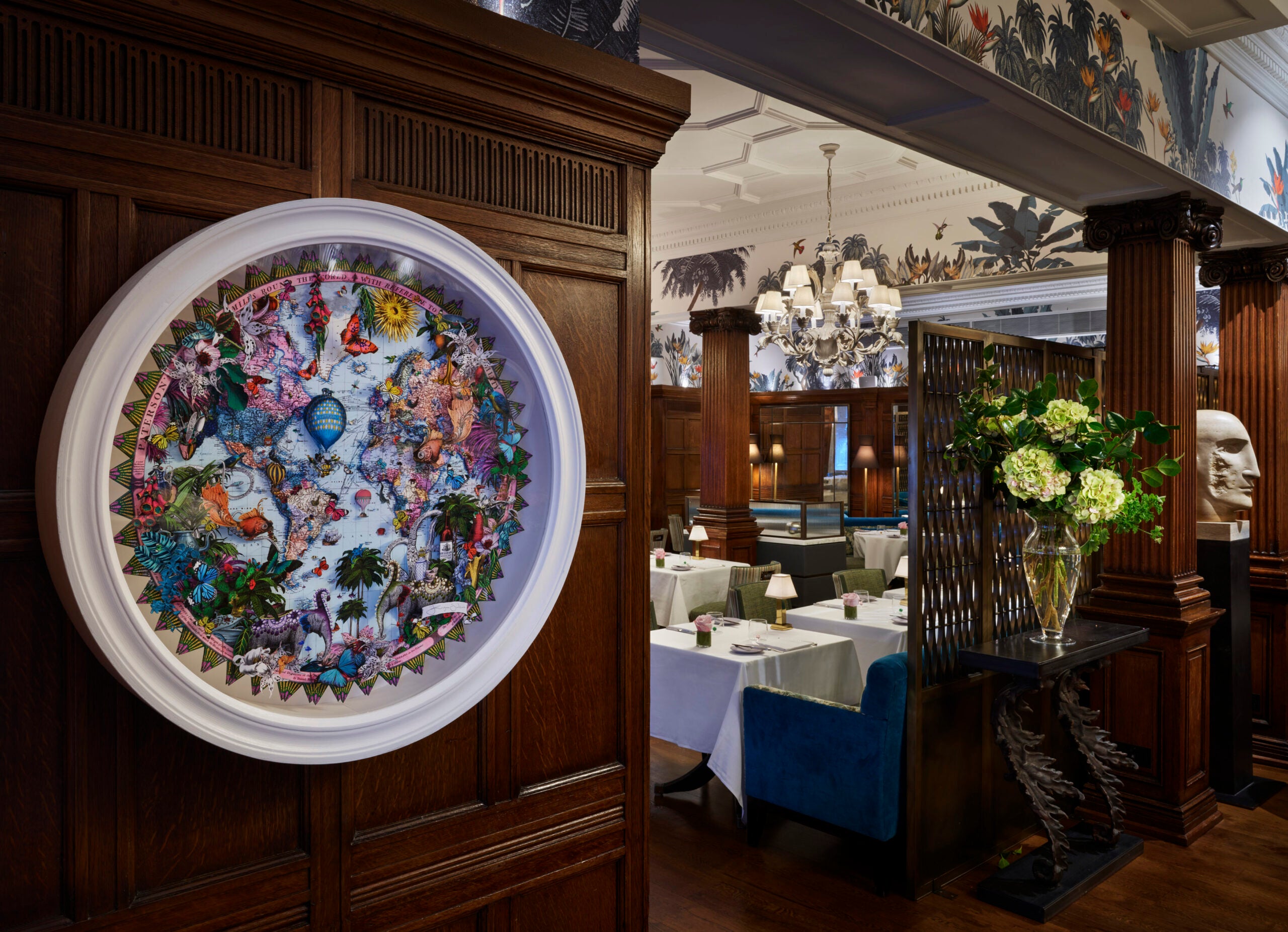 Adam Byatt has earned a Michelin star for his excellent work on the outskirts of London, but he returns to the center of town to take over a site – Brown's Hotel – where the great Heinz Beck failed to flourish. Elite Traveler was invited to review Byatt's new restaurant, Charlie's, in its first month of service.
There was excitement last year when Heinz Beck was brought in to replace Mark Hix on the ground floor of Brown's Hotel in Mayfair. Beck, a German-born Italian chef, is a culinary superstar with a three-Michelin-starred restaurant, La Pergola. to his name. His mission was to make Brown's the top destination dining hotel in London. He failed.
Beck's intricate Italian menu was accused of being 'over-engineered' in a stinging review by influential restaurant citric Jay Rayner. His opinion was shared by the hotel's traditionally-minded clientele and the restaurant closed after just 11 months. It was simply too much of a change for regular diners, who came for the comforting blend of fine dining and familiarity served by Hix.
Bring in Adam Byatt, a British chef who has made his name in London's leafy outpost of Clapham, at his one-Michelin-starred Trinity. This restaurant has delighted local gourmands for years with a menu devised of mainly small plates that champion seasonal fare. Byatt has joined Brown's as Chef Director and has developed a menu alongside Head Chef Matt Starling. He brings a pinch of Trinity with him to Charlie's with varied versions of the dishes that have served him so well.
A large section of the menu is dedicated to the small plates where Byatt's intricate skills are best displayed. I opt for the Cornish crab salad, which is so neatly presented that it seems a crime to dismantle it. The delicate crab is complemented by pickled cucumbers and a poached quail's egg. The fried courgette flowers with truffle honey were also a delight to the senses, although not nearly as photogenic. The bread also deserves a special mention, which is served still hot from the oven with bone marrow butter.
The main plates succeed in being both a refined selection yet covering all bases. Indeed, a dozen sharply-dressed businessmen could walk in at lunchtime, all with different cravings, and find something that satisfies. The mains are further divided into fish, meat and vegetarian. Fish includes British classics such as a whole Dover sole and wild turbot. The meats are equally traditional with a T-bone to share; rack of lamb and English rose veal. There are only two vegetarian dishes to choose from, which is more to do with the lack of vegans in this part of town than anything else.
I opt for the rack of lamb, which is served with courgette and potato gratin. The potato gratin is served directly from its oven tray by a waiter who seemed at ease holding scalding hot metal within arm's reach of a diner. I ask for the lamb medium rare and it is delivered thus so. The English Rose veal, served with creamed potatoes, is also an accomplished, homely dish that will strike a chord with the target market.
Alongside the meal, the wine is selected for us by the restaurant's sommelier, who studies our menu choices and delivers his pairing recommendations. The lamb is served with a bold red and the veal is accompanied with a light Pinot Noir. Both are excellent fits for the dishes, but a breakdown in communication means they are placed in front of the wrong diner. We each get a mouthful of the wrong wine before noticing the faux pas and agreeing to swap. The staff are overly apologetic about the mistake, the only minor fault in what is otherwise accomplished and attentive service.
A fine evening of British dining is concluded with the salt caramel custard tart, which is also featured on the Trinity menu. It is incredibly rich and would be unmanageable if not for the fine quenelle of caramel ice cream by its side. We also sample a mille-feuille, which is not much bigger than a petit four but perfectly adequate for a midday diner.
As Beck encountered, it takes more than good food to keep the foot fall ticking over in this tricky London location. The restaurant was half-full by the time we left on a Thursday evening, but Byatt tells us the lunch service has picked up quickly. That may be down to the new trolley service, which serves select dishes at lunch for an extremely reasonable price of £22.50 ($28).
He also hopes to fill out the restaurant on weekends with a traditional Sunday lunch menu priced at £45 ($55) for three courses. Both strike me as unsustainable in this expensive part of town, but early momentum is everything in London's fierce dining scene, and a temporary financial loss on big hitters should help get the ball rolling.
Byatt and his team can take encouragement from the success of Hix, who charmed the local clientele for almost a decade with a similar menu before closing in 2017. Brown's clearly wants to retrace its steps in that regard, returning to a staunchly British menu in a staunchly British part of town. And if that is indeed the case, Brown's could not have chosen a better man to bring it back.