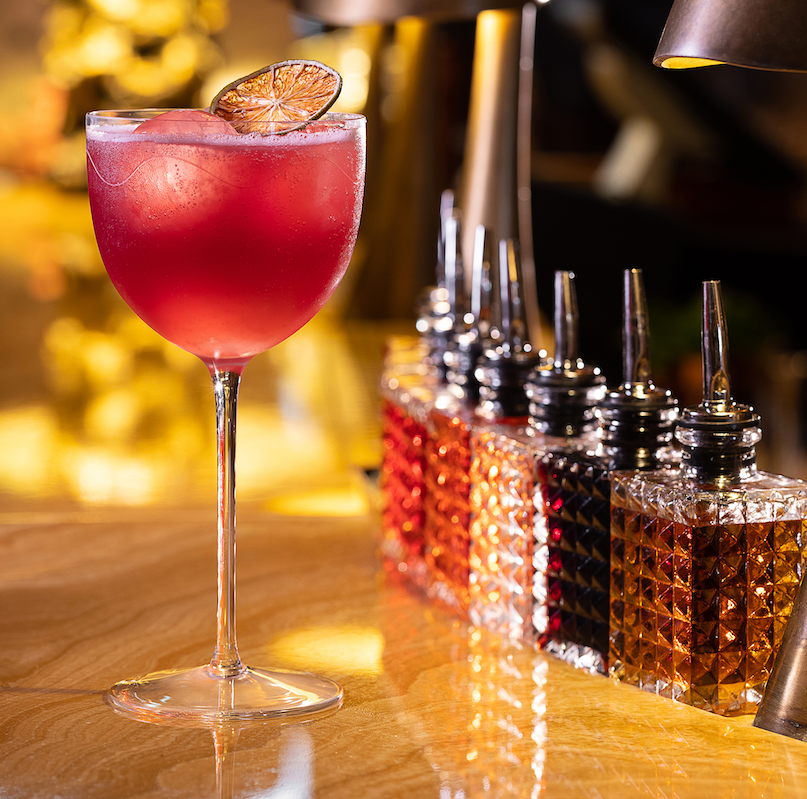 Pretty in Pink, Concorde Terrace at Hôtel de Crillon, a Rosewood Hotel, Paris
2.5 cl Absolut Elyx Vodka
2.5 cl Tawny Port
1 cl crème de pêche
1 cl peach purée
2 cl honey syrup
2 cl lemon juice
3 dashes peach bitters
Brut Champagne
Dehydrated lime wheel
To make this fabulous cocktail, fill a glass with crushed ice and put it to the side before measuring vodka, port, crème de pêche, peach purée and lemon juice into the small tin of a Boston shaker. Add three dashes of peach bitters to the mixer. Next, fill a tin with cubed ice and close the shaker at a slight angle. Shake the cocktail until the shaker is freezing to the touch; discard the crushed ice from the initial glass and replace with fresh ice cubs. Finally, use a cocktail strainer and fine strainer to pour contents into the glass, top with Brut Champagne and garnish with a lime wheel.
Just in time for Valentine's Day and Paris Fashion Week, head to one of the most beautiful hotels in Paris, Hôtel de Crillon, a Rosewood Hotel, to enjoy fine sips from the stunning Concorde Terrace. The hotel recently opened the alfresco terrace in November as an extension of the hotel's Bar Les Ambassadeurs, and it will be open year-round. The new drinks spot overlooks the iconic Place de la Concorde and has stunning views from the hotel's prime perch along one of the most historic locations in Paris. The Pretty in Pink cocktail is named after Les Ambassadrices, the all-female resident band located within the bar.
Concorde Terrace is open every day, and each Thursday the bar turns up with live DJ sets from notable artists, including The Hacker, Nouvelle Vague, Camp Claude and The Pirouettes. Live music from this rotating roster of DJs (and other musical guests) will span from 11pm to 2am each Thursday.
Aperitifs created by executive chef Boris Campanella from the one-Michelin-starred restaurant, L'Ecrin, will be served every day. It's a limited offering, so be sure to head there during Paris Fashion Week to sample tasty delights like a glass of vodka infused with duck foie gras and cherry vinegar; fig and creamy goat cheese pairing; and a Granny Smith apple with parsley and horseradish. It is truly a journey for the senses.
For more information, visit rosewoodhotels.com/hotel-de-crillon